Make Your Pup Pop With These 5 Stylish Beaded Dog Collar Options!
Take your pup's style to the next level with some beaded dog collars! Whether you want something classic or just plain fun, these 5 options are sure to make your pup stand out from the pack. Get ready for all those compliments and tail wags!
Welcome to Raquel's Reviews! This website may contain affiliate links, meaning that I may earn a commission if you purchase something through my link. Any purchases made through these links will result in a commission for me, which helps to support this website and its content.
Are you a pet parent looking for the perfect beaded dog collar?
You want something that's stylish and unique, but also comfortable and durable. That's why we did some research to find the best beaded dog collars on Etsy so you can make sure your pup is always looking their best!
From classic designs to one-of-a-kind pieces, these collars come in all shapes and sizes. Plus, they are made with high quality materials that will last through any adventure your pup takes you on.
Keep reading this article to discover our top picks of beaded dog collars from Etsy!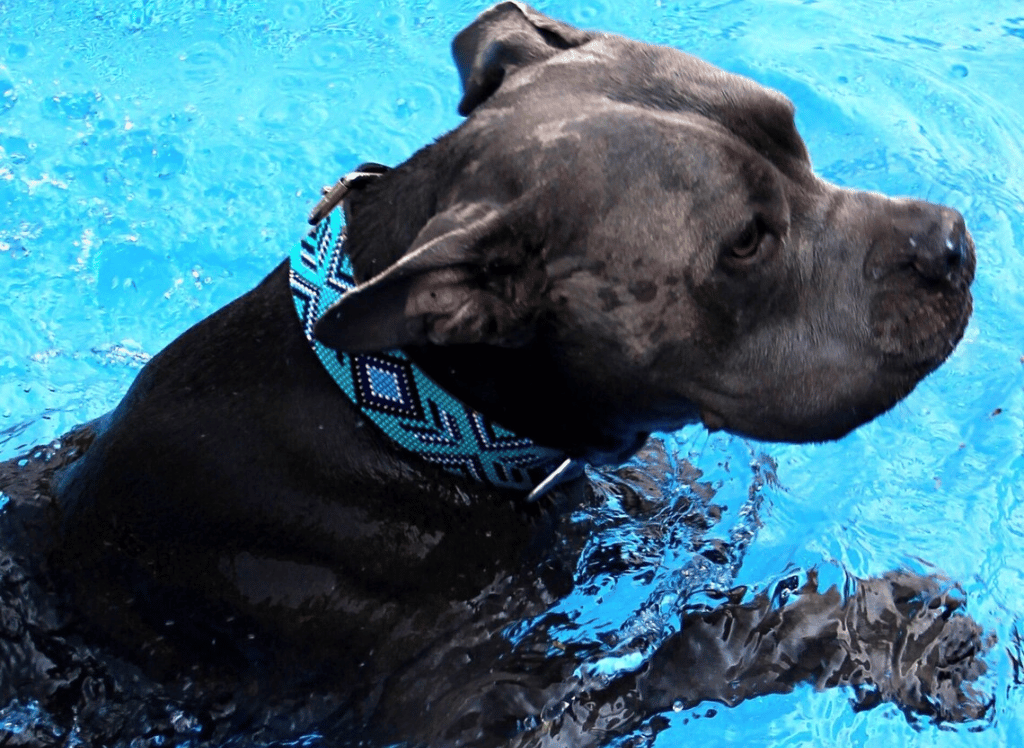 1. Leather Beaded Dog Collar With Center D-Ring
Check Price on Etsy
Why We Love It
This luxurious handmade collar is made with top-quality full grain leather, treated with natural beeswax for outdoor endurance. The unique design features unbreakable glass beads that provide shine and durability. The collars boast stainless steel buckles that won't rust over time, making them suitable for any terrain or weather condition. Not only is this collar stylish and durable, but it also provides adjustable sizing so there's something perfect for every size pooch.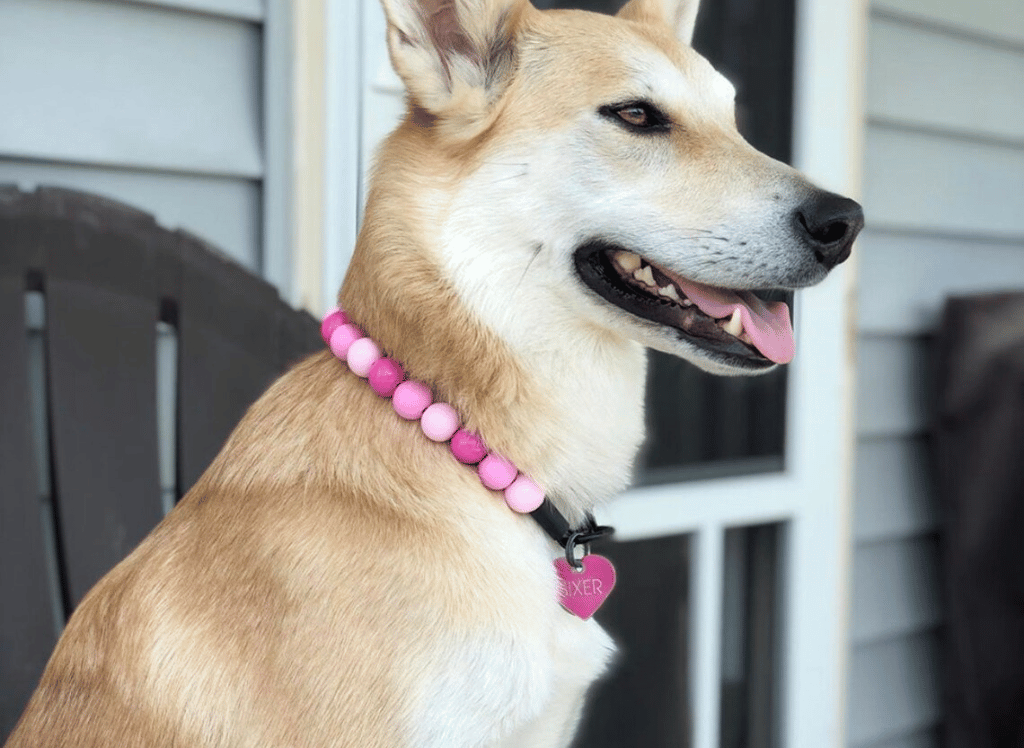 2. Pink Ombre Acrylic Durable Bead Slip on Dog Collar
Check Price on Etsy
Why We Love It
As a proud pet parent, it's so important to make sure our furry friends are comfortable and looking their best. With the Pink Ombre Acrylic Slip On Bead Collar, you can do just that! It's made from strong acrylic beads with four gradients of pink for an ombre design that's sure to turn some heads. The collar also has a secure o-ring closure that won't tangle or damage your pup's coat while they play, plus the beads are strung tightly for added strength and durability. A great way to show off your pet's personality and style!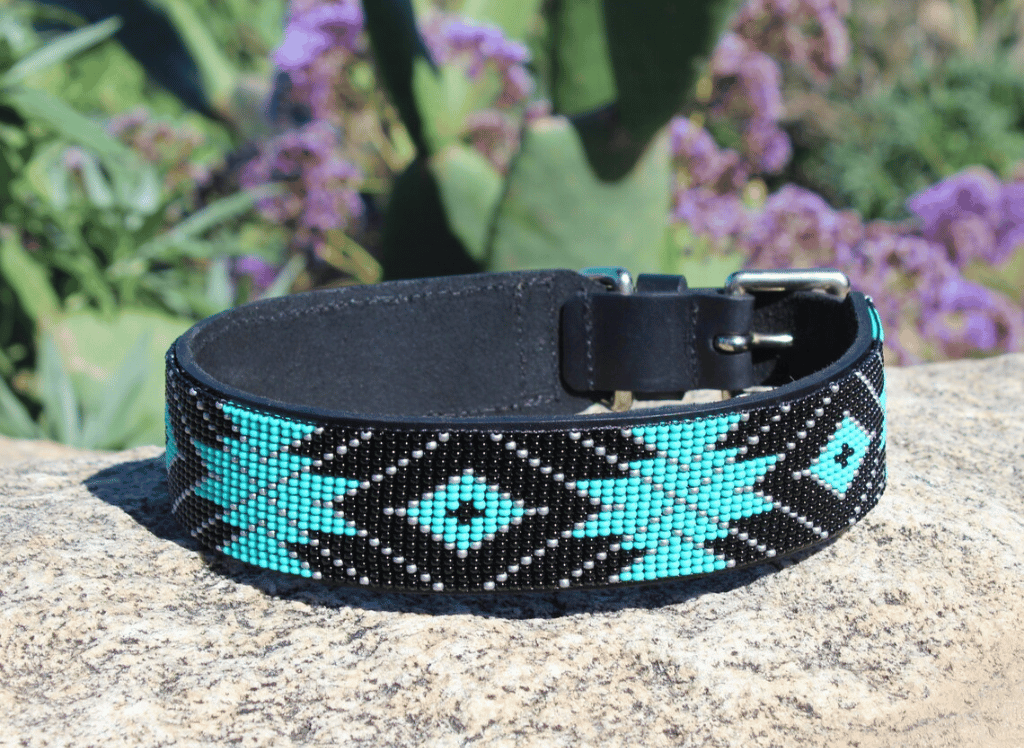 3. Leather Beaded Dog Collar
Check Price on Etsy
Why We Love It
These unique pieces feature full grain leather that has been treated with organic beeswax for outdoor and water resistance. The stitching process uses an ancient Brazilian tradition of "tear beads" which ensures the beads remain secure and prevent scratching. These collars also have stainless steel buckles that won't rust and are available in all sizes so you can find the perfect fit for any pup. Your pup will look like royalty when wearing one of these beautiful collars inspired by Kenyan Collection!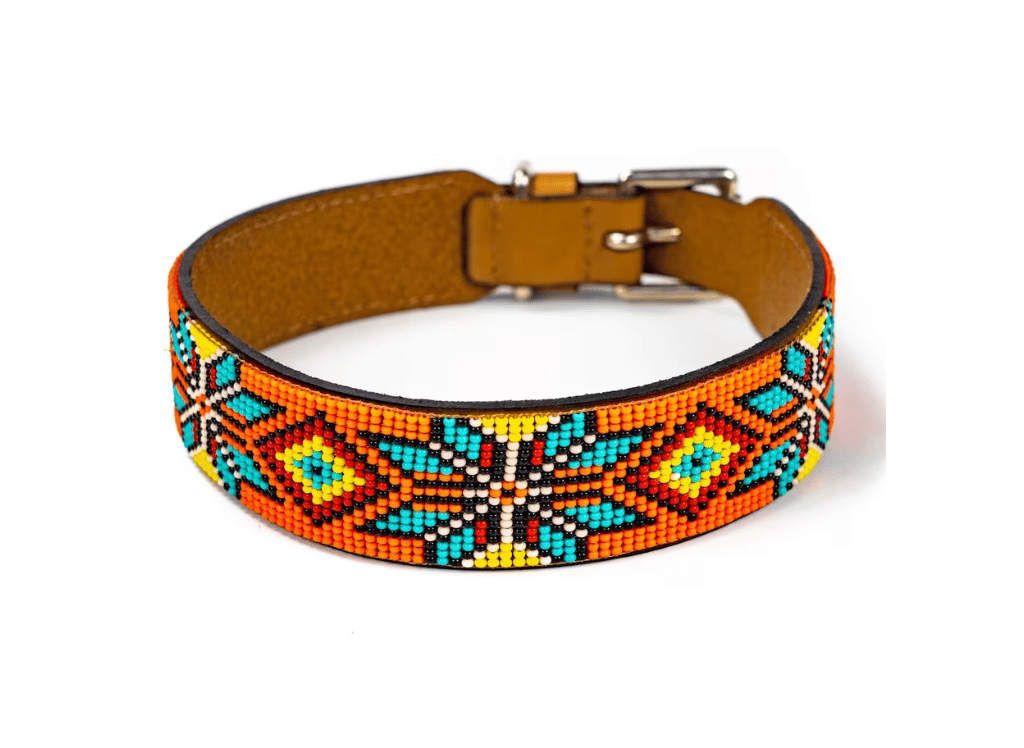 Check Price on Etsy
Why We Love It
Are you looking for a stylish way to take your furry best friend on all adventures? This durable Brazilian Dog Collar is the perfect companion! It's handmade with pliable and un-dyed full grain leather, so it's strong enough to handle any kind of outdoor activity while being comfortable and easy to wear. The organic beeswax treatment ensures water and outdoor resistance, while the hand stitching method keeps scratches at bay. And not only does it look great, but its unique design also pops out thanks to reflective glass beads - turn heads everywhere you go! Plus, stainless steel buckles ensure rusting won't be an issue.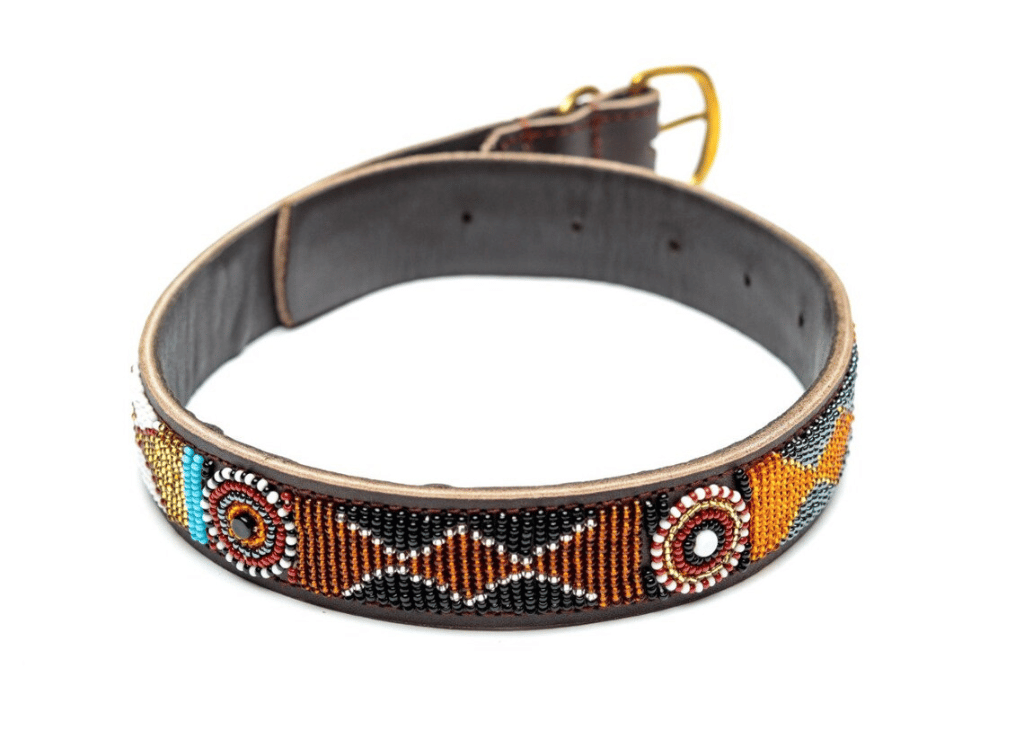 Check Price on Etsy
Why We Love It
If you're looking for ethically sourced, handmade collars for your beloved pet that add a unique touch of African flair and culture to their look, then these African Dog Collar is perfect for you. Crafted in Kenya with the finest leather material, each collar features beautiful beading hand-made by skilled Maasai artisans from my Village in Kajiado. And with its 100% recycled brass hardware, this adorable little accessory not only looks stylish but also helps support sustainable practices.
Beaded Dog Collar FAQs
Raquel's Reviews has created a list of Frequently Asked Questions about Beaded Dog Collars that will help you find the perfect style for your furry friend. From size and comfortability to durability and design, we've got all the answers you need to choose the best collar for your pup. Get ready to show off their unique style!
1. What is a beaded dog collar?
A beaded dog collar is a handmade Brazilian and African style accessory for dogs made of colorful glass beads.
2. Why should I buy a beaded dog collar?
Beaded collars are not only fashionable and attractive, but they also provide durability and strength. They can last longer than traditional collars due to the strong materials used in their construction.
3. What size do these collars come in?
Most beaded dog collars come in sizes small, medium and large so you can find one that fits your pet's neck perfectly.
4. How much does a beaded dog collar typically cost?
The price of a beaded collar will vary depending on its size, design and where you purchase it from, however the regular price range is usually between $20-$60 USD.
Final Thoughts About Beaded Dog Collar
We hope that our review of the five favorite beaded dog collars has helped you find the perfect one for your pup. Whether it's a classic and timeless piece or something more unique, these stylish collars are sure to turn heads. Not only do they look great on any breed of pooch, but their sturdy construction ensures long-lasting wearability too! With proper care and maintenance, we're confident that your pup will enjoy wearing this fashionable accessory for many years to come.
Are you a shopping enthusiast looking for more fun while browsing? With Two Free Audiobooks from Audible Plus and 30 days of free access to Amazon Prime Music, you can now listen to your favorite audiobooks and music while you shop! Plus, with Amazon Prime's lightning-fast 2-day shipping. Get a Free 30-day trial of Amazon Prime today and enjoy these amazing benefits!
Happy Shopping! :)