Throwing a Bluey Bash: 8 Amazing Ideas for the Ultimate Bluey Birthday Party!
Ready to throw a paw-fect party for your little roo? Buckle up for a ripper adventure as we dive into 8 top-dog ideas for the ultimate Bluey birthday bash that'll leave the guests barking with joy!
Welcome to Raquel's Reviews! Our team of experts scours the web for the best products on the market, so you don't have to. As an Amazon Associate, we earn from qualifying purchases. Wherever you are in your shopping journey, let us help guide you toward discovering your newest favorite thing today!
Are you a superfan of the adorable Blue Heeler pup, Bluey? Ready to plan the ultimate birthday bash for your little one that's all about everyone's favorite cartoon canine?
Fantastic! You've landed at the right place! At Raquel's Reviews, we've sniffed out the very best Bluey Birthday Party supplies on Amazon and Etsy, saving you time and energy. So buckle up, get your shopping carts ready, and let's dig in to find those paw-fect party items that will have your mini Bluey fans jumping for joy!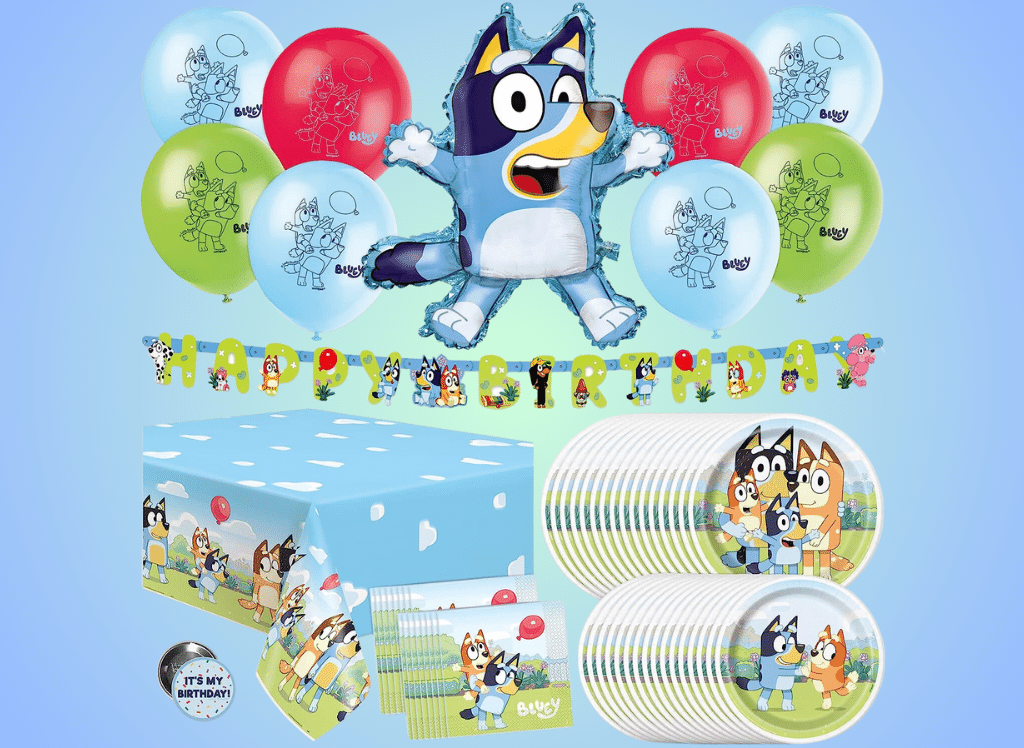 1. Unique Bluey Birthday Party Supplies
Check Price on Amazon
Why We Love It
This party supplies kit includes everything you need for easy setup and takedown—disposable dinnerware, decorations, balloons, and a festive Bluey table cloth to pull the room together. The leakproof bright and cheerful Bluey tablecloth measures 54" x 84" so it should fit most dining tables comfortably. For the decorations, this kit includes a 6-feet-long Bluey banner and a gorgeous large 28-inch foil balloon, along with eight smaller vivid Bluey balloons to bring a bright and festive atmosphere. It also includes 16 large 9" plates, 16 small 7" plates, 16 napkins, one "It's My Birthday" button, and one set of bright decorations to bring your Bluey birthday party to life!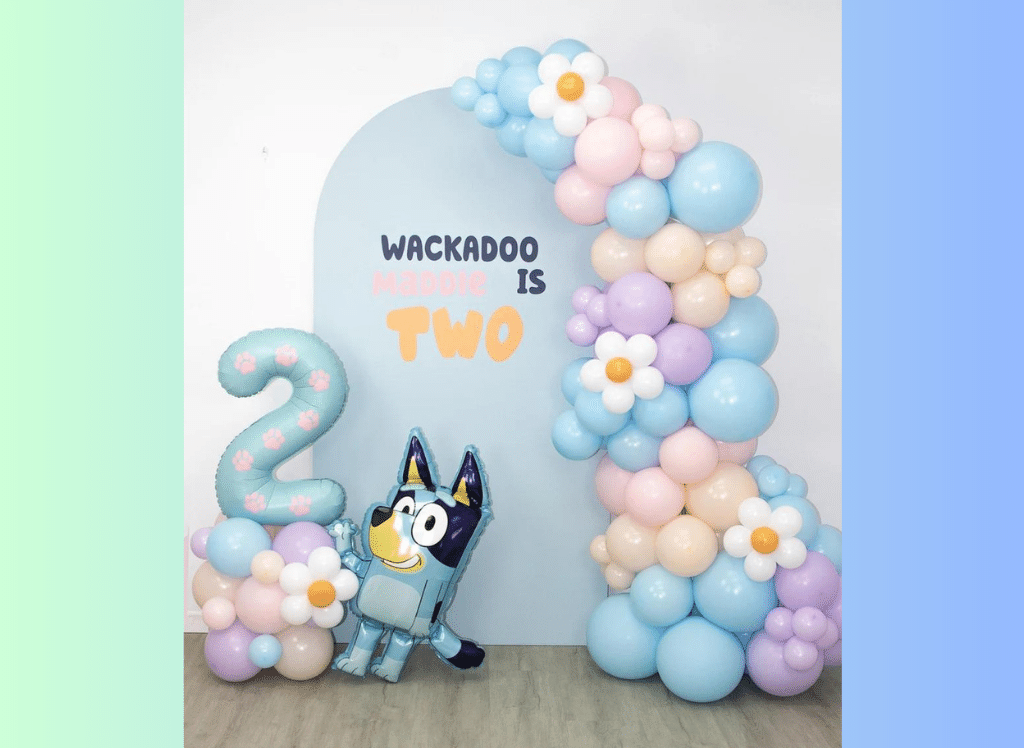 2. Bluey Balloon Garland
Check Price on Etsy
Why We Love It
Have a Bluey birthday bash that your little one won't forget with this amazing Bluey Balloon Garland Kit and Bluey Number Tower. Everything you need to fill your celebration with perfect shades of blue and pastels is included in the kit - from balloons, to decorators tape and glue dots, plus a Wackadoo custom Personalized Adhesive Vinyl Decal. What better way to make your little one's Bluey birthday bash totally Pinterest-worthy than with cute little daisy flower accents?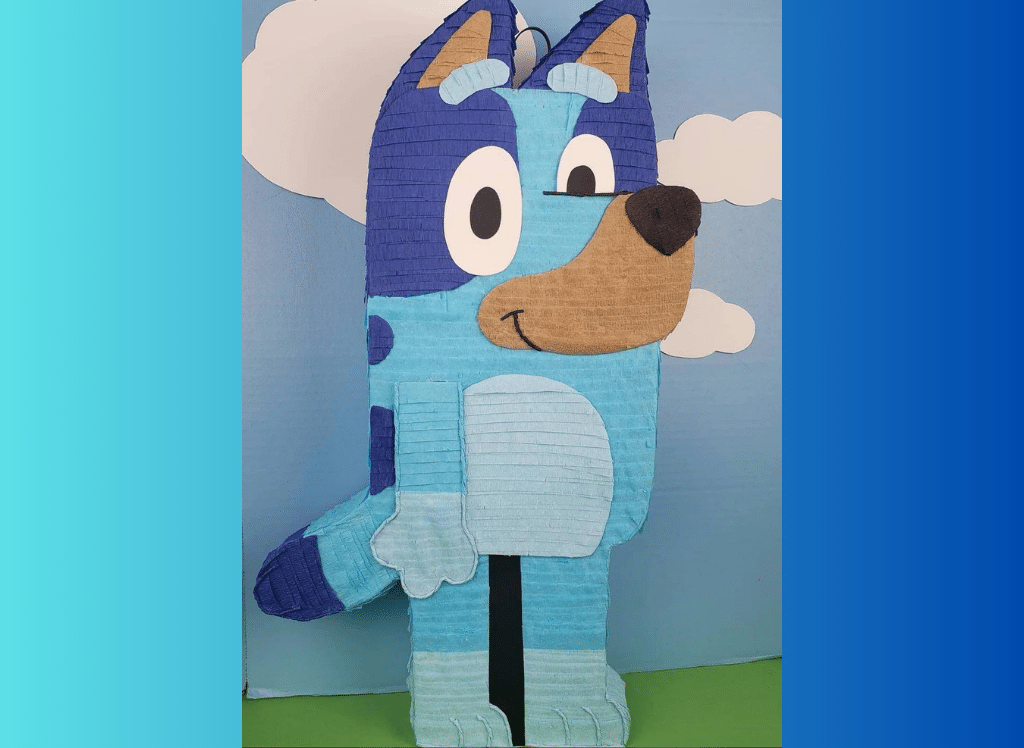 3. Premium Hand Crafted Bluey Pinata
Check Price on Etsy
Why We Love It
No Bluey themed birthday party is complete without a Hand Crafted Bluey Pinata! This amazing piñata is perfect for any Bluey fan's special day. It was handmade with love and care by Jadisbeth Corwin. At 24" tall, 17" wide and 3" deep, this pinata is perfect for any Bluey birthday party. In addition, it features a strong loop on top to hang and an opening door on the back to fill with treats. We recommend not exceeding 5 pounds of candy, as overstuffing the pinata may cause it to break open sooner.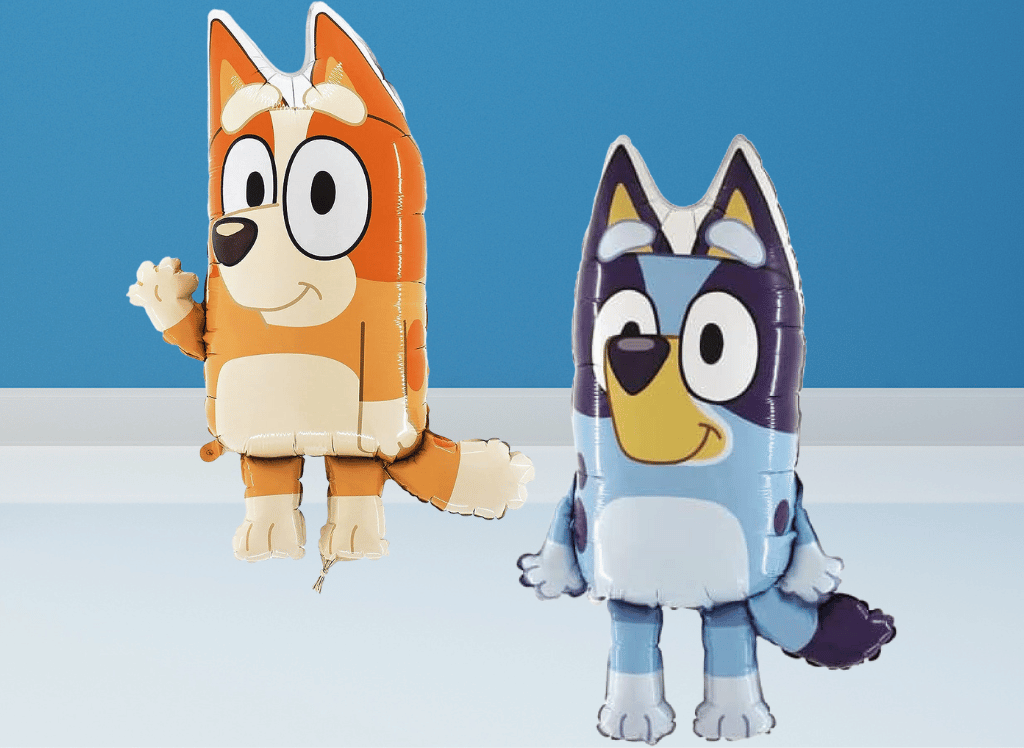 4. Toyland® Pack Of 2-32 Inch Bluey Foil Balloons
Check Price on Amazon
Why We Love It
This exclusive set of inflatable balloons will make your celebration a night to remember. In addition to the beloved Bluey and her sister Bingo characters, these balloons feature automatic sealing valves. This means that if you choose to fill them with air, they will remain securely in place. On the other hand, you can fill them with helium to give them that beloved floating effect. With a measurement of 32 inches (81cm) each, these balloons are sure to get the party started!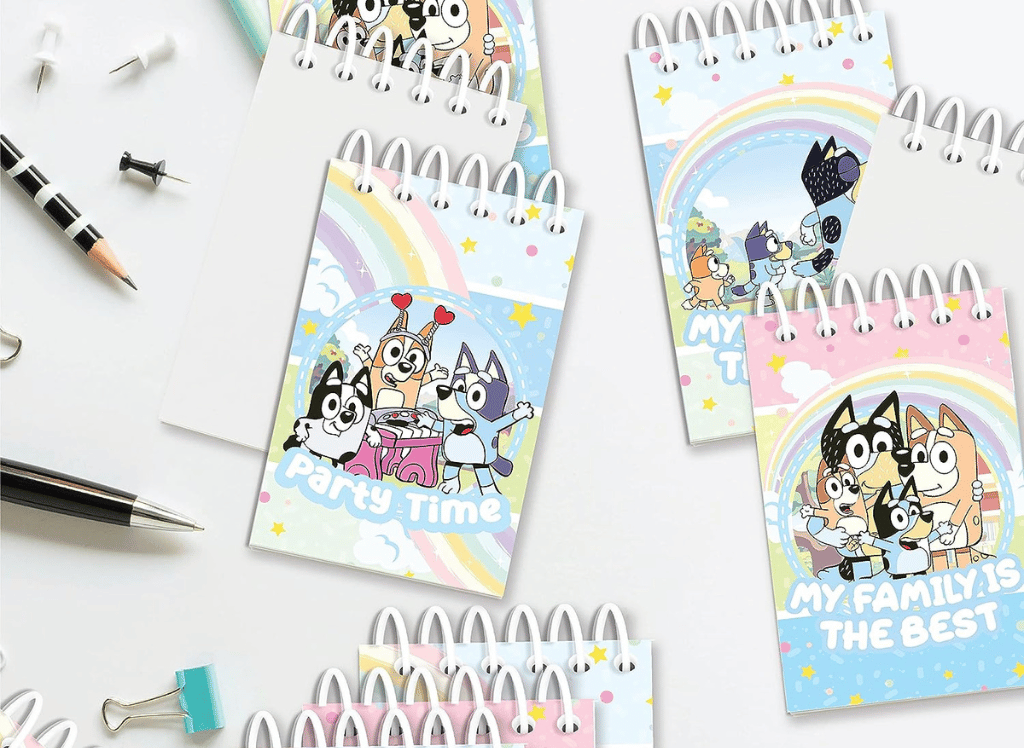 5. Bluey Birthday 24Pcs Mini Notepads
Check Price on Amazon
Why We Love It
These absolutely adorable pocket-size notepads are sure to capture your heart! With 8 different styles, each featuring its own unique Blue Dog theme, your kiddo will be spoiled for choice. And that's not all – these notepads are crafted with the highest quality materials to ensure longevity. The sturdy coils and durable paper guarantee that they will withstand endless scribbles and sketches, allowing your little one to unleash their creativity without a worry. Get ready to witness their imagination soar as they explore the endless possibilities these notepads offer!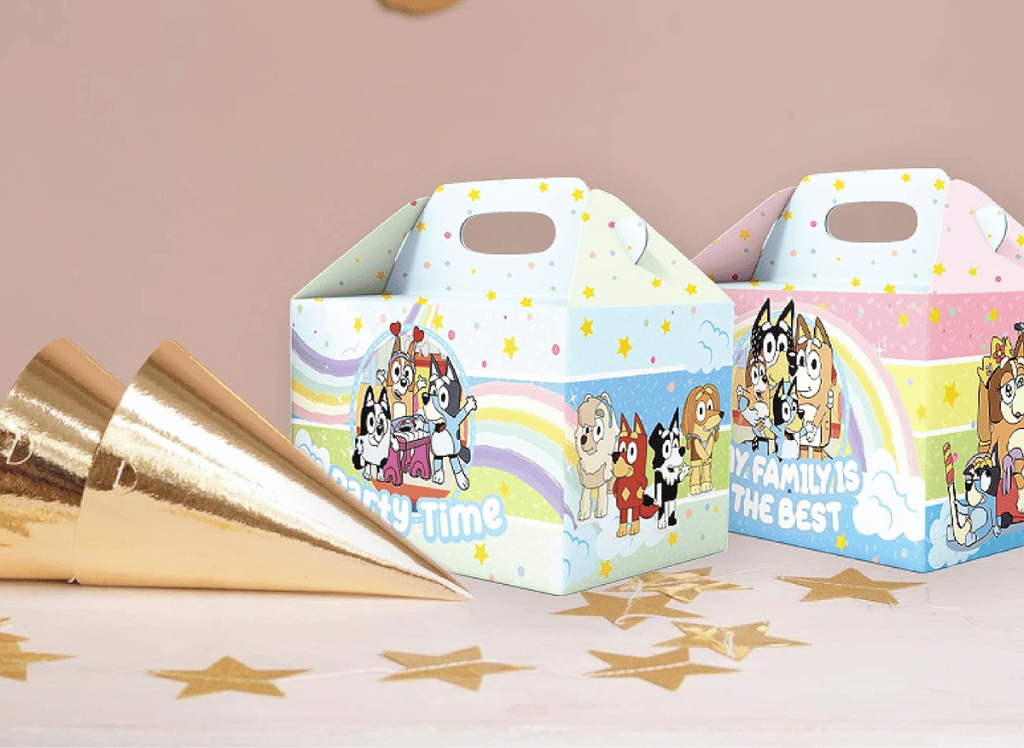 6. Bluey Party Gift Box 12pcs Set
Check Price on Amazon
Why We Love It
These unique boxes are the perfect addition to your decorations and a sure fire way to impress the kids! Plus, these cool and convenient Bluey goodie bags are made with high-quality materials, so they're sturdy, safe and non-toxic. Additionally, you'll have the perfect way to store all the goodie- from cupcakes, cookies, toys and treats- it's one of the most versatile and well-made boxes out there.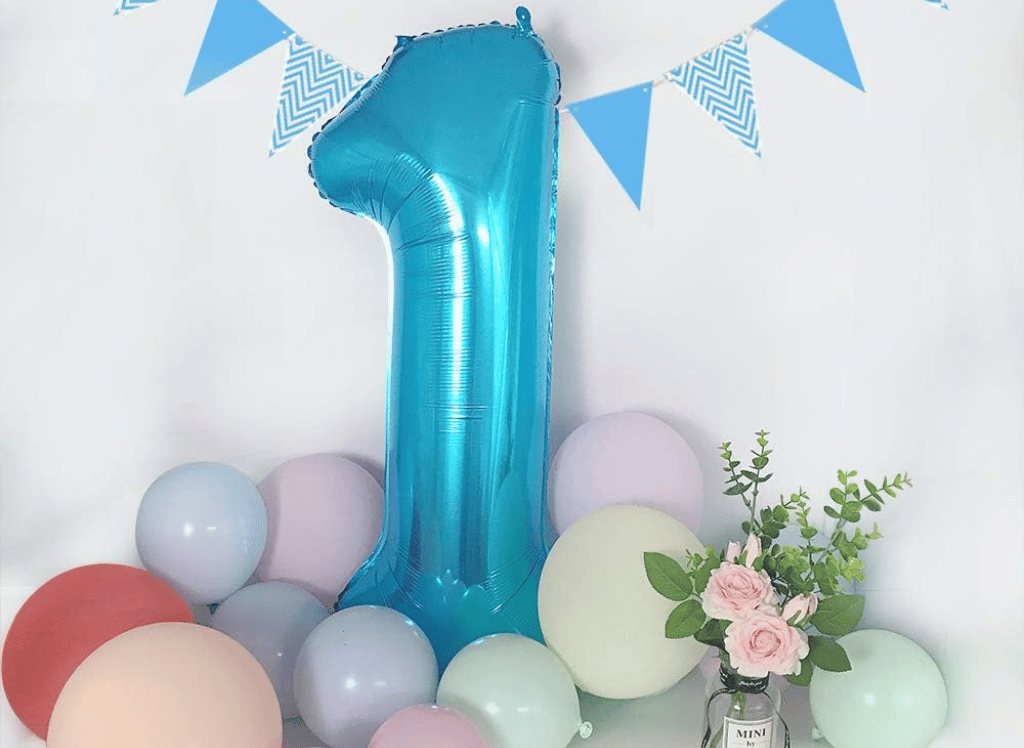 7. TONIFUL 40 Inch Blue Large Numbers Balloon 0-9 Birthday Party Decorations
Check Price on Amazon
Why We Love It
The TONIFUL's Blue Numbers balloon comes with one 40 inch blue number balloon - you can choose the digital you want - and it's made of safe and non-toxic foil material. This fun and unique decoration will be an amazing photo prop with its huge size and beautiful blue color visual effects! It's just the thing to make your Bluey birthday party unforgettable and the envy of all your friends and family.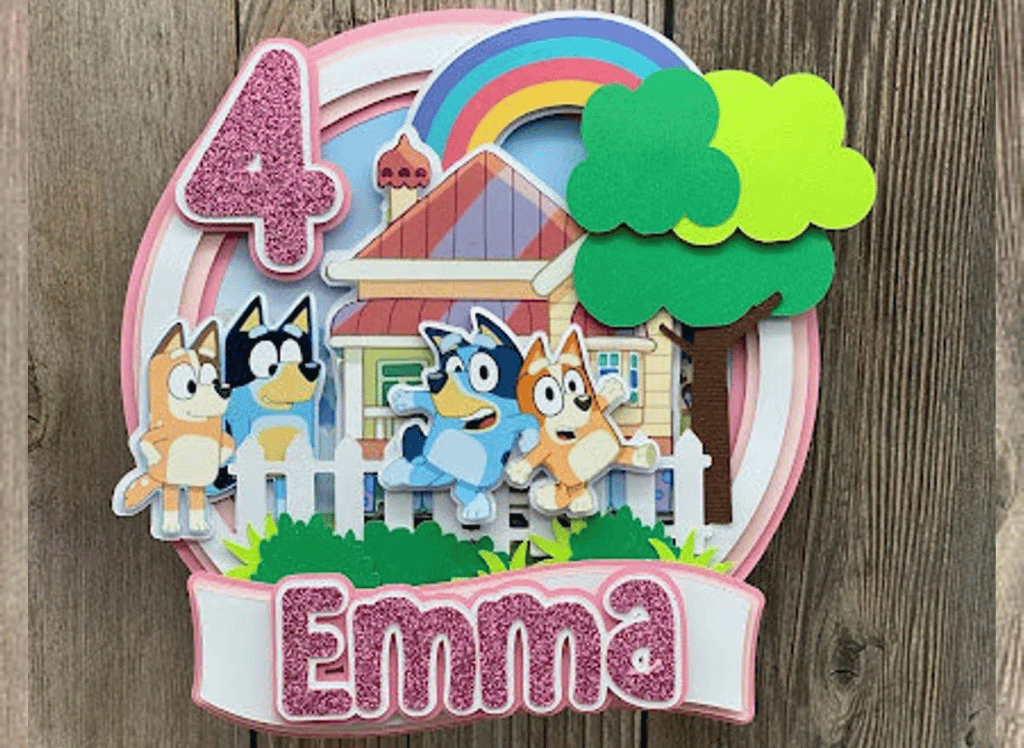 8. Bluey Birthday Cake Topper
Check Price on Etsy
Why We Love It
This adorable Bluey 3D cake topper is sure to bring a smile to your Bluey fan's face as it decorates their special day. The topper adds the perfect 3-dimensional effect to your cake! It's approximately 6"- 7" in size, and you can choose from a variety of colors that are available depending on your monitor, screen resolutions, and availability of cardstock.
Bluey Birthday Party FAQs
Planning a Bluey birthday bash can be as exciting as it is daunting. With so many party supplies to choose from and details to consider, it's often a whirlwind of fun and frenzy. But fear not, party planners! We've heard your questions, concerns, and confusions, and we're here with the answers. So grab a cuppa, take a seat, and let's dive into our Frequently Asked Questions section for all things Bluey Birthday Party. It's time for a barkingly good party planning session!
1. What are some creative ideas for games at a Bluey themed birthday party?
At a Bluey theme party, you can really let your creativity fly when it comes to games. One suggestion is to play a round of "Keepy Uppy." This is a game featured in the show where the characters keep a balloon in the air for as long as possible. You can easily recreate this with a simple balloon - the kids will love it! Another idea is to have a "Bluey Scavenger Hunt" where you hide various Bluey-themed items around the party area for children to find. This can include Bluey toys, cutouts, or even pictures. Lastly, you could set up a "Shadowlands" game, inspired by the episode of the same name. Create a simple obstacle course and let the children navigate through it while only stepping on the shadows. These Bluey birthday party ideas are sure to make your party a hit with the kids!
2. Can bigger kids enjoy a Bluey themed party as much as the little ones?
While Bluey is designed for young children, its humor and life lessons have a universal appeal that resonates with older kids and even adults. For a Bluey party for bigger kids, consider adding themed games that are a bit more challenging, like a trivia contest about Bluey episodes or a 'pin the tail on Bluey' game. You could also include a Bluey-themed arts and crafts station where older kids can express their creativity. Remember, the key is to make everyone feel included and engaged in the party, no matter their age!
3. How can I incorporate "Dollar Bucks" into Bluey party games?
"Dollar Bucks" is a fun and familiar concept from the Bluey show that can easily be incorporated into party games. Consider creating your own "Dollar Bucks" using craft paper and markers, then use them as rewards for games. For instance, every time a child wins a game or completes a challenge, they earn "Dollar Bucks". At the end of the party, the party guests can use their "Dollar Bucks" to "purchase" goodies or treats. It's a great way to add an element of excitement and competition to the party, and the kids will surely have a blast earning and spending their "Dollar Bucks"!
4. How can I make my child's real-life birthday resemble a Bluey episode?
To make your child's birthday party feel like a Bluey episode, you could incorporate some of the show's most memorable elements. Start by setting up games that the characters play in the series, like "Shadowlands" or "Keepy Uppy." You could also include a 'make-believe' station where children can pretend to be different characters from the series. If you want to go a step further, you could even set up a pretend 'grill' for kids to play BBQ, just like Bandit, the dad in the series. Decorate the party area with Bluey colors and paraphernalia, and don't forget to include a Bluey-themed birthday cake! This will surely make any birthday kid feel like they're stepping into their favorite TV show for the day.
5. Any ideas for Bluey-themed party food options?
Absolutely, there are plenty of creative, fun, and easy ways to make Bluey-themed party food! You could make 'Bluey Bone' shaped sandwiches or 'Bingo Bites' blue cupcakes. 'Bandit's BBQ' sliders could also be a hit. Don't forget about 'Muffin's Muffins' for dessert. And for drinks, try making a blue punch and call it 'Bluey Juice'.
6. How can I incorporate Bluey's kid-friendly educational themes into the party?
One way to incorporate Bluey's educational themes into the party is by including problem-solving games or activities that encourage teamwork, like the 'Shadowlands' game mentioned earlier. You could also create a story-telling circle where kids take turns narrating their own Bluey-inspired stories.
7. Where can I find Bluey party decorations?
Party supply stores or online retailers like Amazon have a wide selection of Bluey-themed decorations. You can find everything from Bluey balloons, banners, and table covers, to Bluey cake toppers and party plates.
8. Can I include characters other than Bluey in the party theme?
Bluey isn't the only loved character on the show. You could include Bingo, Bandit, Chilli, and even Snickers or Coco in your party. You could have cut-outs or balloons of these characters, or even include them in your party games.
9. Are there any Bluey birthday party invitations available?
You can find digital Bluey birthday invitations online on sites like Etsy that you can customize and print at home. There are also pre-made Bluey invitations available on Amazon or at local party stores.
Final Thoughts About Bluey Birthday Party
In conclusion, the magic of a Bluey Birthday bash lies in the little details, from the vibrant tablecloth and balloon garland to the adorable notepads and party gift box set. These party supplies not only create a visually stunning celebration but also captivate the imaginations of the little ones, making it a truly unforgettable occasion. With these eight recommended supplies, your party is guaranteed to be a hit, leaving an imprint of joy and excitement that transcends beyond the day itself. Remember, it's not just about marking another year older, it's about creating memories that will last a lifetime. So go ahead, add these items to your cart, and get ready for the most paw-some Bluey Birthday Party ever!
Are you a shopping enthusiast looking for more fun while browsing? With Two Free Audiobooks from Audible Plus and 30 days of free access to Amazon Prime Music, you can now listen to your favorite audiobooks and music while you shop! Plus, with Amazon Prime's lightning-fast 2-day shipping. Get a Free 30-day trial of Amazon Prime today and enjoy these amazing benefits!
Happy Shopping! :)