6 Budget-Friendly Couch Cup Holder Picks for Your Sofa
Say goodbye to the inconvenience of spilling drinks on your precious sofa! Discover our top six budget-friendly couch cup holder picks that not only save your sofa but also add a dash of convenience to your lounging time. Dive in and find the perfect companion for your coffee and TV remotes!
As an Amazon Associate, we may earn a commission from qualifying purchases, but we promise the prices are still the same for you!
Imagine lounging on your sofa, wrapped up in your favorite Netflix series, with a steaming cup of coffee close at hand. Ah, pure bliss! But, let's face it, the fear of spilling that drink on your beloved couch can disrupt this delightful tranquility.
That's where a couch cup holder, your new lounging buddy, steps in! It's the unsung hero that shields your sofa from accidental spills while keeping your drink within arm's reach. It's a win-win!
Enhance this convenience with our top 6 budget-friendly couch cup holder picks, each curated for their stellar functionality and style. Ready to revolutionize your couch comfort? Let's explore these fantastic options!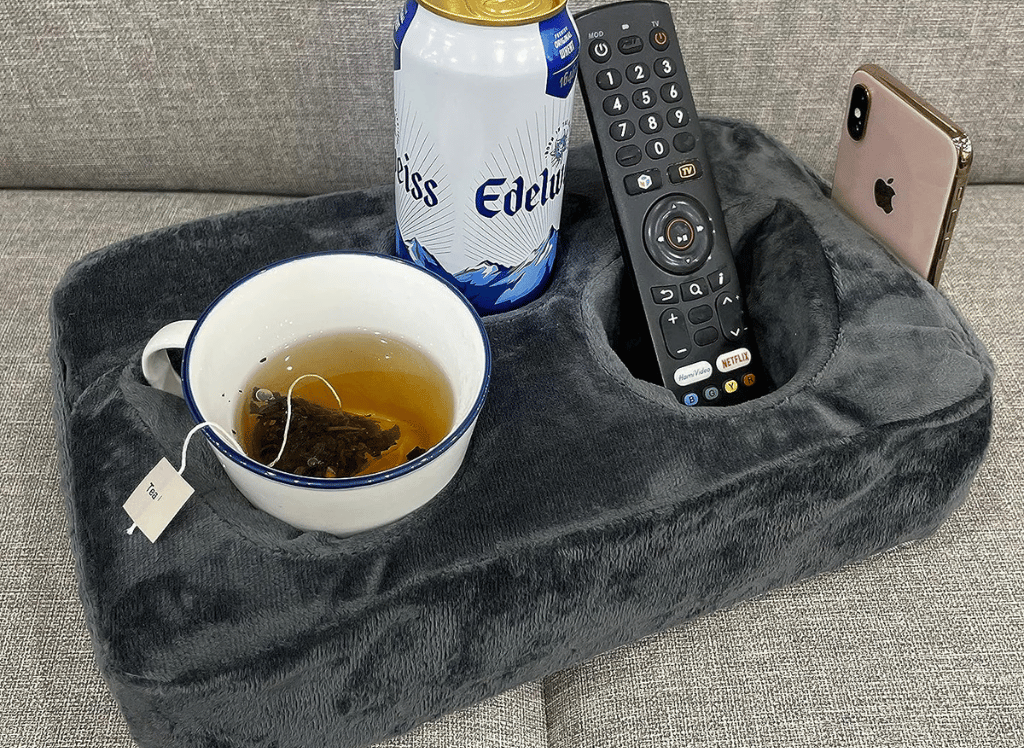 1. Xchouxer Couch Cup Holder Pillow
See Price on Amazon
Why We Love It
This innovative pillow is designed to hold more than just drinks. With 3 compartments, it keeps your beverages, remotes, phone, glasses, and more at arm's reach. No more searching for the side table, this problem-solving pillow has got you covered! Plus, it's a game-changer for all you couch potatoes out there! Keep your drinks, remotes, and phone within easy reach while lounging, and the insulating foam will keep your drinks warm or cold. With its cozy design and convenient dimensions, it's the perfect alternative to end tables and coffee tables. And guess what? It's even bed and RV-friendly too!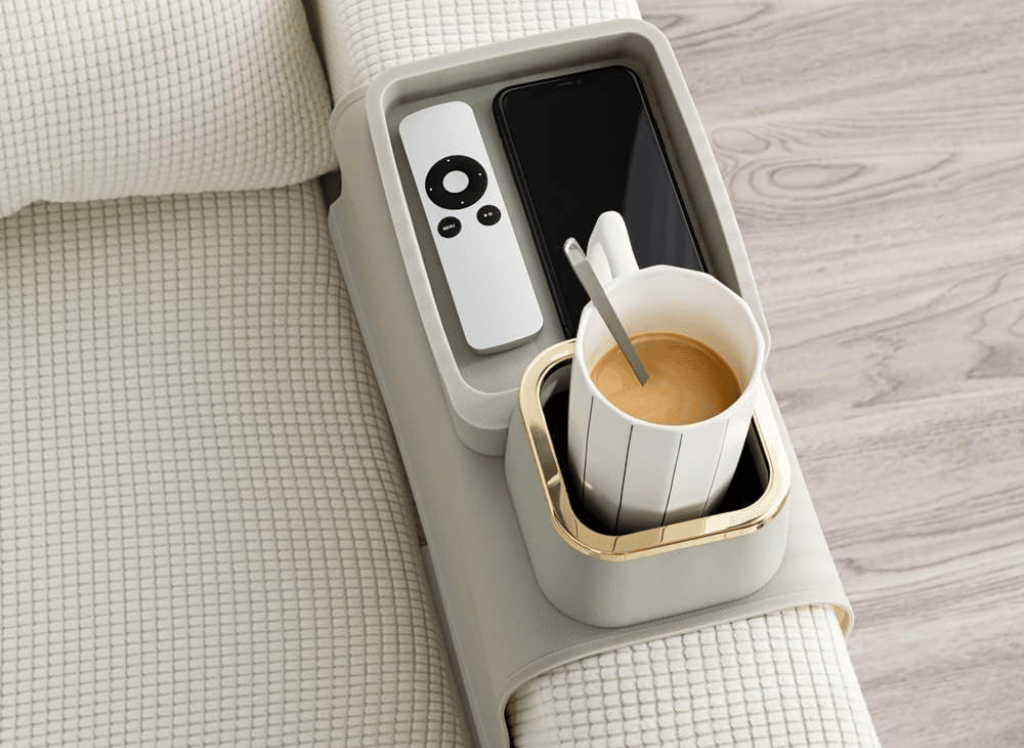 2. Elimiko Silicone Anti-Spill Couch Cup Holder Tray
See Price on Amazon
Why We Love It
No more dealing with drinks all over the place, remotes that go missing, and a couch that's always a mess. This cutting-edge tray is designed to keep everything you need within arm's reach while you enjoy your favorite TV shows. With its unique functional design, it fits perfectly on sofas with armrests measuring at least 6 inches wide. The durable anti-slip and anti-spill feature ensure that your beverages stay in place, while the spacious tray accommodates your phone, snacks, and more.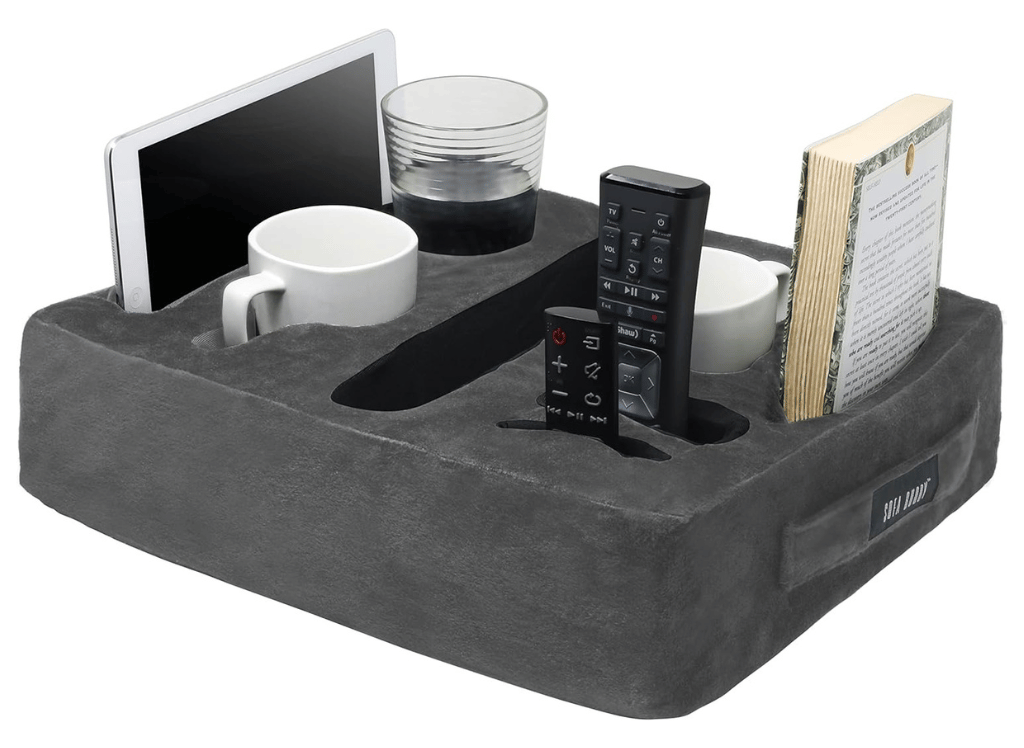 3. Sofa Buddy Convenient Couch Cup Holder
See Price on Amazon
Why We Love It
With SofaBuddy, you can now enjoy the ultimate comfort of your sofa while having your three favorite drinks and four accessory slots right by your side. No more spills, no more searching for remotes or gaming controllers! It's the perfect companion for your couch, ensuring a strong hold with its weight system and anti-tilt technology. Plus, the anti-slip lining guarantees a secure and enjoyable experience.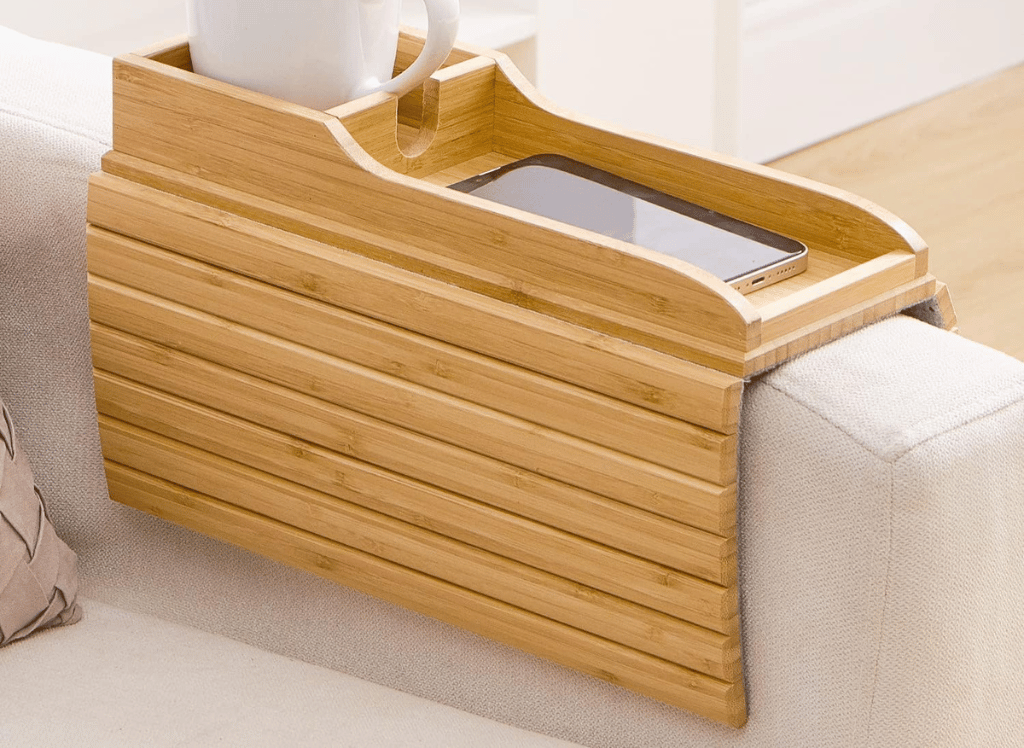 4. GEHE Bamboo Couch Cup Holder
See Price on Amazon
Why We Love It
Made from top-quality bamboo, this cup holder is not only great for the environment but also adds a charming natural flavor to your sofa. With its convenient design, you can easily place cups with handles in the grooves, keep your remote control, phone, and snacks within reach, all while ensuring your sofa stays clean and protected. And the best part? It's not just a cup holder! Use it as a computer tray table, a placemat, or even a food tray. Cleaning is a breeze with just a damp cloth, and when not in use, it can be easily folded or rolled up, saving you precious storage space.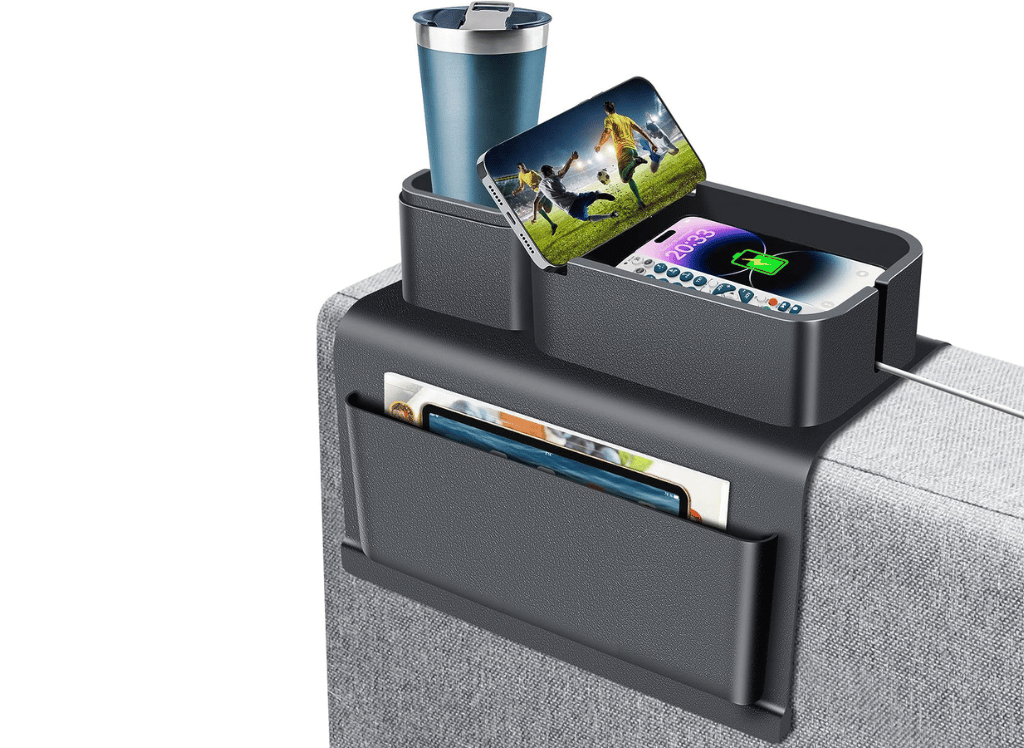 5. Easyjoy Silicone Sofa Armrest Tray with Side Pockets
See Price on Amazon
Why We Love It
This super convenient sofa cup holder keeps everything you need within arm's reach while you enjoy a movie on your sofa. With its super large capacity and clever card slot design, you can easily store and charge your phone, and have space for remotes, magazines, and more. Plus, it's made of non-slip silicone that won't damage your sofa, and it's designed to fit most cups and mugs.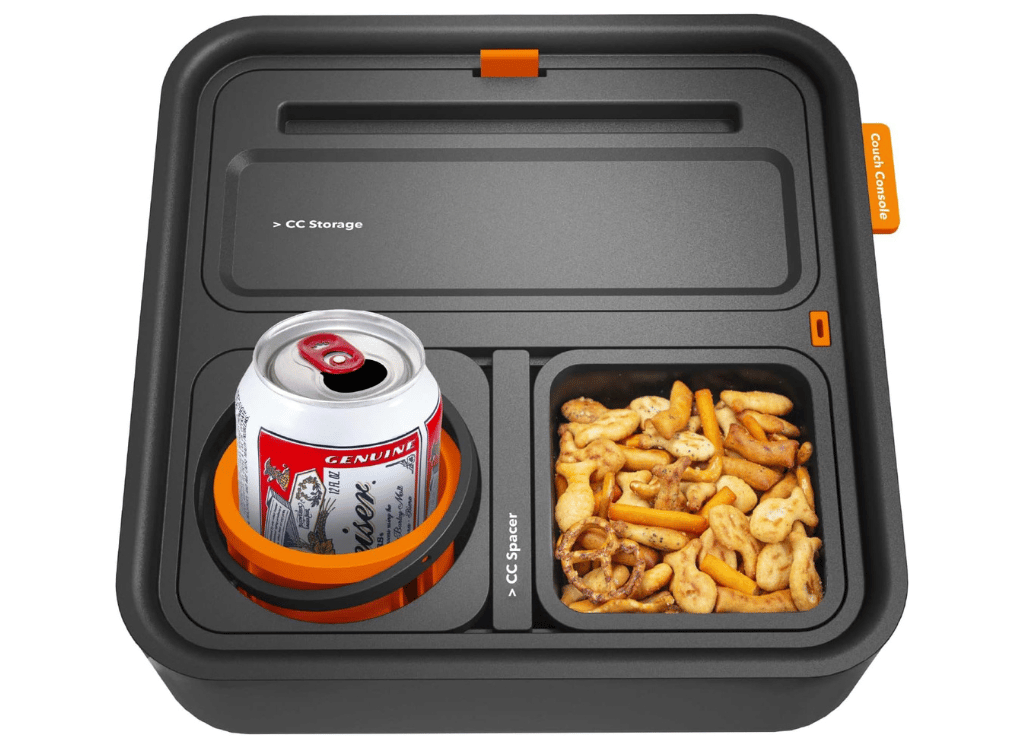 6. CouchConsole Original Tray
See Price on Amazon
Why We Love It
With its high-performance gyroscope system, say goodbye to spills and hello to worry-free sipping. Your cup stays perfectly vertical on any surface, no matter how uneven or soft. But that's not all! This compact and modular tray is designed for ultimate customization. Need extra storage? Simply utilize the snack module and divide it with the spacer. It even keeps your tech charged! With the USB C port conveniently located on top, you can easily connect any external battery, ensuring all your devices are always juiced up.
Couch Cup Holder FAQs
Welcome to our FAQ section, where we answer all those burning questions you have about the perfect sofa accessory. Just bought one? Thinking about it? Either way, we've got you covered! This is your ultimate knowledge hub for finding out everything there is to know about these lifesaving, drink-holding wonders of convenience. So settle down, grab a cup of joe, and get ready to discover just how a couch cup holder can revolutionize your relaxation time!
1. What is a couch cup holder?
A couch cup holder is a handy device designed to keep your drinks securely in place while you relax on your couch. It helps prevent spills, thus ensuring your sofa stays clean and dry. Plus, it's a great addition for anyone looking to add a dose of convenience to their lounging time!
2. Are couch cup holders portable?
Yes, absolutely! Most couch cup holders are lightweight and portable, making them perfect for both living rooms and outdoor use. You can easily move them from your couch to your bed, or even take them with you on camping trips!
3. Do couch cup holders fit all cup sizes?
Most couch cup holders are designed to accommodate a wide range of cup sizes. From standard-sized coffee cups to larger mugs, these holders are versatile, ensuring your favorite beverages are always within arm's reach.
4. Can I store other items in my couch cup holder?
Yes, you can! One of the great features of many couch cup holders is that they offer additional storage space for various items. Along with your favorite beverage, you can conveniently store TV remotes, smartphones, tasty snacks, and more. With this extra storage, you can stay organized and have everything you need right by your side, ensuring a comfortable and enjoyable experience on your couch!
5. How do I clean my couch cup holder?
Cleaning a couch cup holder is typically a breeze. Most are either machine washable or can be easily cleaned with a damp cloth. Always check the manufacturer's cleaning instructions to ensure you're taking the best care of your holder.
6. Are couch cup holders durable?
Absolutely! Couch cup holders are made from robust materials like silicone, fabric, or bamboo, ensuring they can withstand the test of time. However, always check the product description for specifics on durability.
7. Do couch cup holders damage my sofa?
Not at all! In fact, modern couch cup holder designs are specifically engineered with non-slip or anti-tilt features. These thoughtful additions not only keep your beverages securely in place, but they also provide peace of mind by ensuring that your beloved sofa remains in pristine condition. You can enjoy your favorite drinks without worrying about any potential harm to your furniture.
8. Can I use a couch cup holder on other furniture?
Of course! Although they are commonly referred to as "couch" cup holders, these versatile accessories can be conveniently utilized on various pieces of furniture such as beds, armchairs, recliners, and even some outdoor seating options like patio chairs and deck loungers. This flexibility allows you to enjoy your favorite beverages in ultimate comfort and convenience, regardless of the type of furniture you are using. So go ahead and enhance your relaxation experience without any limitations!
9. Are couch cup holders expensive?
Not necessarily. While prices can vary, there's a wide range of options available to suit different budgets. From affordable choices that offer great value for money to more premium ones with additional features, you can find cup holders that fit your needs. After all, the convenience and peace of mind they provide are truly priceless, making them a worthwhile investment for your relaxation and enjoyment. So, take your time to explore the options and find the perfect cup holder that enhances your couch experience to the fullest!
Final Thoughts About Couch Cup Holders
In conclusion, these six couch cup holders redefine the concept of comfort and convenience right at your fingertips! Whether you're a cozy couch potato or an uber-organized individual, there's something in this list for everyone. From the tech-savvy CouchConsole Original Tray with its high-performance gyroscope and USB C port, to the bamboo elegance of GEHE's couch cup holder enhancing your sofa's aesthetic appeal, your dream of a spill-free, clutter-free, and hassle-free lounging experience is just a purchase away! So go forth, dear readers, and transform your living room into the ultimate comfort zone with these incredible sofa innovations!
Happy Shopping! :)
Are you a shopping enthusiast looking for more fun while browsing? With Two Free Audiobooks from Audible Plus and 30 days of free access to Amazon Prime Music, you can now listen to your favorite audiobooks and music while you shop! Plus, with Amazon Prime's lightning-fast 2-day shipping. Get a Free 30-day trial of Amazon Prime today and enjoy these amazing benefits.