9 Pawsome Dog Birthday Party Supplies to Make Your Pup's Big Day Unforgettable!
Get ready to host the ulti-mutt dog birthday bash with our top 9 party supplies! From paw-print balloons to bone-shaped confetti, these pawsome picks will make your canine king or queen the talk of the dog park. Turn your pup's special day into a tail-wagging extravaganza! 🐾🎉
Welcome to Raquel's Reviews! As an Amazon Associate, we may earn a commission from qualifying purchases, but we promise the prices are still the same for you!
Are you ready to get your paws dirty for the most tail-tastic, fur-filled birthday party your pup has ever seen?
If you're nodding furiously, then you, my friend, are in the right place! Let's face it, our furry friends deserve the world — so why not start with a birthday bash they're bound to remember?
Here at Raquel's Reviews, we've sniffed out the most pawsome, top-notch dog birthday party supplies on Amazon and Etsy, so you don't have to! So, sit back, grab a latte, and let's dig into these 9 fetching finds that will take your pup's special day from ordinary to extra-ordinary! Let's unleash the fun!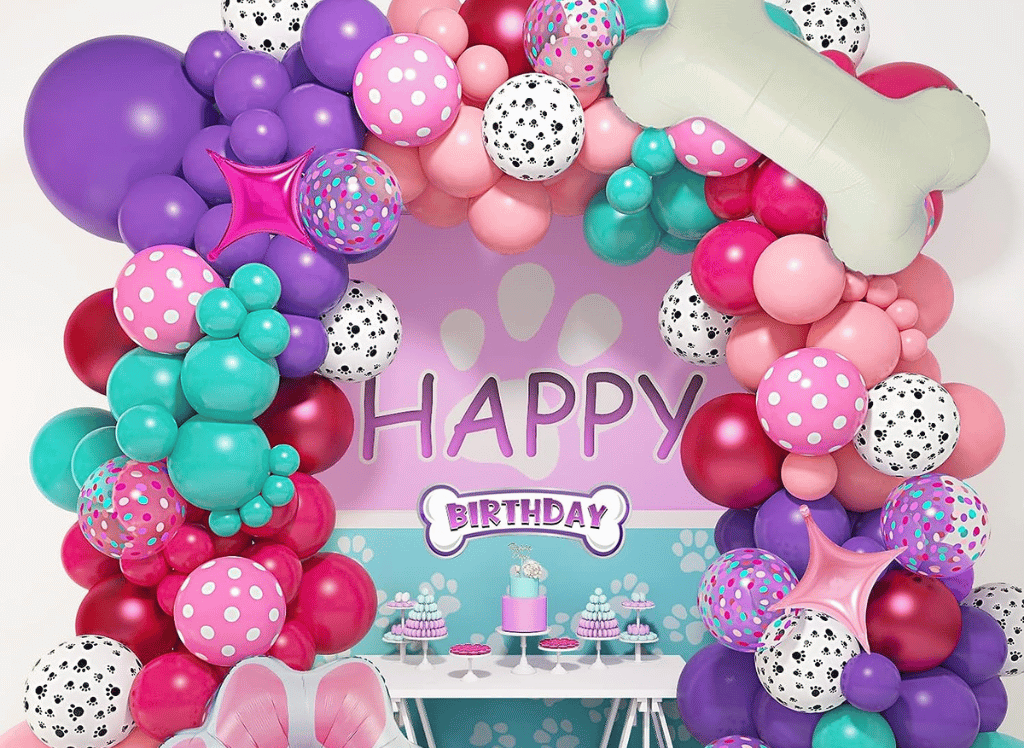 1. Ouddy Party 151Pcs Paw Balloons Garland Arch Kit
Check Price on Amazon
Why We Love It
Ouddy's Party 151Pcs Paw Balloons Garland Arch Kit is the perfect way to make a statement! This all-in-one kit comes with everything you need to create a dynamic and colorful balloon arch that is sure to impress your guests. Featuring vibrant and fun colors such as purple, turquoise, pink and rose red, this garland kit also includes an adorable dog bone balloon and two shining star foil balloons for some extra pizzazz. The premium quality balloons are made with natural latex so they are thick, durable, and non-toxic, and easy to assemble!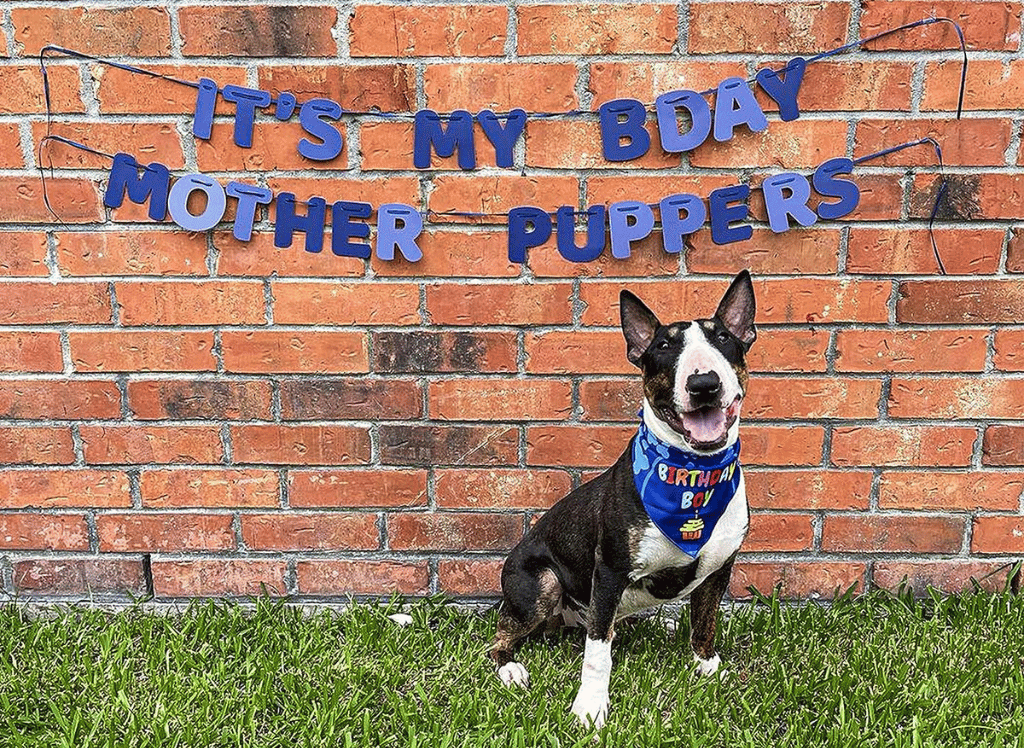 2. Odi Style Blue Dog Birthday Party Supplies
Check Price on Amazon
Why We Love It
The package includes a dog birthday bandana, a party crown, and a happy birthday banner. Cozy and comfortable, the dog birthday bandana is made of high-quality super soft, durable fabric that's designed to stay put all day long. Dress up your beloved pup and make him the canter of attention on his special day. And, of course, there's the Bark Time Birthday Dog Crown – the perfect addition to complete your pup's look! With the same pattern used in dog bandana, it'll add a four-legged touch of cuteness to the party. And for the main event, you get the Motherpuppers Theme Birthday Celebration Banner made of sturdy, high-quality card stock. Ideal for both indoor and outdoor decorations, you'll love the vibrant color's of the lettering and the delightful imagery.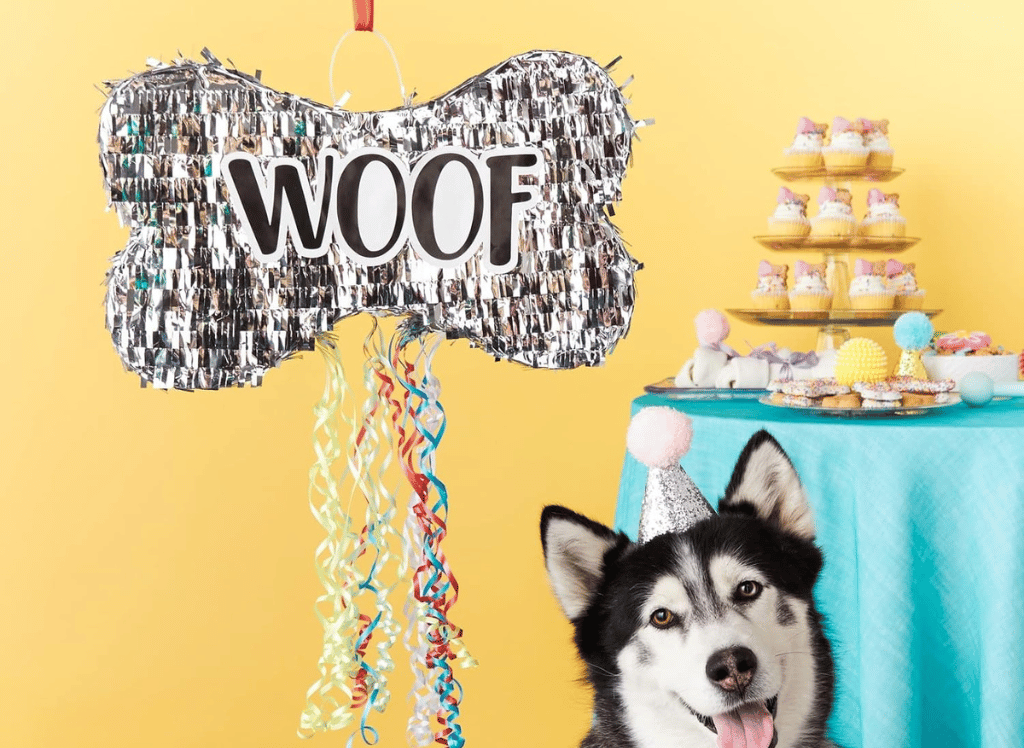 3. BLUE PANDA Silver Foil Pull String Dog Bone Pinata
Check Price on Amazon
Why We Love It
Your dog birthday party will be a hit with this BLUE PANDA Silver Foil Pull String Dog Bone Pinata! This fun pinata will be the perfect addition to your pet-themed party decorations to make your guest's celebration even more festive. The pinata measures 16.75x10x3 inches, and the outside is made of shiny metallic silver foil tissue paper. You can easily fill it with an assortment of candy, confetti, and favors (fillers not included) so all guests can have a chance to win exciting prizes. Pull each of the colored ribbons from the bottom of the pinata until one releases and the prizes inside fall out. It's great entertainment that will delight guests of all ages and make your party one to remember!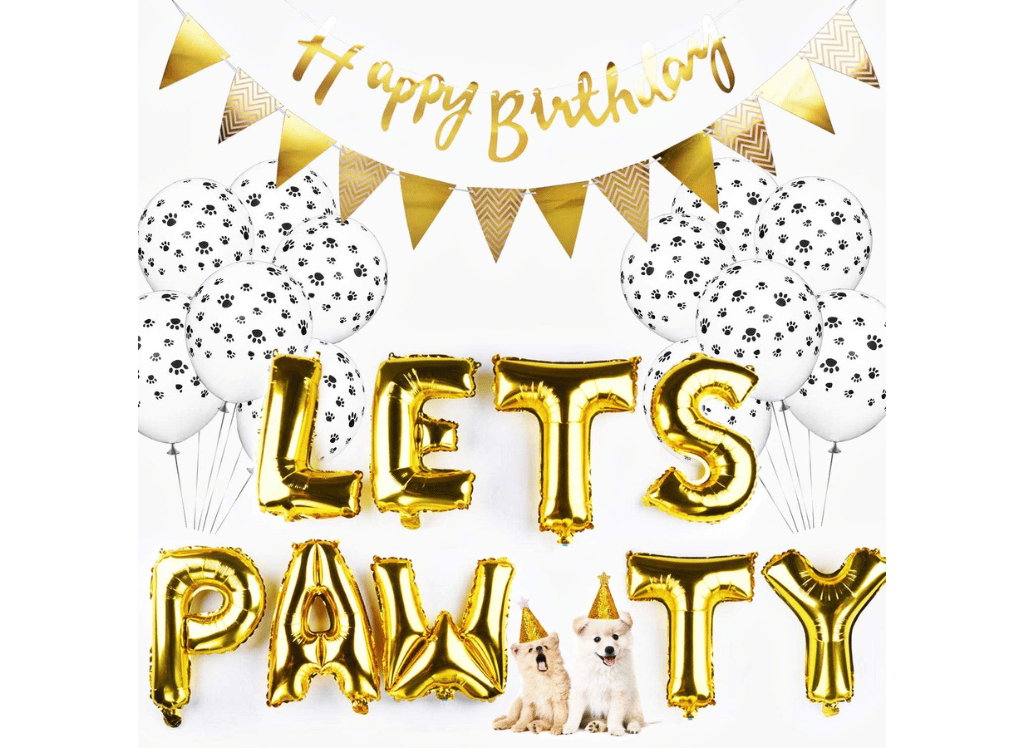 4. Legendog Gold Dog Paw Print Balloons
Check Price on Amazon
Why We Love It
This set contains all the decorations you need to make your pooch's special day truly memorable. It includes a Happy Birthday banner, a triangle flag banner, a LETS PAWTY foil balloon, 10pcs latex balloons with paw prints and 2 pcs of dog birthday hats. Each of these decorations has been made with high quality and safe materials like aluminum foil, latex, cloth and paper. Furthermore, they're reusable and perfect for pet's birthday, bars, disco, parties, KTV and more.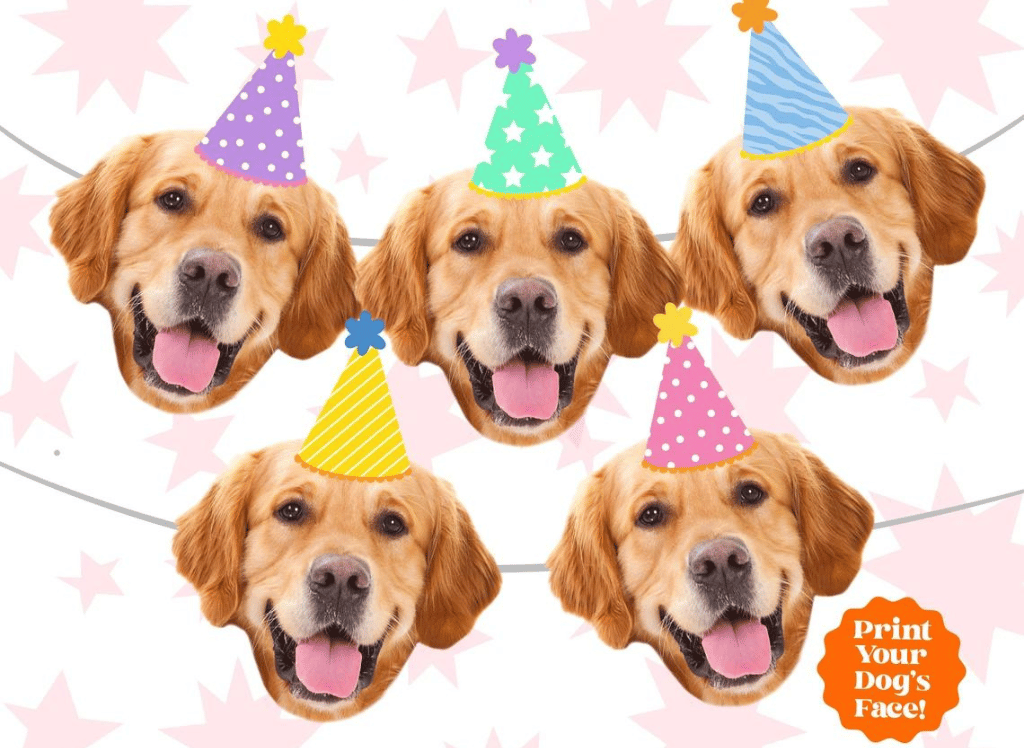 5. Custom Dog Photo Banner
Check Price on Etsy
Why We Love It
This pawsome party accessory is the perfect way to celebrate your canine companion's birthday or any special occasion. With its personalized touch and endless possibilities, this banner will have tails wagging and tongues panting with excitement! Made-to-order and available for digital download, it's the easiest way to add a personal touch to your pet's celebration. Simply send a photo of your four-legged friend, and their talented team will transform it into a stunning banner that captures the essence of your dog's unique personality.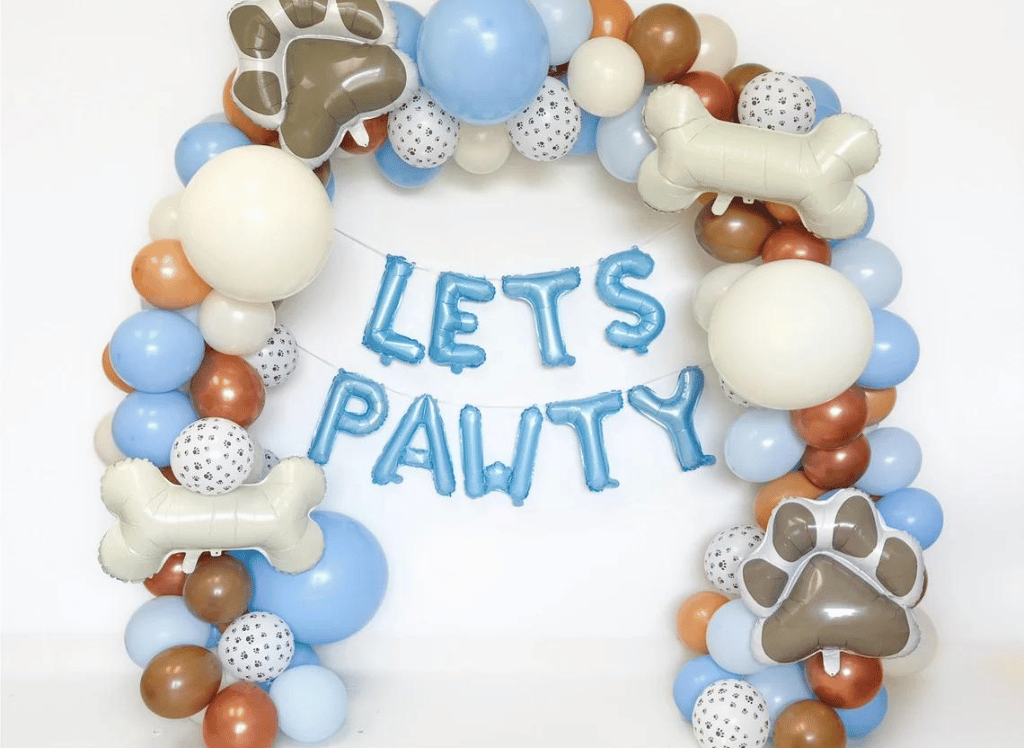 6. Dog Birthday Party Balloon Garland Kit Puppy Themed
Check Price on Etsy
Why We Love It
This kit has everything you need to create the most unforgettable celebration for your pup. The kit includes all the necessary items for you to create a fun and stylish latex balloon garland - from paw prints and bones to white and various shades of blue - this kit has it all! And assembly couldn't be easier - the included step by step instructions make it a swift 20-30 minute process to have the garland looking perfect and ready to be showered in barks and slobbery kisses!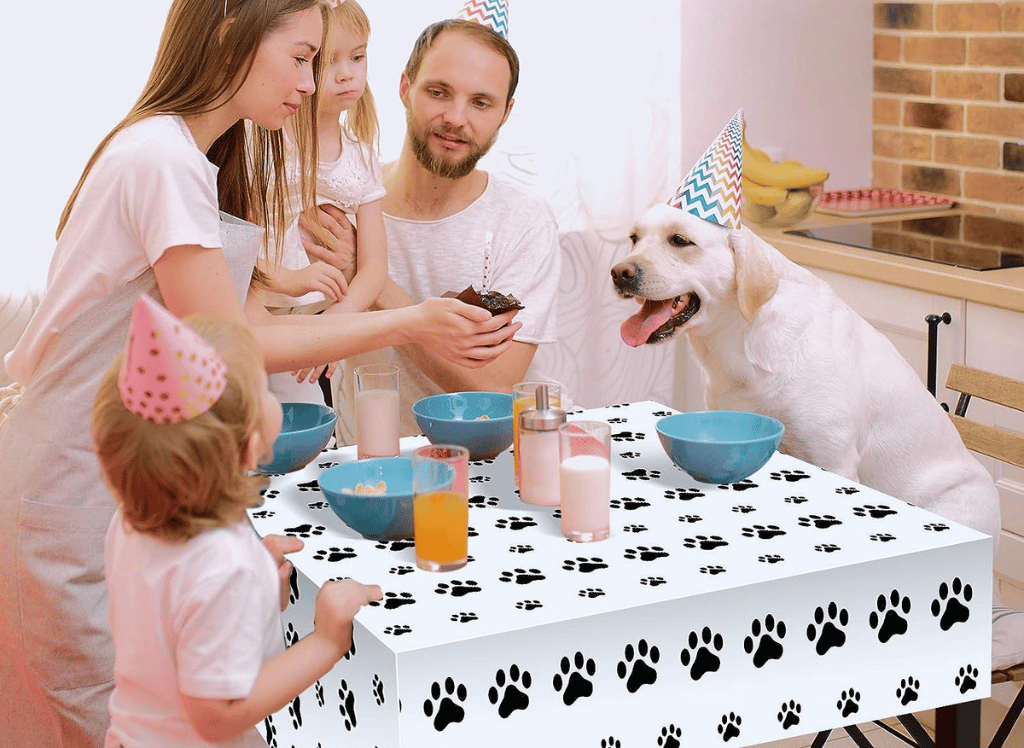 7. Tatuo 2 Pieces Puppy Paw Print Plastic Tablecloth Disposable Table Cover
Check Price on Amazon
Why We Love It
These adorable two-piece puppy print tablecloths will add a dash of whimsy to any party decor. The set includes two plastic tablecloths that measure approximately 71 x 54 inch - just the size to fit any square table perfectly. They are made from thick and sturdy plastic that won't easily tear or rip, so you don't have to worry about any embarrassing mid-party lapses in decor. Plus, clean up is absolute a breeze. When the party is over, simply wipe the tablecloth off and store it away for your next event.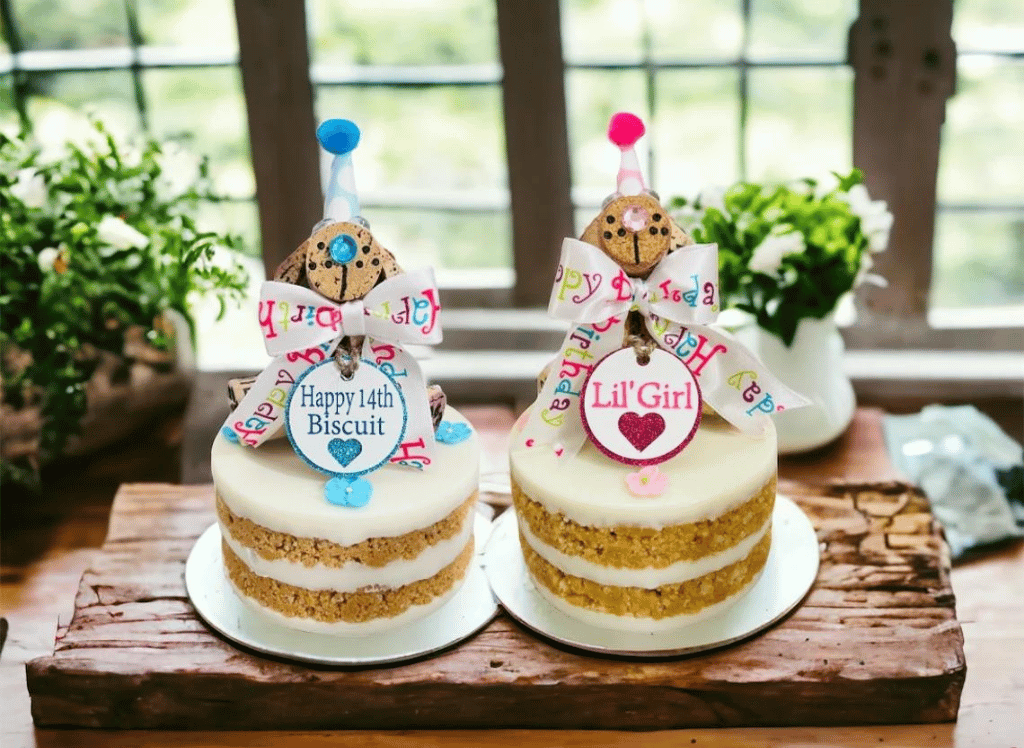 8. Peanut Butter Dog Birthday Cake
Check Price on Etsy
Why We Love It
This delicious Dog Peanut Butter Birthday Cake is the perfect way to make your pet's special days even more memorable. This mouth-watering cake is made with wholesome ingredients like nutty peanut butter, rice flour, puffed rice, honey, and yogurt for a taste they'll love. And for an extra-special touch, you can choose the personalized topper cake option, complete with a cute dog crafted from corks and a personalized dog tag for a keepsake. Rest assured that this cake contains no harmful ingredients, additives, or preservatives, so it is safe for your pet to enjoy.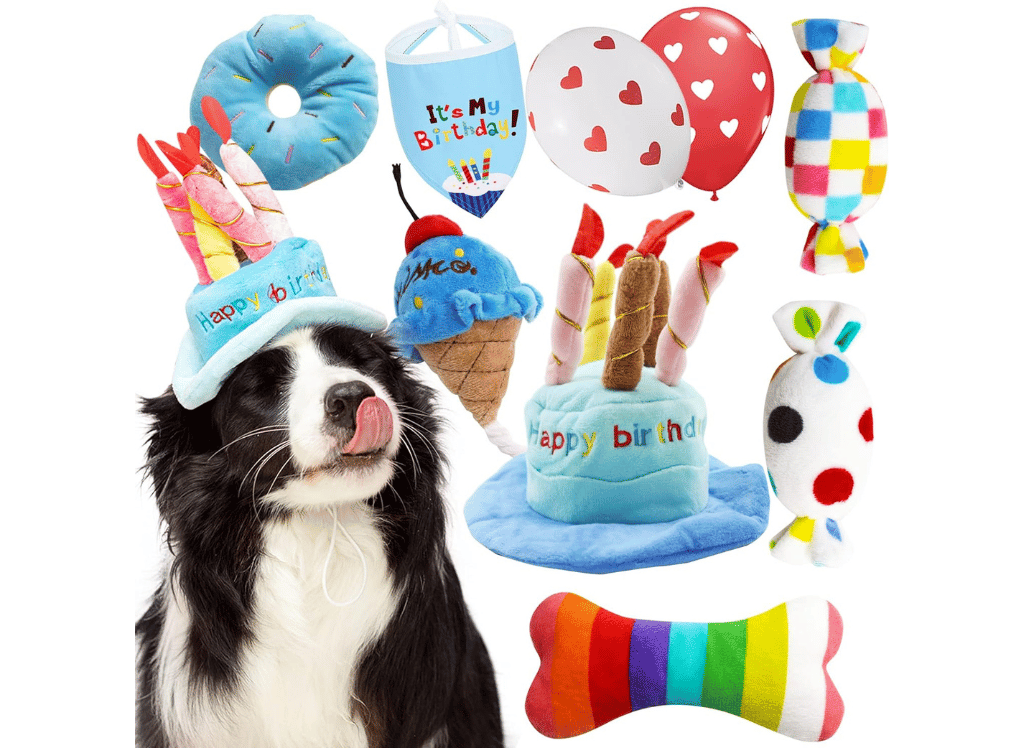 9. lilfrd 9 Pack Dog Birthday Toys
Check Price on Amazon
Why We Love It
This 9 pack bundle offers an assortment of fun and adorable items that will make for a memorable birthday party experience for you and your pup. The pack includes a bright blue birthday hat, five plush squeaky dog toys, a stylish blue dog birthday bandana, and two heart pattern balloons. The squeaky toys, which include two candy toys, a rainbow bone toy, a blue donut toy, and an ice cream toy, will keep your pup entertained and happy throughout their special day. And with these items, you can create the perfect Instagram-able moment to commemorate your pup's birthday! Plus, these items make great party favors for canine guests so you can spread the love and cheer on your pup's special day.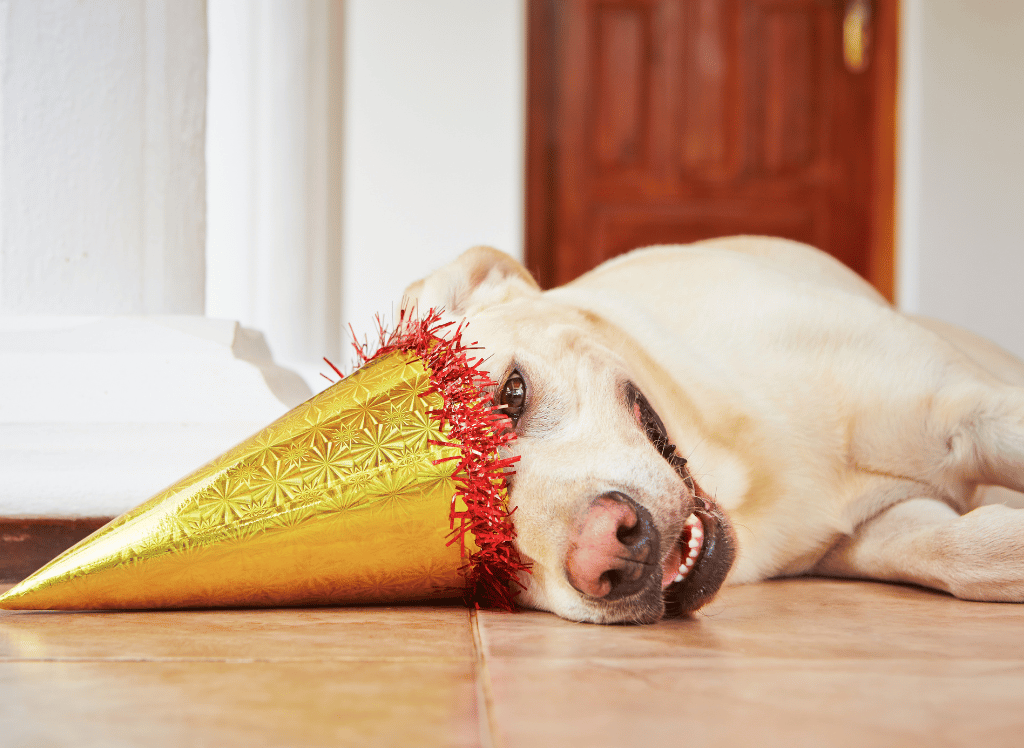 Dog Birthday Party FAQs
Wondering how to throw a tail-waggingly fabulous dog birthday party? Got yourself tangled in streamers and confetti trying to figure out the best way to celebrate your pupper's special day? Have no fear, dog parents! We've got the answers to all your burning questions right here! So, grab a pupcake, get comfy, and dive into our pawsome Dog Birthday Party FAQ section. We're about to unleash all the details from the biggest dog parties and the top tips to make sure your furry friend's celebration is the bark of the town! Let's get this paw-ty started!
1. What is a dog birthday party?
Dog birthday parties are joyous and festive gatherings dedicated to celebrating the special day of your beloved furry friend. It is an occasion filled with laughter, wagging tails, and endless moments of canine delight. During this delightful event, you can expect a variety of exciting activities, including games tailored for our four-legged pals, such as fetching competitions and obstacle courses designed to unleash their boundless energy. The atmosphere will be adorned with charming decorations, reflecting the playful nature of our canine companions. Mouthwatering treats specifically crafted for dogs will be served, ensuring that their taste buds are tantalized with flavors that they adore. And, of course, the party wouldn't be complete without the presence of other furry companions, who will join in the festivities, creating a delightful social experience for all. Get ready to capture precious memories and create pawsome moments that will be cherished for years to come at this extraordinary celebration of your dog's birthday!
2. Where should I host my dog's birthday party?
When deciding on the perfect location for your dog's birthday party, consider a few factors to ensure a memorable celebration. Your backyard can be transformed into a doggie wonderland with decorations, games, and a designated play area. If you opt for a local dog park, make sure it is spacious enough to accommodate all the furry guests and has amenities like water fountains and shaded areas. Alternatively, hosting the party inside your home can provide a cozy and intimate setting, especially if you create a dog-friendly space with toys and treats. Ultimately, choose a location that prioritizes your dog's safety and comfort while still allowing for a fun and festive atmosphere!
3. Who should I invite to my dog's birthday party?
You should invite dog owners and all your dog's favorite canine friends! Consider inviting the furry pals your dog loves to play with at the local park, as well as close friends and family who adore your four-legged companion. Just ensure that all the invited pups get along well with your dog to avoid any potential scuffles. Creating a joyful and harmonious celebration for your beloved pup will make their puppy party an unforgettable experience!
4. What kind of games can dogs play at a birthday party?
There are several fun and engaging games that dogs can enjoy at a birthday dog party. One popular game is fetch, where dogs can chase after a ball or a frisbee and bring it back to their owners. Another exciting game is tug-of-war, where dogs can test their strength and playfully compete with their canine friends. Additionally, setting up an obstacle course racing can provide a stimulating challenge for dogs to navigate through tunnels, weave between poles, and jump over hurdles. Lastly, to add an element of surprise and excitement, you can organize a treat hunt with dog-friendly snacks hidden around your yard, allowing dogs to use their keen sense of smell to find the hidden treasures. These games not only provide entertainment but also encourage physical activity and mental stimulation, making the birthday party a memorable and enjoyable experience for all the furry attendees.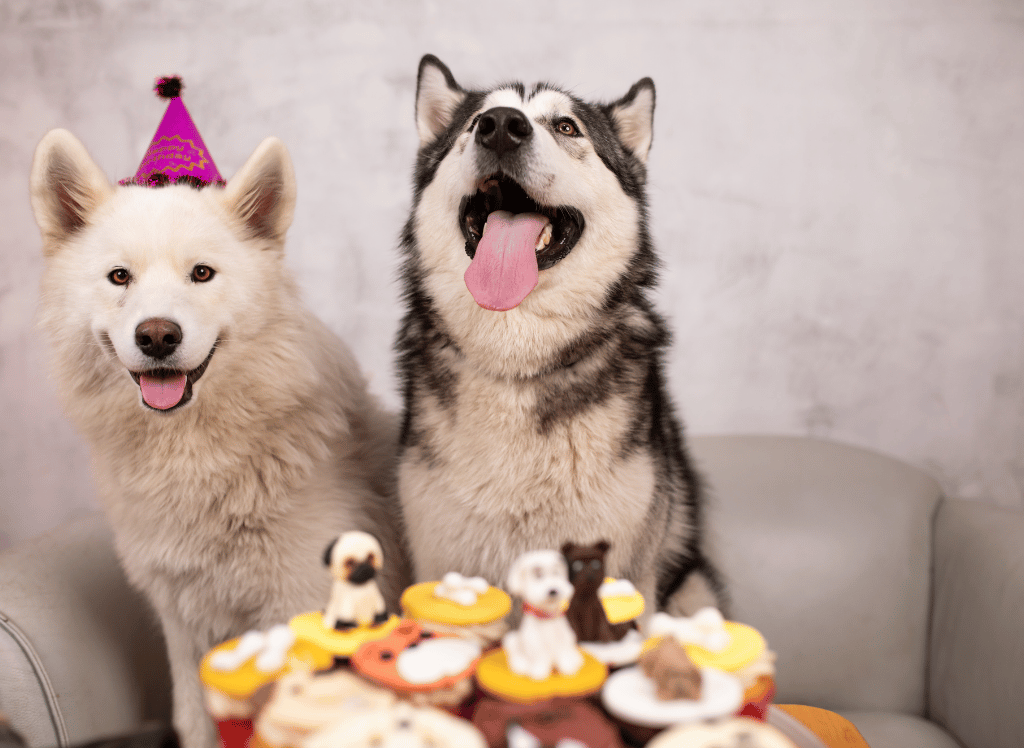 5. What are some fun dog birthday party activities?
What a great question! There are plenty of ways to get tails wagging at your dog birthday bash. One of the most popular activities is a game of fetch or tug-of-war. You can also set up an obstacle course in your backyard for a fun and challenging activity that will keep the pups entertained. If you want to go the extra mile, consider hiring a professional dog trainer to conduct a mini agility class. Don't forget, a photo booth with plenty of props can be a fun addition for both the dog and human guests. Lastly, a treat hunt with dog-friendly snacks hidden around the yard can be a hit. Remember, the most important thing is to keep the activities safe and enjoyable for all your four-legged guests. Happy party planning!
6. What should I serve at my dog's birthday party?
When planning your dog's birthday party, you can serve a delightful assortment of dog-friendly treats and snacks. Consider including homemade pupcakes or doggy ice cream made from pet-safe ingredients. Additionally, you could offer a "pawty platter" with a variety of bite-sized goodies like crunchy biscuits, chewy jerky, and tasty pup-friendly vegetables. Don't forget to check with the pet parents beforehand to ensure that none of the furry guests have any food allergies or dietary restrictions. With these paw-some options, your dog's birthday party will be a wagging success!
7. What are some dog birthday party decoration ideas?
For a paw-some dog birthday party, you can create a festive atmosphere with colorful balloons, banners, and tablecloths adorned with adorable dog-themed prints. These decorations will instantly set the party mood and make the celebration even more special. And of course, no dog birthday party is complete without a dog-themed cake that will make all the furry guests drool with delight! Don't forget to add some cute hats for the birthday pup and their furry friends, so they can strut their stuff and look extra adorable in photos! With these delightful decorations, your dog's birthday celebration will be an unforgettable event filled with wagging tails and joyful barks!
8. How can I make my dog's birthday party special?
To make your dog's birthday party truly memorable and unique, consider personalizing the decorations with your dog's name and adorable paw prints. Set up a photo booth area with props and costumes for some fun and memorable pictures. Serve a variety of delicious treats, including homemade dog-friendly cupcakes and pupcakes. Don't forget to include a dog-friendly birthday cake that looks as good as it tastes! Create a special play area with interactive toys and games, and consider hiring a professional dog trainer to organize a mini agility class or other fun activities for the furry attendees. Lastly, organize a doggy goodie bag for each guest, filled with treats, toys, and personalized thank-you notes. With these extra touches, your dog's birthday party is sure to be an unforgettable celebration!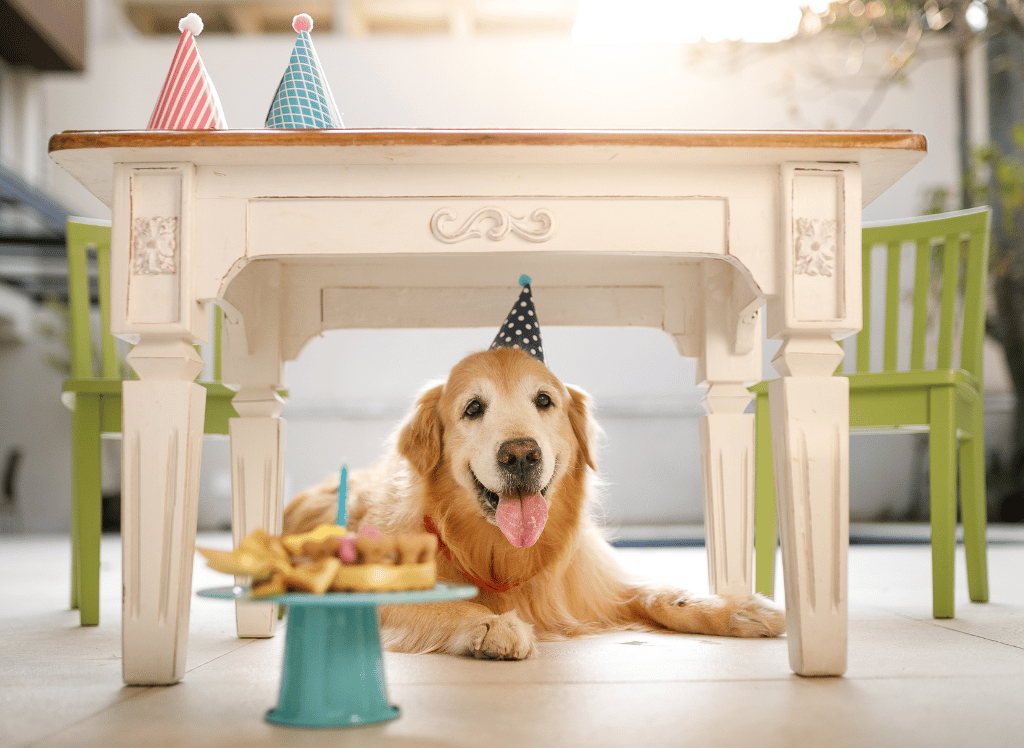 9. What are some thoughtful and fun dog birthday presents I can give to my pup?
Oh, the joy of finding the paw-fect birthday gift for your four-legged friend! There are a variety of presents that can make your puppy birthday party extra special. Start with toys – they are always a hit. Consider interactive toys that keep your dog mentally stimulated, or maybe a plush toy for those much-needed cuddle sessions. Treats are another great option, particularly gourmet ones or those catering to a special diet. For the fashion-forward pooch, consider a stylish new collar, bandana, or even a personalized dog leash. If you really want to spoil your pup, think about investing in a comfy new bed or a fancy dog house. Last but not least, how about a doggy spa day or a professional pet portrait? Remember, whatever present you choose, it's the love and time you spend with your pup that truly counts.
10. Are there dog-friendly cakes?
Absolutely! If you're looking to treat your furry friend to a special occasion, there are numerous options for dog-friendly cakes available on the market. These delectable treats are specially crafted with wholesome ingredients that are safe and healthy for dogs. From mouthwatering flavors like peanut butter, pumpkin, and applesauce to creative variations, you can find a wide range of choices to satisfy your pup's taste buds. And if you're feeling adventurous, there are plenty of delightful recipes available online that allow you to whip up a homemade dog-friendly cake right in your own kitchen! So go ahead, celebrate and indulge your four-legged companion with a delectable cake that will make their tail wag with joy!
11. How long should a dog birthday party last?
A dog birthday party typically lasts for 2-3 hours, depending on the size and energy levels of the furry attendees. This duration allows ample time for the pups to engage in various activities, such as interactive games, treat scavenger hunts, and even a special cake-cutting ceremony. It's crucial to strike a balance between providing enough time for the dogs to socialize and enjoy the festivities, while also ensuring they don't become too overwhelmed or tired. By planning a well-paced and thoughtfully organized event, you can create a memorable experience for both the birthday pup and their four-legged friends!
12. What should I put in the goody bags for the canine guests?
When it comes to goody bags for the canine guests, you have plenty of options to make their day extra special! Consider including a variety of dog-friendly treats, such as tasty biscuits, chewy bones, or even some homemade goodies. To keep them entertained, add a mix of small toys like squeaky balls, plush toys, or interactive puzzles. And for a touch of style, why not include a cute bandana that matches the theme of the celebration? Don't forget to express your gratitude by including a heartfelt thank-you note for their human companions. With these thoughtful additions, you can ensure that every pup attending the event has a tail-waggingly delightful time on their special day!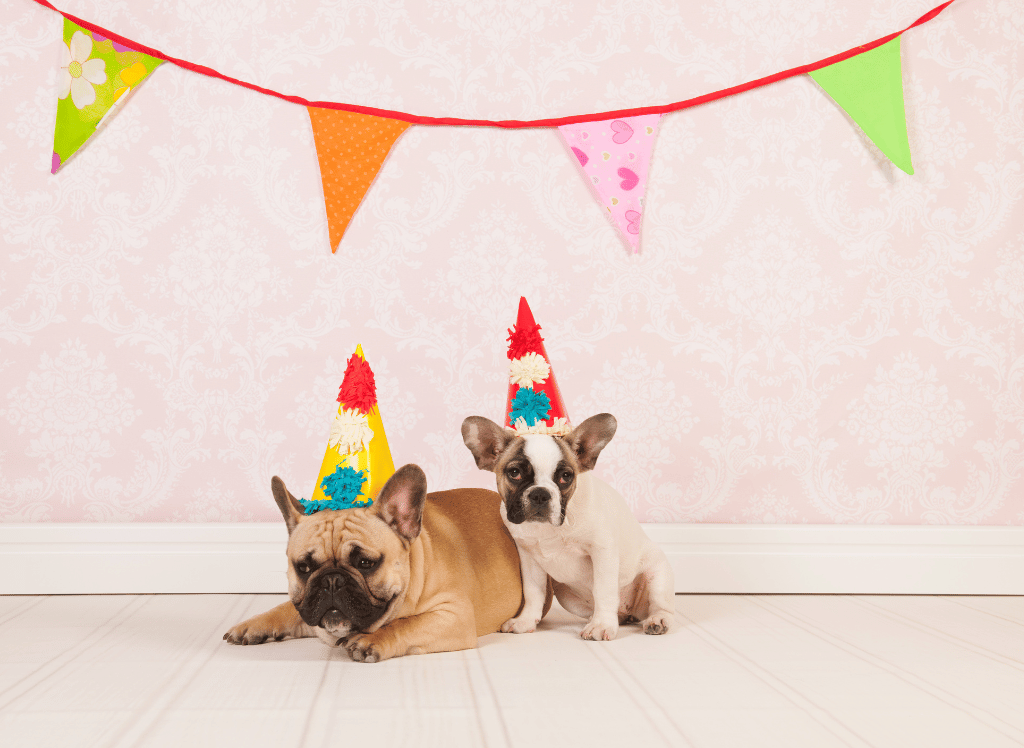 Final Thoughts About Dog Birthday Party
Throwing the perfect dog birthday party doesn't have to be a ruff ride. With these 9 top-tier party supplies, you're set to host a bash that will have every tail in town wagging! From balloon garlands that scream 'PAW-TY OVER HERE!', to bandanas that make your pooch look like a royal, every item on this list has been paw-picked to make your dog's birthday party the talk of the dog park. So, go ahead, let the fur fly, and create a day your furry best friend will never forget! After all, dogs are not just pets, they're family. And what better way to show your four-legged family member just how much you love them than with a birthday bash that sets tails wagging? Get ready to unleash the FUN!
Are you a shopping enthusiast looking for more fun while browsing? With Two Free Audiobooks from Audible Plus and 30 days of free access to Amazon Prime Music, you can now listen to your favorite audiobooks and music while you shop! Plus, with Amazon Prime's lightning-fast 2-day shipping. Get a Free 30-day trial of Amazon Prime today and enjoy these amazing benefits!
Happy Shopping! :)