Make Exercise Fun for Your Furry Friend With These 3 Dog Treadmill Models
Does your pup have the zoomies? Give 'em a place to channel their energy with one of these top-rated dog treadmills! Whether they're running for fun or fitness, these models will make exercise more enjoyable for your furry friend. Let's pick out the perfect treadmill and get ready to run!
As an Amazon Associate, Raquels Reviews may collect a share of sales or other compensation (at no cost to you) from links found within these pages if they choose to buy something
Are you a busy dog parent who wants to keep your pup healthy and active, but the weather outside is just too extreme?
Don't worry – there are plenty of great options for indoor exercise that will help your pup stay fit and happy. Dog treadmills are becoming increasingly popular as an alternative to outdoor walks in extreme temperatures. They provide a safe, controlled environment for your pup to get their daily dose of exercise without having to brave the elements.
With so many different models on the market, it can be hard to know which one is right for you and your pet. That's why we've put together this guide with our top picks for the best dog treadmills available on Amazon!
Read on now to find out which treadmill is perfect for keeping your furry friend fit all year round!
How Raquels Reviews Chooses the Best Dog Treadmill
We all love our dogs and want to keep them healthy, but sometimes it's hard to find the time or energy for regular walks.
Even when you do have time, there are days when the weather is too hot or cold for a walk outside. You don't want your pup to miss out on their exercise routine, but what can you do?
Raquel's Reviews has done the research so that you don't have to! Our experts have scoured Amazon reviews and chosen only the best dog treadmills available. Now your pup can get fit in any weather - no matter how busy life gets!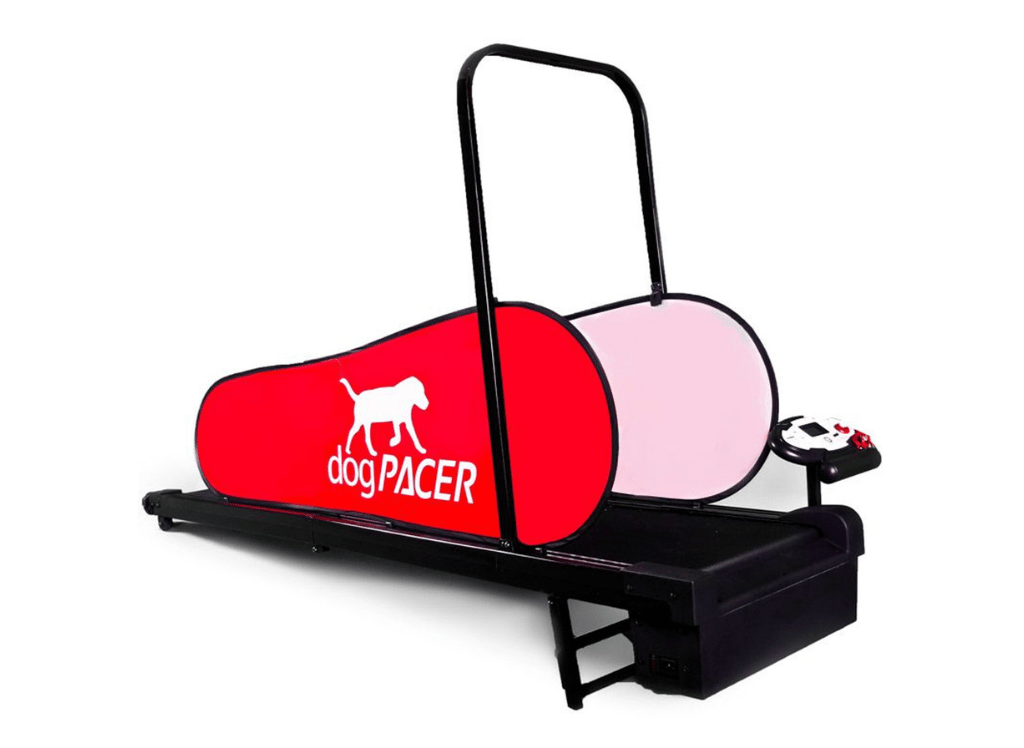 1. dogPACER Full Size Dog Pacer Treadmill
Check Price on Amazon
Why We Love It
This treadmill was designed with both size and safety in mind - it can accommodate dogs up to 180lbs in weight, while its adjustable overhead bar keeps them safe during their workout. The running area measures 71" x 16.5", providing plenty of room for all breeds of dogs to get fit in comfort. From busy schedules at home or work, having a reliable daily exercise routine is key for staying healthy and happy - so give your pup the chance they need with this fully featured doggy treadmill!
Things to Know
With a weight capacity of up to 180 lbs, this treadmill offers adjustable speeds from 0.5 to 7.5 mph in increments of 0.1 for perfect tailoring to your pup's individual needs and energy level. This treadmill also features patented folding technology, so you can easily store it away when not in use!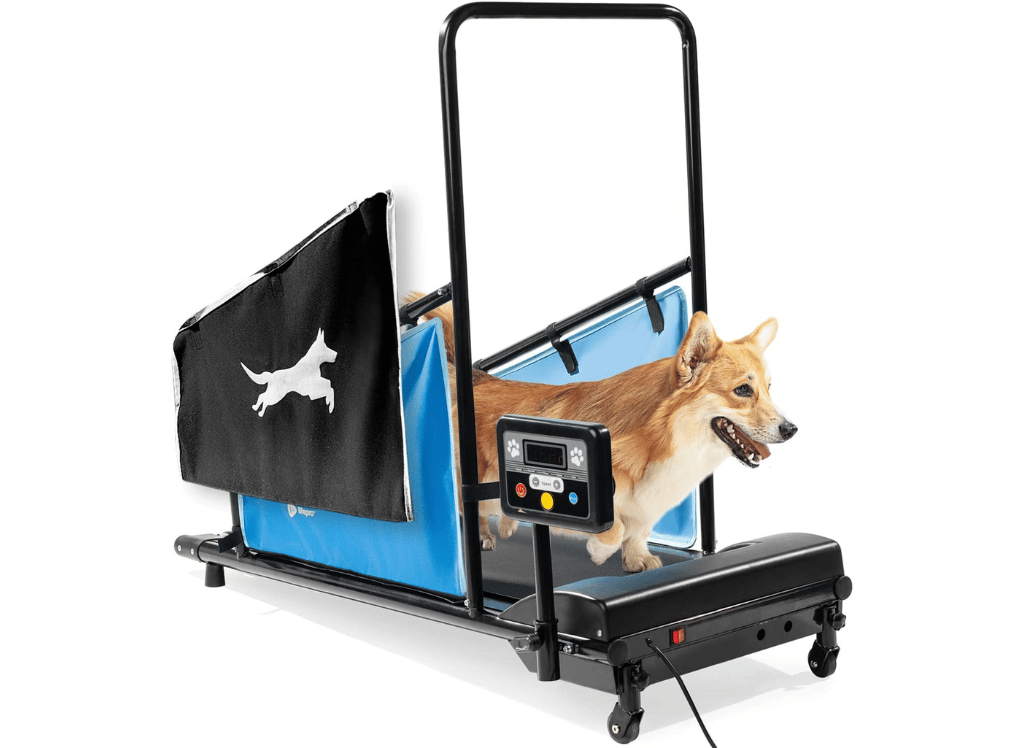 Check Price on Amazon
Why We Love It
The LifePro Small Dogs Treadmill is the perfect solution for pet owners who want to keep their furry friends fit and healthy. The running machine helps improve their blood circulation, control blood pressure, and even help them lose weight. This treadmill makes sure that daily exercising stays effective no matter the weather or your schedule.
Things to Know
This dog treadmill offers a safe and comfortable exercise experience with its ultra-quiet motor, safety key, emergency stop button, and adjustable incline levels of up to 12%. It also features a maximum speed of 8 miles per hour and can handle pets weighing up to 130 lbs with a maximum length of 29.5" and height of 35.4".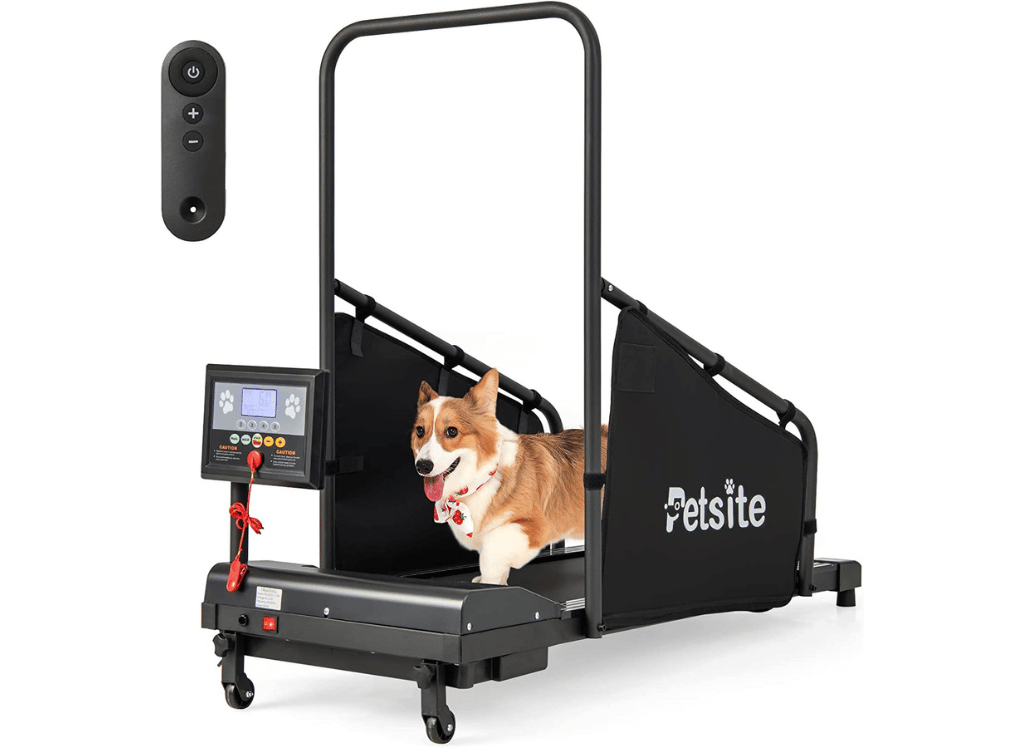 3. PETSITE Medium Dog Treadmill
Check Price on Amazon
Why We Love It
This amazing machine is perfect for helping your pup get their daily exercise indoors, with its powerful 1.5 HP motor that reaches up to 7.5 mph and adjustable incline allowing for scientific and efficient workouts. Plus, it comes with 12 preset programs and 3 countdown modes so you can fully customize the workout for your beloved four-legged friend! With this treadmill at home, there's never an excuse not to give them the exercise they need even when you're too pressed for time or the weather isn't cooperating.
Things to Know
The PETSITE Dog Treadmill offers a wide running belt that measures 39" x 14.5" (L x W), designed with four layers of excellent shock absorption and slip resistance for maximum comfort and safety. Additionally, it comes with two side safety fences to block your pet's vision, allowing them to focus on their workout more easily. The treadmill also features an LCD display that showcases time, speed, distance, and calories in real time as well as four quick-speed keys (2/3/4/5 MPH) for convenience. Moreover, the treadmill includes a remote control so you can control it from up to 65.5 ft away!
Dog Treadmill FAQs
Are you a dog lover who wants to keep your pup healthy and active, but don't have the time or space for long walks?
You want your pup to stay fit and healthy, but it's hard when you're busy with work and life. Plus, taking them out in bad weather can be stressful.
Dog treadmills are the answer! With Raquels Reviews' list of Frequently Asked Questions about Dog Treadmills, you'll get all the information you need to make an informed decision on which treadmill is best for your pup. Get ready to give your furry friend the exercise they deserve without having to leave home!
1. What are the benefits of using a Dog Treadmill?
Using a dog treadmill can provide numerous physical and mental health benefits for dogs such as improved weight control, joint health, increased stamina and endurance. It also provides an outlet for high energy dogs to release pent up energy in a controlled environment.
2. How do I choose the right size Dog Treadmill?
When selecting a dog treadmill it is important to consider your pet's size, breed type, temperament and exercise needs before committing to one model or another. Generally speaking, large dogs will require bigger treadmills that are built with higher capacity motors while a small dog may be better suited for smaller motorized models designed specifically for their size range.
3. Are Dog Treadmills safe?
Yes, when used correctly most modern dog treadmills are designed with safety features such as low speed settings and additional guard rails that help protect against falls or slips during use. Additionally, many smart dog treadmill models come equipped with emergency shutoff systems so you can quickly stop operation in case of an accident or injury.
4. Can I use my Human Treadmill on my Dog?
Absolutely not. Human treadmills are not designed for use with animals and can be incredibly dangerous. Additionally, human treadmills tend to have much higher speeds than many dogs treadmills, which could lead to serious injuries if your pet were to accidentally slip or fall.
5. Are there any special considerations for larger or smaller dogs?
Yes, larger breeds such as German Shepherds and Labrador Retrievers will require a larger motorized treadmill with higher capacity speeds since they are typically more active. On the other hand, smaller breeds such as Chihuahuas or Yorkies may need a smaller motorized model with low speed settings along with a guardrail to ensure their safety during use.
6. How often should my Dog use a Treadmill?
While every dog is different, most experts recommend that dogs exercise on their treadmill for no more than 30 minutes per day to avoid overworking their joints and muscles. Additionally, it is important to alternate between outdoor walks and indoor treadmill sessions in order to give your pup the variety they need to stay healthy and fit.
7. What other items should I consider purchasing along with a Dog Treadmill?
Depending on your pup's size, you may want to purchase a special harness or collar for safety purposes. Additionally, many dog owners opt for pet-safe treats or toys that can be used as rewards during treadmill sessions. Lastly, it is important to make sure that the treadmill you buy is compatible with your dog's collar size and harness before purchase.
8. Are there any special considerations for older Dogs?
Yes, it is important to be aware of your pet's age and physical condition when deciding on which type of treadmill to purchase. For older dogs, it is best to opt for a low speed setting and avoid any models that incline. Additionally, you may want to consult with your veterinarian before starting an exercise program of any kind for your furry friend.
Overall, dog treadmills are a great way to provide your pup with physical activity in a controlled environment. However, it is important to remember that each dog is different and will require its own unique exercise program. By taking the time to consider your pet's size, breed type, temperament and exercise needs before purchasing a treadmill you can ensure that your pup gets the most out of their workout routine!
Final Thoughts About the Best Dog Treadmills
When it comes to keeping your pup healthy and active, a dog treadmill can be an invaluable tool. It allows you to provide your furry friend with the exercise they need even when weather or other circumstances prevent outdoor playtime. From budget-friendly options for occasional use to high-end models built for frequent workouts, there's something out there that will fit both your needs and those of your canine companion. We hope our list of the top three treadmills has helped you find the perfect one! With any luck, all that running around on their new machine will make them as happy as if they were chasing after squirrels in the park!
Are you a shopaholic who is looking to have some fun while shopping? With Two Free Audiobooks from Audible Plus and a 30-day free trial of Amazon Prime Music, you can now listen to your favorite books and music while browsing! Not only that, but with the lightning-fast 2-day shipping offered by Amazon Prime –– now you can get your products delivered faster than ever before. Get a Free 30-day trial of Amazon Prime today and start enjoying all these amazing benefits!
Happy Shopping! :)