Top 5 Hilarious Dog Wigs That'll Make Your Pooch the Bark of the Town!
Unleash the inner diva in your pooch with our top 5 hilarious dog wigs, turning dog walks into fashion walks. Your furry friend will be the 'bark' of the town, turning heads and wagging tails!
As an Amazon Associate, Raquels Reviews may collect a share of sales or other compensation (at no cost to you) from links found within these pages if they choose to buy something
Attention all canine companions and their fashion-forward humans! Are you tired of the same old collar and leash combo? Do you dream of strutting down the dog park like it's your personal runway?
Well, fetch those dreams and bring them to life with our top five hilarious dog wigs handpicked for your diva dogs.
We at Raquel's Reviews have sniffed around every corner of the internet, fetching the best products for your pampered pooch. So, sit, stay, and let us guide you toward finding your newest favorite thing today. I mean, who wouldn't want their dog to be the bark of the town?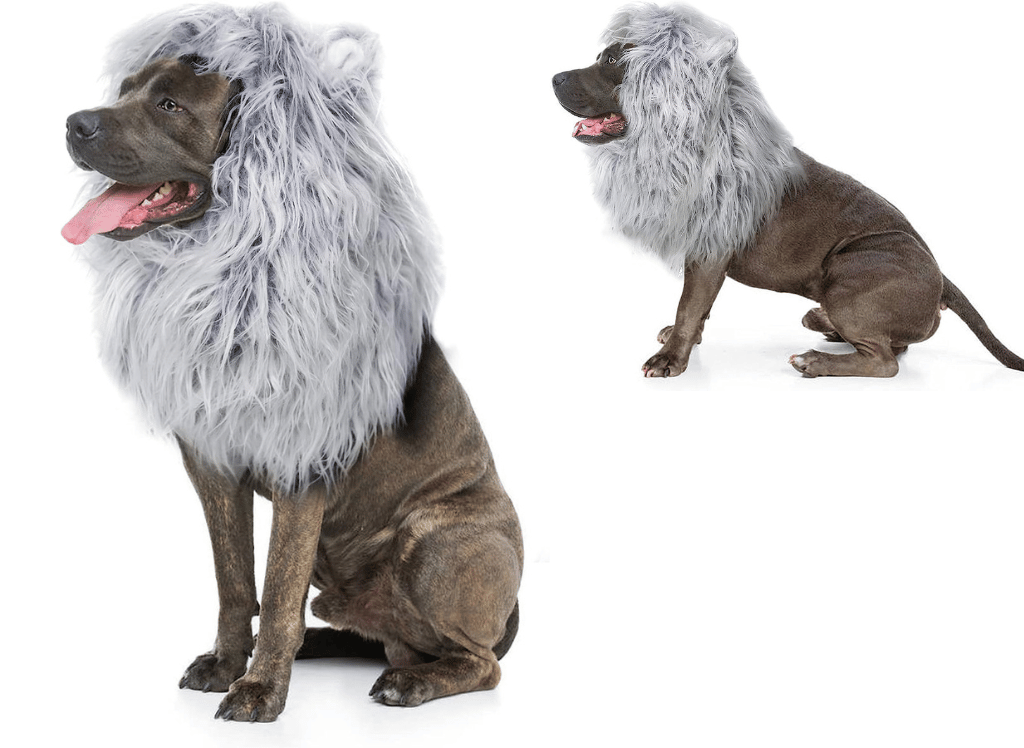 1. Onmygogo Lion Mane Wig for Dogs with Ears
Check Price on Amazon
Why We Love It
This mane will turn your lovable doggo into a roaring king of the jungle (or at least, the neighborhood). It's perfect for medium to large-sized dogs - think German Shepherds, Labradors, or Golden Retrievers. The mane is made from top-quality, soft, long plush material that's eco-friendly and color-fast. It's super comfy for your fur-baby to wear and easy to wash.
Things to Know
It's a perfect fit for medium to large-sized dogs like German Shepherds, Labradors, or Golden Retrievers. The wig is crafted from superb quality, soft, long plush material that's both eco-friendly and color-fast. It's comfortable for your pooch and a breeze to wash.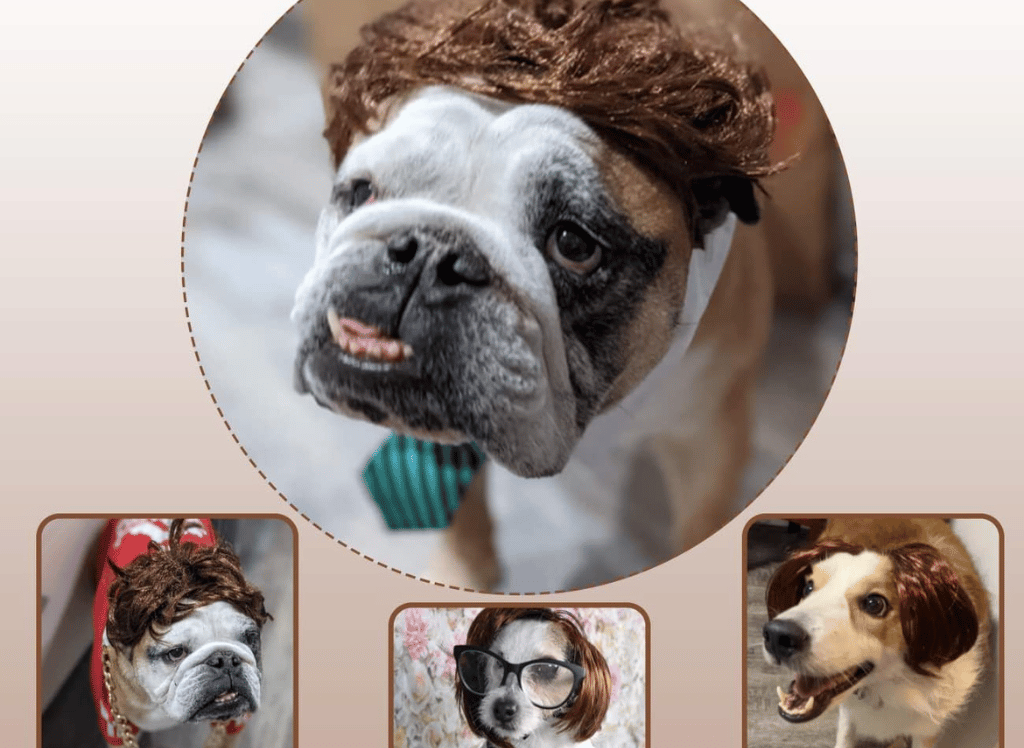 Check Price on Amazon
Why We Love It
Introducing the Mesinurs Dog Wig, the perfect accessory for your furry fashionista! If your pooch is all about making a statement, this wig is a must-have. Let your pup steal the show on your daily walks and become the heartthrob of the neighborhood. This wig is super easy to put on and take off, thanks to an adjustable elastic chin strap.
Things to Know
The Mesinurs Wig is a one-of-a-kind accessory that is adjustable, comfortable, and most importantly – washable! The portable size and adjustable elastic makes it easy to get the perfect fit every time so you can focus on showing off your pup's new pawsitively eye-catching look. With its machine washable fabric, cleaning this showstopper between walks is quick and simple - simply use cold or warm water and dry with a towel afterwards. And don't worry about finding the right size – their wigs are designed to fit sizes ranging from 10.23 to 11.81 inches around (and 5.12 inches high)!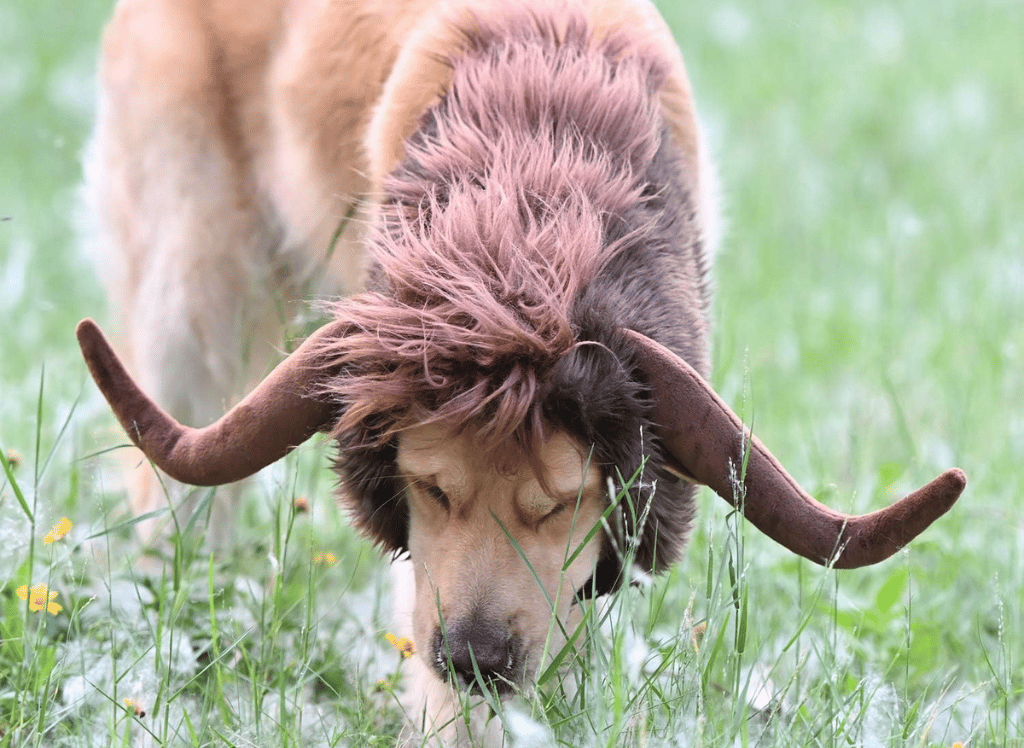 3. Onmygogo Funny Pet Moose Costumes for Dog
Check Price on Amazon
Why We Love It
These costumes are made with the best materials to provide an incredibly realistic and comfortable fit during your pup's big debut. Your pooch will be sure to steel the show whether it's Halloween, Christmas, or a dog show. With this costume, you won't just be dressing up your pup as any ordinary dog - he or she can become whatever special animal you want, from lion and sheep to moose and more!
Things to Know
This fun pet wig is designed in two sizes, making it an ideal fit for all-sized dogs from Bulldogs to German Shepherds. Plus, the neck comes with an adjustable string and buckle so you can get the perfect fit every time. This costume not only looks great, but it feels great too! The mane is made of top quality soft long plush which is super cozy and non-irritable on your pup's skin. It's also made from eco-friendly materials that are gentle on the environment as well as your dog. And if that wasn't enough, this costume is incredibly easy to take care of too! You can either wash it by hand or in the washing machine without any issues.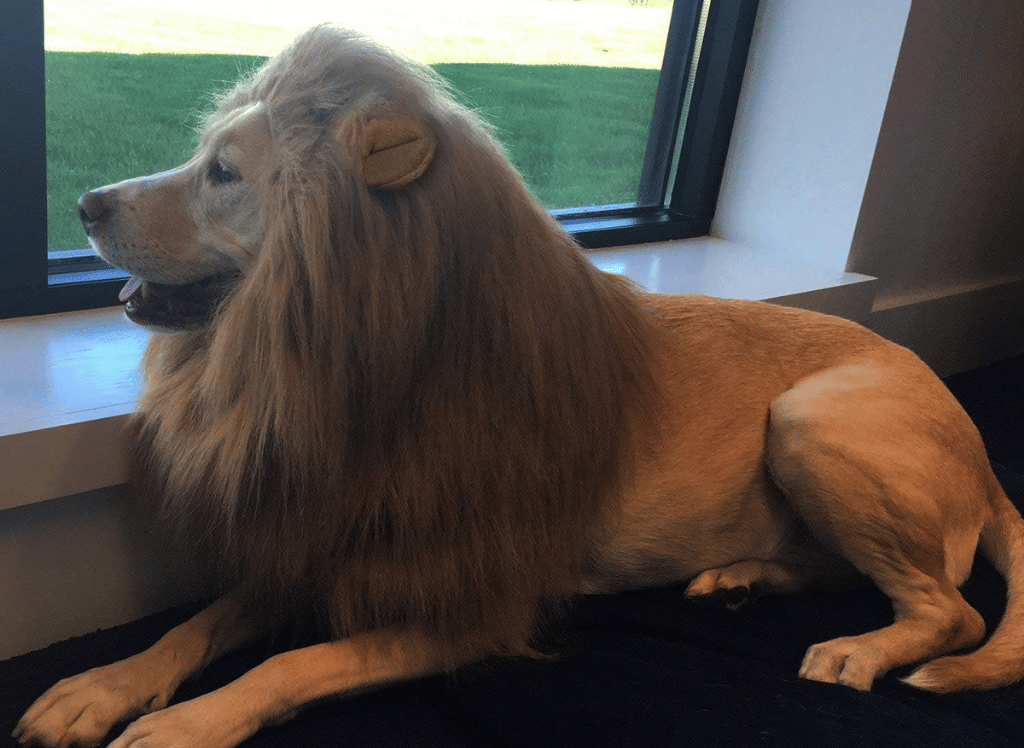 4. RWM Dog Lion Mane Costume
Check Price on Amazon
Why We Love It
We know every pup deserves to feel like royalty, so this costume comes with an adjustable elastic tie-down chord that fits necks 15.75 to 30 inches - perfect for popular breeds ranging from Beagles and Cattle Dogs to Great Pyrenees and Mastiffs! With a few simple tugs of this drawstring, you can transform your four-legged family member into the majestic ruler of all animals in no time!
Things to Know
Crafted from premium natural woolen wigs, this pet-friendly costume is sure to turn heads and make your furry pal look like the king of the jungle. The non-toxic material is safe for dogs and comfortable for all day wear - plus it's easy to put on with adjustable elastic straps. With two lion ears on top, your dog will be looking royally cute!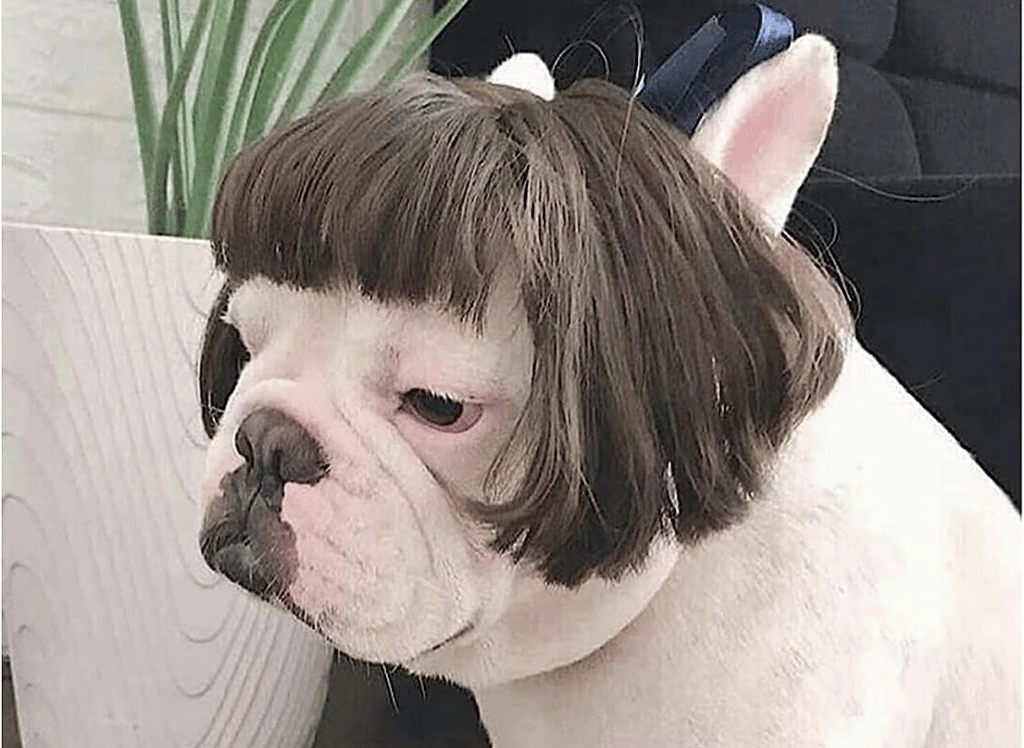 5. TESSVEYA Funny Dog Cat Cosplay Wig
Check Price on Amazon
Why We Love It
Now your pup can cosplay in style with this fun and fashionable wig. TESSVEYA funny cosplay wig is perfect for a variety of looks, whether it's Halloween costumes, cosplaying at pet shows, or just everyday fun! With their wig, your dog will never go unnoticed—this level of fashionable will turn heads everywhere you go. It's DIY cuttable too, so you can design the look that's best for your pet pal. Get creative and make them look hilarious…and maybe even handsome depending on your design!
Things to Know
This funny wig is made of high-quality materials, hand-sewn to make sure it's durable and washable. It fits most dogs with a head circumference between 12 and 24 inches and comes with an elastic band that ensures it won't slip off easily. Plus, this cosplay wig looks too cute! So if you want to show off your dog's goofy side or just give them something fun to wear around the house, grab one of these wigs today!
Dog Wigs FAQs
Being a dog owner, you might have some questions about wig-care for your pup. What's the best way to wash and maintain them? How do you keep the wigs from falling off?
You thought that buying a wig for your pooch was all fun and games, but now, you're not sure how to make sure they look their best. All the products on the market are confusing and overwhelming.
Let Raquel's Reviews be your guide! Our expert team of dog wig-ers put top brands through rigorous testing so that you can choose with confidence – no more guesswork! With our helpful tips and tricks, your pup is sure to be the talk of any party in style!
1. Are dog wigs safe for my pet?
Yes, dog wigs are generally safe for your pet, as they are made with non-toxic, pet-friendly materials. However, it's important to ensure the wig fits correctly and isn't causing any discomfort to your dog.
2. How do I clean a dog wig?
Most dog wigs can be hand-washed or machine-washed depending on the manufacturer's instructions. It's often recommended to use mild soap and warm water, rinsing thoroughly, and allowing the wig to air dry.
3. How do I ensure the wig stays on my dog?
Dog wigs typically come with elastic bands or adjustable straps that help secure them on your pet's head. Be sure to adjust these for a snug, but comfortable fit.
4. Are dog wigs one-size-fits-all?
No, dog wigs come in a range of sizes to accommodate different breeds and head sizes. Always check the product's size guide and measure your pet's head for a correct fit and if your still not sure then its best to contact the manufacturer for additional information.
5. Can I leave the dog wig on my pet for extended periods?
While dog wigs are generally safe, it's not recommended to leave them on for extended periods. Your dog might find it uncomfortable or even stressful. It's best to use them for short durations, such as for a photo shoot or a themed party.
Final Thoughts About Dog Wigs
So, there you have it, fashion-forward folks and their pampered pooches! We've let the cat out of the bag, revealing the top 5 wigtastic wonders that will set your darling dog apart in the dog-eat-dog world of puppy fashion. Whether you're looking for a roaring lion mane or a hilarious moose costume, we've got you covered. So don't fur-get to make your dog's tail wag with these pawsome wigs!
Are you a shopping enthusiast looking for more fun while browsing? With Two Free Audiobooks from Audible Plus and 30 days of free access to Amazon Prime Music, you can now listen to your favorite audiobooks and music while you shop! Plus, with Amazon Prime's lightning-fast 2-day shipping. Get a Free 30-day trial of Amazon Prime today and enjoy these amazing benefits!
Happy Shopping! :)