Score Big With These 8 Unforgettable Football Party Decorations
Amp up your game day with our top 8 football party decorations that will score big with your guests! Turn your living room into a Super Bowl spectacle, filled with your team's colors, thrilling décor, and mouthwatering snacks! We promise, your football party will be unforgettable!
Welcome to Raquel's Reviews! As an Amazon Associate, we earn from qualifying purchases. Wherever you are in your shopping journey, let us help guide you toward discovering your newest favorite thing today!
Get ready to tackle the party planning game like never before!
Whether you're a die-hard football fan or just love the excitement of the Super Bowl, we've got the rundown on the most epic football party supplies you can snag right from Amazon and Etsy. Our list is bursting with unique finds that will get your guests cheering even before kickoff.
So, huddle up, party planners! It's time to push the boundaries of your creativity and score that touchdown for the most unforgettable Super Bowl bash of the year!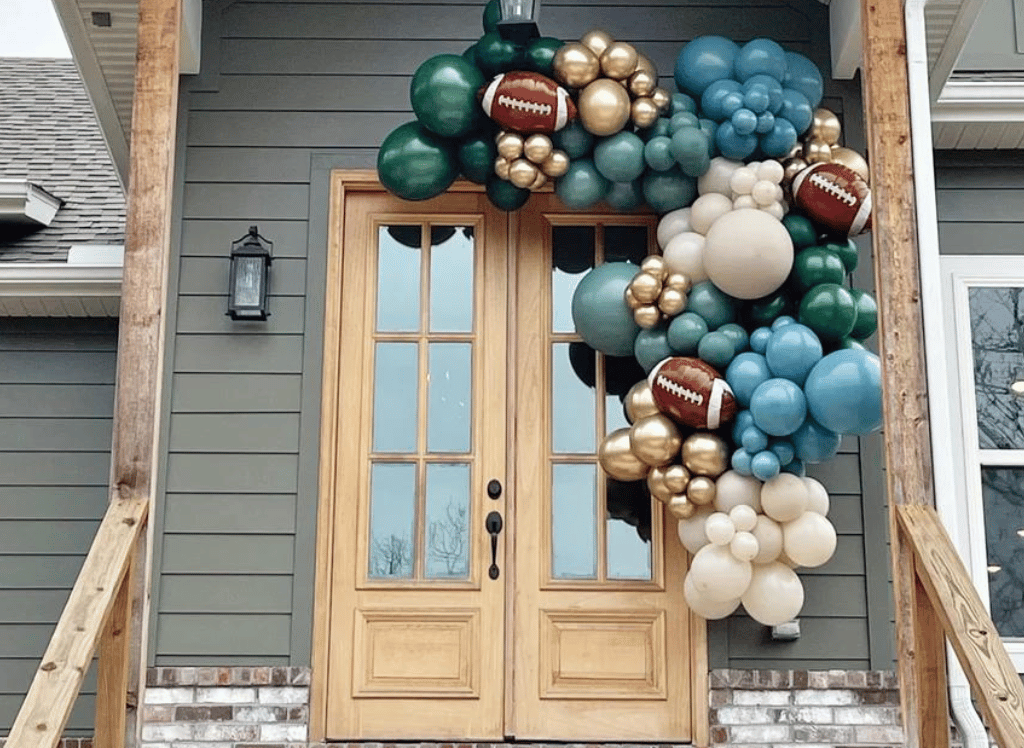 1. Football Balloon Garland
Check Price on Etsy
Why We Love It
The balloon garland comes with a mix of 5" and 11" latex balloons in beautiful colors of Forest Green, Willow Green, Blue White Sand, and Gold - as well as an additional 16" and/or 24-36 balloon for the larger garlands (6-14ft). The extra easy to handle dual action hand pump helps make inflating your balloons much simpler. And each kit includes step by step instructions on how to assemble the garland - assembly time takes approximately 45 minutes for garlands 4-8 feet long and 1.5 hours for 10-14 foot lengths. Plus, all included balloons are made from 100% natural biodegradable latex material!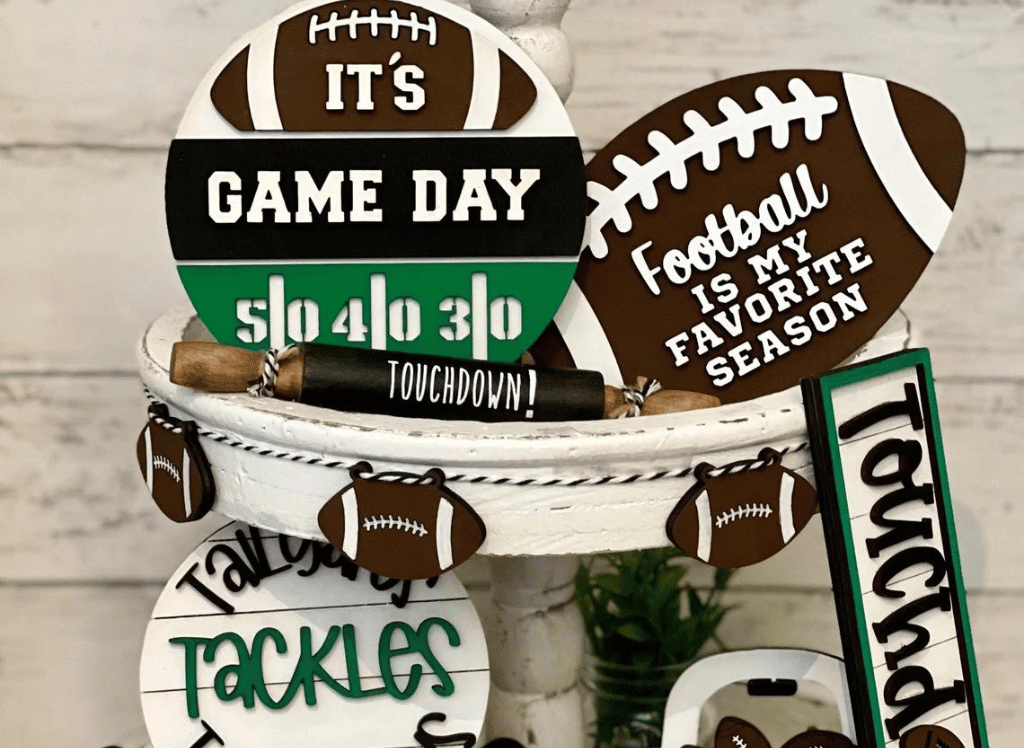 2. Football Tiered Tray
Check Price on Etsy
Why We Love It
Score a touchdown with this football-themed tiered snack table tray! Perfect for tailgates, game day party decor, or just as stylish decoration for your entertainment center, these hand painted wood signs are sure to bring a beautiful touch of team spirit to any event. Show off your favorite foods and snacks on this elegant and clever tiered design, or use the individual trays to organize your items – you're sure to score big with everyone who sees it! Whether you're cheering on the home team or just in the mood for some football fun, bring out the Football Tiered Tray and show how serious you are about celebrating in style.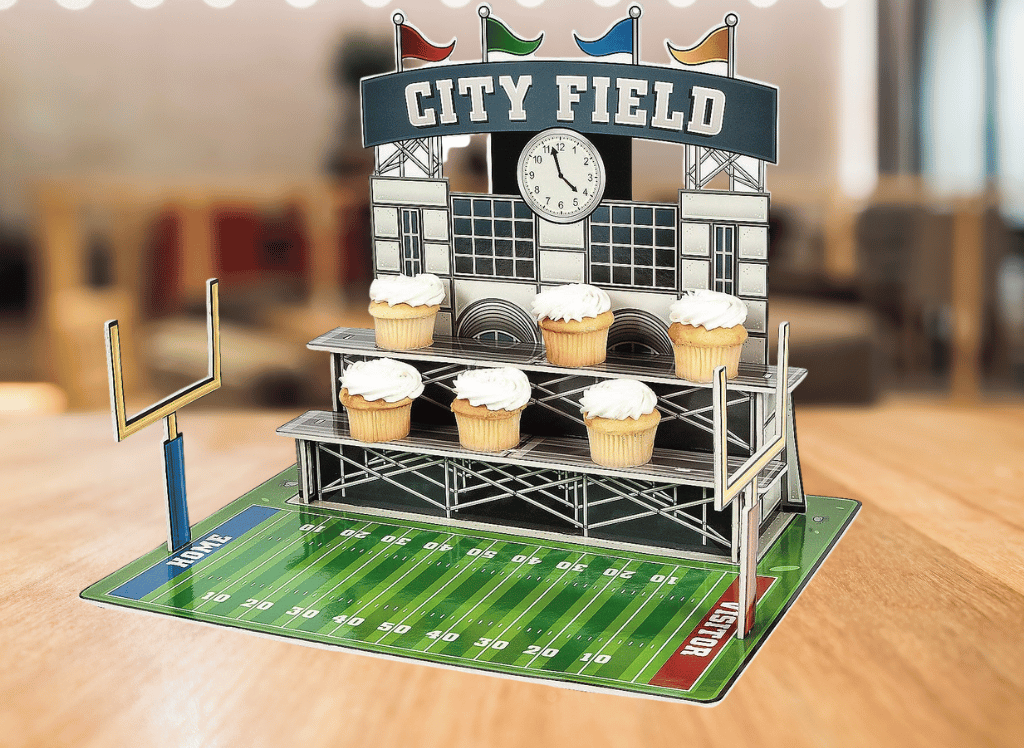 3. Large Football Stadium Cupcake Holder
Check Price on Amazon
Why We Love It
Show spirit and pride for your favorite team with this Large Football Stadium Cupcake Holder! This foam cupcake holder comes in a football-themed design and is perfect for any big game-winning celebration. It's 21" x 17 3/4" x 17 3/8", making it the ideal size to hold your treats and other party favors. This football stadium cupcake holder will make your victory celebration come alive with color - decorate with accents in your team's colors or even add team stickers, logos, or pom-poms.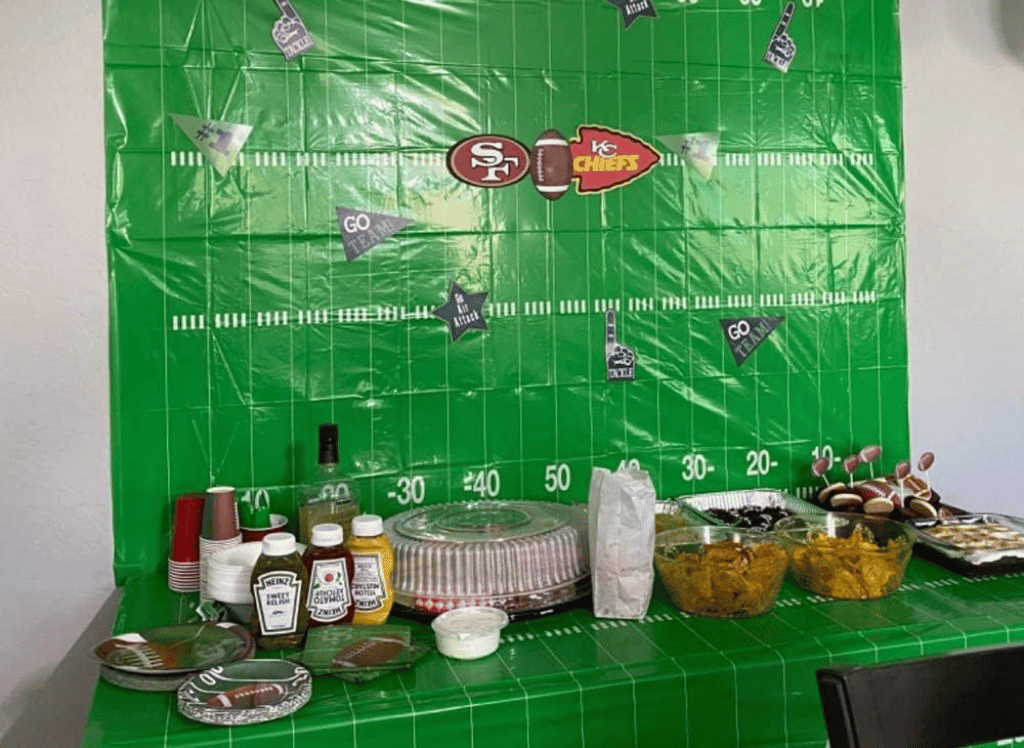 4. Esjay Football Tablecloth
Check Price on Amazon
Why We Love It
This package includes two fun green tablecloths that measure 54"x72" each. With options for 4 and 8 packs, you'll be able to cover your whole table in one go! It's the perfect way to add a sporty look & feel to any celebration - no matter who is playing on the big screens. Let your guests take a front row seat as you bring the excitement of the game onto your table with this awesome football-themed decoration.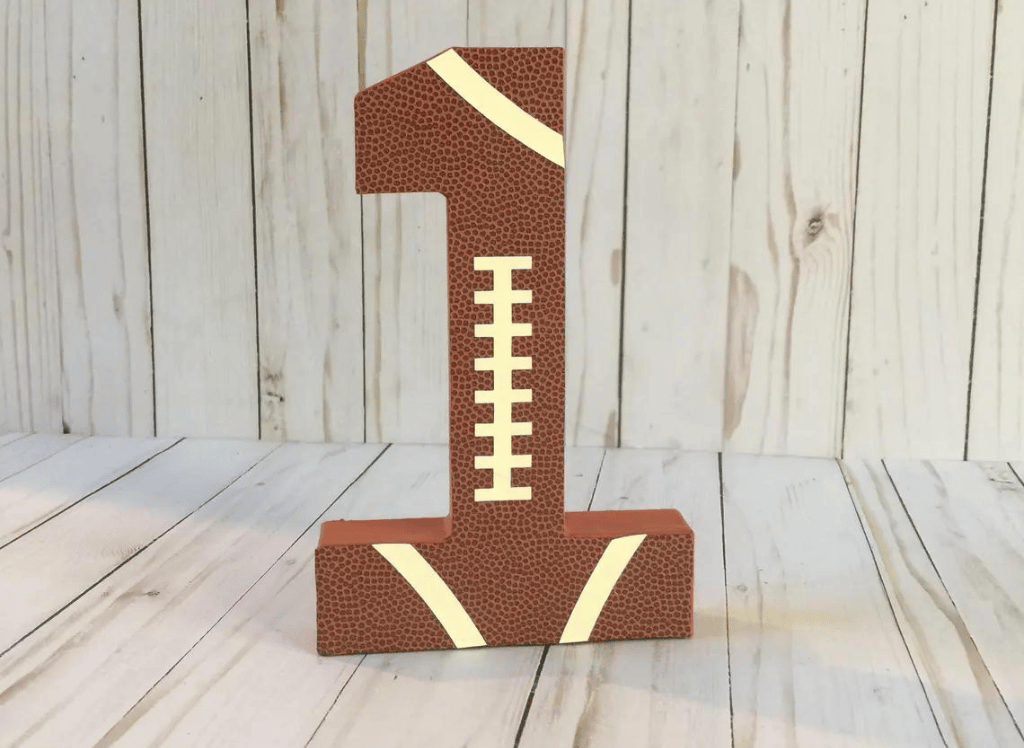 5. Football Birthday Block Number
Check Price on Etsy
Why We Love It
This football-style paper mache number is the perfect addition to any party, especially for your little one's first birthday party bash. Perfect for smash cake photo ops and other memorable moments, this unique number stands on its own and its lightweight design allows babies to hold it without worry or hassle. Plus, it measures 8" long, 5 1/4" wide, and 1" deep - giving you plenty of space to get that perfect shot.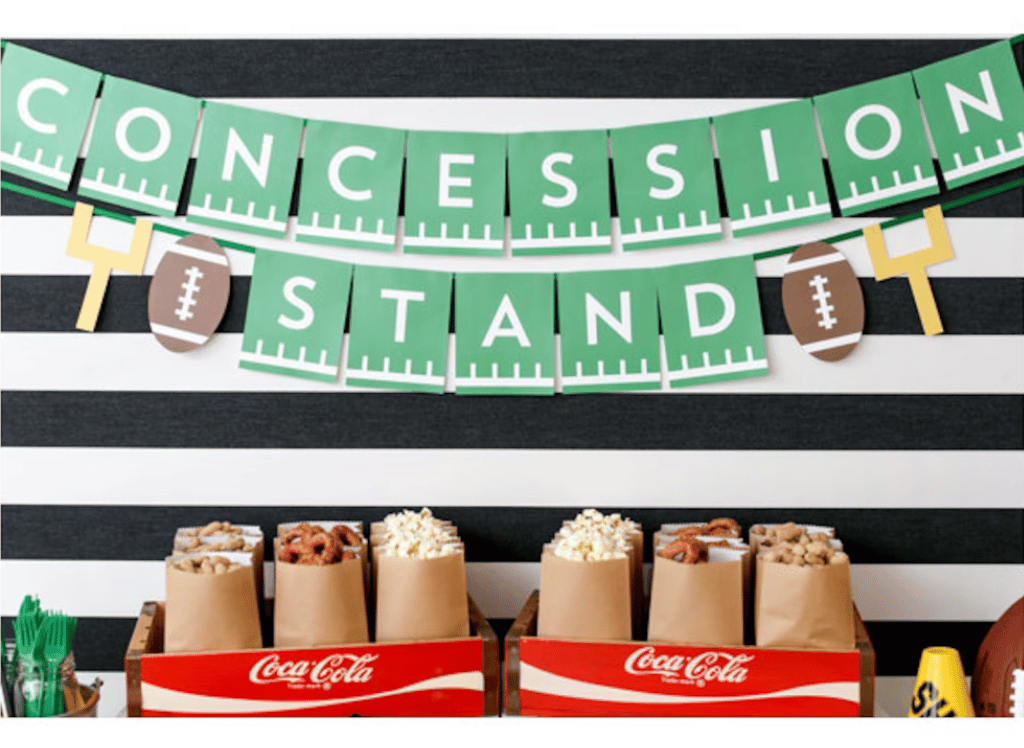 6. Concession Stand Banner
Check Price on Etsy
Why We Love It
Add the perfect touch to your football game day with this amazing Concession Stand Banner! It's made with premium card stock for a durable, beautiful banner that you can use over and over again. Each pennant is 7"x5" and comes with white ribbon so that it'll look great on any wall or table.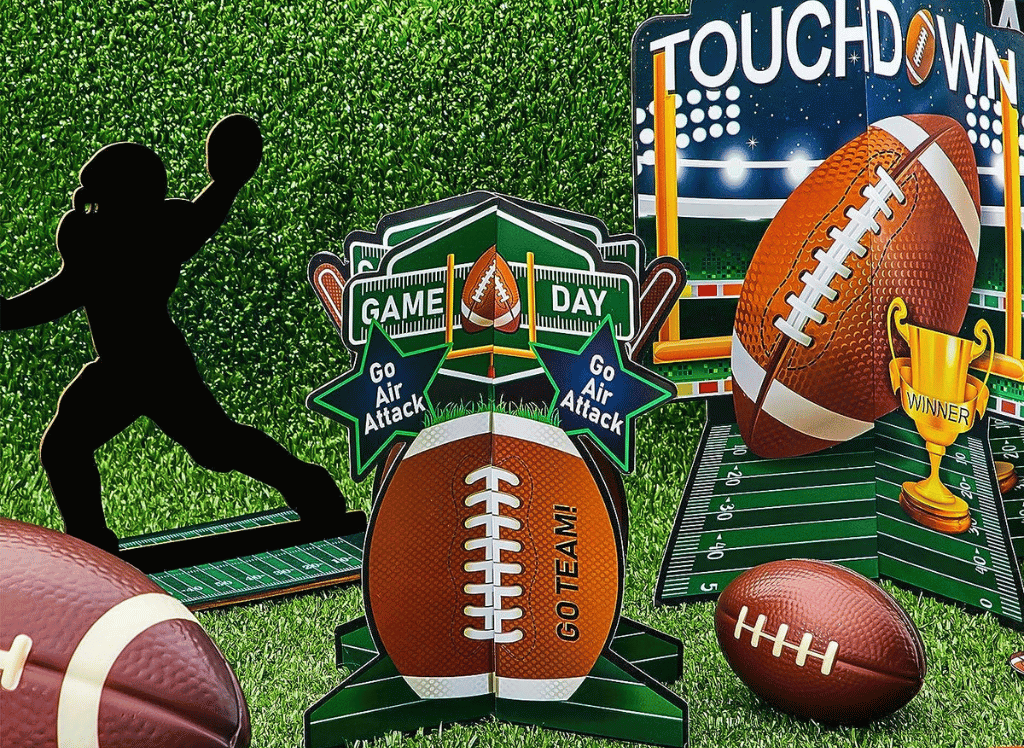 7. 25 Pieces 3D Football Table Centerpieces
Check Price on Amazon
Why We Love It
Transform any space into a virtual stadium with something special sure to bring everyone together. You will receive 1 piece 10x7.5 inches football table centerpiece, 2 pieces of 7.9 x 6.3 inches football centerpieces, 20 pieces of 1.2 x 2 inches football cards, and 2 pieces of 7.9 x 6.5 inches wood football player silhouettes-all perfect for adding an extra bit of flair and fun to any environment! These football decorations come in a variety of shapes and sizes to suit any decorating theme! The best part is that these decorations are made from non-toxic materials, allowing them to last much longer as well as being incredibly safe.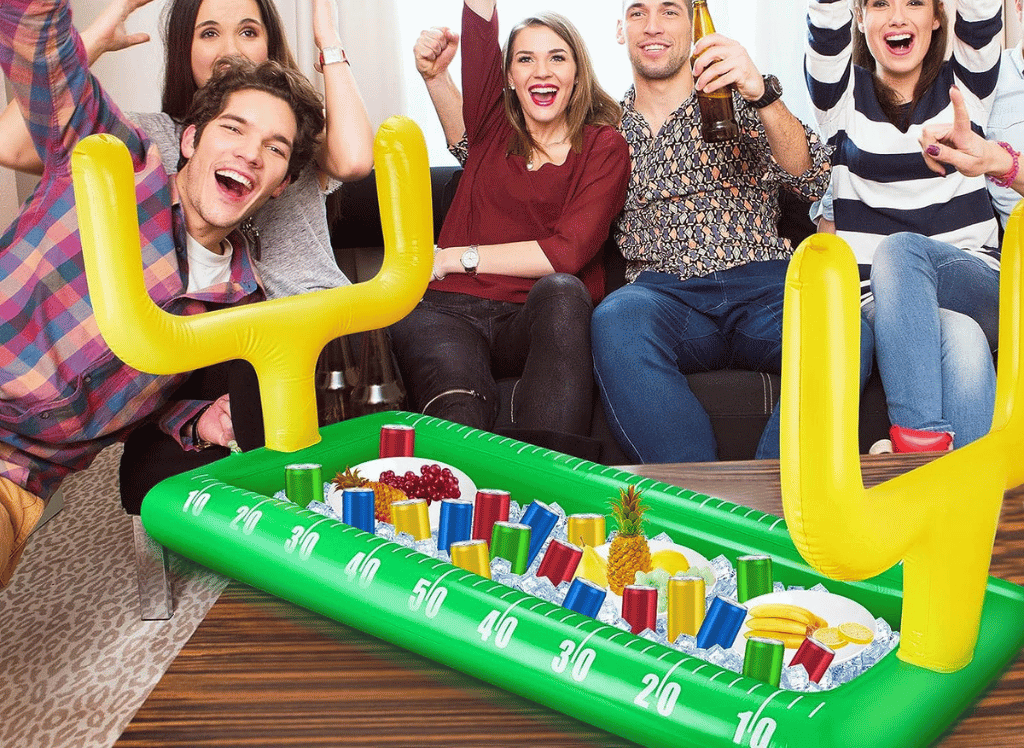 8. Inflatable Football Field Cooler
Check Price on Amazon
Why We Love It
This Packaging includes a perfectly sized 53 x 28 inch inflatable cooler that's sure to take your football party up a notch! With this in tow, you can easily throw in all your favorite drinks and snacks before sitting down to cheer on your team. Plus, it's made of quality material and features vibrant printing, ensuring it won't fade anytime soon.
Football Party Decorations FAQs
Get ready to huddle up, party enthusiasts and football fanatics! We know you have questions, and we're here to tackle them head-on. Welcome to our blitz of the most Frequently Asked Questions about football party decorations! We promise that by the end, you'll be able to plan your game day bash with the same confidence and strategy as a Super Bowl-winning quarterback calling the perfect play!
1. How can I incorporate my team colors into the decorations?
Choose decorations in your team colors. You can also get creative with colored balloons, streamers, tablecloths, and even snacks!
2. Are there any food-specific football party decorations?
Yes, things like a football stadium cupcake holder or snack trays can serve as both functional and decorative items.
3. How can I make the football party fun for kids too?
Consider having some kid-friendly decorations like inflatable footballs or a football-themed pinata.
4. How can I create a football atmosphere at home?
You can create an immersive football atmosphere by layering different elements like football tablecloths, 3D table centerpieces, and banners to transform your space into a virtual stadium.
Final Thoughts About Football Party Decorations
What a thrilling journey it's been discovering these must-have decorations for your next football party! Just imagine the roaring cheers of your guests as they step into your living space transformed into a virtual Super Bowl party spectacle! From the dynamic balloon garlands to the adorable football-themed tiered trays, each item on our list has its unique way of adding that extra yard to your party aesthetics. Remember, it's not just about watching the game, it's about immersing your guests into the football spirit. So don't just throw a party, make it an unforgettable event, infused with fun, laughter, and a whole lot of football!
Are you a shopping enthusiast looking for more fun while browsing? With Two Free Audiobooks from Audible Plus and 30 days of free access to Amazon Prime Music, you can now listen to your favorite audiobooks and music while you shop! Plus, with Amazon Prime's lightning-fast 2-day shipping. Get a Free 30-day trial of Amazon Prime today and enjoy these amazing benefits!
Happy Shopping! :)