9 Friendsgiving Decorations that will turn your Dinner into a Pinterest Dream!
Dazzle your guests this Friendsgiving with decorations that turn your dinner into a Pinterest dream! From whimsical banners to photo booth props that inspire a little silliness, we've got you covered. Let's make this party unforgettable!
As an Amazon Associate, we may earn a commission from qualifying purchases, but we promise the prices are still the same for you!
Are you ready to throw the most sensational, Instagram-worthy Friendsgiving bash yet?
For those who are not familiar, Friendsgiving is the fun-filled, food-fueled, no-family-drama version of Thanksgiving that we all secretly prefer. It's the perfect opportunity to throw on those cozy fall sweaters, gather your besties, and eat your weight in pumpkin pie!
To truly level up your Friendsgiving shindig, we've hunted down the top 9 decorations that will transform your humble abode into a Pinterest dream. Stick around, because we're about to deep-dive into the world of festive décor that will have your guests raving until next November!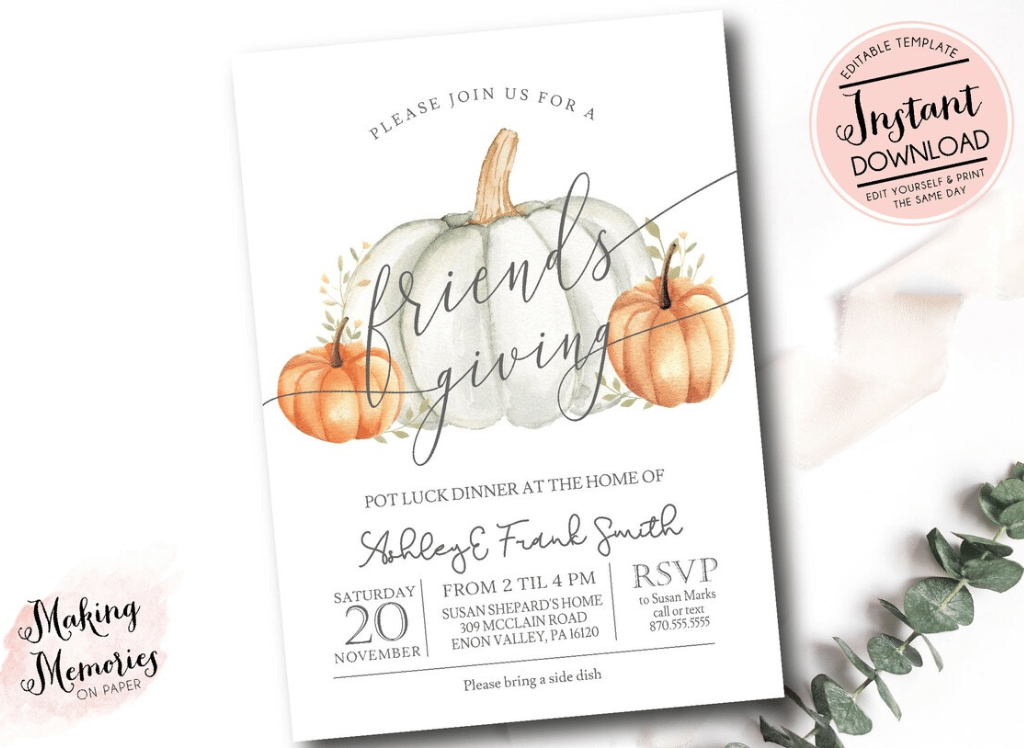 1. MakinMemoriesOnPaper Friendsgiving Invitations
Check Price on Etsy
Why We Love It
We absolutely love how these invitations kickstart the party and bring friends together for a fantastic time. It's the perfect way to invite your pals and enchant them with the promise of a fun-filled gathering. Celebrate the spirit of Friendsgiving with our vibrant and playful Friendsgiving Invitation. Whether you call it Friends Giving or Friends Thanksgiving, these printable instant downloads will set the tone for an incredible get-together.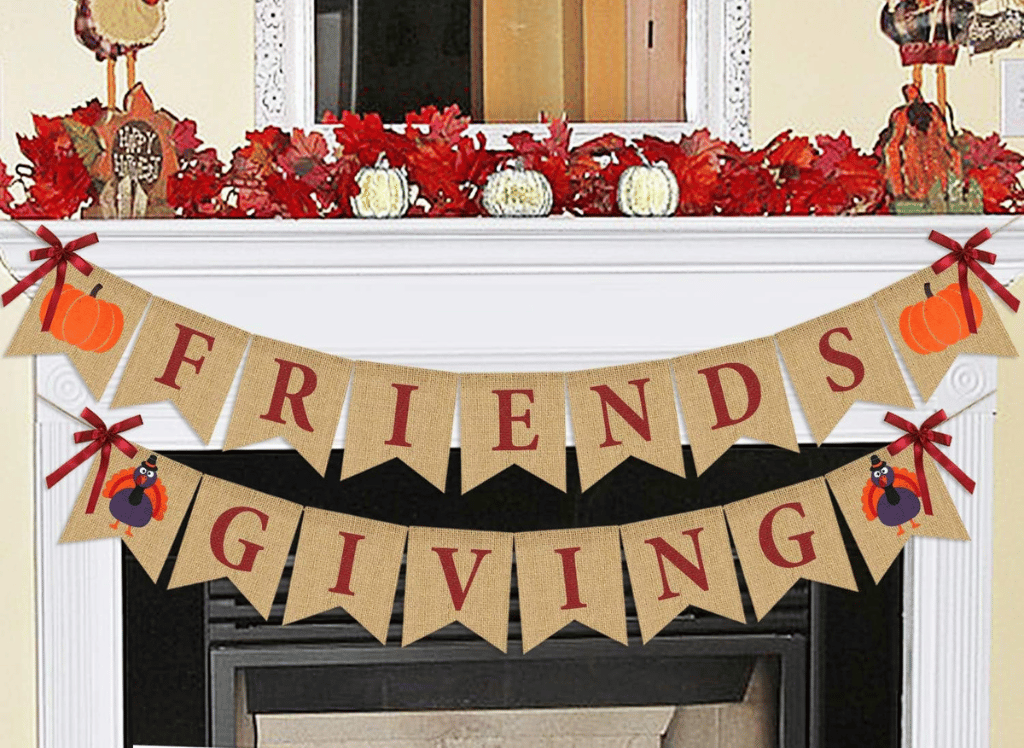 2. Partyprops Friendsgiving Banner Burlap
Check Price on Amazon
Why We Love It
Partyprops Friendsgiving Banner Burlap are the perfect way to express your gratitude to your loved ones. Whether it's Thanksgiving or Friendsgiving these banners are a must-have. The "Friends Giving" letter on the burlap flag, along with the adorable Pumpkins and Turkey sign, adds the perfect accents to your mantel, window, wall, porch and more. Plus, they make an awesome backdrop for your photos!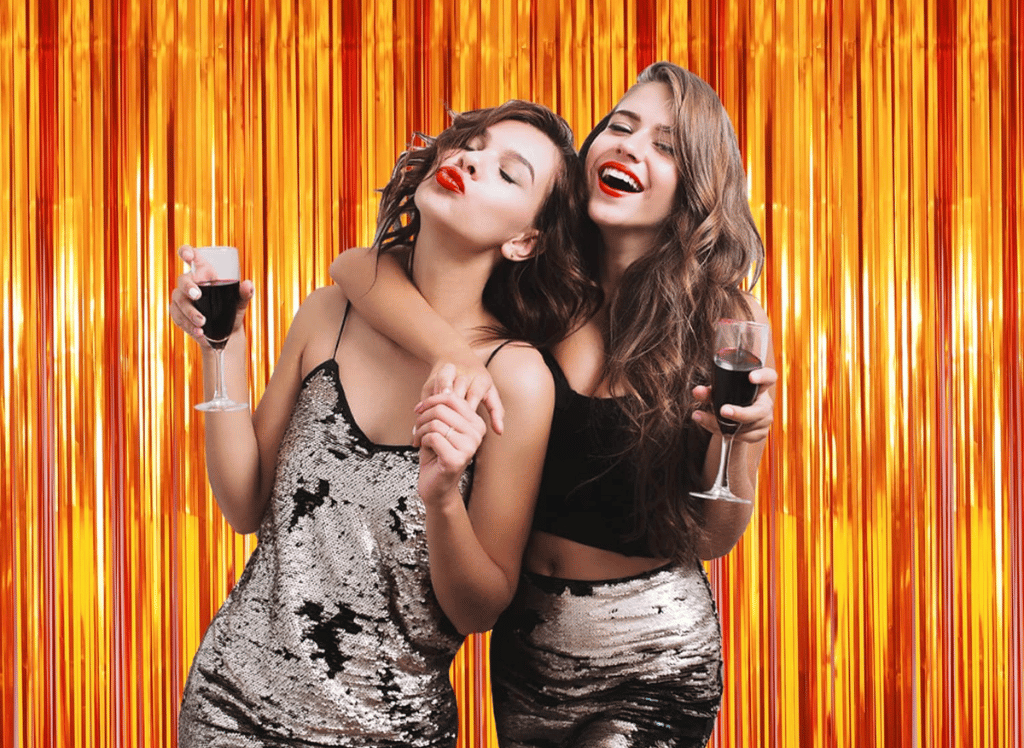 3. GOER 3.2 ft x 9.8 ft Metallic Tinsel Foil Photo Backdrop
Check Price on Amazon
Why We Love It
Get ready to have a blast with this orange foil fringe curtain that's perfect for your Friendsgiving. It's incredibly easy to use with adhesive tape already attached, so you can start the party right away. Hang it on a door or cover a whole wall to create a stunning photo booth backdrop for your photos. Whether it's a Friendsgiving gathering or just a fun time with your pals, this backdrop will add a touch of silliness and excitement to your party.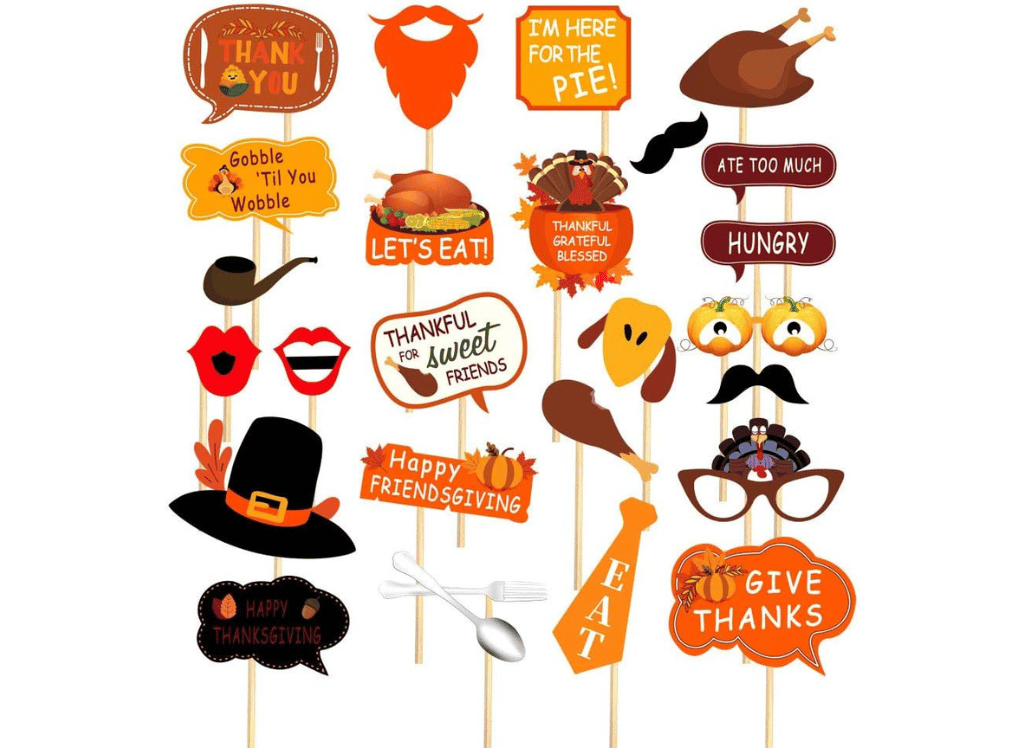 4. 7-gost 25PCS Friendsgiving Photo Booth Props
Check Price on Amazon
Why We Love It
Check out these amazing 7-gost 25PCS Friendsgiving Photo Booth Props! We absolutely love them for a Friends Thanksgiving Day Party. Each prop in the kit is designed to create lasting memories of your party. And guess what? They're super easy to assemble. Just stick the props on wooden sticks with the double-sided adhesive, and you're good to go! Hold the props in front of your face, over your head, or wherever you like, and snap the most awesome photos ever. You'll have Pinterest-worthy shots and hilarious pics for your Instagram!
5. Treasures Gifted Fall Balloons
Check Price on Amazon
Why We Love It
This incredible kit includes 100 assorted harvest balloons in apricot, brown, orange, and burgundy, along with 65 yards of ribbon. Can you imagine the creative possibilities? These premium latex balloons are perfect for decorating both indoor and outdoor spaces. Fill them with helium and let them dance around your party, or inflate them with air for a unique Friendsgiving balloon banner. You can even add them to your photo booth, buffet table, or scatter them throughout your entire event!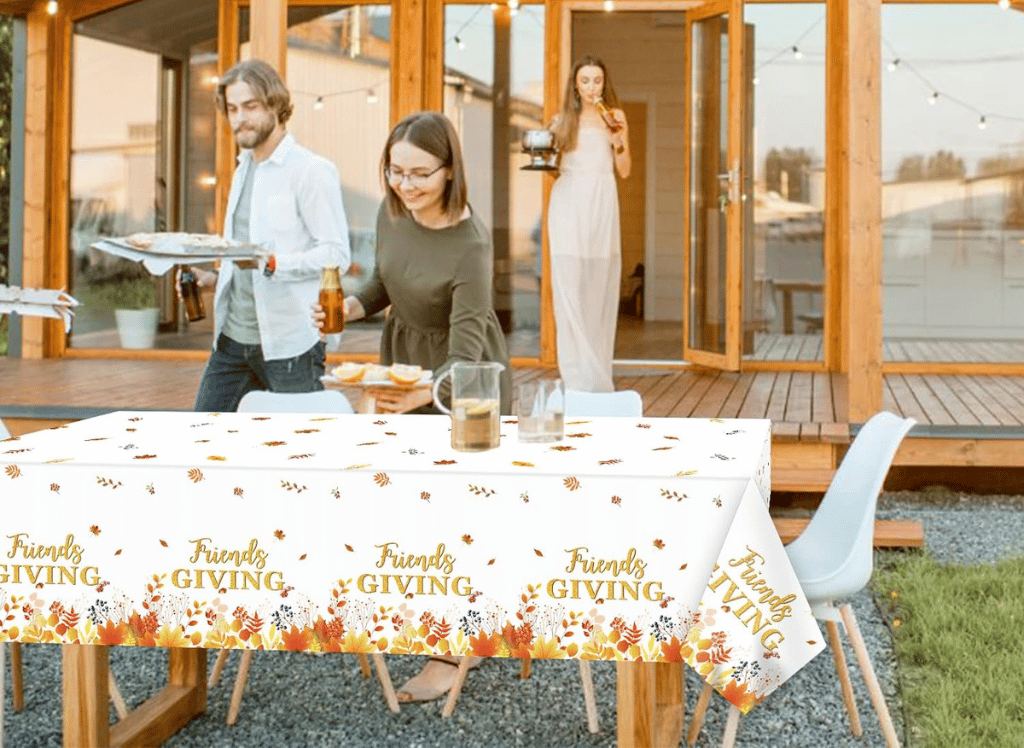 6. WIFUNUE 3 Pack Friendsgiving Party Tablecloths
Check Price on Amazon
Why We Love It
WIFUNUE 3 Pack Friendsgiving Party Tablecloths is perfect for decorating your rectangle tables, measuring 54 x 108 inches/ 173 x 274 cm. And let's talk about the design - it's Friendsgiving themed with delightful maple leaves patterns that will catch everyone's eye! Show your gratitude to your friends and those special people you want to thank. Plus, these tablecloths are made of premium material - waterproof, splash-proof, and wrinkle-resistant. You'll love how smooth and comfortable they feel!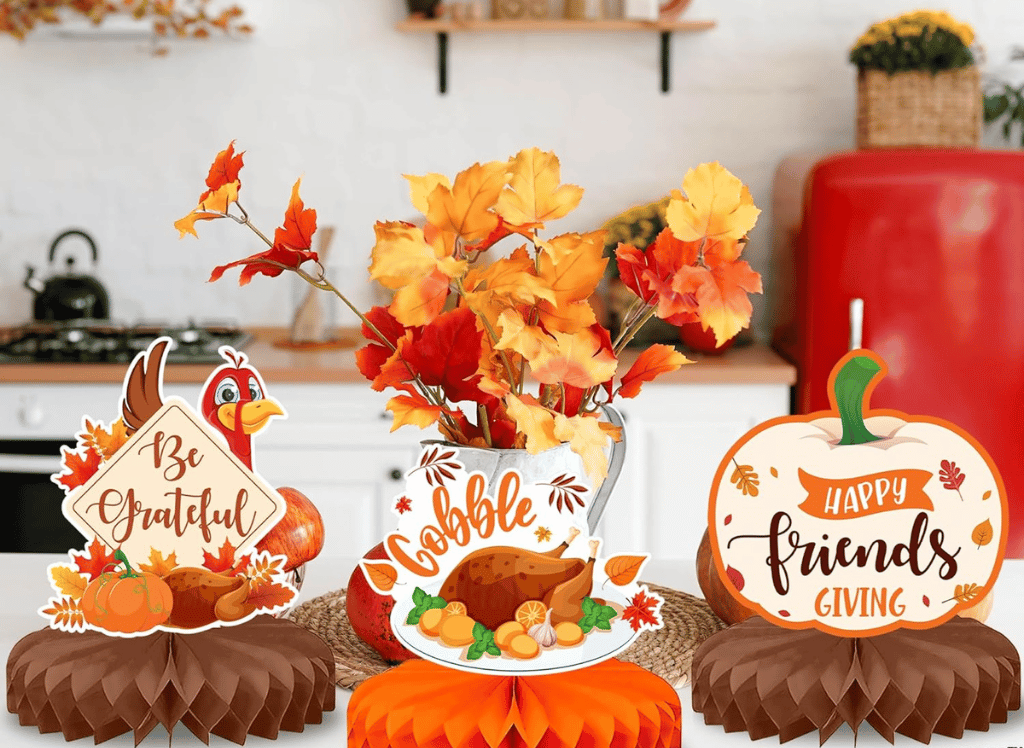 7. KatchOn 9 Friendsgiving Centerpieces For Tables
Check Price on Amazon
Why We Love It
These amazing Friendsgiving centerpieces for tables from KatchOn bring so much joy and festivity to any Friendsgiving celebration. We absolutely love them! With adorable turkey tissue centerpieces and pumpkin honeycomb centerpieces, you'll get a pack of 9 in 9 different styles, complete with 18 brown and orange honeycombs. They're perfect for decorating your Friendsgiving table, whether it's indoors or outdoors.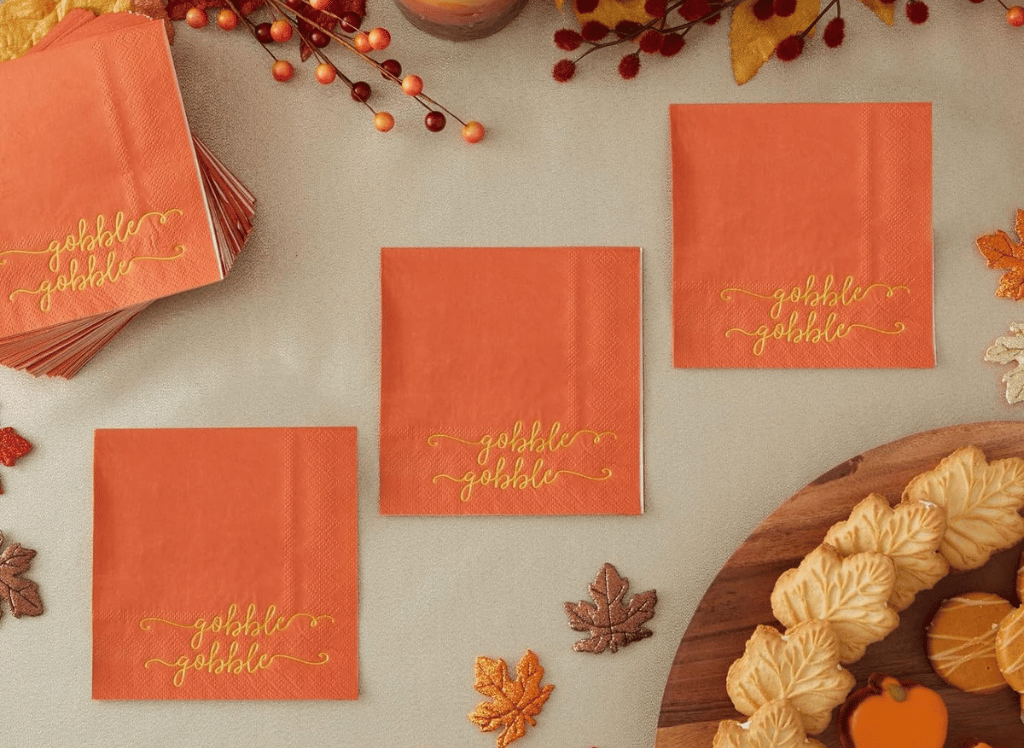 8. BLUE PANDA 50 Pack Orange Gobble Cocktail Napkins
Check Price on Amazon
Why We Love It
These awesome BLUE PANDA 50 Pack Orange Gobble Cocktail Napkins are absolutely loved for so many reasons. First off, they are super absorbent and perfect for wiping away any moisture from your glass or table. No more pesky condensation ruining the fun! And let's talk about their dimensions - they measure a neat 5 x 5 inches when folded and a generous 10 x 10 inches when unfolded. Talk about convenience! And the best part? You'll get a bulk set of 50 Friendsgiving paper napkins. That's plenty to keep the party going!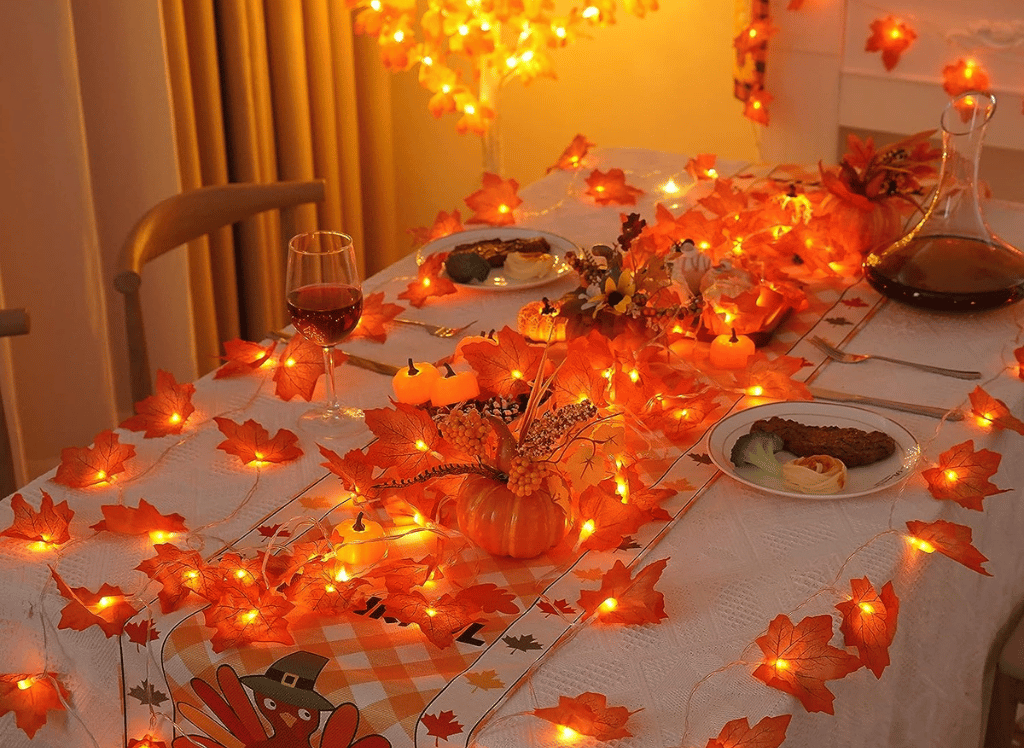 9. YEGUO 20ft 40 LED Harvest Garland Battery Operated Lights
Check Price on Amazon
Why We Love It
YEGUO LED Harvest Garland Battery Operated Lights are a must-have for your Friendsgiving dinner table. These fall decorations create a warm and relaxing atmosphere with their lighted fall garland featuring maple leaves. Perfect for an Friendsgiving theme party, these lights will bring cheer and warmth to your gathering.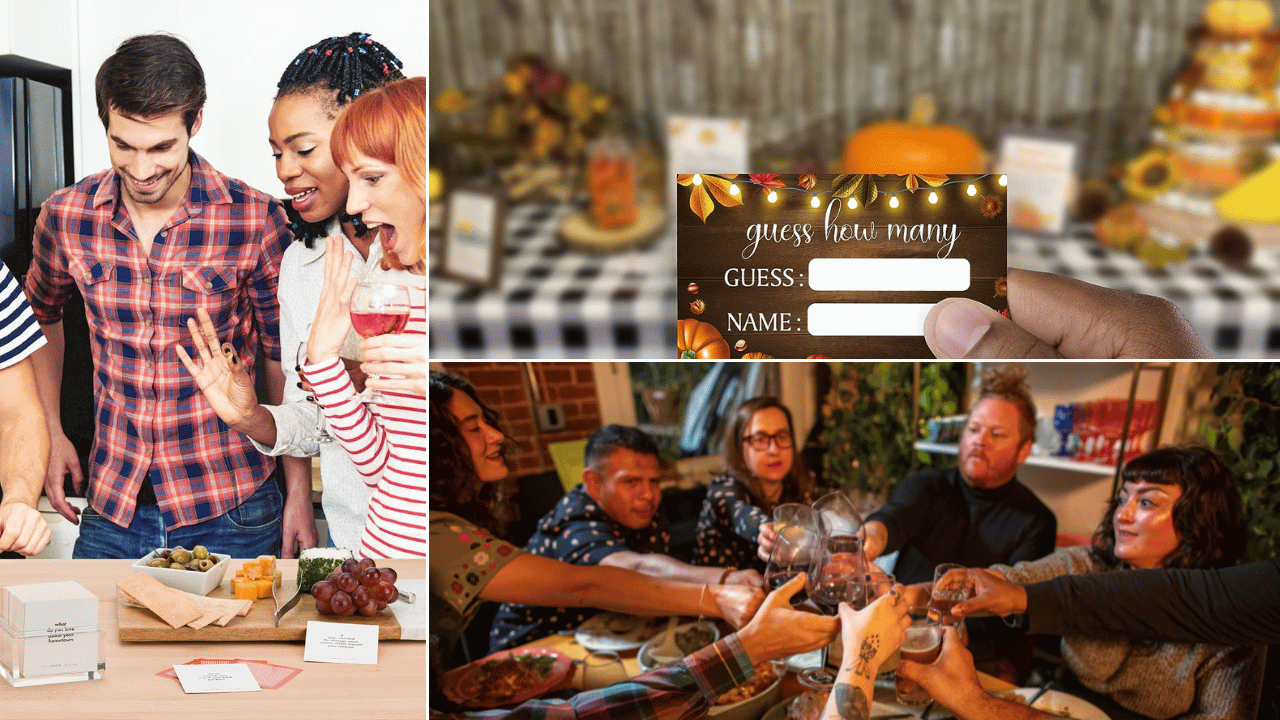 Friendsgiving FAQs
Are you ready to throw the Friendsgiving bash of the decade? Do you find yourself wrestling with a thousand questions about how to decorate your space? Don't fret, party planner!
We've got answers to all your burning questions about Friendsgiving decorations. So, buckle up and let's dive into the world of festive frills and fabulous flourishes that will make your Friendsgiving dinner the talk of the town!
1. What are some must-have Friendsgiving decorations?
From the entrance to the dining table, let each corner of your space echo the spirit of Friendsgiving! Start with a 'Friendsgiving' banner at the entrance, set up a photo booth with props for some fun, use harvest-themed tablecloths and centerpieces for the dining area, and don't forget festive cocktail napkins and balloons! Also, to make your space cozier, add a fall-themed light garland with LED maple leaves.
2. How can I set up a Friendsgiving photo booth?
To set up a Friendsgiving photo booth, you can follow these simple steps. First, choose a suitable location with good lighting. Next, hang a metallic tinsel foil backdrop on a wall to create a glamorous and eye-catching background. Then, gather an assortment of fall-themed props such as pumpkins, leaves, and cornucopias to add a festive touch to the photos. Don't forget to include some fun and quirky fall theme props. Additionally, consider adding fall balloons in warm hues to enhance the overall ambiance. With these details in place, your Friendsgiving photo booth will be a hit, capturing wonderful memories and creating a joyful atmosphere for all your guests.
3. Can I use Friendsgiving decorations for other occasions?
Absolutely! Friendsgiving decorations, with their warm and inviting harvest themes, are incredibly versatile and can be used for a variety of occasions. Whether you're hosting a traditional Thanksgiving feast, throwing a spooky Halloween bash, or simply celebrating the beauty of fall, these decorations can effortlessly transition between events. Embrace your creativity and repurpose them as you see fit, adding a touch of seasonal charm to every gathering. With their rustic colors, festive accents, and cozy vibes, Friendsgiving decorations will surely elevate the ambiance and make any occasion feel extra special. So go ahead, let your imagination run wild and make the most of these versatile decor pieces!
4. Are there any unique Friendsgiving decoration ideas?
Think outside the box! How about a 'Gratitude Wall' where guests can write what they're grateful for? Or a 'Memories Jar' where everyone can drop in their favorite memory from the past year? The possibilities are endless!
5. Are Friendsgiving decorations expensive?
Not at all! There are countless budget-friendly and cheap Friendsgiving decor options available. From DIY ideas to affordable purchases, you can absolutely dazzle your guests without breaking the bank. Remember, it's about the memories and the joy of the occasion, not how much you spend!
6. What are some crowd-pleasing dishes to serve at a Friendsgiving party?
The beauty of Friendsgiving is that you can experiment with traditional dishes or try out something totally new and exciting! A juicy, golden-brown turkey or a mellow, cheesy lasagna can be the star of your dinner. Pair that with some delightful sides - think creamy mashed potatoes, zesty cranberry sauce, or a vibrant green bean casserole. And don't forget the dessert! A classic pumpkin pie or an apple crumble could be just the sweet finish your menu needs. But remember, the important thing is to prepare something that you and your friends will enjoy - that's the secret to a truly great meal. Bon Appétit!
7. What are some fun and interactive activities to entertain my Friendsgiving guests?
Friendsgiving is all about having fun and creating memories with your pals. So, how about a friendly game of charades or Pictionary after dinner? You could also set up a DIY photo booth using the GOER Metallic Tinsel Foil Photo Backdrop and the 7-gost Photo Booth Props. Trust me, your friends will have a riot posing with those! For your foodie friends, you could hold a mini pie-making contest. And for a heartwarming end to the night, how about a gratitude circle? Each person can share something they're grateful for about the person on their right. It's a fantastic way to promote positivity and deepen friendships! Remember, the aim is to have fun, so choose activities that you and your friends will enjoy most.
8. What are some creative Friendsgiving drinking games that'll liven up the party?
Friendsgiving isn't just about food and festivity, it's also about having a ball with your pals. A great way to achieve this is by having a drinking game or two up your sleeve. How about "The Thanksgiving Gobble Game"? Here's how it works: everyone starts sipping their drinks and the first person to finish has to "gobble" like a turkey. The last one to catch on and gobble has to do a shot. It's hilarious and guarantees a lot of laughter! Just remember, like any good Friendsgiving host, ensure your friends drink responsibly and everyone has a safe way to get home. Cheers to a memorable Friendsgiving!
Final Thoughts About Friendsgiving Decorations
These are the top 9 Friendsgiving decorations that will surely turn your gathering into a festive feast that your friends won't forget. From inviting your pals with the charming Friendsgiving Invitations to creating a cozy atmosphere with the LED Harvest Garland Battery Operated Lights, each decoration on this list is designed to add a special touch to your Friendsgiving celebration. Remember, it's all about the fun, the good food, and most importantly, enjoying the friends. So go ahead, pick your favorites from the list, and let the Friendsgiving fun begin! Here's to creating memories filled with laughter, love, and lots of turkey!
Happy Friendsgiving!
As an Amazon Associate, we earn from qualifying purchases. Are you a shopping enthusiast looking for more fun while browsing? With Two Free Audiobooks from Audible Plus and 30 days of free access to Amazon Prime Music, you can now listen to your favorite audiobooks and music while you shop! Plus, with Amazon Prime's lightning-fast 2-day shipping. Get a Free 30-day trial of Amazon Prime today and enjoy these amazing benefits.