7 Hello Kitty Party Supplies We're Totally Obsessed With!
Get ready, Hello Kitty fans! We've curated a list of 7 party supplies that will make your next celebration absolutely Meowtastic! From adorable décor to fun favors, these items are so delightful, we can't get enough of them!
Welcome to Raquel's Reviews! As an Amazon Associate, we may earn a commission from qualifying purchases, but we promise the prices are still the same for you!
Welcome to the world of colorful bows and whimsical charm – yes, we're talking about a Hello Kitty party! The adorable feline from Sanrio has a magic of her own, turning any event into a vibrant celebration.
But what makes a Hello Kitty party truly awesome? It's all about the details! From dazzling Hello Kitty balloons to cute party favors, these elements inject life into the party, transforming it into a memorable experience.
And guess what? We've curated a list of our top 7 Hello Kitty party supplies that will not only jazz up your party but also make it the talk of the town. So let's dive in and add some Kitty magic to your next bash!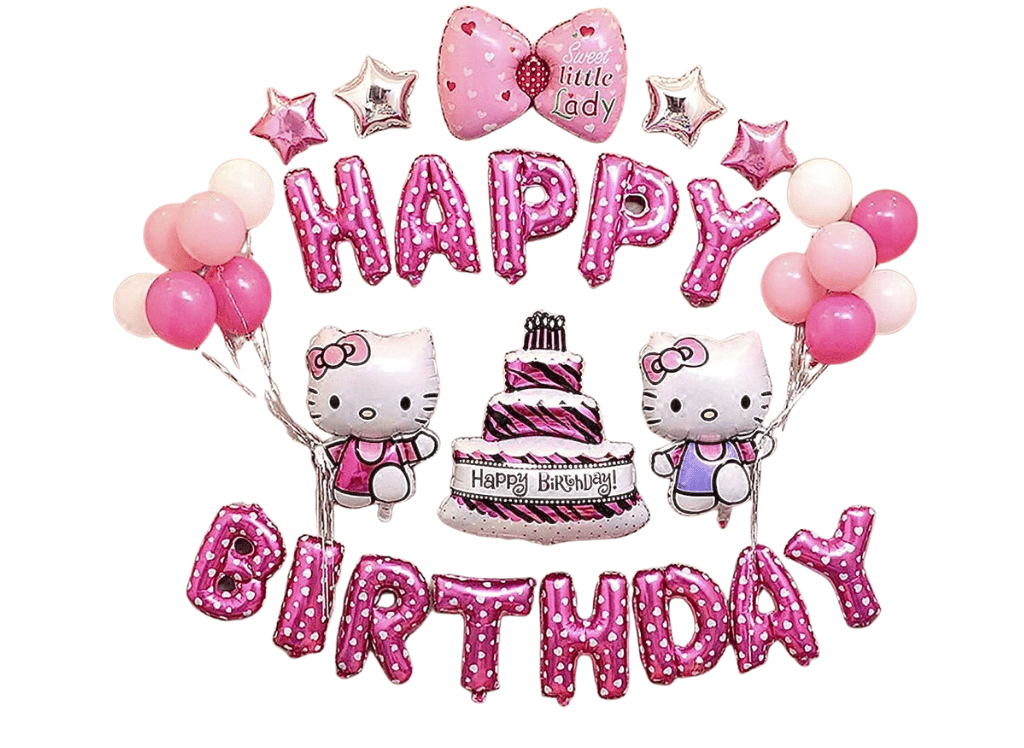 1. SuperFunStuff 24 Pc Hello Kitty Happy Birthday Banner
See Price on Amazon
Why We Love It
This set includes everything you need for a memorable celebration: a pink happy birthday banner, a cake balloon, a pink bow balloon, a pink Kitty balloon, a lilac Kitty balloon, 4 star balloons, and 12 latex balloons.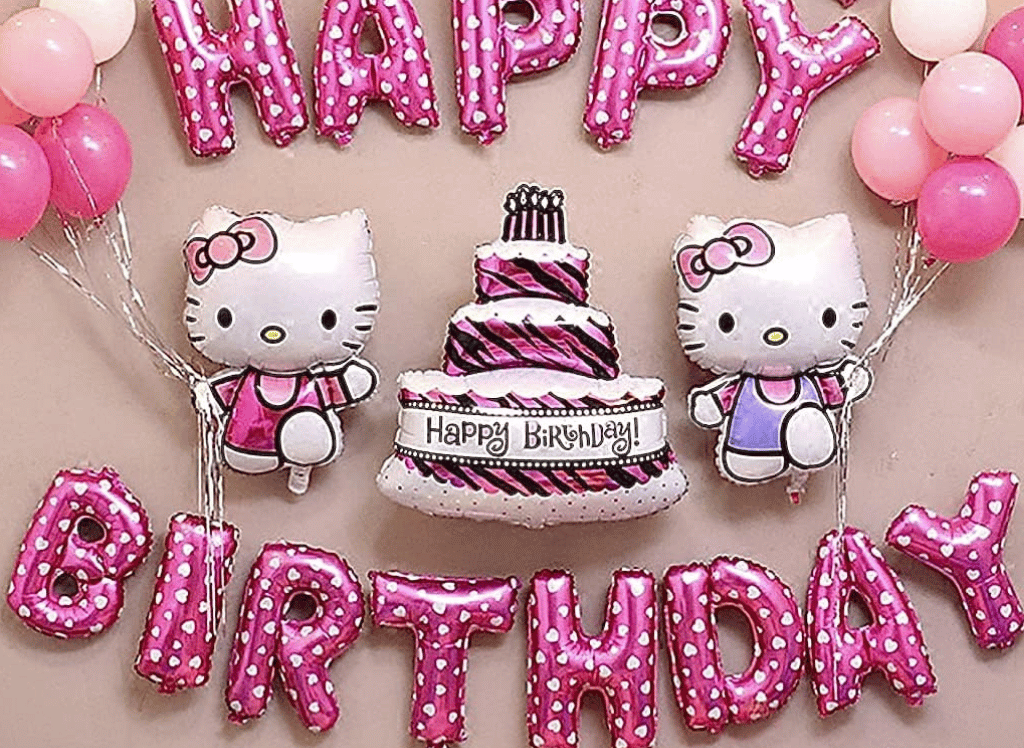 But what makes it even better is that it's SAFE & NON-TOXIC! Made of aluminum foil and natural latex, these balloons are completely harmless and nontoxic. Your kids can play with them worry-free while having a blast at the party!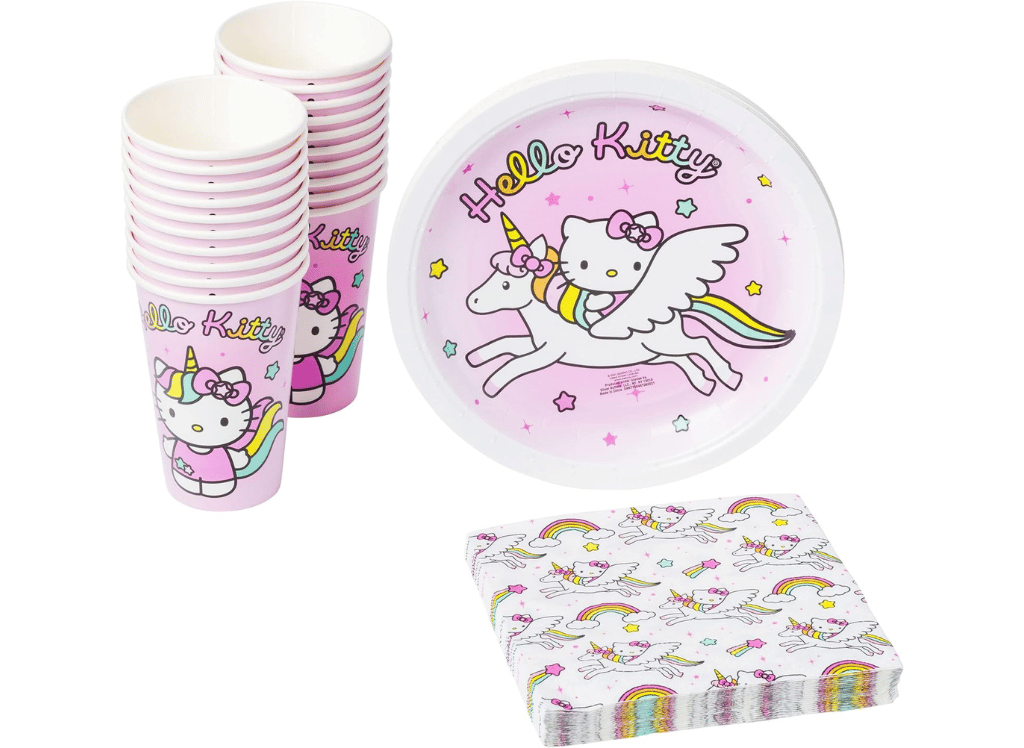 2. Silver Buffalo Hello Kitty Party Pack Set - 20 Count
See Price on Amazon
Why We Love It
This adorable set is designed for 20 guests and features Hello Kitty riding a unicorn, adding an extra touch of cuteness to your celebration. With 9/12" plates, 12 3/4" x 12 3/4" napkins, and 16oz cups, this pack has everything you need.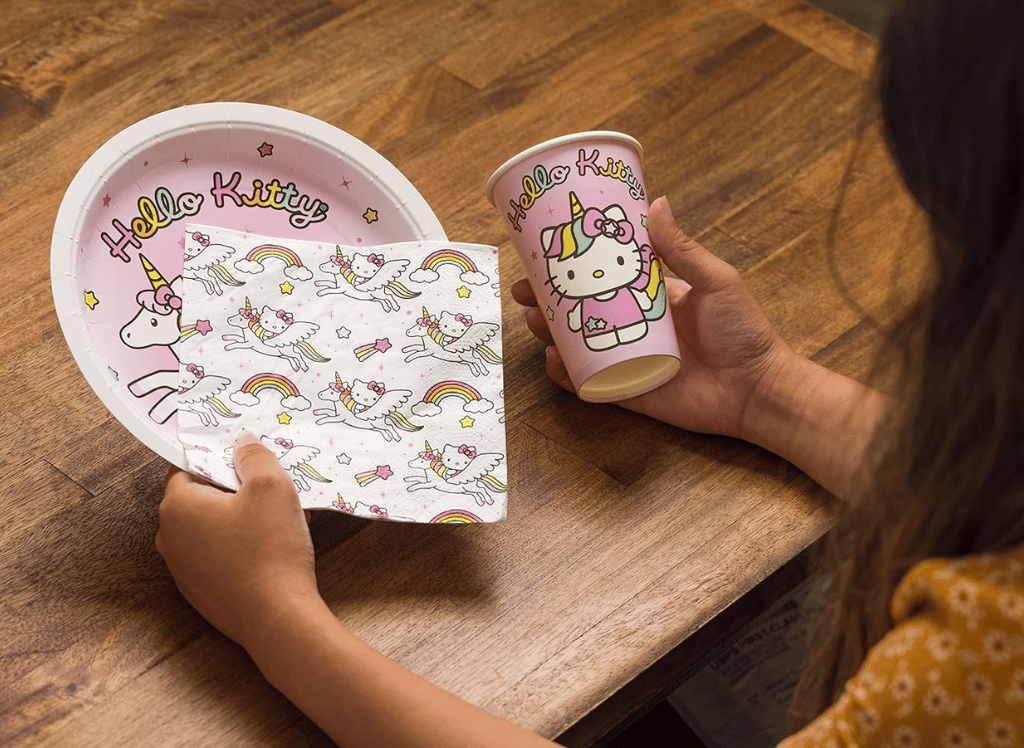 And the best part? It's super easy to clean up - just dispose of the items after use and you're done! Plus, you can have peace of mind knowing that you're getting officially licensed Hello Kitty products from Silver Buffalo.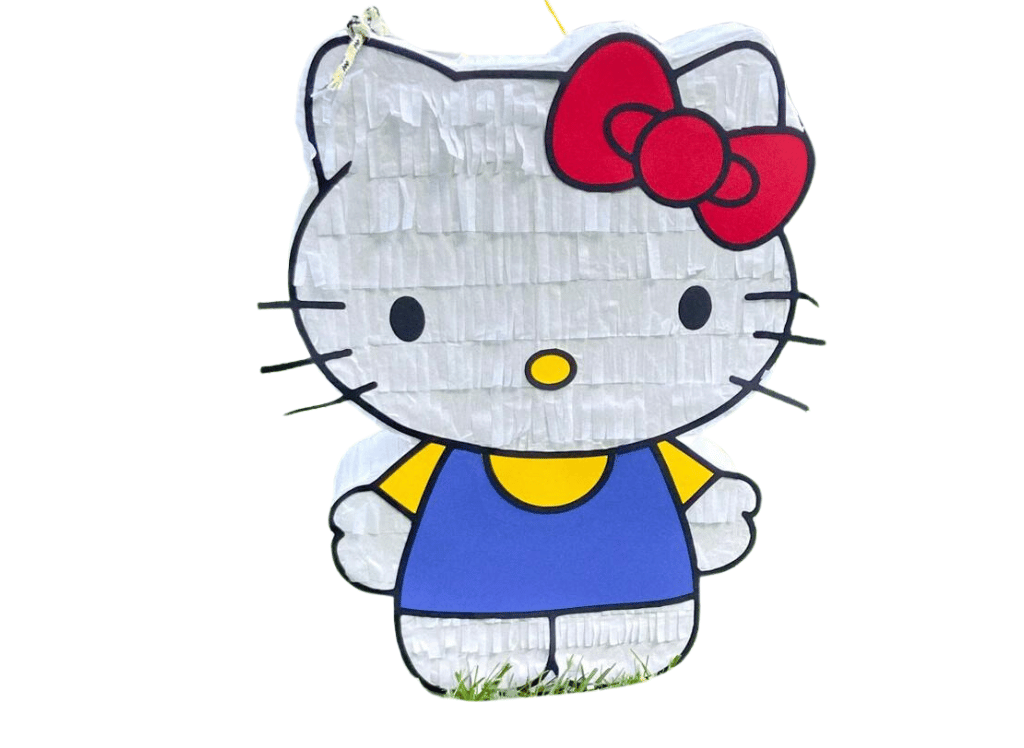 3. Elegantflowersbyeli Hello Cute Kitty Piñata
See Price on Etsy
Why We Love It
Handmade with love, this piñata is not only adorable but also safe and easy to fill. You have the option to choose just the piñata or add the stick and some boxes for sweets or toys.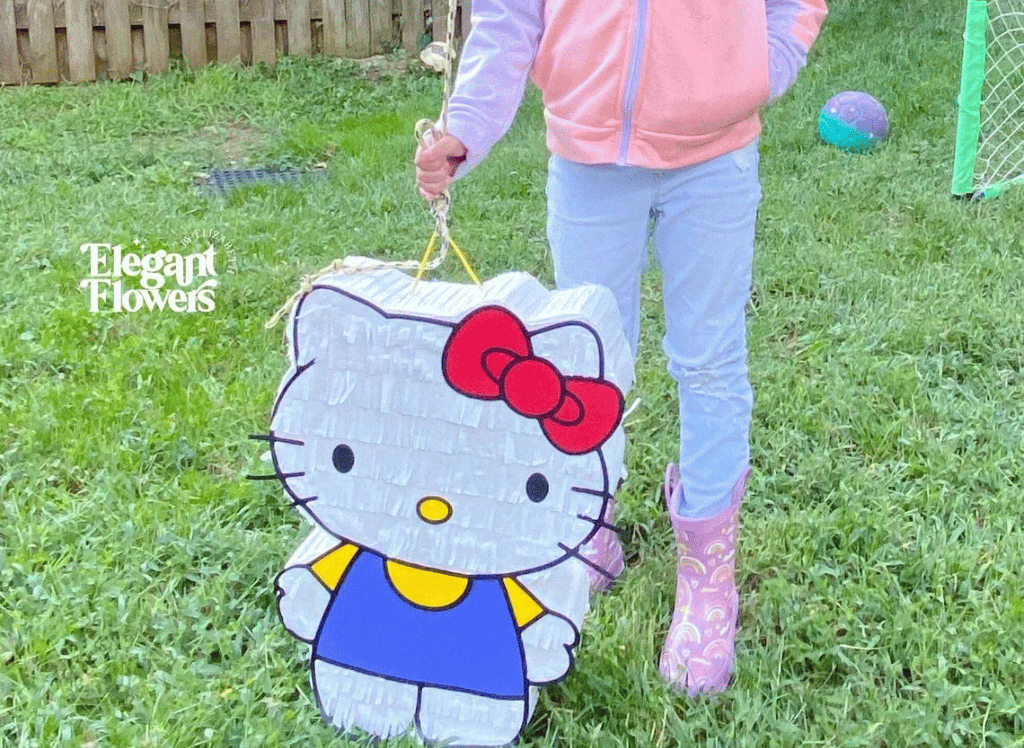 No worries about sharp staples, as this piñata is made from cardboard, tissue paper, and crepe paper. Let the kids have a blast as they take turns breaking open the door to reveal the surprises inside. It's bound to be a fun-filled experience that will create lasting memories!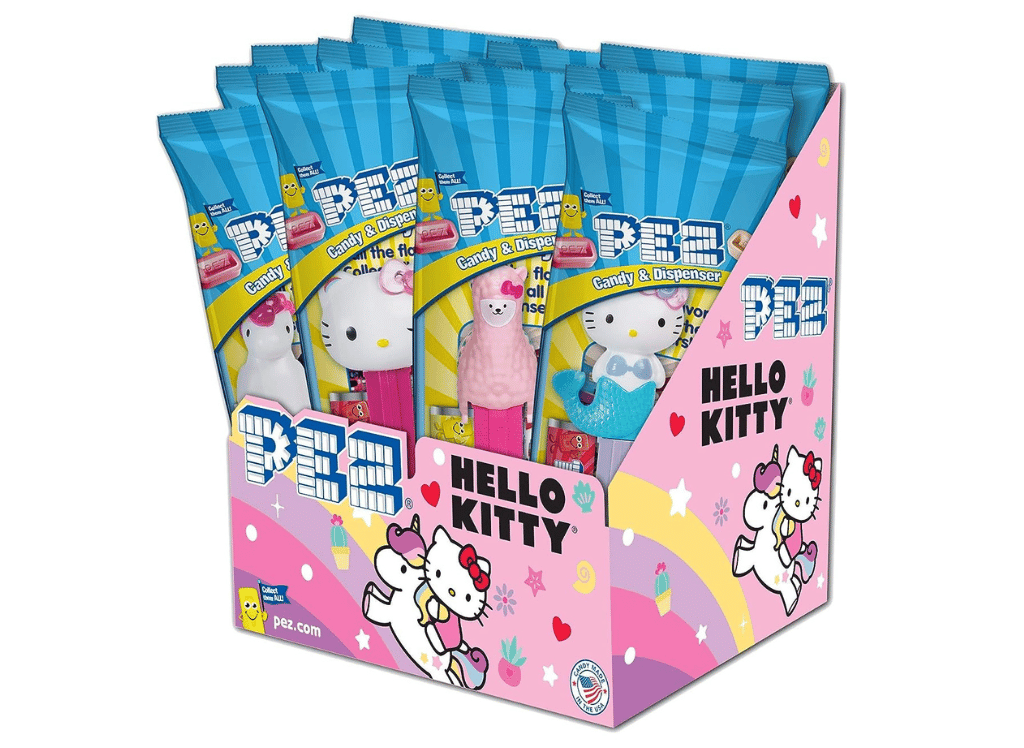 4. PEZ Hello Kitty Assorted Candy Dispensers - Pack of 12
See Price on Amazon
Why We Love It
Get ready for a delightful treat that will surely make any party a hit! With its 12-pack of candy dispensers, you'll have plenty to go around and share the fun. Each dispenser comes with 0.58 ounces of sugary goodness, making it the perfect size for a quick and tasty treat.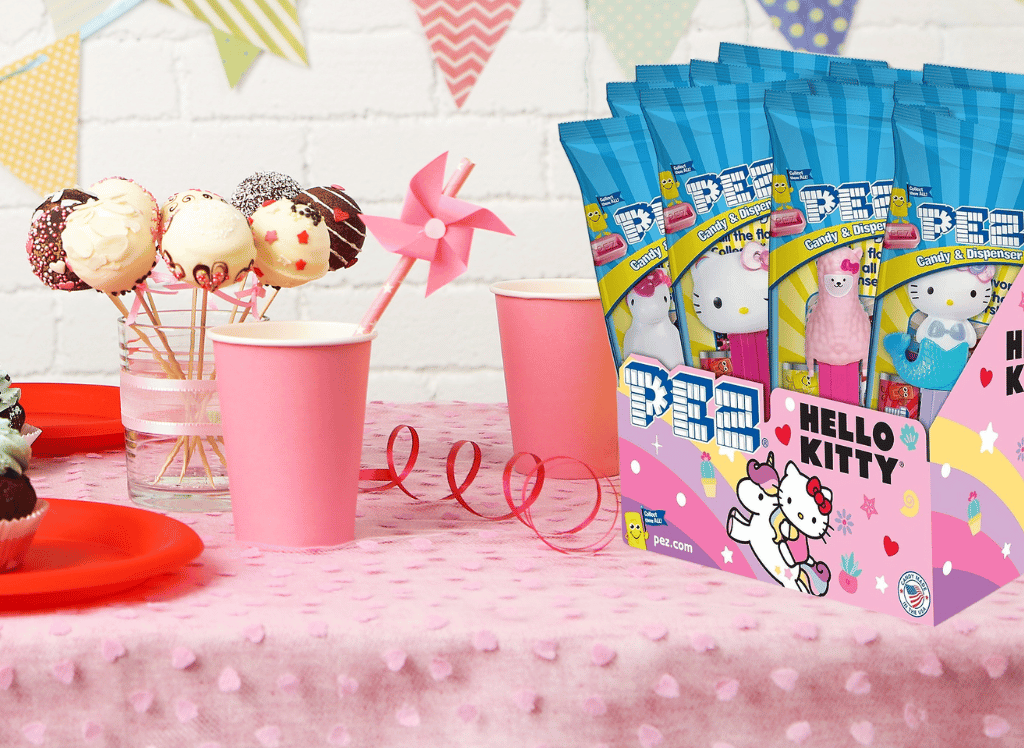 The assortment of flavors, from sweet to tangy, will surely satisfy your taste buds. Plus, the vibrant and adorable Hello Kitty design adds a touch of cuteness to every bite. These candy dispensers make great party favors that will bring a smile to everyone's face. Don't miss out on the joy and excitement that this PEZ Hello Kitty Assorted Candy Dispensers pack brings!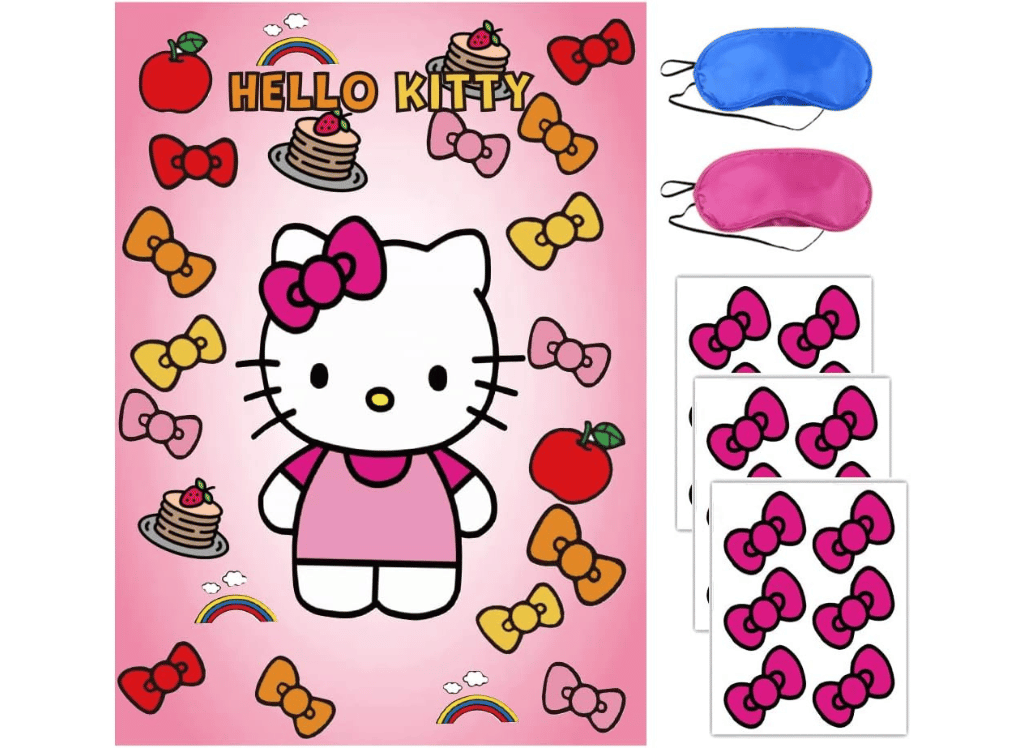 5. GOTOFUN Pin The Bow on HelloKitty
See Price on Amazon
Why We Love It
Get ready for a twist on the classic "pin the tail on the donkey" game with the super fun and exciting "Pin the Bow on Hello Kitty"! This awesome game is perfect for children and guarantees a unique and enjoyable experience.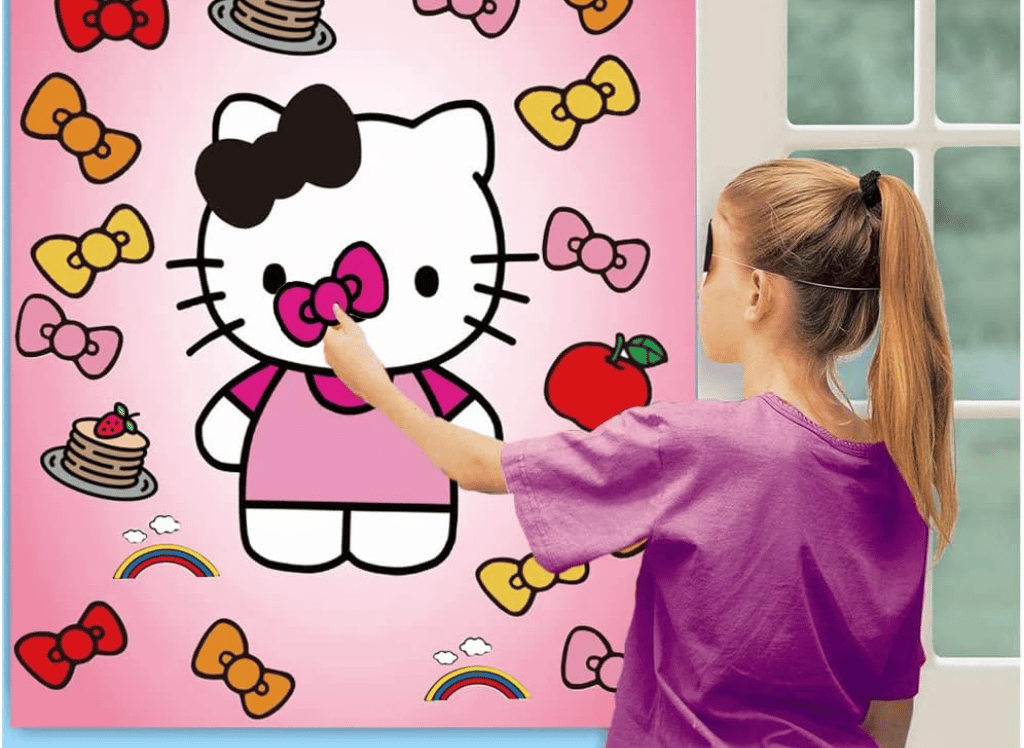 With a package including a premium large poster, blindfolds, bow stickers, and glue dots, you have everything you need for endless entertainment. The fascinating colors of the poster, reminiscent of the beloved TV show, will create an amazingly fun atmosphere.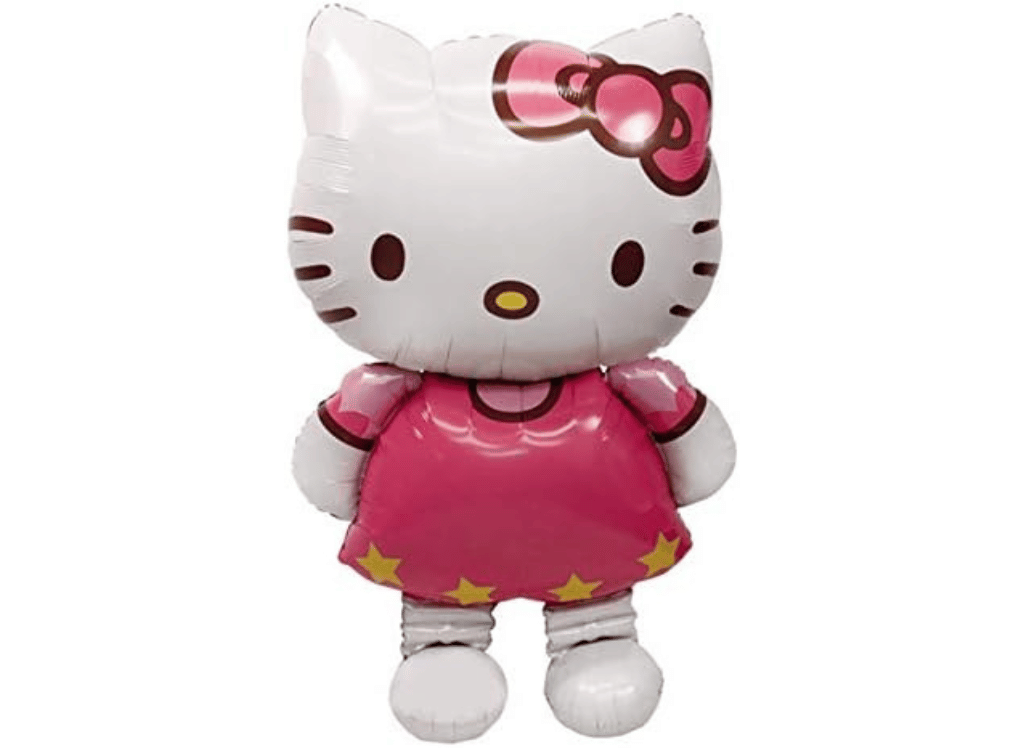 6. WJQ&ZHONO Hello Kitty Party Balloon
See Price on Amazon
Why We Love It
Get ready for cuteness overload with this adorable Hello Kitty foil balloon. Measuring 43 inches x 25 inches (110cm x 64cm), it's large enough to make a statement at any celebration. With its vibrant colors and charming design, this balloon is perfect for adding a touch of fun and excitement to your party decor. Whether you're throwing a Hello Kitty-themed party or simply want to surprise a fan, this balloon is a must-have.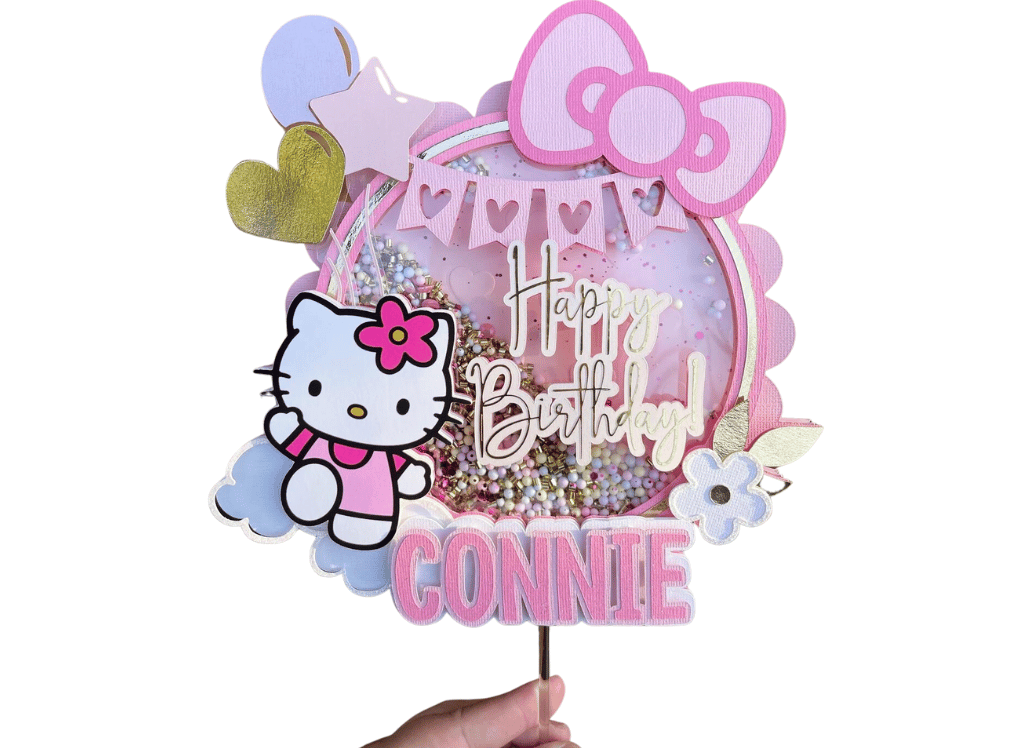 7. Fabcreationss1 Customized Hello Kitty Cake Topper
See Price on Etsy
Why We Love It
Handcrafted with love, this personalized cake topper is the perfect addition to your special celebration. Measuring 8 inches wide and made with durable cardstock, it adds a delightful touch to any cake.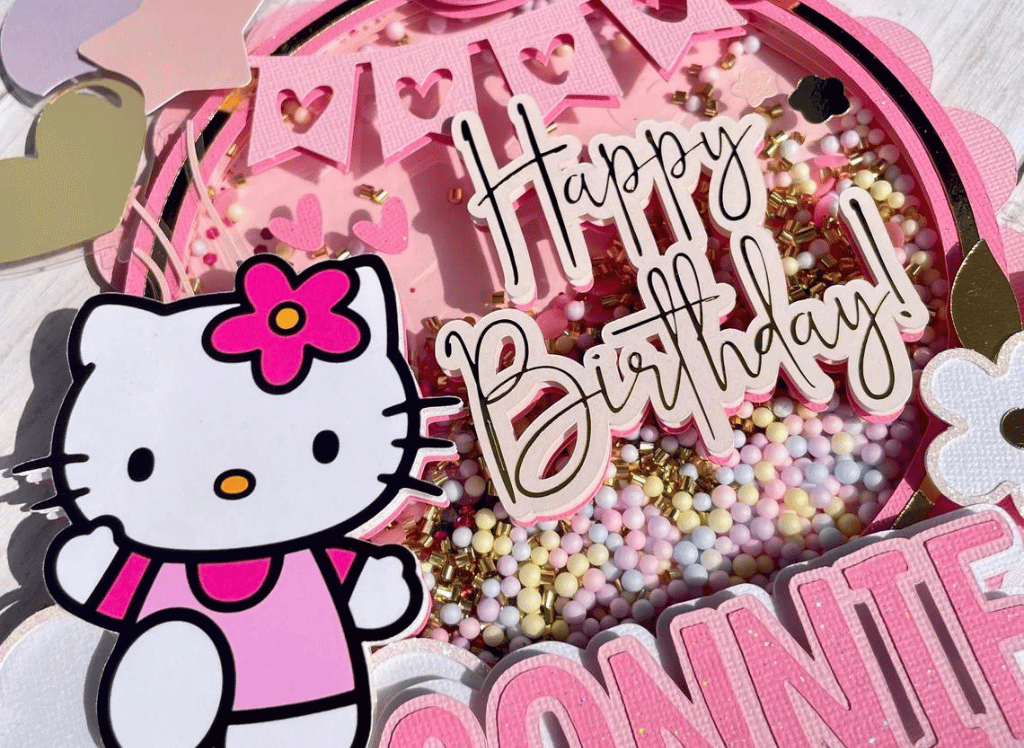 Want to make it even more special? You can customize it with a name and age of your choice. Plus, if you're looking for a different color or characters, just shoot them a message and they'll be happy to make it happen!
Hello Kitty Party FAQs
Get ready to embark on a playful journey into the world of Hello Kitty Party Supplies! We know you might have some questions buzzing in your mind about these charming party essentials. Don't worry, you're not alone! That's why we've prepared this handy FAQs section, where we answer your most burning questions. Find the answers you need and let's continue spreading the Hello Kitty love!
1. What is the best theme for a Hello Kitty party?
The possibilities for a Hello Kitty party theme are endless! You can choose a classic pink and white color scheme or opt for a more unique theme, like Hello Kitty in a garden, Hello Kitty at the beach, or even Hello Kitty in outer space! The key is to let your creativity and love for Hello Kitty guide you!
2. How can I make my Hello Kitty party more interactive?
Spice up your party with fun activities! "Pin the Bow on Hello Kitty" is a classic game that everyone loves. You can also consider a Hello Kitty piñata, which is not only a fun activity but also doubles as adorable decor!
3. Where can I find Hello Kitty party supplies?
There are numerous online stores that offer a wide selection of Hello Kitty party supplies. Amazon, for instance, has a plethora of items ranging from decorations and tableware to games and party favors.
4. Are there any unique Hello Kitty party favors I can give out?
Absolutely! The PEZ Hello Kitty Assorted Candy Dispensers make great party favors. You can also consider Hello Kitty stickers, temporary tattoos, or even cute Hello Kitty themed thank you notes!
5. Can I customize my Hello Kitty party supplies?
Yes, you certainly can! Many suppliers, like Fabcreationss1, offer customization options for their products. You can personalize items with your child's name, age, or even a special message.
6. Is there a way to make my Hello Kitty party more memorable?
A great way to make your party memorable is by capturing moments. Consider setting up a photo booth with a Hello Kitty backdrop and props. This way, your guests can take fun photos that they'll cherish forever!
7. How can I incorporate Hello Kitty into the party food?
There are so many fun ways! You can have a Hello Kitty cake with a custom cake topper, cookies shaped like Hello Kitty, or even pink lemonade served in Hello Kitty cups. Let your imagination soar!
Final Thoughts About Hello Kitty Party Supplies
In conclusion, these seven Hello Kitty party supplies are truly the cat's meow! From the sparkling decorations to the interactive games and sweet treats, each item brings its own pinch of magic to the party, turning your special day into a whimsical Hello Kitty wonderland. So why wait? It's time to bring out the pink bows, invite your friends, and throw the purr-fect Hello Kitty bash that will leave everyone grinning from ear to ear. Here's to creating unforgettable memories with Hello Kitty!
Happy Shopping! :)
💡
Are you a shopping enthusiast looking for more fun while browsing? With
Two Free Audiobooks
from Audible Plus and
30 days of free access
to Amazon Prime Music, you can now listen to your favorite audiobooks and music while you shop! Plus, with Amazon Prime's lightning-fast 2-day shipping. Get a
Free 30-day trial
of Amazon Prime today and enjoy these amazing benefits.