Ready for Adventure? The Top 5 Kids Camping Gear
Are you ready for an adventure? Then make sure your kids are too with the top five camping gear essentials! From tents to sleeping bags, these must-haves will have your little campers feeling like pros and having a blast. So let's get packing - it's time for some outdoor fun!
Are you looking for the best products? We've got you covered! Our editors independently selected each item on this list. Raquels Reviews may collect a share of sales or other compensation (at no cost to you) from links found within these pages if they choose to buy something (that's how we stay in business); as an Amazon Associate, we earn from qualifying purchases. Reviews have been edited for length and clarity; enjoy finding your next favorite thing today!
Are you looking for the perfect camping gear to keep your kids safe and comfortable during their outdoor adventures?
Whether they're exploring a nearby park or heading off on an overnight camping trip, having the right gear can make all the difference. From sleeping bags to tents, there are so many items that can help ensure your little ones have a great time in nature.
To make it easier for you, we've done some research and rounded up our favorite kids camping gear available on Amazon. We've included everything from essential items like headlamps to roasted marshmallow sticks.
Read this article now to find out which products made our list of must-haves!
How Raquels Reviews Chooses the Kids Camping Gear
You want to give your kids the best camping experience, but you don't know which gear is right for them.
With so many options available, it can be overwhelming trying to decide what's worth buying and what isn't. You don't have time to read through hundreds of reviews on Amazon – that's why you need a trusted expert who can do the research for you!
Raquel's Reviews has done all the hard work for you! Our team of experts has scoured Amazon reviews and choose only the best kids camping gear that will make your little ones feel like pros in no time. So go ahead and let us take care of finding quality products – we promise your kiddos will thank you later!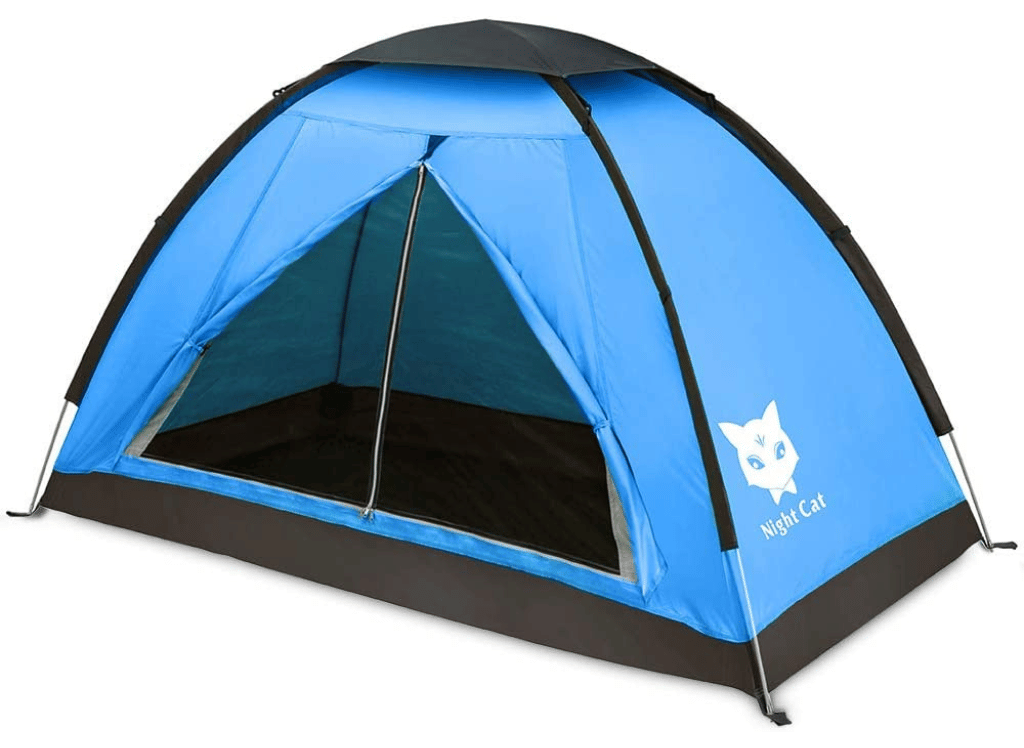 1. Night Cat Backpacking Tent
Check Price on Amazon
Why We Love It
The Night Cat Backpacking Tent is perfect for family camping trips and outdoor adventuring with your kids! It weighs a mere 4.4lb, making it ideal for backpacking or hiking, plus its 16.5 x 4.7 x 4.7inch package size makes it incredibly compact and easy to carry. The tent is set up quickly thanks to the strong fiberglass poles included in the package, so you can enjoy more time out in nature rather than setting up camp!
Things to Know
The Night Cat Backpacking Tent is the perfect choice for camping trips with family and friends. Made from 210D waterproof PED fabric PU 3000, this tent offers a durable and reliable shelter that will keep you safe and dry during your outdoor adventures. The oxford bottom fabric PU 3000 provides extra protection against water while the waterproof tape on every seam ensures no moisture can get in. With its easy setup, it's ideal for camping trips of any size or length - making it a great camping gift idea or essential item for kids who love to explore!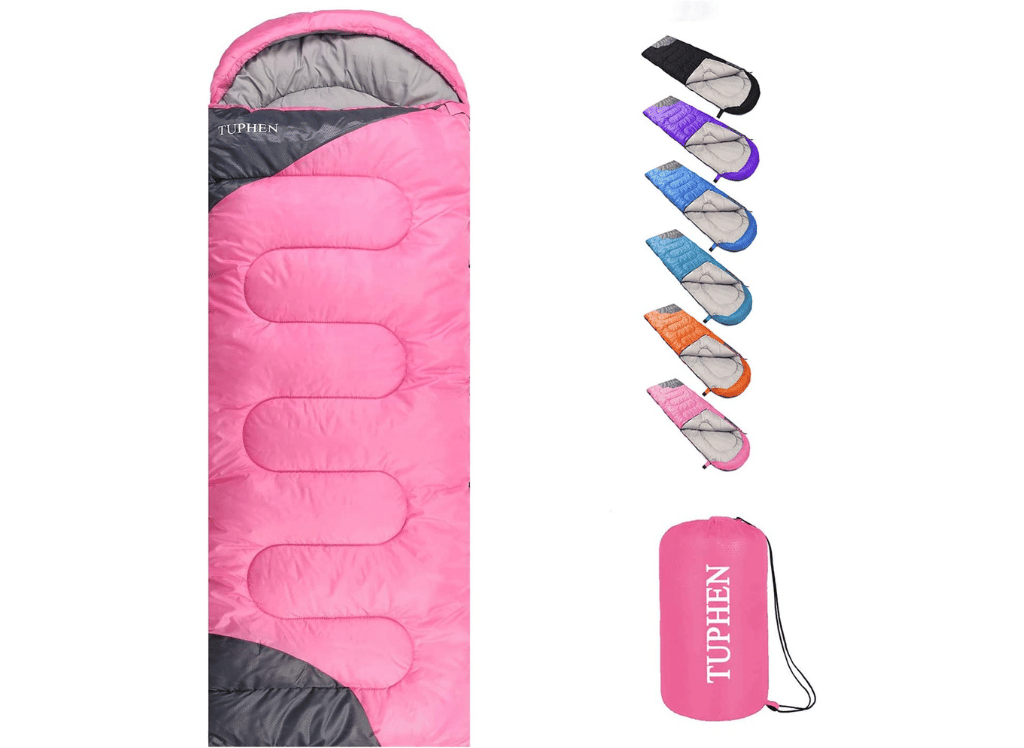 2. Tuphen Sleeping Bag
Check Price on Amazon
Why We Love It
The Tuphen Sleeping Bag is the perfect companion for those looking to enjoy a comfortable night's sleep outdoors. Its generous size 29.5" x 86.6" easily fits adults and is roomy enough for kids, too! It comes with a two-way zipper with an attached "zipper guard" to prevent hooks from getting stuck, ensuring you'll have no trouble zipping it up or down as needed. The double zipper slider also allows you to open the sleeping bag at its bottom, while still keeping your feet warm inside!
Things to Know
The Tuphen Sleeping Bag is the perfect choice for any camping adventure. It features a 210T Nylon outer cover, which is waterproof and breathable, while the interior lining consists of 190 T Polyester Pongee and it's filled with 100% hollow Microfiber to keep you warm on even the coldest nights. Whether your kids are heading out to explore National Parks or just going camping in their own backyard, this sleeping bag will be sure to provide them with a comfortable night's sleep. With its lightweight design and great features, it makes an ideal outdoor gift idea that any kid would love.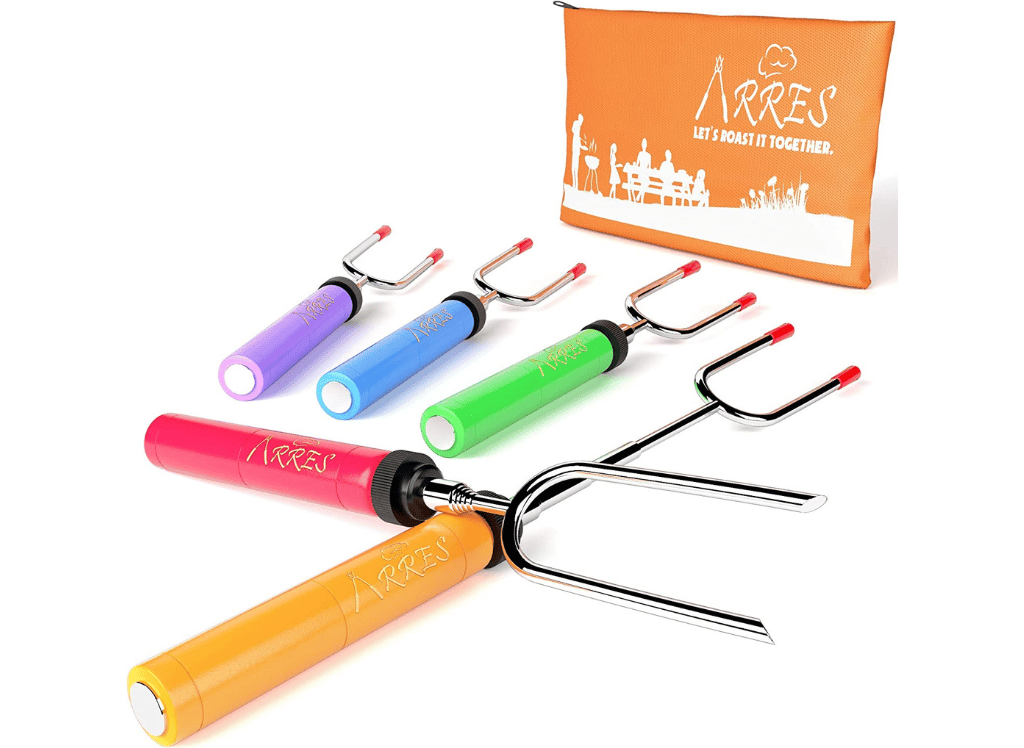 3. Arres Marshmallow Roasting Sticks
Check Price on Amazon
Why We Love It
Introducing Arres Marshmallow Roasting Sticks: the ultimate campfire and BBQ essential! These vibrant sticks come in a range of colors - Red, Blue, Orange, Purple and Green - so they're perfect for kids camping essentials. They are perfect for toasting marshmallows, hot dogs or veggies over an open fire while camping outdoors. And with their fun colors and easy-to-grip handles, these amazing skewers make great outdoor gift ideas that your children will love! With Arres Marshmallow Roasting Sticks you can create a unique kids' camping experience with ease!
Things to Know
These roasting sticks are extendable up to 34", making them essential camping gear and great camping gifts. Not only that, but they also collapse down to 10" for easy storage and travel. People love these marshmallow roasters, with reviews like "Happy grandkids!" and "My kids love these!". So if you're looking for a fun way to enjoy campfires with family and friends, then Arres Marshmallow Roasting Sticks are the ideal choice!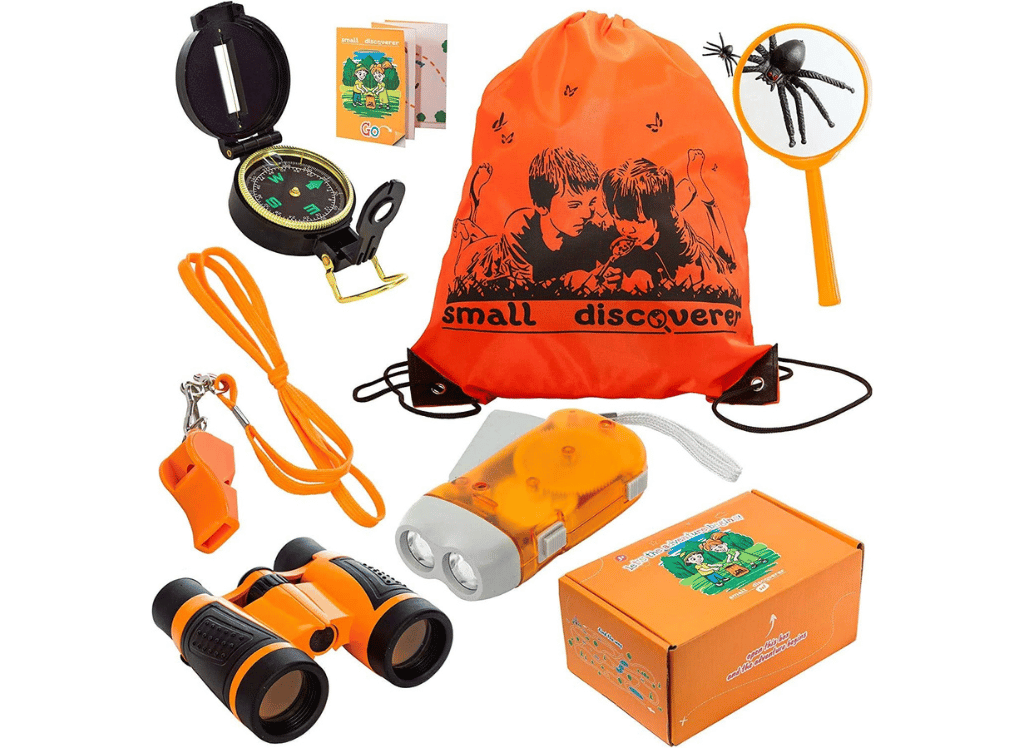 4. Small Discoverer Outdoor Exploration Set
Check Price on Amazon
Why We Love It
Introducing the Small Discoverer Outdoor Exploration Set! This exciting set of outdoor camping gear is designed to inspire a love of nature and exploration. With this set, your kids can take their toys wherever they go. The backpack even has places to store all the tools they need while having fun in nature. Whether you're looking for an adventurous gift idea or some new camping toys, this set is sure to make exploring outside more fun than ever before!
Things to Know
The Small Discoverer Outdoor Exploration Set is the perfect gift for any adventurous kid. Featuring 4x30mm binoculars, 3x60mm magnifying glass, a LED hand crank flashlight, whistle, compass and a kids hiking backpack this set allows your child to explore the outdoors in style. With everything they need for outdoor adventures packed into one convenient set, it's sure to be their favorite camping gear for kids. So make sure you give them the ultimate outdoor gift ideas with the Small Discoverer Outdoor Exploration Set!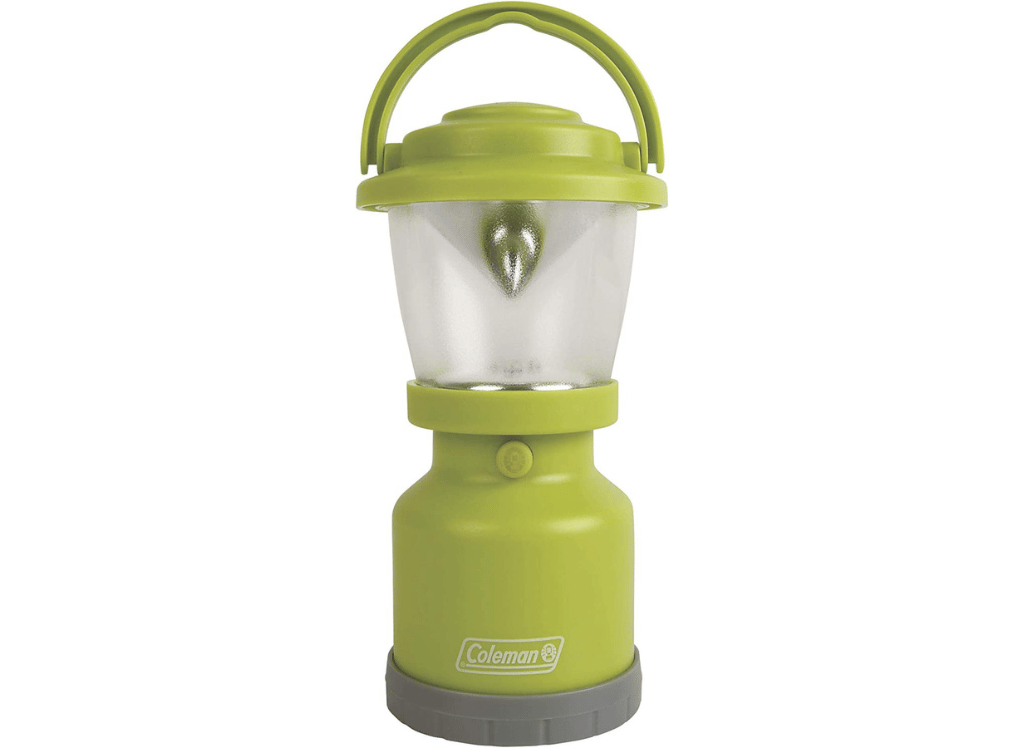 5. Coleman Kids LED Adventure Mini Lantern
Check Price on Amazon
Why We Love It
This lightweight LED lantern is designed with kids in mind: it has an ergonomic shape that fits perfectly into little hands and allows them to explore their creative imaginations while they learn valuable outdoor skills. The single, bright-white LED gives off a powerful enough light for nighttime activities and its battery life lasts all night long, so kids can stay out of the dark until you think it's time for bed.
Things to Know
The Coleman Kids LED Adventure Mini Lantern is the perfect companion for any outdoor adventure. Featuring five bright LEDs that emit 44 lumens of light, this lantern runs up to 16 hours on four AA batteries (sold separately). Its durable IPX4 water-resistant design ensures it can stand up to any weather conditions, while its lifetime LEDs never need replacing, making it a dependable and long lasting piece of kid's camping gear.
Kids Camping Gear FAQs
Trying to find the right camping gear for your kids can be a difficult and overwhelming task.
With so many options available, it's hard to know which items are best suited for your children's needs. You want to make sure you're getting the highest quality products that will keep them safe and comfortable during their adventures.
Our Kids Camping Gear FAQs provide all of the information you need to make an informed decision about what camping gear is best for your family. We'll help take away any confusion or uncertainty, so you can purchase with confidence knowing that your kids will have everything they need for a successful outdoor experience!
1.What camping gear should I bring for my kids?
The basic essentials to pack include a tent, sleeping bags and mats, clothing suitable for the environment, a flashlight or headlamp, waterproof boots, raincoat/poncho and toiletries. Other optional items can also include camp furniture such as chairs or tables, cookware such as pots and pans, first aid supplies like antiseptic cream and bandages.
2. What type of tent is best for kids?
When choosing a tent for your kids it is important to look at both size and durability. Tents with two-pole designs tend to be lightweight yet still stable enough to withstand weather conditions; however three-pole tents offer greater stability in windy conditions. Consider how many people will be using the tent when making your selection – you may need one large family camping tent or several small ones depending on the size of your group.
3. How do I protect my child from insect bites when camping?
One way to help prevent insect bites is by using insect repellent spray containing DEET before going outdoors if permitted in your area; however, always read the instructions carefully on any product you use. Additionally, wearing clothing that covers exposed skin such as long pants and a long-sleeved shirt, can help protect your child from insect bites. Finally, be sure to check the area before setting up camp for signs of danger such as ant hills or wasp nests. If you notice any of these signs it is best to move your camping location.
4. What items are important to have in a first aid kit while camping?
When packing your first-aid kit, it is important to include essential items such as adhesive bandages, sterile dressings, antiseptic cream, analgesic painkillers and antihistamine tablets for allergic reactions. Additional items such as tweezers, safety pins and scissors can also come in handy. It is also a good idea to include basic items such as sunscreen, insect repellent spray, thermometer and any prescribed medication your child might need. Make sure you check the kit regularly for expired products or missing items.
It is also important to ensure that all family members know how to use the first-aid kit and are familiar with basic safety procedures when outdoors.
Finally, make sure you have adequate supplies to last your entire trip as well as a plan for how to get help if needed.
When camping with kids, it is important to bring all the necessary equipment in order to keep them safe and comfortable. This includes a tent, sleeping bags and mats, clothing suitable for the environment, a flashlight or headlamp, waterproof boots and raincoat/poncho. It is also important to use insect repellent to protect against insect bites, as well as packing a first aid kit with essential items such as adhesive bandages and antiseptic cream. Finally, make sure that everyone knows how to use the first aid kit and is familiar with basic safety procedures when outdoors.
By following these tips, you can ensure that your camping trip with the kids will be a safe and enjoyable one.
Final Thoughts About Kids Camping Gear
We hope this list of the five best kids camping gear has given you a better understanding of what to look out for when shopping. With these items in hand, your kid will be set up with all they need to have an enjoyable and safe time outdoors. Whether it's their first or hundredth campout experience, having quality equipment is essential to get the most out of any outdoor adventure. Make sure that whatever item you choose meets safety standards and fits within your budget – then let them explore nature!
Calling all shopaholics! Tired of scrolling through endless products with nothing to entertain you? With Two Free Audiobooks from Audible Plus, you can listen to your favorite books while shopping! And if you want to take advantage of lightning-fast 2-day shipping, get a Free 30-day trial of Amazon Prime.
Happy Shopping!