14 Must-Have Mermaid Birthday Party Supplies for a Magical Undersea Adventure!
Dive into an enthralling undersea adventure with our top 14 must-have mermaid party supplies! Transform your party scene into a magical mermaid lagoon, complete with shimmering mermaid tails and captivating sea-themed decor. Your little mermaid's birthday bash will surely make waves!
As an Amazon Associate, we may earn a commission from qualifying purchases, but we promise the prices are still the same for you!
Looking to throw an unforgettable Mermaid-themed birthday party that will make a splash? You've come to the right place! Dive into our list of the best Mermaid Birthday Party supplies that you can find on Amazon.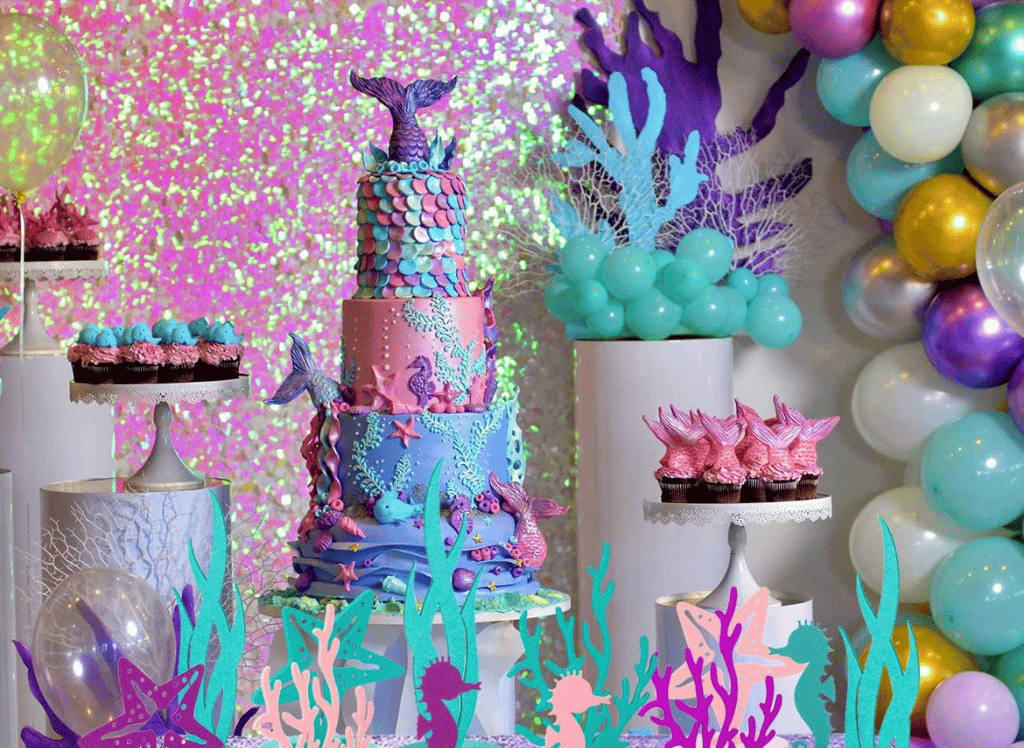 We've combed through countless options and have the treasures to prove it. From sparkling mermaid tail cake stands to charming under-the-sea party favors, we've got everything you need to make your little mermaid's special day truly magical. So let's cast off and discover these enchanting party necessities together!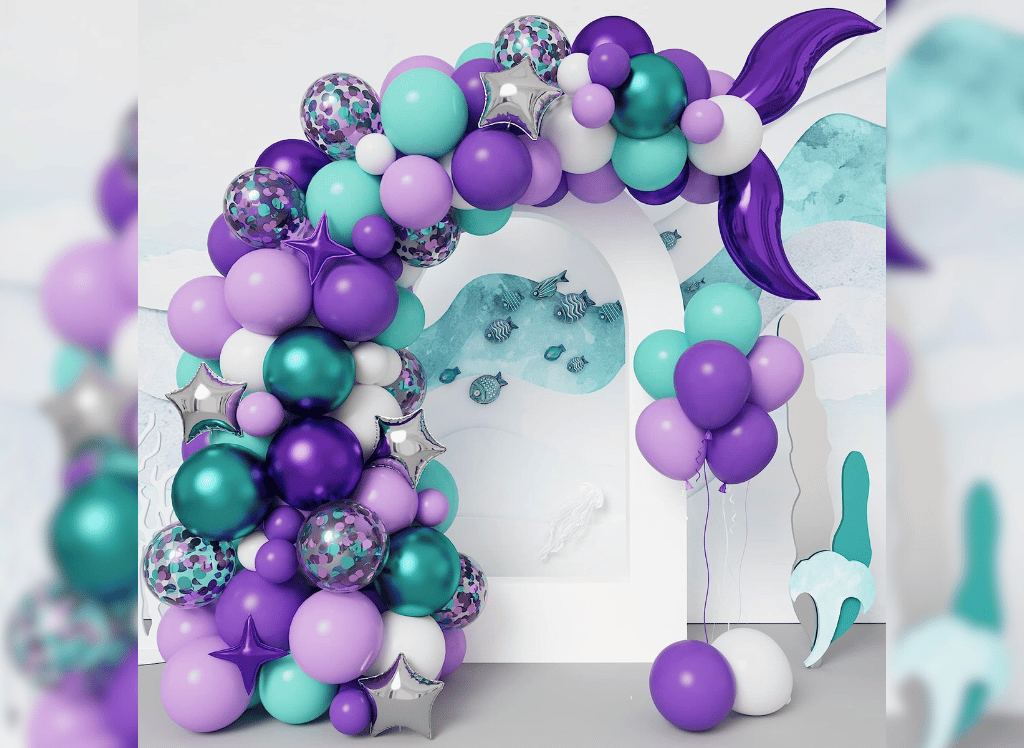 1. RUBFAC Mermaid Balloon Garland Kit
Check Price on Amazon
Why We Love It
Get ready to make a splash at your next party with this amazing kit. With a whopping 108 balloons in various sizes and colors, including mermaid tail and star-shaped foil balloons, this kit has everything you need to create a stunning mermaid-themed balloon garland. Plus, it comes with handy tools like glue, a balloon arch strip, a balloon tie tool, and ribbons. Whether it's a mermaid birthday party or baby shower, this kit is sure to add a touch of magic and excitement.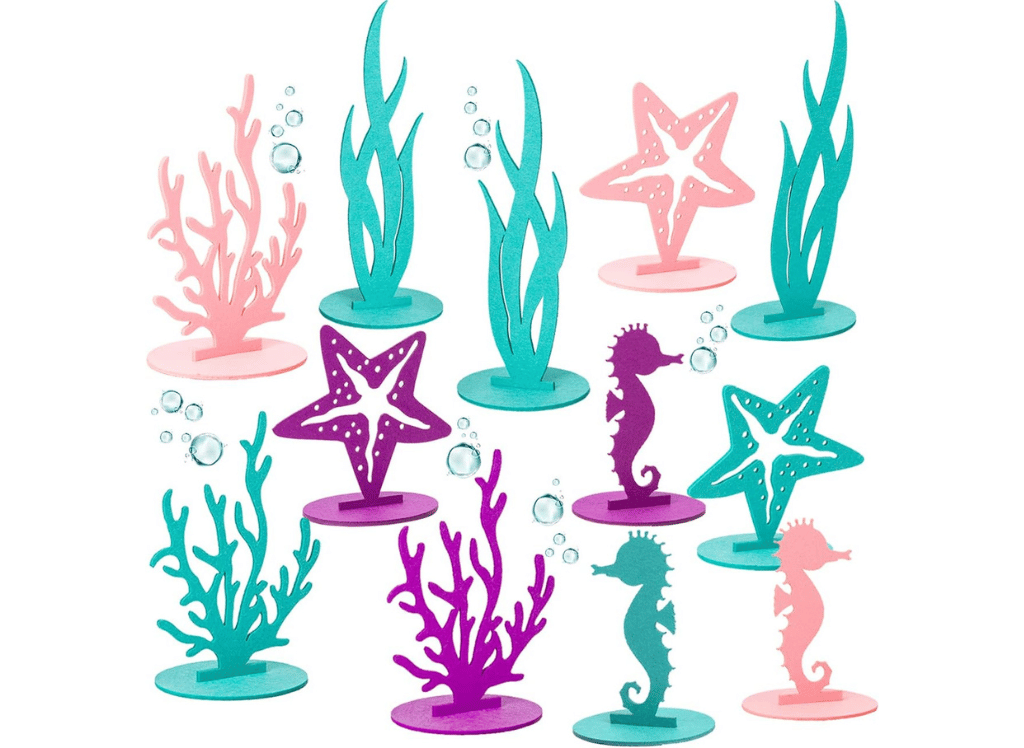 2. DECHISY 24 Pcs Mermaid Birthday Decorations Felt Table Centerpiece
Check Price on Amazon
Why We Love It
Dive into the enchanting world of mermaids with these captivating ocean-themed party favors. With 3 vibrant colors and 4 different styles featuring coral, starfish, sea horse, and seaweed, your table will come alive with a variety of decorative patterns. Crafted from high-quality felt with a sturdy 4mm thickness, these mermaid party decorations are as reliable as they are charming. No need to worry about stability - the base is designed to keep them standing tall throughout the festivities.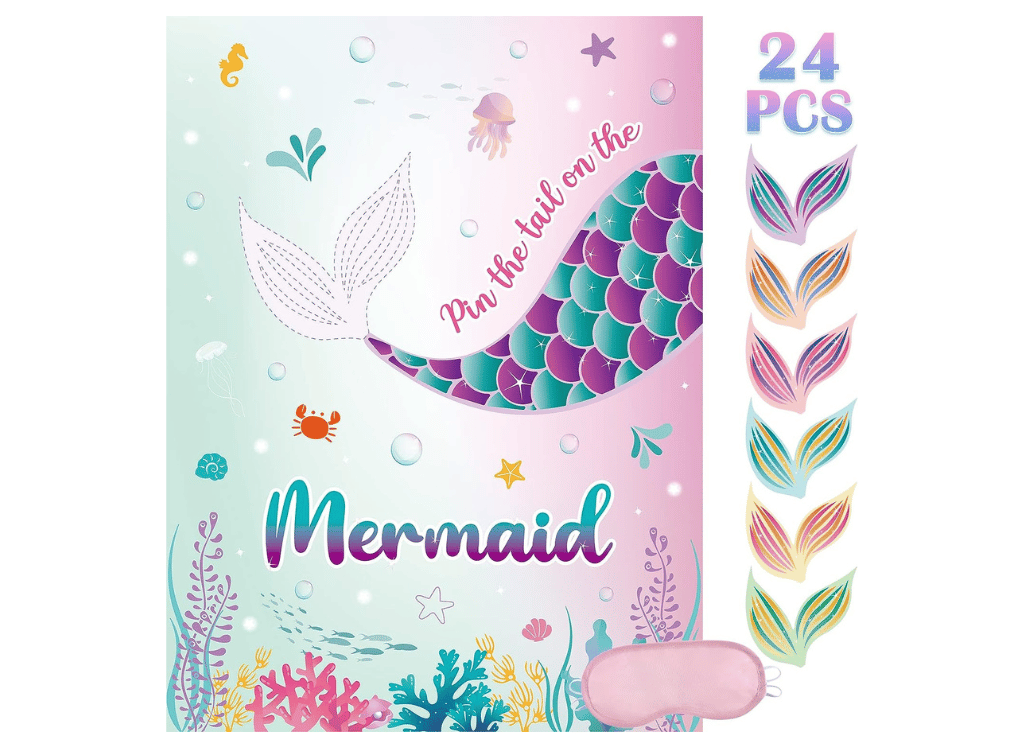 3. WERNNSAI Pin The Tail on The Mermaid Game
Check Price on Amazon
Why We Love It
Get ready for a splashing good time with the Pin The Tail on The Mermaid Game! Dive into a world of colorful corals and seagrass in the pink sea as you help the cute mermaid find her lost tail. Made from high-quality coated paper, this game is durable and can be reused. The soft and comfortable eye mask adds an extra element of fun. Simply paste the poster on the wall, wear the eye mask, and take turns pinning the tail sticker onto the poster. The player who gets closest wins! With a mermaid poster, reusable glitter tails stickers in six vibrant colors, a soft eye mask, and glue points included, this game has everything you need for endless underwater adventures.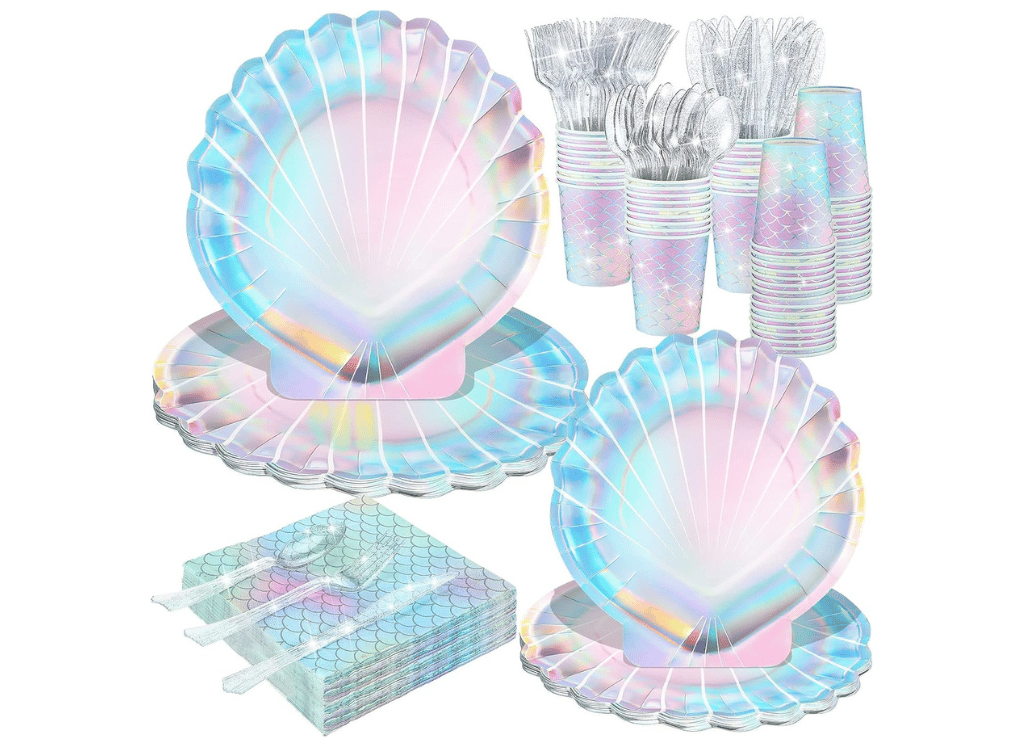 4. Cunhill 144 Pcs Mermaid Party Supplies
Check Price on Amazon
Why We Love It
This thoughtful set includes everything you need to create a magical under-the-sea atmosphere. With 24 seashell plates in 2 sizes, 24 scale napkins, 24 mermaid scale paper cups, and a full set of 24 knives, forks, and spoons, you'll have more than enough to meet all your decoration and dining needs. Whether it's a mermaid-themed birthday party or any other special occasion, these mermaid party dishes will add a touch of enchantment and make your event truly unforgettable!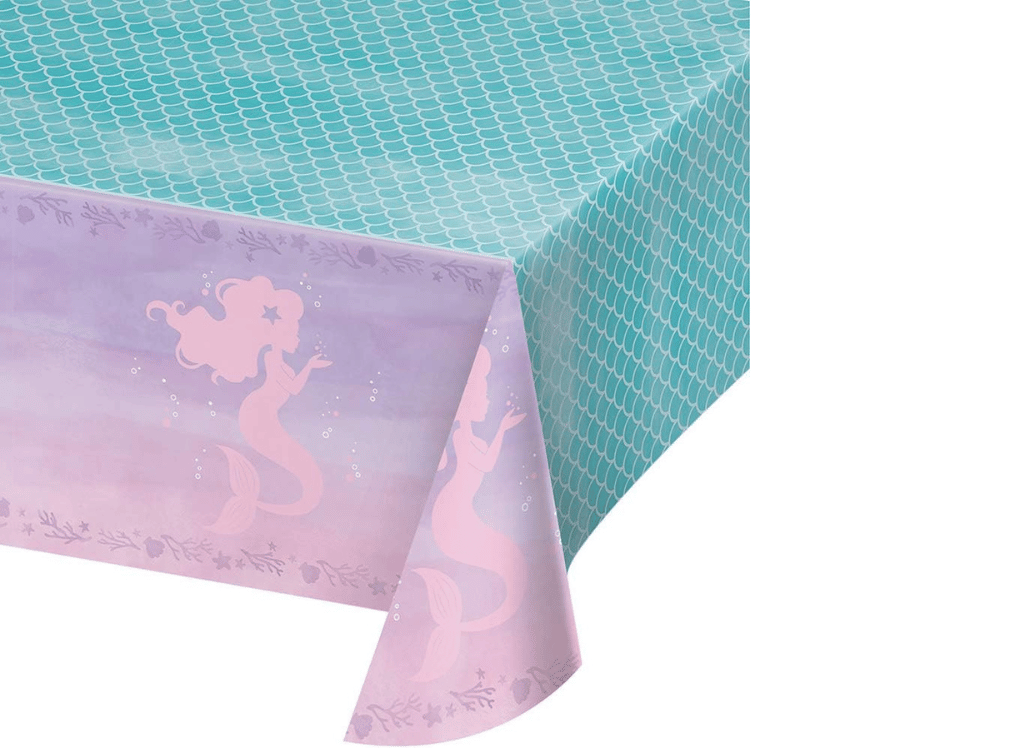 5. Creative Converting Mermaid Tablecloth
Check Price on Amazon
Why We Love It
Make a splash at your next gathering with the Creative Converting Mermaid Tablecloth. Measuring an impressive 102" x 54", this disposable tablecloth is not only convenient but also made of premium plastic for easy clean-up. Its vibrant colors and enchanting mermaid design bring an extra touch of magic to any mermaid-themed event. Whether you're hosting a birthday party, baby shower, or simply want to add some sparkle to your dining table, this tablecloth is perfect for the occasion.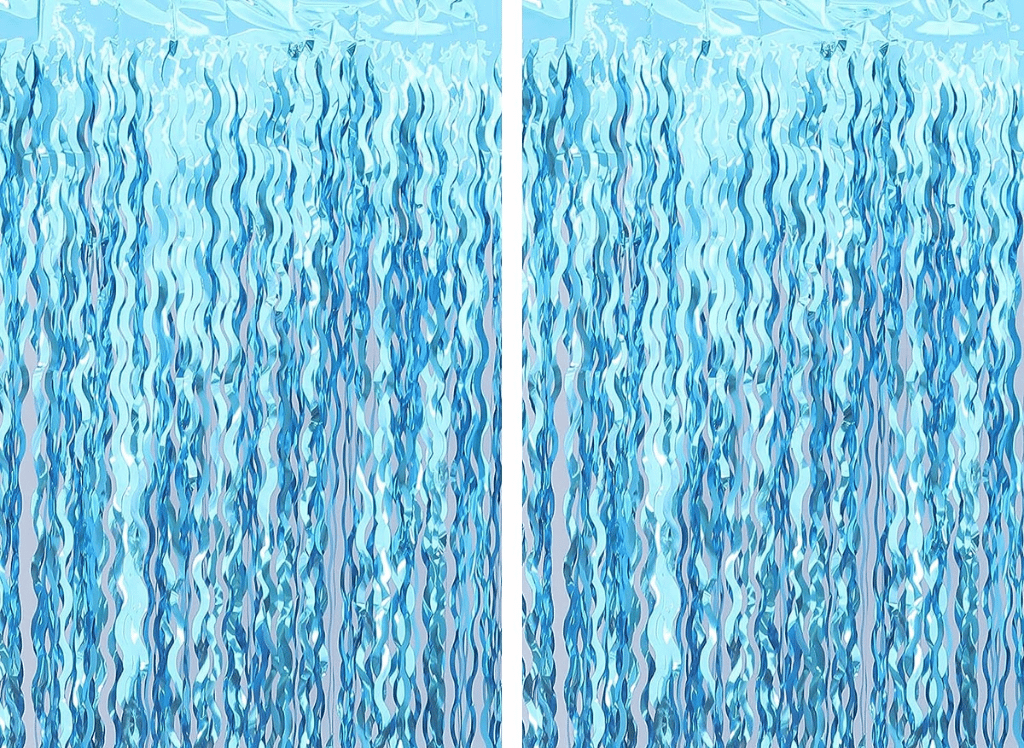 6. Wavy Tinsel Foil Fringe Curtain Photo Booth
Check Price on Amazon
Why We Love It
This fantastic package includes two pieces, perfect for adding a touch of magic to your party. With its captivating lake blue color, this curtain is ideal for various theme parties like beach parties, baby shark birthdays, frozen parties, or mermaid-themed celebrations. But what makes it truly special is its wavy shape and dazzling metallic surface that adds a sparkle of beauty to any backdrop. Crafted from durable and high-quality material, this streamers curtain is about 0.25 mm thick, ensuring it lasts for multiple uses.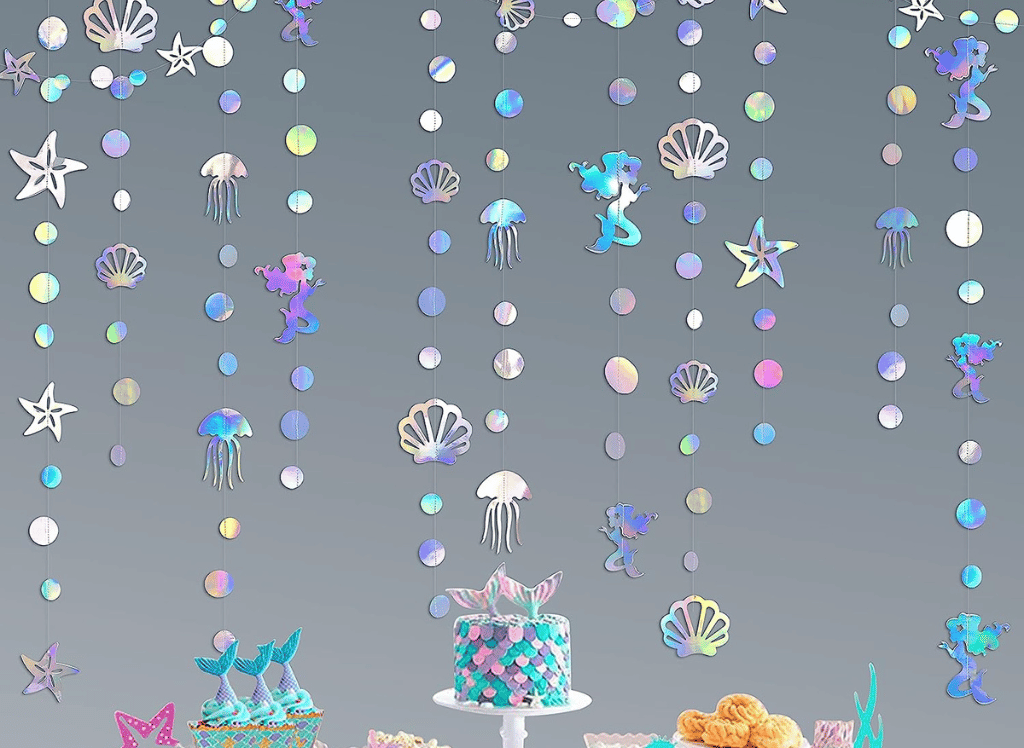 7. pinkblume 40 Ft Iridescent Mermaid Garland
Check Price on Amazon
Why We Love It
Get ready to dive into a world of enchantment and sparkle with this stunning party streamer. With a total length of 40Ft/12meters, it comes in 4 strings of mermaid magic, each measuring 10 feet/3 meters. Made from high-quality holographic metallic paper, these decorations are not only dazzling but also environmentally friendly. The unique design features bubbles of different sizes, accompanied by adorable mermaid ladies, seashells, starfish, and jellyfish, creating an underwater wonderland for your party. Let the bling bling shine and elevate the atmosphere of your celebration to perfection!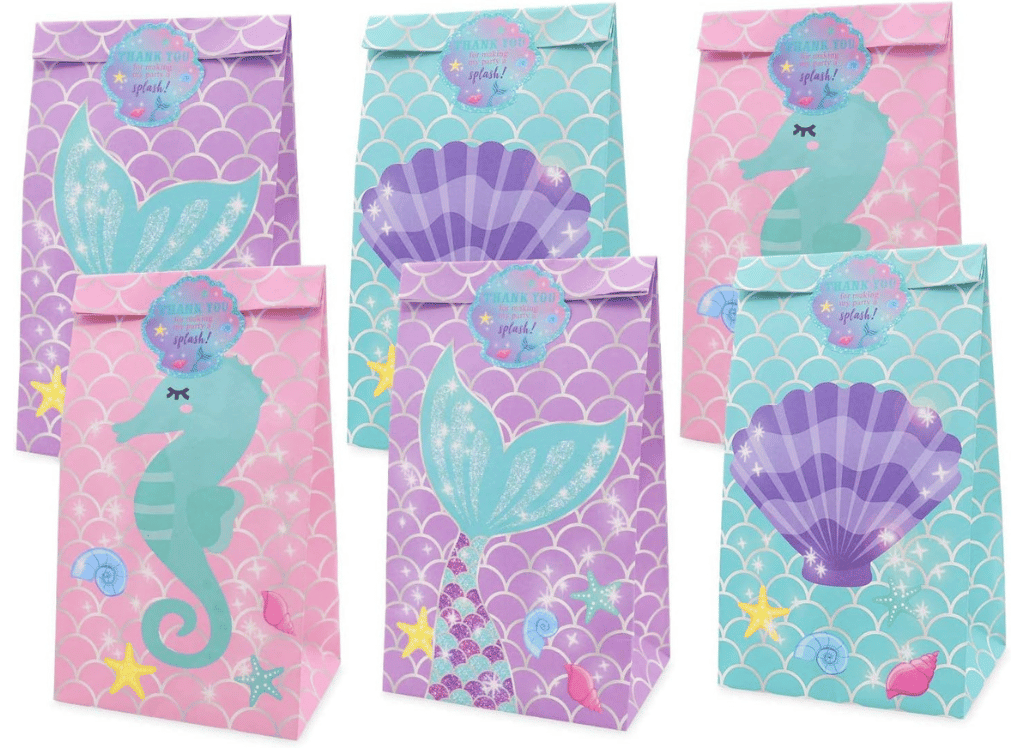 8. Yaaaaasss! Little Mermaid Party Favor Candy Bags - 24 Pieces
Check Price on Amazon
Why We Love It
With 24 pieces in 3 different designs, these treat bags are perfect for adding a touch of underwater magic to your kids mermaid-themed birthday party. Each bag measures 8.6 x 4.7 x 3.2", providing plenty of space for all your party goodies like candies, treats, small toys, and even arts and crafts. Plus, with the included 24 stickers, you can personalize each bag for an extra special touch.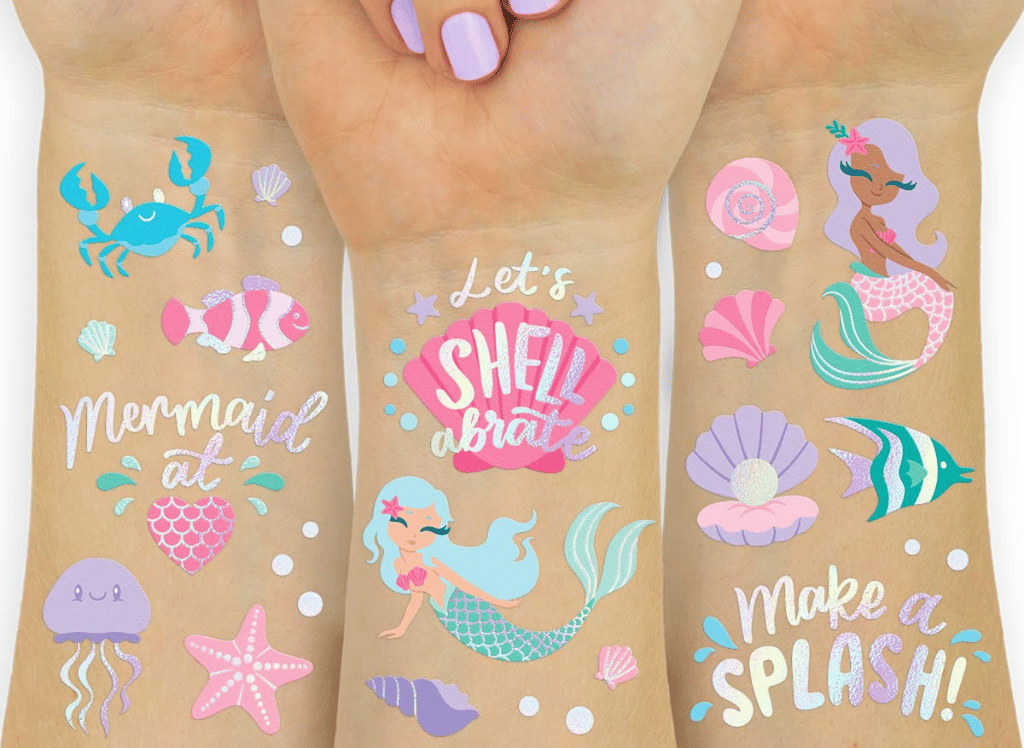 9. Fetti Under The Sea Mermaid Temporary Tattoos - 56
Check Price on Amazon
Why We Love It
Get ready to make a splash at any under the sea party with these adorable and vibrant tattoos. They are not just any tattoos - they come in two sheets of iridescent foil designs! With 56 vividly colored fishes, seahorses, mermaids, crabs, shells, and pearls, these tattoos are sure to be a hit! Perfect for birthday parties, goodie bag favors, or a fun home party activity, these tattoo sheets measure 8.25" x 6".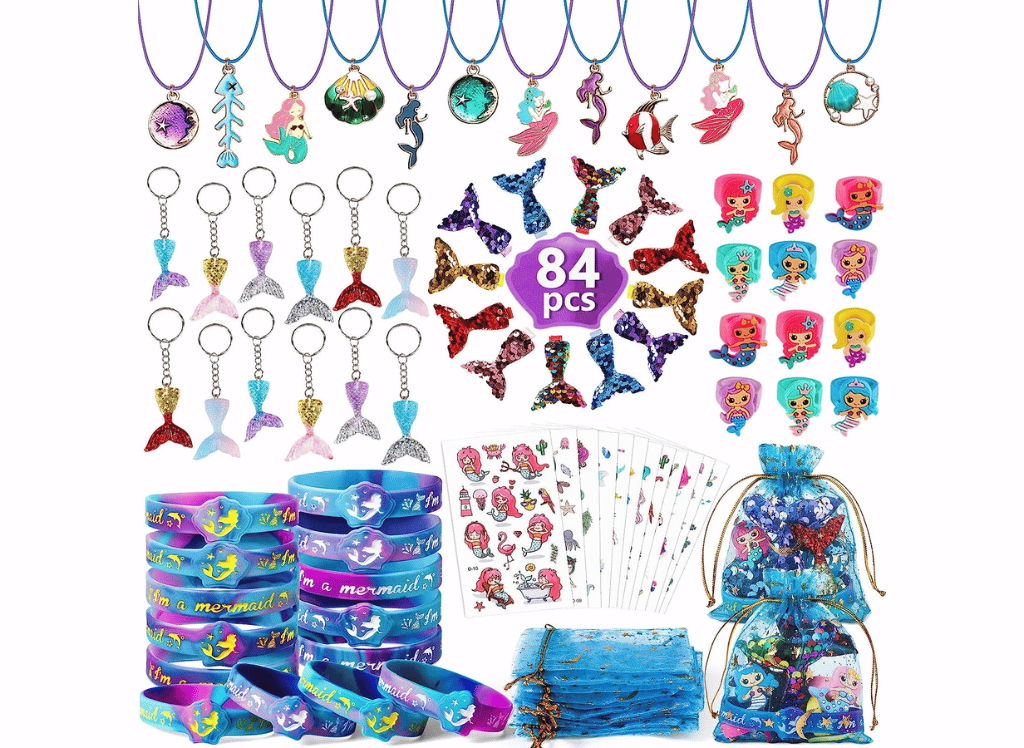 10. Golray 84Pcs Mermaid Party Favors
Check Price on Amazon
Why We Love It
With 12 mermaid silicone bracelets, 12 mermaid tattoo stickers, 12 keychains, 12 necklaces, 12 rings, 12 hairpins, and 12 gift bags, you'll have everything you need to entertain 12 guests and create an unforgettable mermaid-themed experience. These abundant accessories are perfect for children and they'll absolutely love the mermaid pinatas.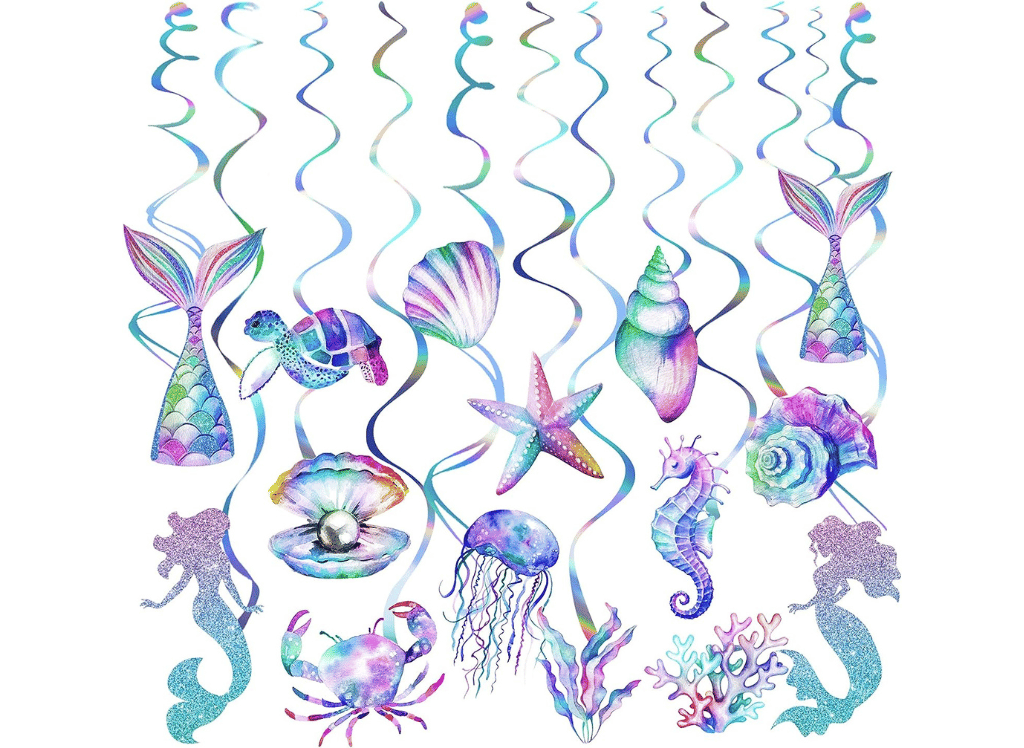 11. PERFQU 30 Pcs Mermaid Hanging Swirls
Check Price on Amazon
Why We Love It
This amazing package includes 15 ocean-themed patterns with streamers and 15 holographic hanging swirls, bringing a touch of magic to any kids' party. These beautiful mermaid hanging decorations are perfect for mermaid, sea, and fairy tale themes. With their double-sided design featuring 14 different patterns like fish tails, shells, seahorses, and more, they'll sparkle and shine from every angle. Crafted with premium quality materials, these decorations are not only durable but also safe and non-toxic. Get ready to create a fantastic theme or birthday party that both kids and adults will absolutely adore.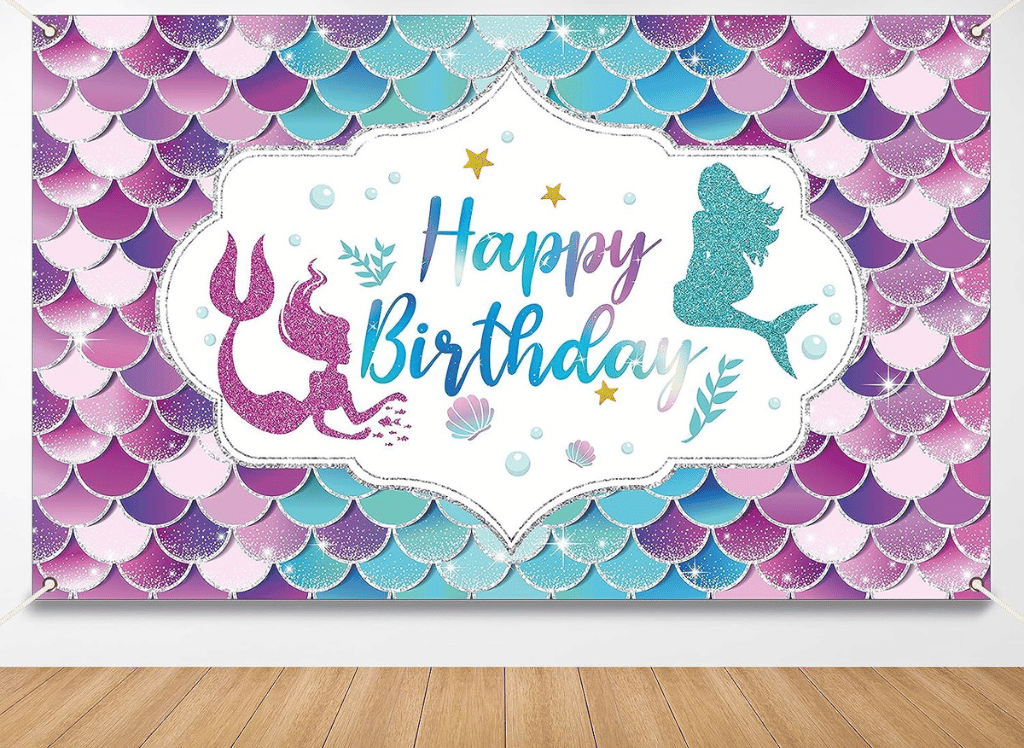 12. Tevxj Mermaid Birthday Party Backdrop
Check Price on Amazon
Why We Love It
Measuring 6.1 x 3.6 feet, it's big enough to suit any theme and meet all your photo requirements. Made of thick polyester fabrics with vibrant printing, this under the sea banner backdrop is not only seamless and durable, but also lightweight and non-fading. Whether it's a mermaid theme party, birthday celebration, baby shower, or even just wall decorations, this versatile backdrop is perfect for all occasions. Plus, it's super easy to assemble with the 4 Copper holes and the 13 feet white string included. Say goodbye to hassle and hello to more time for fun!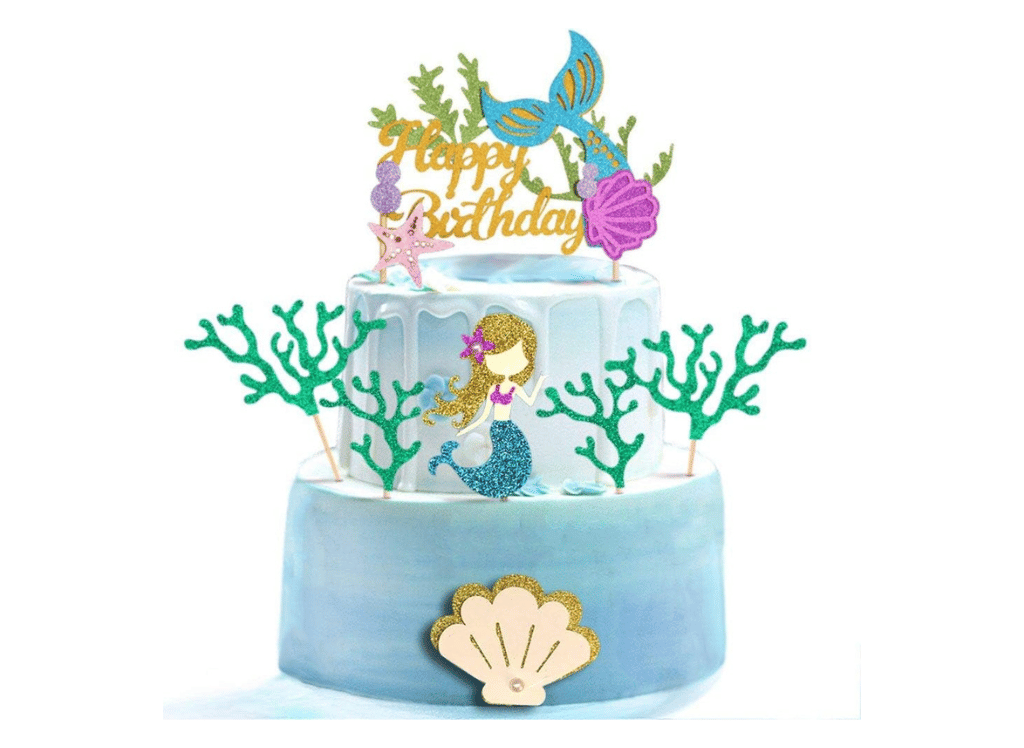 13. ALISSAR Glitter Mermaid Theme Birthday Cake Topper
Check Price on Amazon
Why We Love It
Get ready to add a touch of enchantment to your cake with this delightful decoration. Made from high-quality glitter card stock and food-grade wooden sticks, this topper is not only visually stunning but also safe for your delicious treats. The package includes one big mermaid theme birthday cake topper, four pieces of seaweed, one mermaid, and one shell topper - all ready to be assembled and placed on your cake. These beautiful, shinning toppers will instantly elevate your cake, cupcakes, and other food decorations. Whether you're throwing a mermaid-themed party or an under the sea creature-themed birthday bash, this cake topper is the perfect addition to create a magical and memorable celebration.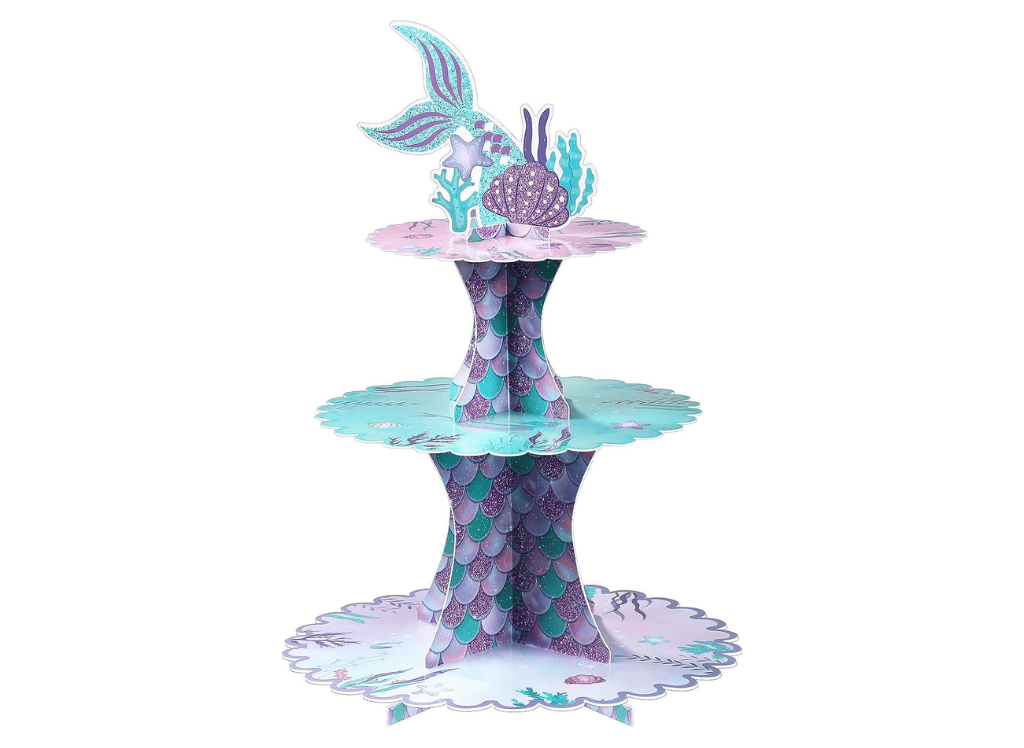 14. Patelai Mermaid Tail 3 Tier Cake Stand
Check Price on Amazon
Why We Love It
This enchanting cake stand is perfect for your mermaid-themed celebrations. With its varying sizes, the top layer measures approximately 7 inches in diameter, the middle layer is 9.8 inches, and the bottom layer is 11.8 inches. Standing at a total height of about 16.89 inches, it offers ample space between layers to hold many cupcakes, depending on their size. Assembling the stand is a breeze - simply slide the small base with the top slit into the larger base with the bottom slit, and open. Then, build your stand by sliding the largest circle down to the bottom notch, repeating the process with the midsize and smallest circles. Crafted from thick cardboard, this mermaid party cupcake holder is not only sturdy and reliable but also reusable, making it perfect for regular use at events.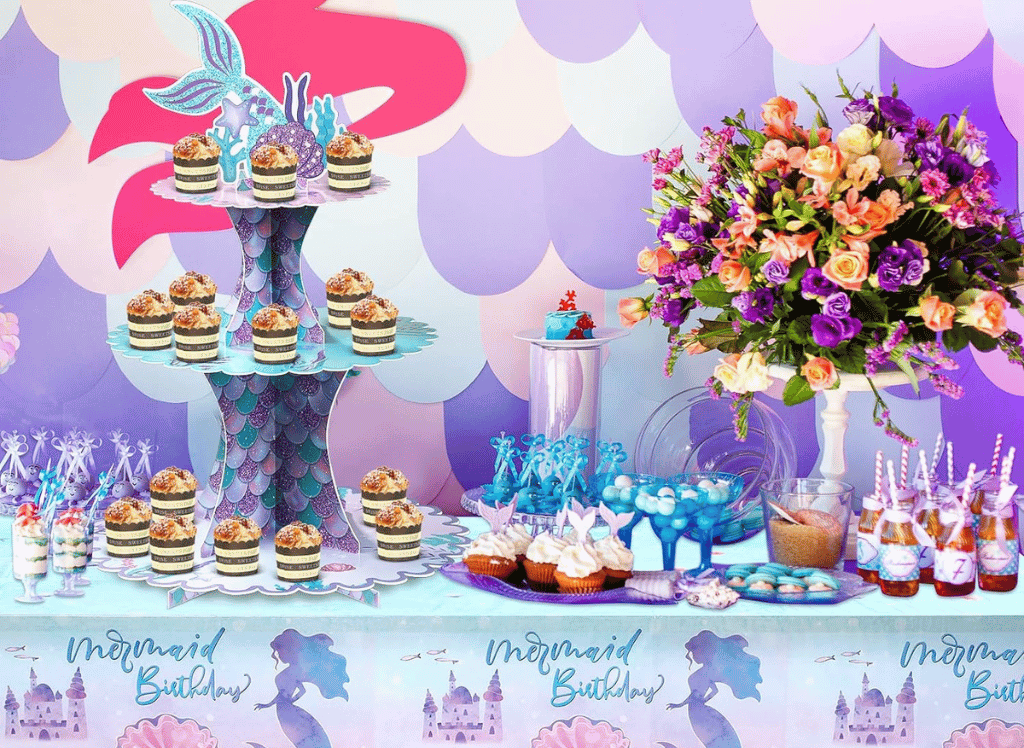 Mermaid Party FAQs
Get ready to dive into all the exciting details about our magical underwater celebration! Let's answer all your questions and make sure you're well-prepared for this enchanting event!
1. How can I create a magical atmosphere for a mermaid-themed birthday party?
The key to creating a magical mermaid-themed atmosphere is in the decorations! Use balloons with mermaid colors like turquoise, purple, or pink, and don't forget to include some mermaid tail shaped ones! A mermaid-themed backdrop, tablecloths, and even plates and cups can also add to the ambiance. Don't forget the mermaid garland and hanging swirls to take it to the next level!
2. What are some fun mermaid-themed games for a birthday party?
There are plentiful! You can have a "Pin the Tail on the Mermaid" game or a treasure hunt with a mermaid spin. Temporary mermaid tattoos can also be a fun activity for kids.
3. What kind of food should I serve at a mermaid-themed party?
For a mermaid-themed party, you could serve seafood, finger sandwiches cut into fish shapes, and lots of blue and green foods. And don't forget a stunning cake decorated with a mermaid theme cake topper!
4. How can I use a mermaid tail 3-tier stand at my mermaid party?
The Mermaid Tail 3 Tier Stand is perfect for displaying cupcakes, cookies, or other small treats. It also doubles as a fantastic centerpiece that adds to your party's undersea atmosphere!
5. What kind of party favors should I give at a mermaid-themed party?
Mermaid-themed party favors could include mermaid temporary tattoos, candy bags, mermaid hairpins, and necklaces. You could also give out mermaid silicone bracelets or keychains!
6. What should I put in a mermaid-themed goodie bag?
Some great mermaid party ideas are mermaid tail stickers, seashell-shaped candies, mermaid-themed toys, or even small jars of "mermaid slime"!
7. How can I make my mermaid party environmentally friendly?
Choose decorations made from biodegradable or recyclable materials. The pinkblume 40 Ft Iridescent Mermaid Garland, for example, is made from high-quality holographic metallic paper. You could also opt for reusable items like the Patelai Mermaid Tail 3 Tier Cake Stand.
8. How can I incorporate music into a mermaid-themed party?
Play music from popular mermaid movies or shows, or choose songs that are thematically linked to the sea or mermaids, like "Under the Sea" from The Little Mermaid, or "Beyond the Sea" by Bobby Darin.
9. Can I have a mermaid-themed party for boys?
Absolutely! Mermaid parties are not just for girls. You can adjust the color scheme away from pinks and purples to more blues and greens, or incorporate some pirate-themed elements for a "mermaids and pirates" theme!
10. What's a good way to send off guests at the end of a mermaid-themed party?
Send your little mermaids and mermen home with a goodie bag full of under-the-sea themed treats, toys, and a thank you note. And don't forget to take lots of photos at your party to share with them later!
💡
Are you a shopping enthusiast looking for more fun while browsing? With
Two Free Audiobooks
from Audible Plus and
30 days of free access
to Amazon Prime Music, you can now listen to your favorite audiobooks and music while you shop! Plus, with Amazon Prime's lightning-fast 2-day shipping. Get a
Free 30-day trial
of Amazon Prime today and enjoy these amazing benefits!
Final Thoughts About Mermaid Birthday Party
And there you have it, ocean explorers! Our top 14 must-have mermaid party supplies that are sure to make a splash at your next event. From the tip of the sparkling mermaid tail cake stand to the bottom of the vibrant mermaid-themed tablecloth, these party items will surely transform your space into a magical undersea kingdom. Remember, every little detail counts when creating an immersive and enchanting experience—so don't be shy about using all the mermaid magic at your disposal. Dive in, have fun, and remember; the sea is the limit when it comes to creating a memorable mermaid party!
Happy Shopping! :)