12 Essential Décor and Games for a Killer Murder Mystery Party!
Get ready to dial up the drama and turn your living room into a thrilling crime scene! Dive into our list of 12 Essential Décor and Games for an unforgettable Murder Mystery Party. Spoiler alert: It'll be killer fun!
Welcome to Raquel's Reviews! Our team of experts scours the web for the best products on the market, so you don't have to. As an Amazon Associate, we earn from qualifying purchases. Wherever you are in your shopping journey, let us help guide you toward discovering your newest favorite thing today!
Step right into the world of intrigue, suspense, and excitement with us as we unveil the best Murder Mystery Party Décor and Games available on Amazon and Etsy!
Whether you're an amateur sleuth looking to create a night of thrilling detective work, or a party host wishing to spice up your gathering with a touch of mystery and drama, you've come to the right place.
We've scoured the depths of Amazon and Etsy to curate a list of the very best items to transform your humble abode into a crime scene where every guest becomes a potential suspect. So, buckle up and let your detective instincts take over as we embark on this thrilling ride!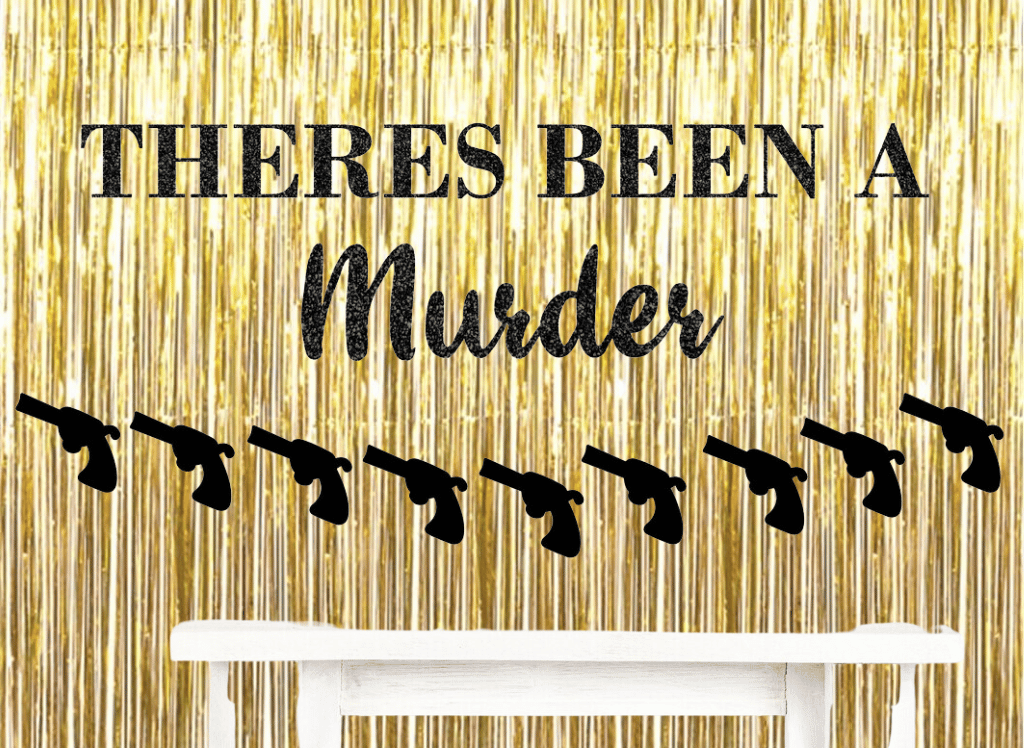 1. Theres Been A Murder Banner
Check Price on Etsy
Why We Love It
This custom-made banner features the words "THERE'S BEEN A MURDER" in a bold font that will instantly grab your guests' attention. The banner is perfect for use in a murder mystery or horror themed event. The letters come pre-strung and can be moved for custom spacing and are made with high-quality cardstock in 42 colors. So whether it's a murder mystery or just for fun, this unique banner will tie the whole look of your party together!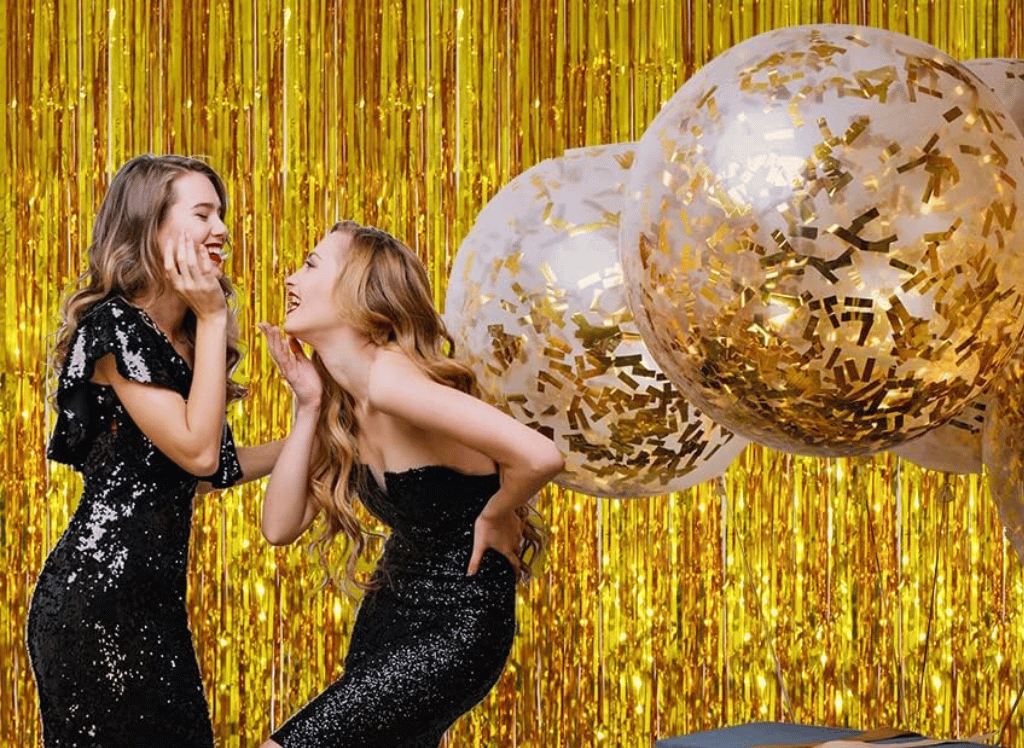 2. GOER 3.2 ft x 9.8 ft Metallic Tinsel Foil Fringe Curtains
Check Price on Amazon
Why We Love It
These curtains are easy to hang with adhesive tape already attached and they are made of food packaging level mylar, so they're sure to last through all the action of your party. When it's time to start the investigation, the curtains will provide your guests with a suitably mysterious backdrop to the deadly events that are about to ensue. Get ready for a night of intrigue and suspense!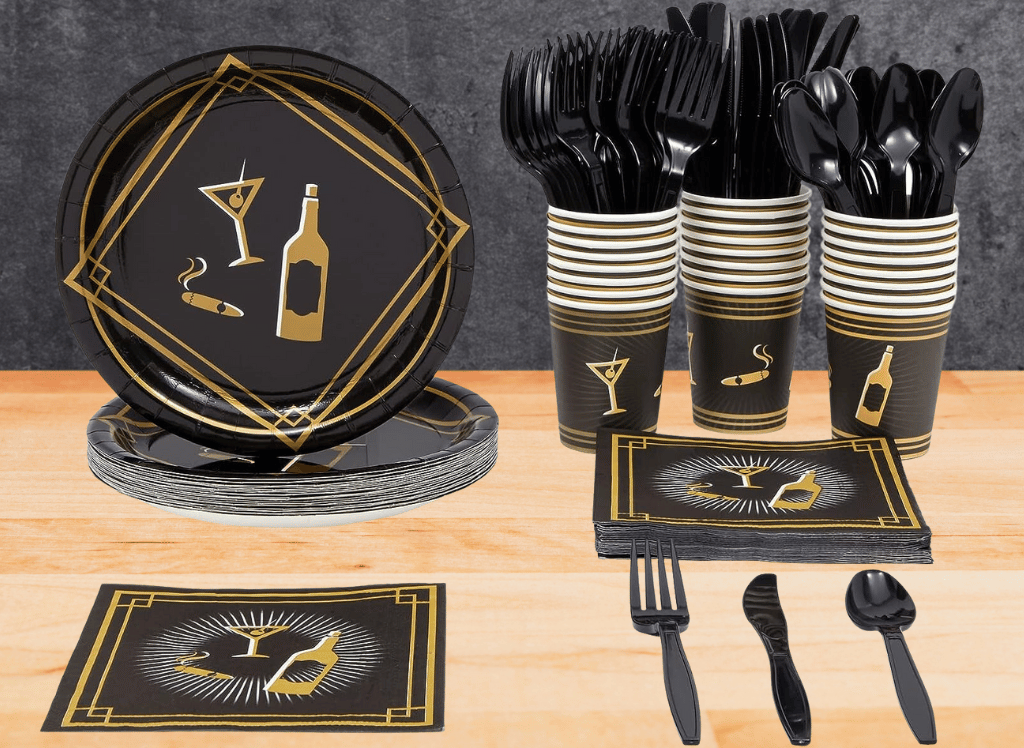 3. 144 Piece Murder Mystery Dinnerware Set
Check Price on Amazon
Why We Love It
Bring a classic murder mystery to life with this 144 piece murder mystery dinnerware set! Perfect for mystery and detective-themed parties or simply to add a classic twist to any event, this murder mystery set has everything you need to serve 24 guests with style. Experience the art deco design with its gold accents on a black background featuring a martini glass, cigar, and spirits bottle. Each flatware is 6 inches, paper cups hold 6 ounces of liquid, napkins are 2-ply and measure 7 x 7 inches folded, and the disposable dinner plates are 9 inches in diameter. Throw the perfect murder mystery and liven up the suspect lineup with this stylish dinnerware set!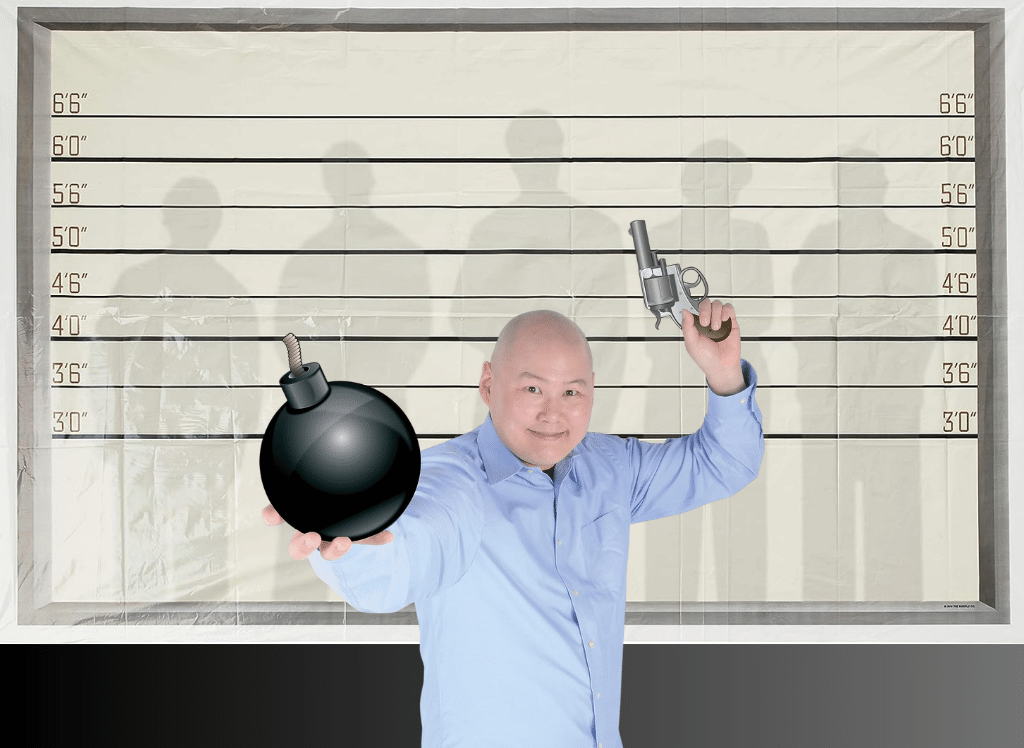 4. Beistle Criminal Mug Shot Photo Booth Backdrop
Why We Love It
Get ready to take your murder mystery party to the next level with the Beistle Criminal Mug Shot Photo Booth Backdrop! This high-quality party item creates an unforgettable scene and perfect atmosphere for your guests. When you're ready to have a real criminal investigation, this Insta-Theme is there to make it more realistic and festive! This backdrop measures 3 feet 2 inches by 5 feet 2 inches and is made from high-quality materials, so you won't have to worry about it fading or tearing. With its bold blues and stark whites, this backdrop will have your guests questioning their suspects like a real detective!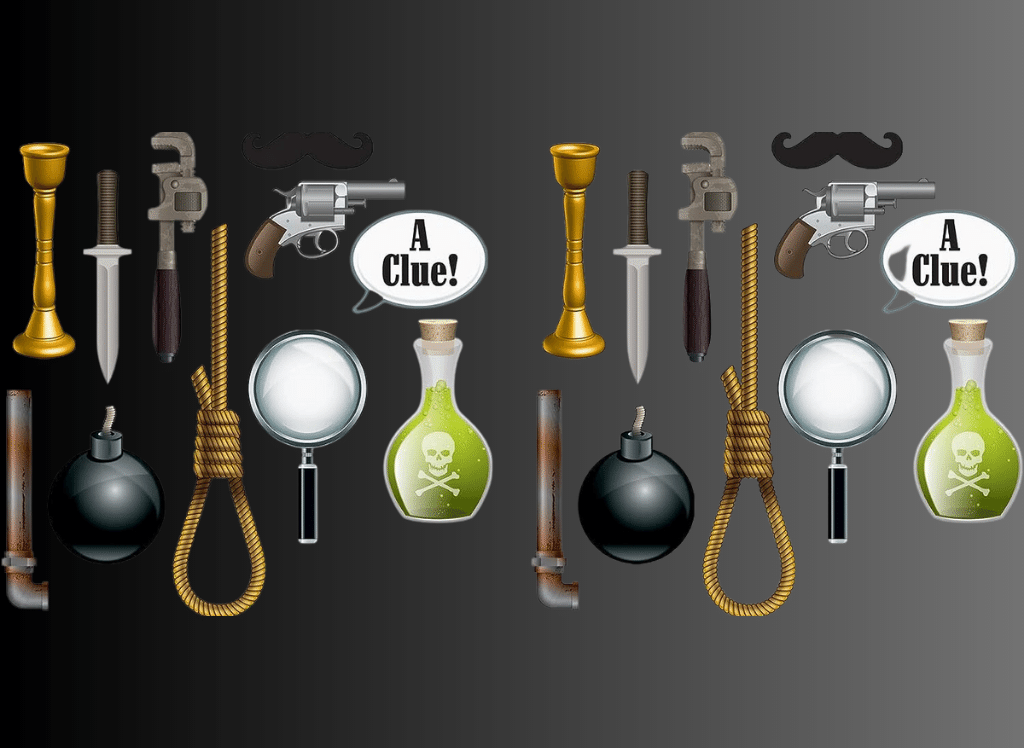 5. Beistle 22 Piece Murder Mystery Photo fun signs
Check Price on Amazon
Why We Love It
With the Beistle 22 Piece Murder Mystery Photo Fun Signs you can create the perfect murder mystery party atmosphere! This essential party decoration includes 22 fun signs in assorted sizes, ranging from 7 inches up to 20¾ inches. Made of board stock paper, they make a great addition to your murder mystery photo booth. Let your guests take all the fun photos they want using these unique props!  So gather up your sleuths, choose a mystery, and prepare to take some amazing photos fit for a whodunnit!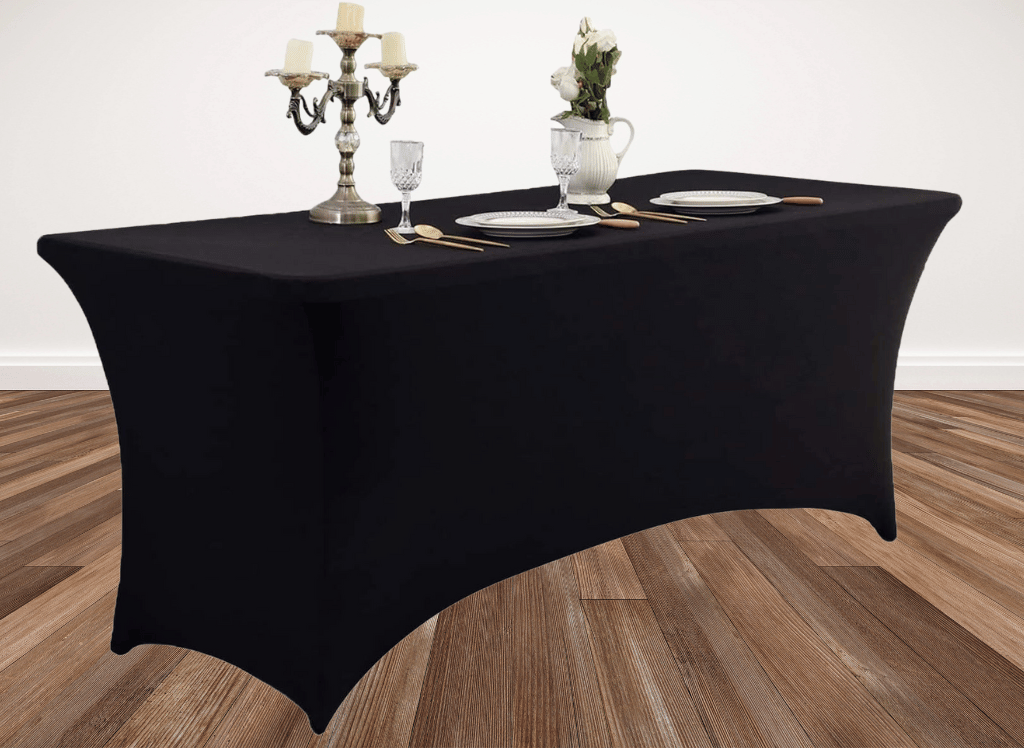 6. IVAPUPU 6FT Fitted Rectangular Black Table Cloth
Check Price on Amazon
Why We Love It
Are you looking for the perfect backdrop for your next murder mystery party? Look no further than the IVAPUPU 6FT Fitted Rectangular Black Table Cloth! This sophisticated tablecloth fits 6 foot rectangle tables like a glove, with its wrinkle-resistant polyester and spandex fabric blend. The innovative suture technology ensures the fabric won't fall off from the footpoint of the table, making it exceptionally durable and strong. Best of all, you can pick the size that's most suitable for your table size, whether it's 4, 6, or 8 foot.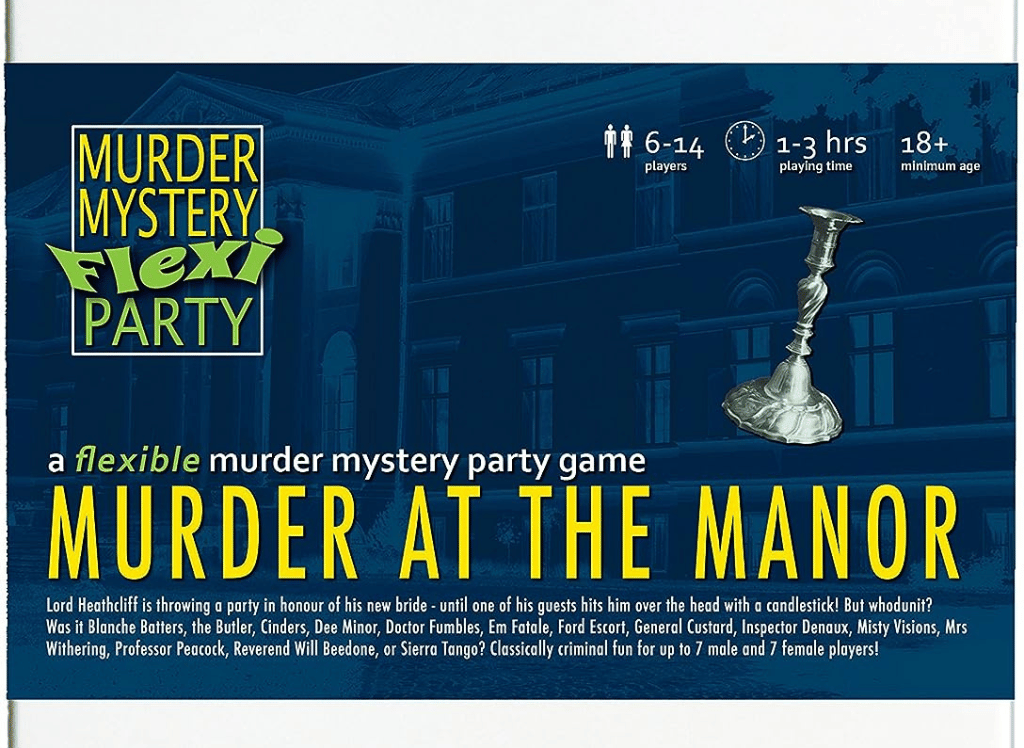 7. Murder at The Manor 6-14 Player Murder Mystery Flexi-Party Dinner Party Game
Check Price on Amazon
Why We Love It
With this 6-14 player game, you can hand-pick your suspect lineup, or play with any combination of guests. No matter who shows up, everyone is a suspect and no one is left out. On the night, the murderer will be chosen for you – so no pressure! But that's not all – the real beauty of Murder at The Manor lies in the game play. With carefully crafted stories for each suspect, whodunit will never be a wild guess. They all have recorded testimonies with vital clues that will help you solve the mystery!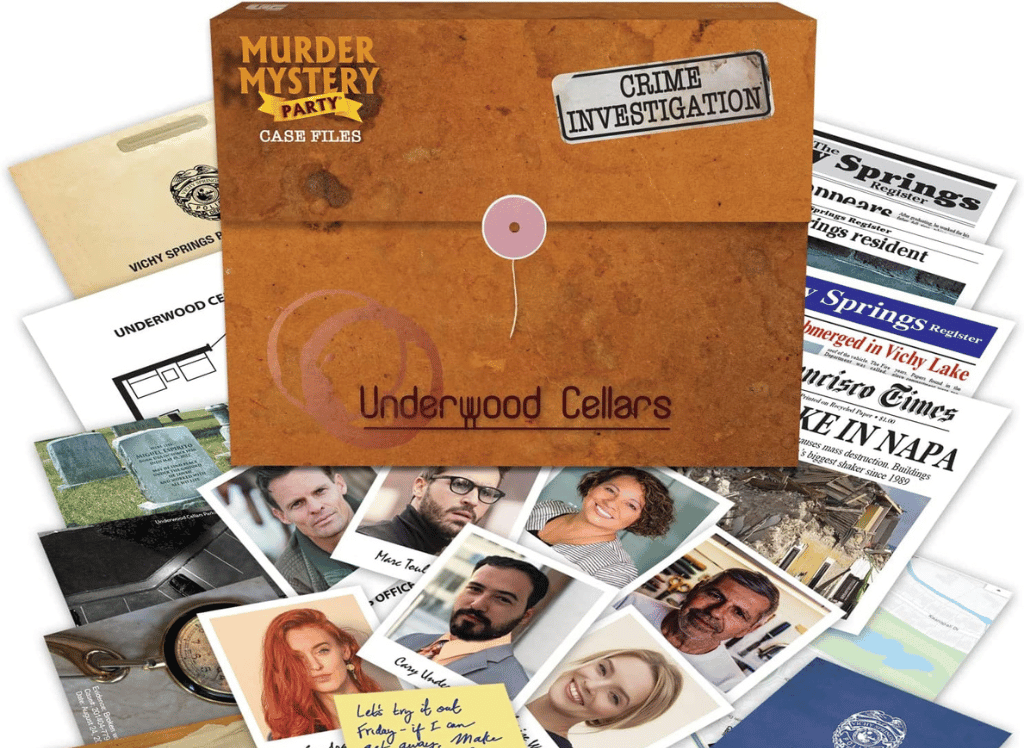 8. University Games Murder Mystery Party Case Files: Underwood Cellars
Check Price on Amazon
Why We Love It
Investigate the cold case of winemaker Cary Underwood's murder with University Games' Underwood Cellars Murder Mystery Party Case File! This case file is the perfect gift for any family looking to solve a mystery together. Players of the game will have to answer three questions - motive, means and opportunity - in order to uncover the killer of this 20-year-old case. This murder mystery game includes crime scene photos, suspect interviews, newspaper clippings, and much more to help you determine the killer and give you a realistic experience. If you need a hint, don't worry - you can access misplaced case files online for additional help!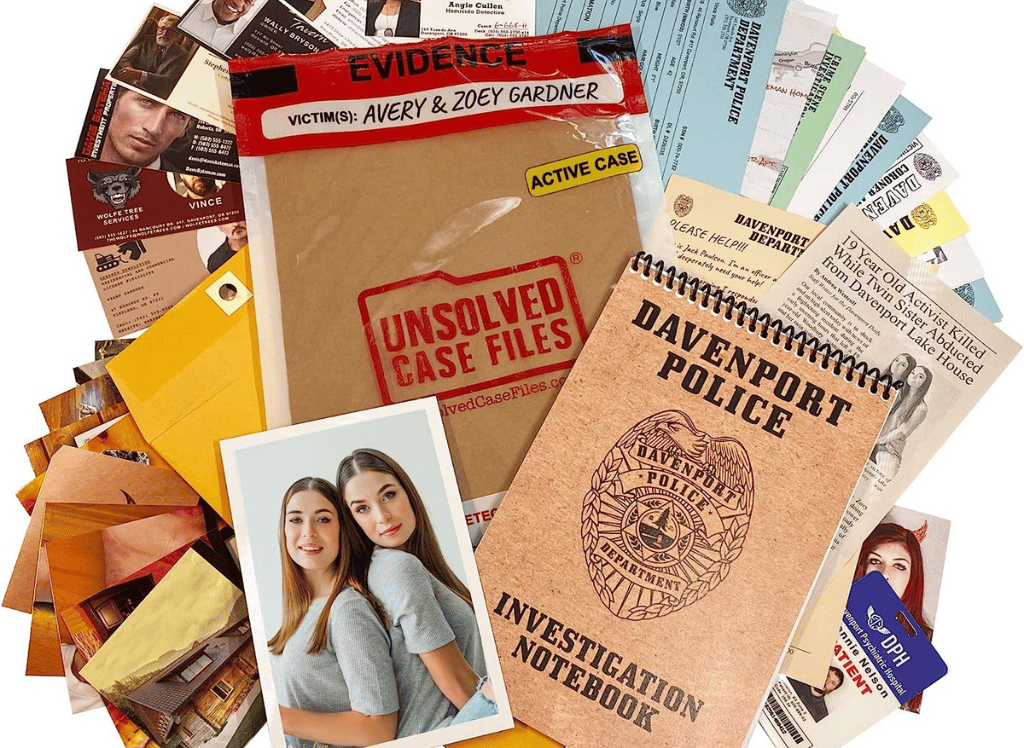 9. Unsolved Case Files: Gardner, Avery
Check Price on Amazon
Why We Love It
If you're looking for a night to remember or a challenge that will keep your family and friends guessing, then look no further than Unsolved Case Files: Gardner, Avery. This case is no easy solve, with three mysteries and a murderer ready to hide from you and the lead Detective Cullen. They provide you with everything you need for a thrilling game night, including Detective Cullen's notebook, evidence photos, and a slew of documents. Dig through the newspaper articles, crime scene photographs, business cards, physical evidence report, phone records, coroner's report, and map of the crime scene. Put your sleuthing skills to the test and crack the case of the Gardner, Avery Murders.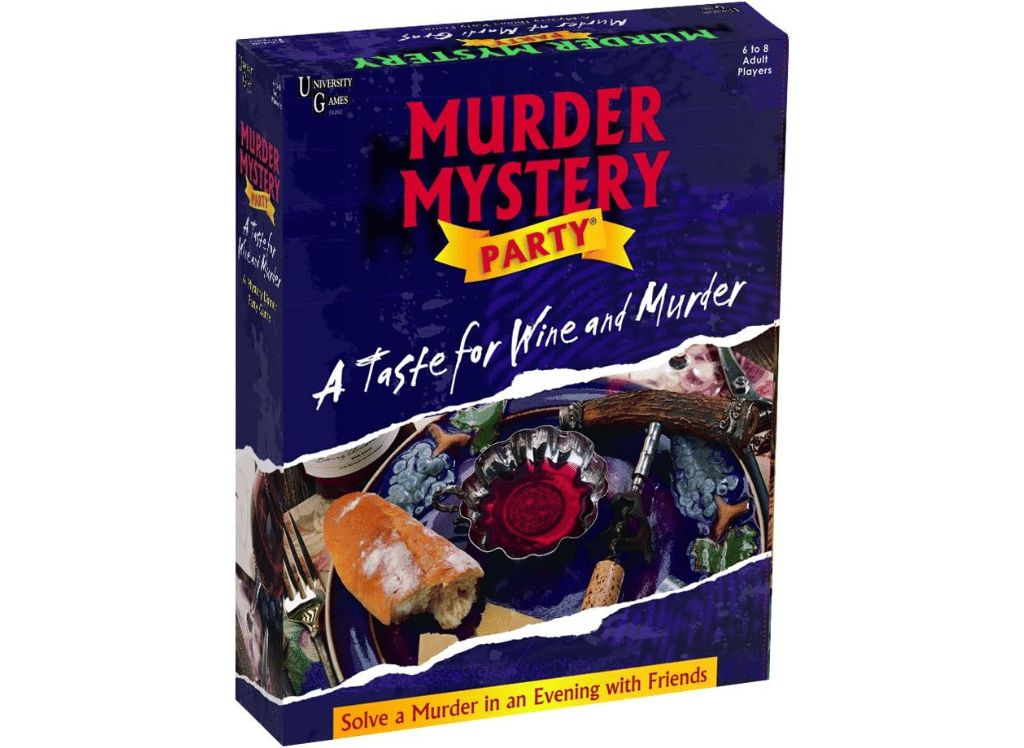 10. University Games Murder Mystery Party: A Taste for Wine & Murder
Check Price on Amazon
Why We Love It
Step right into a crime scene at a California vineyard where a body has been discovered--now it's up to you and your night of 8 detectives to solve a murder mystery before the killer strikes again! Everyone gets their own character booklet with roles and background info, as well as party invitations, name tags, crime scene clues, and a party planning booklet. Get dressed up in costumes to fully embody your character, and then access the audio/video with an introduction, summary of events, clues, and the solution to the crime online. It's perfect for 8 players aged 18 and over, and it's simple to setup and play. Push your detective skills to the limit and solve the mystery together with your friends--it's sure to be a night to remember!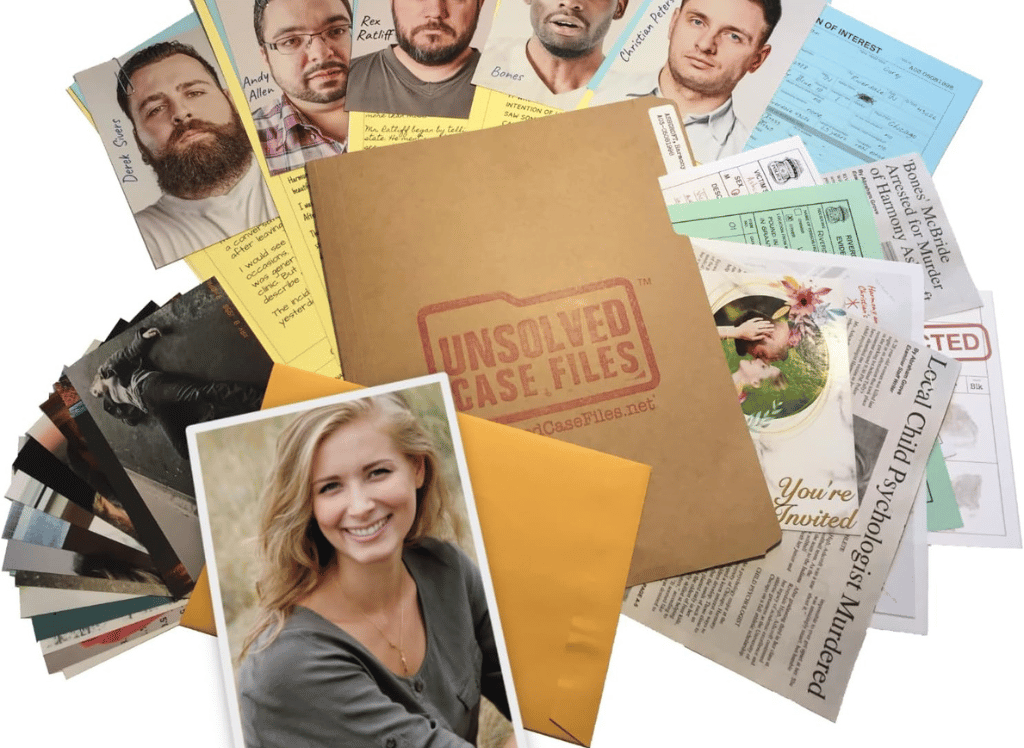 11. Unsolved Case Files: Cold Case Murder Mystery Game
Check Price on Amazon
Why We Love It
Do you consider yourself a cold case detective extraordinaire? Put your skills to the test with Unsolved Case Files – the latest murder mystery game from Mystery Mansion! Put on your detective hat and solve three mysteries in order to discover the truth behind a decades-old murder case. They give you all of the evidence documents and photos you need to crack the case wide open and prove who really killed Harmony Ashcroft on May 8, 1998. From crime scene photographs and evidence reports, to phone records and suspect interrogations, you'll have everything you need to become a masterful cold case detective.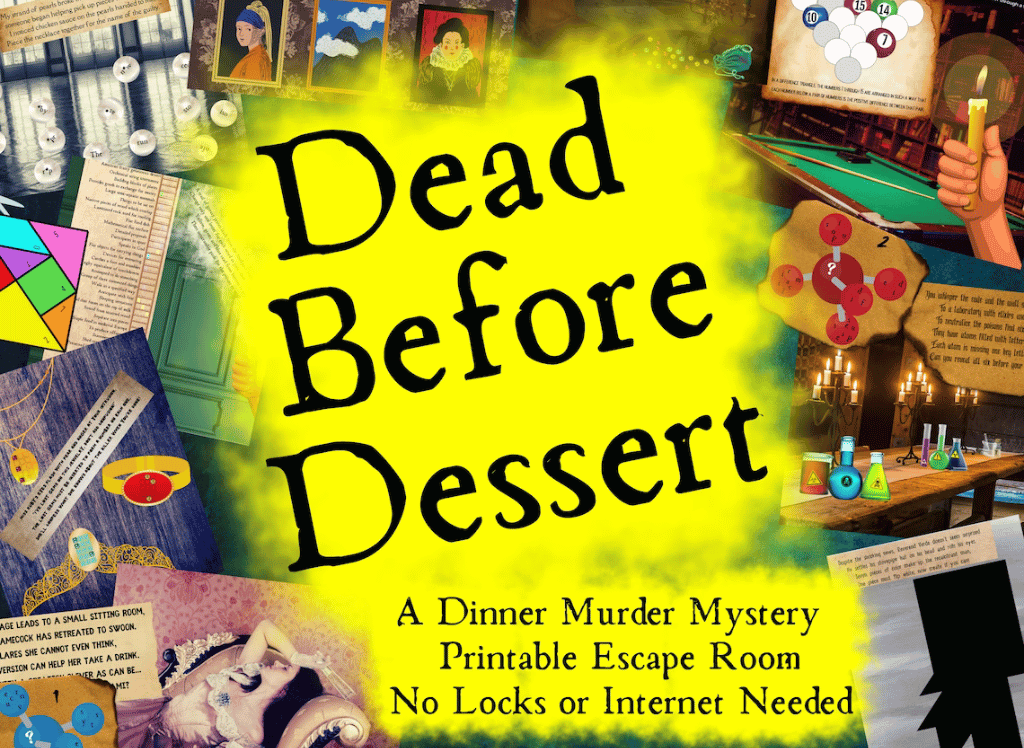 12. Printable Dinner Murder Mystery Escape Room Game
Check Price on Etsy
Why We Love It
Enter the vintage world of Mrs. Gamecock and her exquisite dinner party! This Printable Dinner Murder Mystery Escape Room Game is your ticket to a fun-filled night of clue-finding and logical challenges. Get your wits ready as your guests attempt to find the antidote and discover who poisoned dinner. The game's thirteen challenges are sure to get your guests up and moving around Mrs. Gamecock's home, searching for clues and solving puzzles. As they race against the clock to make sense of the story, players will discover new mysteries in the billiards room and beyond. Perfect for up to eight participants, this printable game will provide an hour of suspense and intrigue.
Murder Mystery Party FAQs
So you're planning your first Murder Mystery Party and find yourself tangled in the web of whodunits? Fret not, dear aspiring detective!
We've compiled a list of the most frequently asked questions to guide you through this thrilling journey. From the basics of setting up your crime scene to the intricacies of playing the game, we've got it all covered. So sit back, grab a magnifying glass, and let the investigation begin!
1. What is a Murder Mystery Party?
A Murder Mystery Themed Party is a thrilling and immersive event that takes you on a journey to solve a fictitious murder. Imagine stepping into a world of suspense and intrigue, where each guest is assigned a unique character with specific objectives and clues. As the night unfolds, you will interact with fellow guests, unraveling the mystery piece by piece. Whether it's a large gathering or a small group, the Murder Mystery Party guarantees an unforgettable experience filled with twists, turns, and a dash of detective work all in the same place. Get ready to unleash your inner detective and embark on an evening of thrilling entertainment!
2. How many people do you need for a Murder Mystery Party?
The number of participants can vary widely, but most Murder Mystery Parties work best with 6 to 20 people.
3. What should I wear to a Murder Mystery Party?
When attending a Murder Mystery Party, it's important to choose a costume that not only suits your character but also adds to the overall ambiance of the event. Consider the theme of the party and the time period in which it is set. This will help you select an appropriate costume that aligns with the storyline and enhances the immersive experience for both yourself and others. Don't hesitate to get creative and have fun with your outfit choices! The host of the party will usually provide information and costume suggestions, so be sure to take advantage of that guidance to make your attire truly memorable.
4. How long does a Murder Mystery Party take?
A Murder Mystery Party can last from 2-3 hours, depending on the complexity of the plot and the interaction of the guests.
5. Are Murder Mystery Parties suitable for kids?
Yes, there are Murder Mystery Games designed for kids. Always ensure the content is appropriate for the age group.
6. Can you host a Murder Mystery Party online?
You can host a virtual Murder Mystery Party, where participants join the event via video call.
7. Do I need a game master for a Murder Mystery Party?
While it's not essential, having a game master can guide the storyline and make the event flow more smoothly.
8. How do I write my own Murder Mystery Party games?
Start with a scenario, then create characters, motives, clues, and a resolution. Plan the progression of the party, how clues are revealed, and how the murderer is ultimately exposed.
9. Can I host a Murder Mystery Party without knowing who the murderer is?
Yes, in some games the host doesn't know who the murderer is for a more immersive experience.
10. What are some popular themes for a Murder Mystery Party?
Popular themes include 1920s gangsters, Old Hollywood, Wild West, and Victorian England.
11. Do guests need to prepare for a Murder Mystery Party?
Well, it depends on how you are playing! Typically, guests receive an intriguing character description ahead of the party, complete with details about their personality, background, and objectives. This allows them to dive into the immersive experience by not only preparing their costume but also delving into their character's captivating backstory. By doing so, guests arrive at the party ready to embrace their role and engage in the thrilling murder mystery adventure that awaits them.
12. Is there a winner in a Murder Mystery Party?
Yes, often the person who correctly identifies the murderer and the motive is declared the winner.
13. How do you host a Murder Mystery Dinner Party?
To successfully host a Murder Mystery Dinner Party, begin by selecting a captivating theme or purchasing a murder mystery kit that aligns with your preferences. Send out intriguing invitations to your guest list, including detailed character descriptions to set the stage for an immersive experience. On the day of the event, transform your location into a captivating setting that matches the chosen theme, paying attention to decorations, ambiance, and props. As the host, guide your guests through the engaging murder mystery script, ensuring everyone remains engaged and invested in solving the thrilling puzzle. By adding these extra touches and attention to detail, you can create an unforgettable Murder Mystery Dinner Party that will leave your guests enthralled and wanting more.
Final Thoughts About Murder Mystery Party
In conclusion, the magic of a murder mystery party lies not only in the thrilling plot and the challenge of cracking a case, but also in the immersive experience created by the right décor and games. Whether it be the spine-chilling mystery of a cold case, the vintage charm of an escape room dinner party, or the thrilling complexity of a vineyard murder, each game on our list promises an unforgettable night filled with suspense, intrigue, and camaraderie. So go ahead, choose a murder mystery game from our top picks, get your detective hats on, and let the mystery unfold. Trust us, your party guests will be talking about it for years to come! Remember, it's not just about figuring out who the murderer is; it's about the journey, the laughs, the gasps, and the collective experience of solving a mystery together.
Are you a shopping enthusiast looking for more fun while browsing? With Two Free Audiobooks from Audible Plus and 30 days of free access to Amazon Prime Music, you can now listen to your favorite audiobooks and music while you shop! Plus, with Amazon Prime's lightning-fast 2-day shipping. Get a Free 30-day trial of Amazon Prime today and enjoy these amazing benefits!
Happy Shopping! :)