5 Must-Have Roblox Party Supplies for Your Next Birthday Bash!
Are you planning a Roblox-themed bash for your next birthday? Exciting! Let's make sure it's unforgettable. Here's our top 5 must-have party supplies to turn your celebration into a fun-filled Roblox adventure! Get ready to party in 3...2...1... Blox On!
As an Amazon Associate, we may earn a commission from qualifying purchases, but we promise the prices are still the same for you!
Get ready to level up your party game! A Roblox-themed party is an ultimate celebration idea for fans of the globally beloved gaming platform. It's not just about cake and balloons, it's about stepping right into your favorite virtual world.
Our top 5 Roblox party supplies can transform your party from basic to epic, immersing your guests in a universe of fun, creativity, and Roblox-style adventure. From dynamic decorations to fabulous favors, we've got the ultimate must-haves to make your Roblox party unforgettable!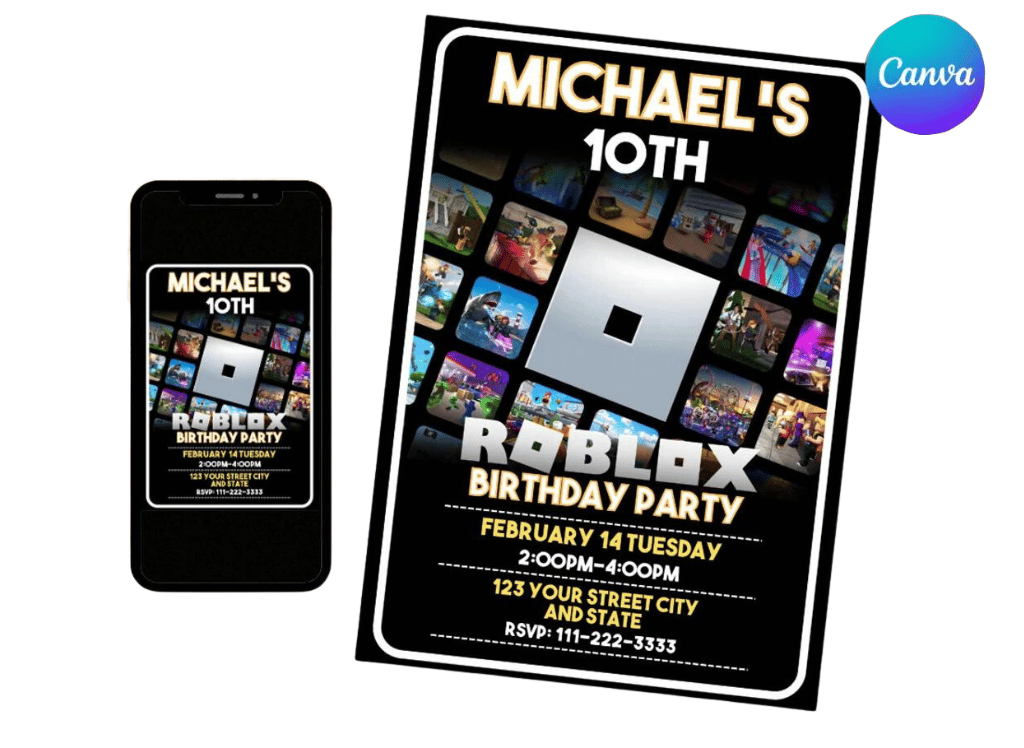 1. Printable Roblox Invitations
Check Price on Etsy
Why We Love It
Having printable Roblox invitations for your Roblox party is a must! Not only will it set the perfect tone for your event, but it will also make your guests feel special and excited to attend. The customizable nature of these invitations allows you to personalize them according to your party theme and add a touch of creativity. With the convenience of instant editing and the ability to download the digital file, you can easily manage the invitations and ensure a smooth planning process.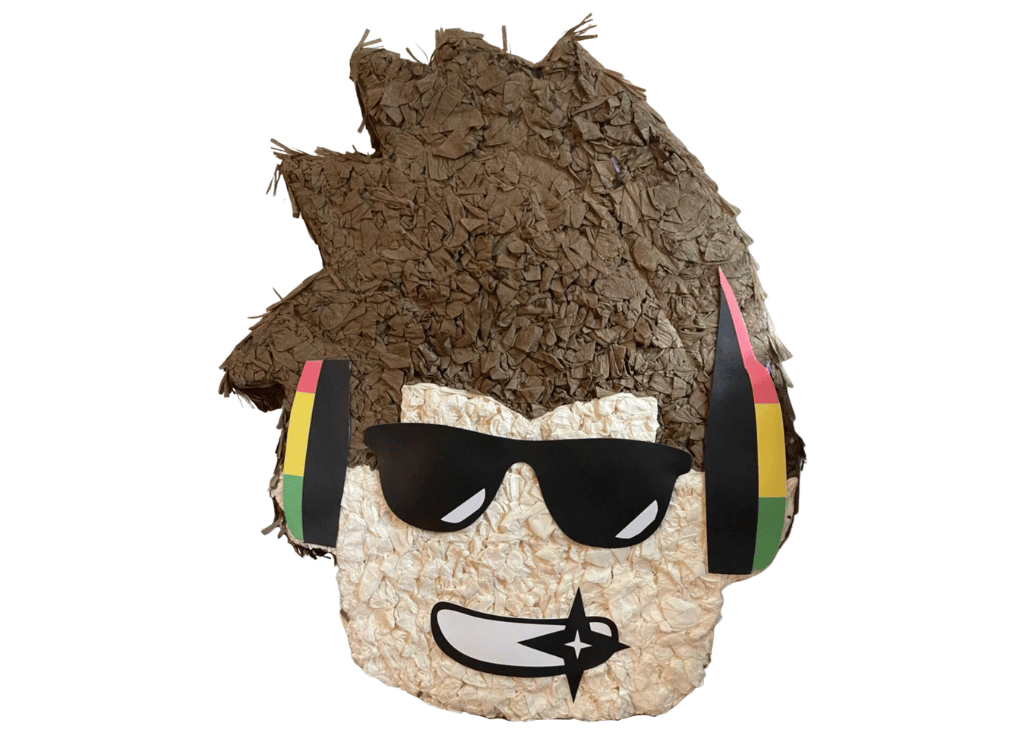 Check Price on Etsy
Why We Love It
This amazing piñata is not only huge, standing at an impressive 22 inches tall, but it is also handcrafted with love by CutiesPinatas using 100% recyclable materials. Imagine the excitement on the kids' faces as they eagerly anticipate the treasures hidden inside this piñata, holding approximately 3-5 pounds of candy or other goodies. With its easy access opening, filling this piñata couldn't be easier. Get ready for an unforgettable Roblox party experience that will leave the kids buzzing with excitement!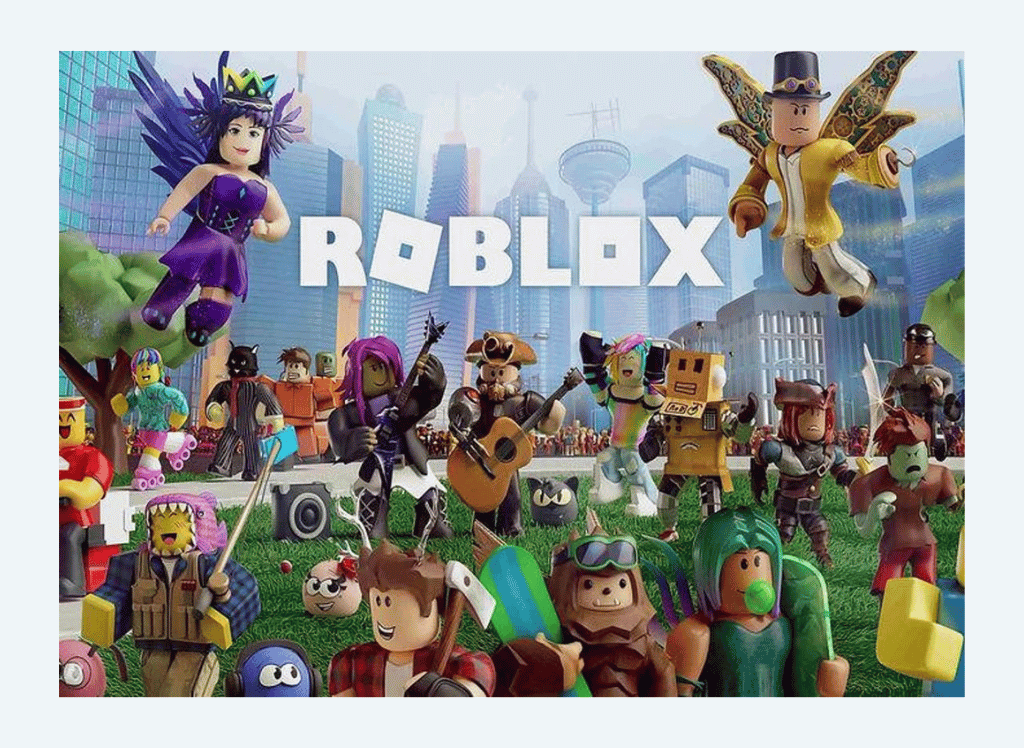 3. IvysiShop 3ft by 5 ft Roblox Banner
Check Price on Etsy
Why We Love It
We love the IvysiShop 3ft by 5ft Roblox Banner for your Roblox party! It's an awesome addition that will surely make your party stand out. But that's not all, IvysiShop offers a wide range of other party supplies to complete your celebration. From latex balloons, gift bags, and table covers to foil balloons, party invites, and plates of various sizes, they have everything you need to make your event a success!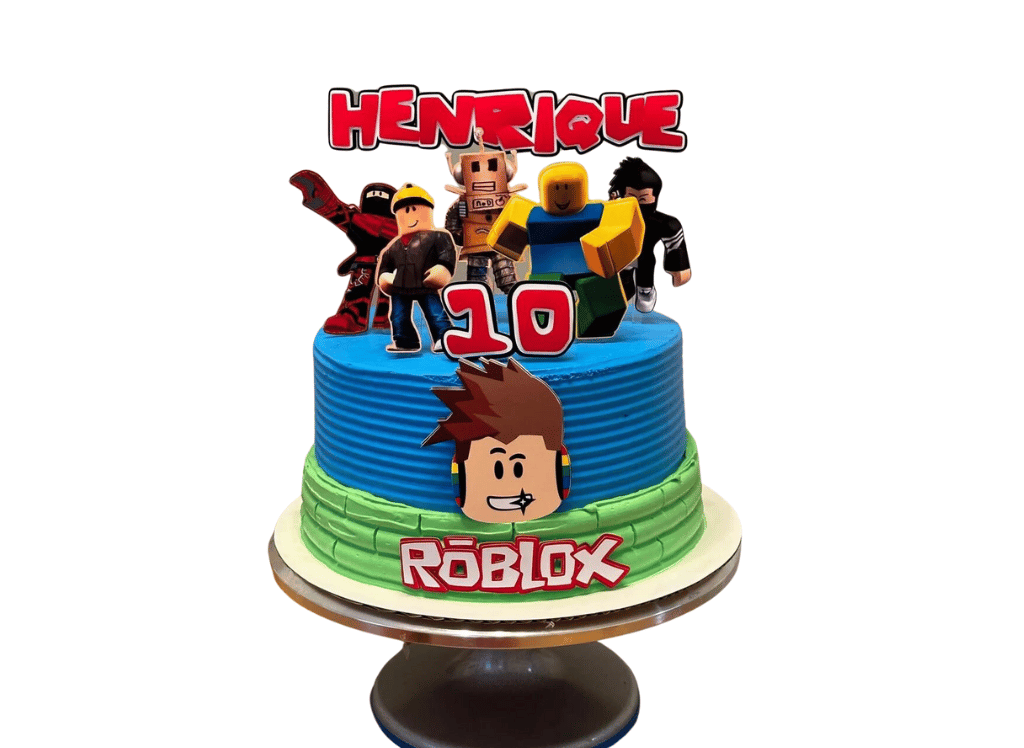 4. Roblox Birthday Cake Topper
Check Price on Etsy
Why We Love It
This handmade Roblox Birthday Cake Topper is an absolute must-have for any cake! It adds a cool and unique touch to your celebration. With its customizable theme and size, it can be tailored to suit your preferences perfectly. Made with love and attention to detail, this Roblox cake topper is sure to impress. It includes everything you see in the photos, except for the cake itself. Don't miss out on this amazing addition to elevate your cake to the next level!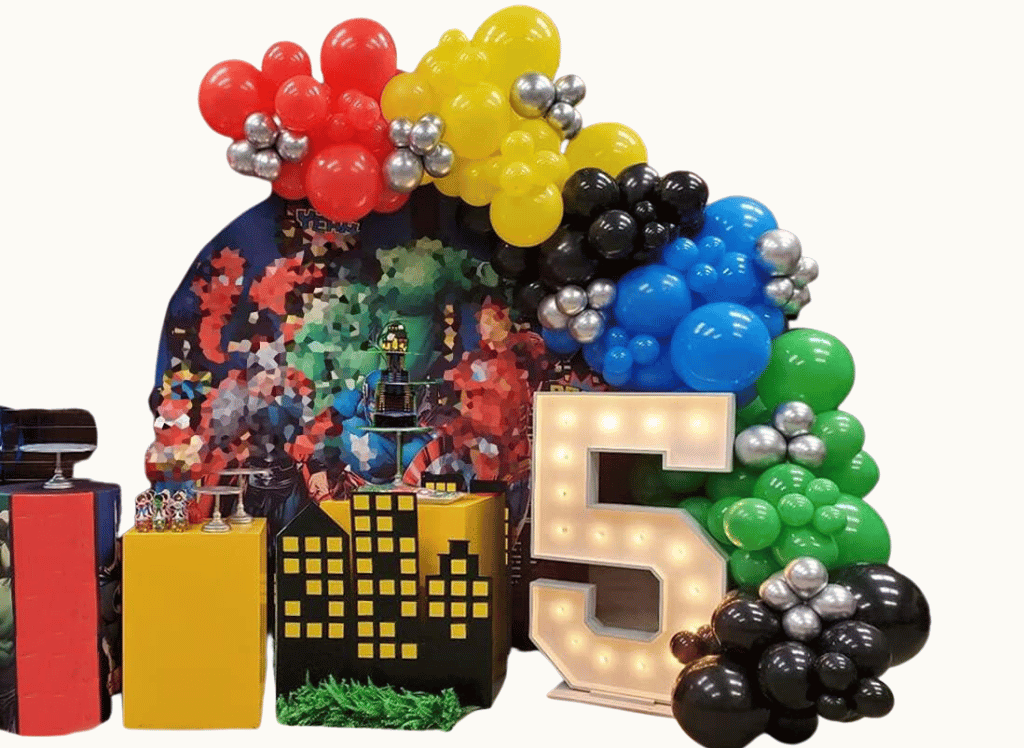 5. YaterYing Roblox Balloon Arch Garland Kit-135pcs
Check Price on Amazon
Why We Love It
This YaterYing Roblox Balloon Arch Garland Kit-135pcs is the perfect addition to make your Roblox party backdrop truly "Pinterest-worthy." With its vibrant red, yellow, green, blue, black, and silver balloons, this kit creates a stunning color combination that will definitely impress your guests. It's incredibly easy to assemble and put together, adding a fun and joyful element to the party preparation. Made of high-quality, non-toxic latex, these balloons are safe and durable.
Roblox Party FAQs
Ready to jump into the world of Roblox party planning but got a few questions rattling around? Don't sweat it! We've got the cheat codes to all your burning Roblox party FAQs! From decking out your venue to keeping little guests entertained, we're here to guide you through this blocky terrain. So, hit pause, grab a power-up, and dive into our handy guide. Let's power-level your party planning skills!
1. What are some unique Roblox party ideas for a Roblox-themed party?
Great question! There's no limit to creativity when it comes to Roblox-themed parties. You can turn your venue into a real-life Roblox game by setting up different gaming stations mimicking popular Roblox games. Don't forget a dress-code too; encourage guests to come as their favourite Roblox characters! And how about a design-your-own-avatar station where kids can create their own Roblox figure to take home? The sky's the limit!
2. What kind of food should we serve at a Roblox party?
Oh, you're gonna have fun with this one! Roblox-themed cookies are always a hit. You can also serve "energy cubes" (coloured gelatine cubes), pixelated popcorn (popcorn boxes with pixelated designs), and "Blox Burgers" (burgers cut into square shapes). And of course, a Roblox birthday party cake to top it all off!
3. What kind of games can we play at a Roblox party?
The possibilities are endless! You could set up an Obby (Obstacle course) in your backyard – just like in the game. Another fun idea is a Roblox-themed treasure hunt, where kids search for Roblox items hidden around the party area. You could even host a "Design It" fashion show where kids get to show off their Roblox costumes!
4. What kind of music should I play at a Roblox party?
The Roblox soundtrack would be perfect to keep the theme going, of course! You can find playlists on platforms like Spotify or YouTube. If you want to mix things up a bit, consider adding some popular tunes that are frequently used in Roblox games. This will surely get the little guests moving!
Final Thoughts About Your Roblox Party
Throwing a Roblox-themed party can be an extraordinary, game-changing experience, especially when you're equipped with the right arsenal of party supplies. From printable Roblox invitations that set an exciting tone, to a massive Roblox Piñata that's just begging to be whacked open, every item on our list adds a unique flair to your event. So level up your party game with these amazing Roblox party decorations and supplies. Because in the world of Roblox, we don't just party – we respawn, rebuild and relive the fun over and over again!
Happy Shopping! :)
Are you a shopping enthusiast looking for more fun while browsing? With Two Free Audiobooks from Audible Plus and 30 days of free access to Amazon Prime Music, you can now listen to your favorite audiobooks and music while you shop! Plus, with Amazon Prime's lightning-fast 2-day shipping. Get a Free 30-day trial of Amazon Prime today and enjoy these amazing benefits.