6 Life-Changing Shower Stool Picks: Take a Seat and Relax
Transform your bathroom into a luxurious spa with these six life-changing shower stool picks! You'll be sure to find the perfect piece that will make all of your shower dreams come true. Get ready for a total relaxation experience - it's time to upgrade your bathroom!
Welcome to Raquel's Reviews! Our team of experts scours the web for the best products on the market, so you don't have to. We select only top-notch items and report back with clear reviews that tell you what to expect when making your next purchase. As an Amazon Associate, you can shop confidently, knowing that every product featured here is one we believe in. If you decide to buy any of our recommended products through the links provided, we may earn a share of sales at no extra cost to you. Wherever you are in your shopping journey, let us help guide you toward discovering your newest favorite thing today!
Are you looking for the perfect shower companion?
Look no further than a Shower Stool! Not only will it keep you safe while in the shower, but it can also add a touch of style to your bathroom. With so many options available on Amazon, how do you know which one is right for you?
We've done all the hard work and research for you and have compiled a list of the best Shower Stools that are sure to make your bathing experience even more enjoyable. From adjustable handles to built-in storage compartments, these stools offer something for everyone.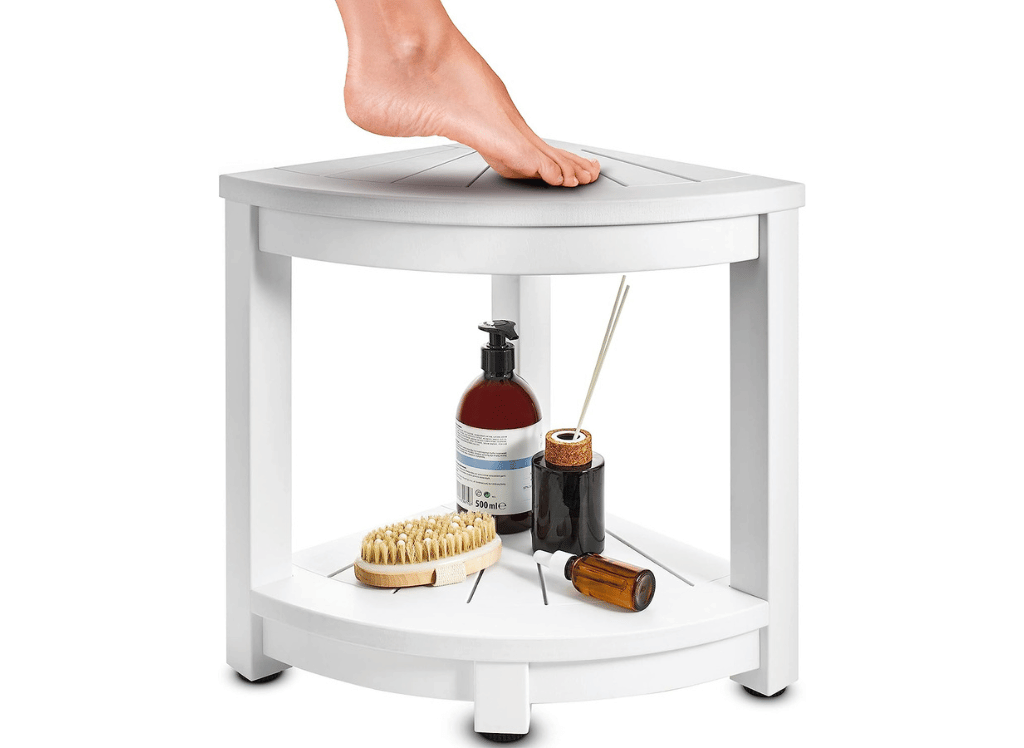 1. ROHKEX No-Maintenance Corner Shower Stool
Check Price on Amazon
Why We Love It
This stylish and modern stool features an adjustable shelf to keep all your items conveniently within reach. Plus, it's crafted from durable wood-looking plastic and rust proof aluminum hardware that can support up to 300lbs. Best of all, no splinters ever again - this bathroom accessory looks like real wood but won't discolor or suffer from mold or mildew over time. For those with limited space, the compact size of this corner bench makes it ideal for small bathrooms without taking up too much room.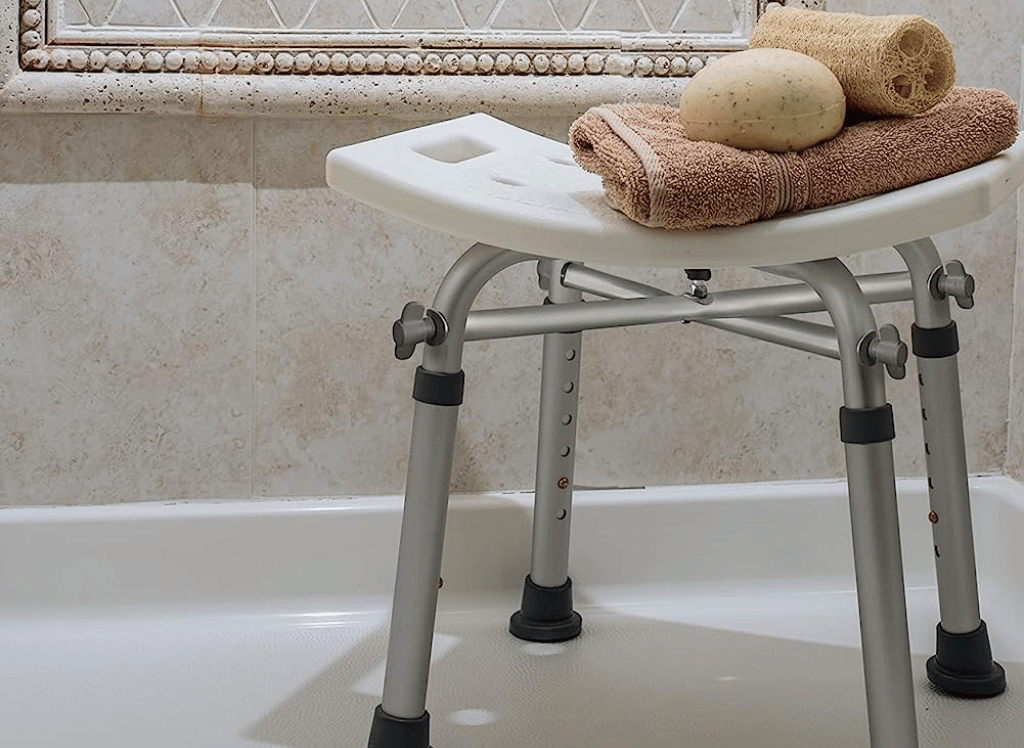 2. Dr. Kay's Adjustable Bath Chair with Unique Heavy Duty Crossbar Supports
Check Price on Amazon
Why We Love It
Dr. Kay's Adjustable Bath Chair with Unique Heavy Duty Crossbar Supports is designed to provide maximum safety and comfort. This lightweight chair can hold up to 350 lbs, while its adjustable height of 12.5" to 18.5" inches provides users with added ease of movement and flexibility in the shower or bath.
Additionally, this product is designed for advanced stability; it has high-strength crossbars that prevent splaying of the legs as well as an ample anti-slip platform and wide base for extra support even when wet. Furthermore, assembling this heavy-duty anodized aluminum seat could not be easier thanks to professional-grade hand-saving Wing-Tipped screws that allow you to assemble it without tools!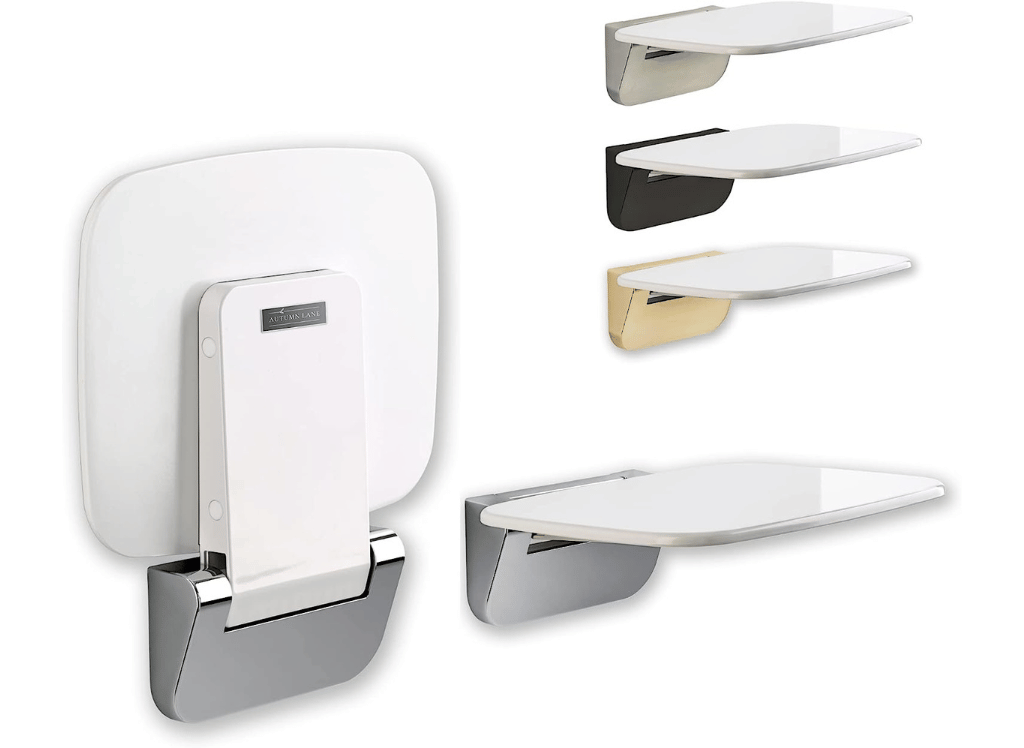 3. AUTUMN LANE Folding Shower Seat Wall Mounted
Check Price on Amazon
Why We Love It
This foldable seat provides strong frames for secure installation and can remain down when in use or be folded away when not needed, saving you lots of space in your bathroom. Its simple, classic white design with silver metal trimming blends perfectly into any modern bathroom décor and won't overwhelm the aesthetics. The rounded corners and soft edges make it comfortable to sit on without causing injury if accidentally bumped, as well as making cleaning quick and easy. Ideal for adults or the elderly who find standing or bending over difficult during their shower routine, this product makes showering safe and easy with its thoughtful features.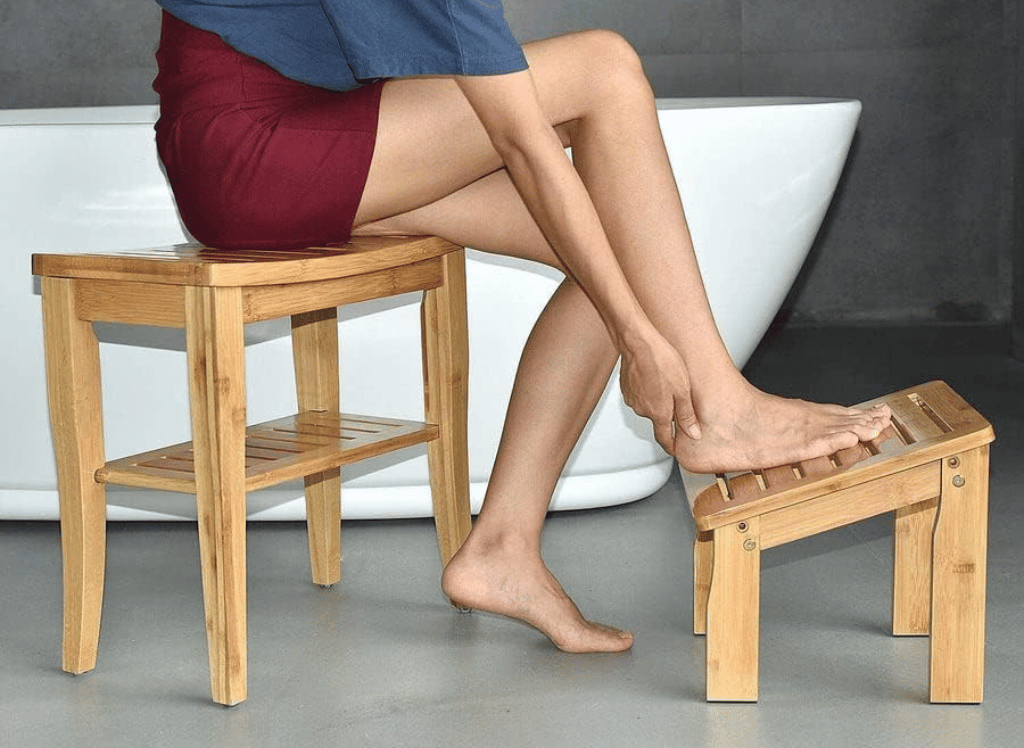 4. ToiletTree Products Bamboo Bench with Foot Stool
Check Price on Amazon
Why We Love It
The ToiletTree Products Bamboo Bench with Foot Stool is a high-quality, eco-friendly piece of furniture perfect for any room in your home. Crafted from 100% natural bamboo wood, this stylish set includes a bamboo bench and foot stool that are both durable and visually appealing. Whether you use it as a multi-purpose seating solution or to transform your shower into an at-home spa experience, the sleek design and under shelf storage make it great for all types of needs and uses. It's also conveniently sealed with a protective glossy finish so you can easily wipe down after every use.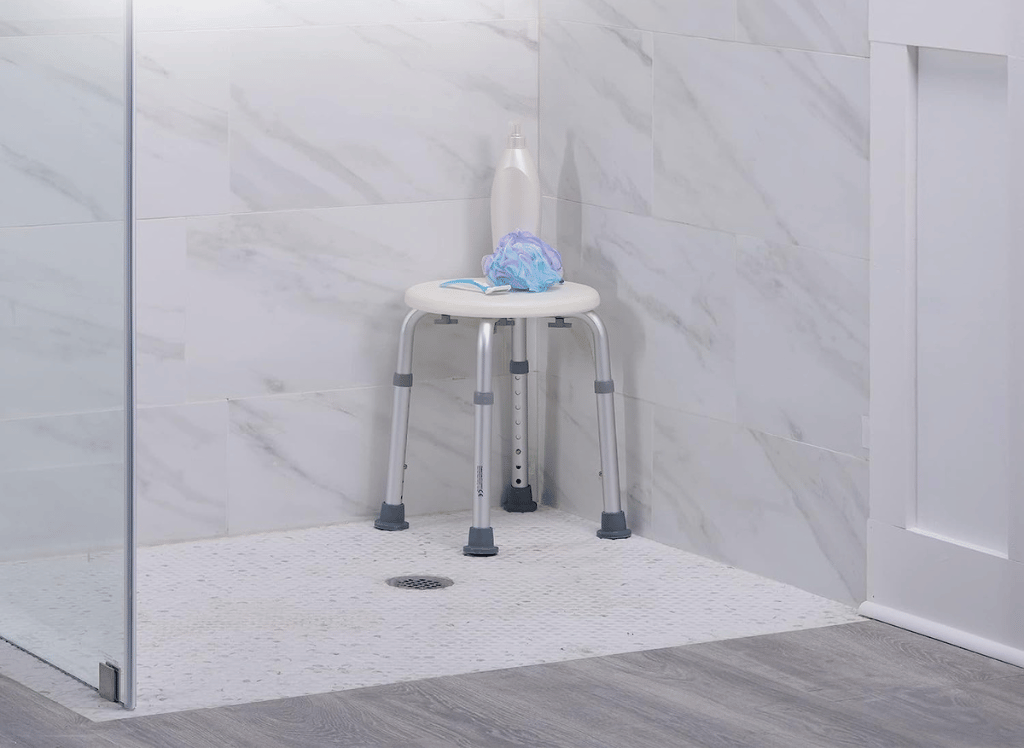 5. Drive Medical RTL12004KD Handicap Bathroom Stool
Check Price on Amazon
Why We Love It
The Drive Medical RTL12004KD Handicap Bathroom Stool is a durable shower stool designed to provide stable and secure support for elderly or injured individuals in their bathtubs or showers. Constructed with premium aluminium, this adjustable lightweight seat offers crack-resistant legs that can be adjusted in 1 inch increments, allowing users to find the optimal height for them. The stool also features support collars which limit leg movement and reduce rattles and comes with pinch-free covers for push pins for easy adjustment. With a width of 13 inches, a height range of 13.5 - 21 inches, and a weight capacity of 300 lbs., it makes an ideal bath safety accessory for any home.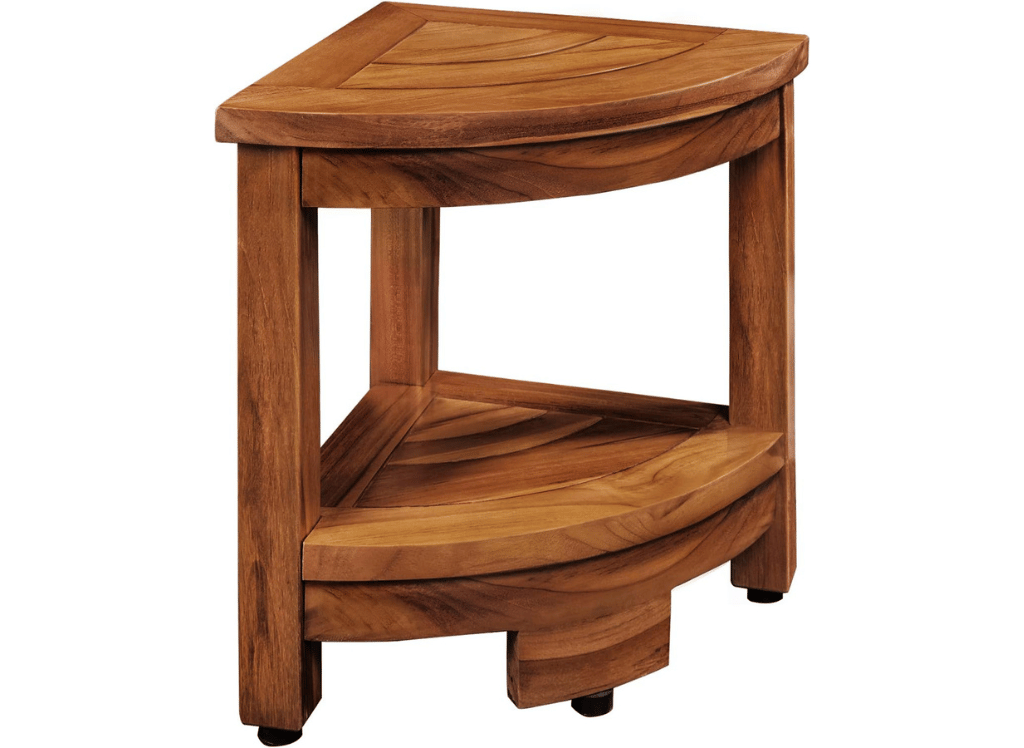 6. Rose Home Fashion 16.5" Teak Shower Bench
Check Price on Amazon
Why We Love It
The Rose Home Fashion 16.5" Teak Shower Bench is the perfect solution for those in need of additional seating while showering. Made from 100% solid Indonesia teak wood, this product has been certified by the Ministry of Forestry Indonesia, and features an anti-slip and adjustable design with stainless steel noncorrosive hardware, as well as four non-slip rubber feet pads that provide enhanced stability. The round corners and smooth polished edges also protect users from being hurt during use. This bench is easy to assemble and provides plenty of room with its wide 12x12x16.5-inch seating surface. Its storage feature offers efficient air exchange for wet towels or bath products, making it a great addition to any bathroom space!
Shower Stool FAQs
Are you looking for a shower stool that will help make your daily routine easier and more comfortable?
You want to find the perfect shower stool, but there are so many options out there. How do you know which one is right for you?
We've got all the answers! Our Shower Stool FAQs provide comprehensive information about our products so that you can confidently choose the best option for your needs. With this helpful resource, finding the perfect shower stool has never been easier.
1. What are the benefits of using a Shower Stool?
For individuals who have difficulty standing for long periods of time or who want to shave their legs more easily, shower seats offer support and stability. They can also help reduce fatigue in small spaces or those with limited mobility, allowing you to enjoy an easier and more comfortable showering experience. Additionally, many chairs are designed with water-resistant materials and a unique design that can enhance the look and feel of your bathroom.
2. How do I choose the right Shower Stool for me?
When selecting a shower stool, you'll want to consider both your needs and preferences. Consider what type of material would work best for your shower tub space — some stools are made from water-resistant plastic or metal while others are constructed from wood or bamboo. You'll also want to consider the size of your shower stall and the height you'd need the stool to reach. Finally, think about any extra amenities, such as arms or built-in shelves, that might make your showering experience easier and more comfortable.
3. What are some tips for using a Shower Stand?
When using a shower stool, it's important to always be mindful of your balance. Make sure you have a secure grip on the seat and keep your feet firmly planted on the ground. Additionally, be sure to check that the chair is securely locked into place before sitting down. Once you're seated, use caution when shifting positions or reaching for items in order to avoid any slipping or sliding. Finally, be sure to store your shower stool in a safe and secure place when not in use.
Final Thoughts About Shower Stool
Shower stools are a great way to add comfort and convenience to your shower routine. Whether you're looking for something lightweight, adjustable, or with extra storage space – there is sure to be an option on this list that meets all of your needs. With these top 6 shower stools at your disposal, you can enjoy a luxurious bathing experience without having to worry about slipping in the tub! Not only will they help keep you safe while taking showers but they also provide added comfort so that every moment spent in the bathroom feels like pure bliss.
Are you a shopping enthusiast looking for more fun while browsing? With Two Free Audiobooks from Audible Plus and 30 days of free access to Amazon Prime Music, you can now listen to your favorite audiobooks and music while you shop! Plus, with Amazon Prime's lightning-fast 2-day shipping. Get a Free 30-day trial of Amazon Prime today and enjoy these amazing benefits!
Happy Shopping! :)