5 Sonic Birthday Party Ideas That Will Have Kids Racing for More!
Get ready to transport your little ones to Sonic's speedy universe! With our 5 thrilling Sonic-themed party ideas, your kid's birthday will transform into a fun-filled adventure. Buckle up for fast-paced games, vibrant decorations, and hedgehog-inspired treats - it's a party Sonic would approve of!
As an Amazon Associate, we may earn a commission from qualifying purchases, but we promise the prices are still the same for you!
Get ready for a super-sonic adventure! If your child is a fan of the blue blur, a Sonic the Hedgehog themed birthday party is sure to get their speedometer climbing! It's the perfect theme - fun, energetic, and loved by kids of all ages.
We're about to whisk you off to the Green Hill Zone with our top 5 picks for the ultimate Sonic party. Guaranteed to make your child's birthday as memorable as Sonic's showdowns with Dr. Robotnik, these ideas will have your little guests feeling like they've leaped straight into their favorite video game! Buckle up, because we're about to go faster than the speed of sound!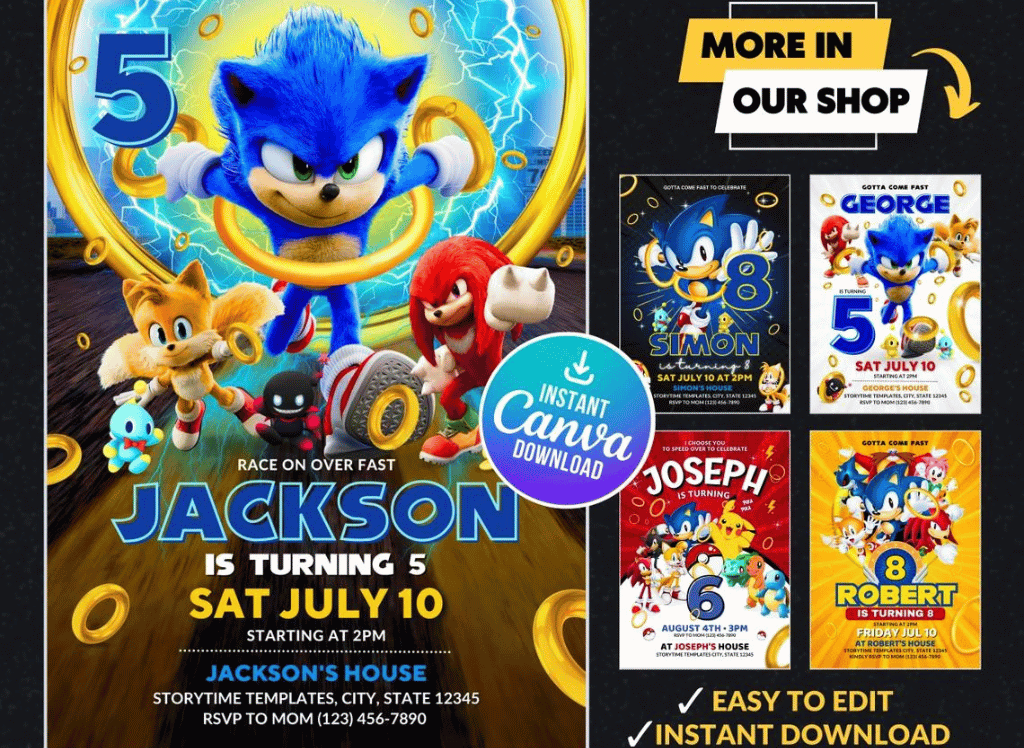 1. StoryTimeTemplates Digital Sonic Birthday Party Invitations
Check Price on Etsy
Why We Love It
Get ready for an awesome birthday party with StoryTimeTemplates Digital Sonic Birthday Party Invitations. They're totally customizable and come in a 5x7 inch size. Whether you want them in digital format or printable, the choice is yours! Just a heads up, the graphics and background are not editable. But don't worry, you can still have a blast editing them with the Canva free version.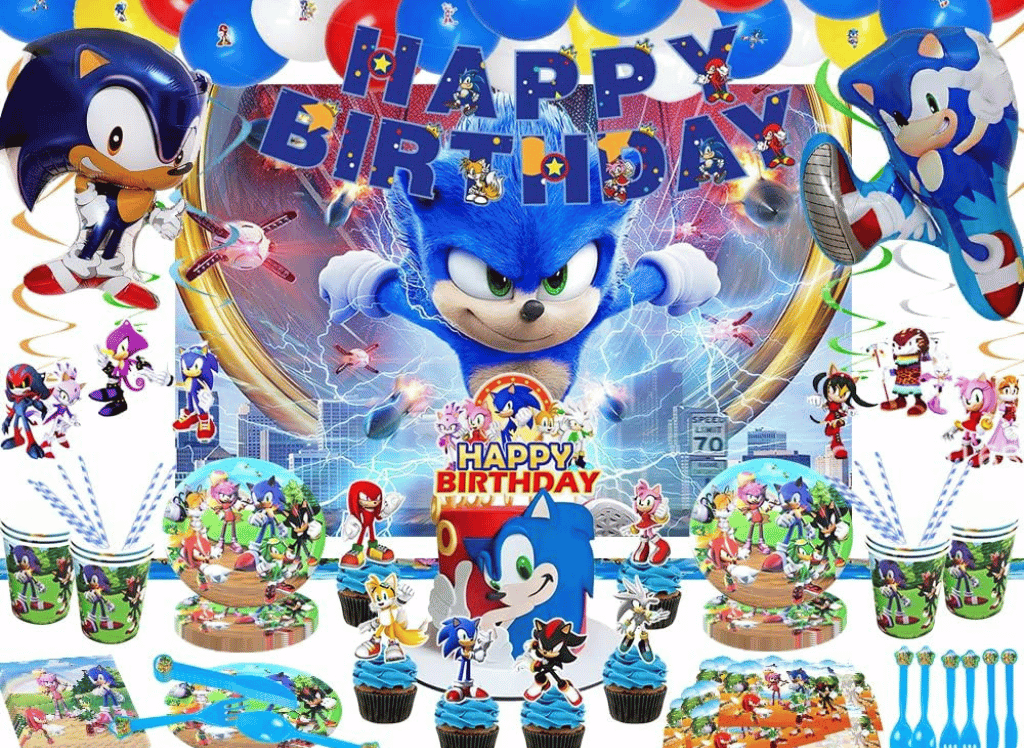 2. KOOMOVER 212pcs Sonic Party Decorations
Check Price on Amazon
Why We Love It
From the vibrant happy birthday banner to the assortment of colorful balloons and delightful cake topper, they've got you covered. Don't forget the cupcake toppers, napkins, plates, and utensils for easy serving. Plus, the included tablecloth add a special touch to your event. With fun additions like foil balloons, stickers, and plastic swirls, your party will be bursting with excitement.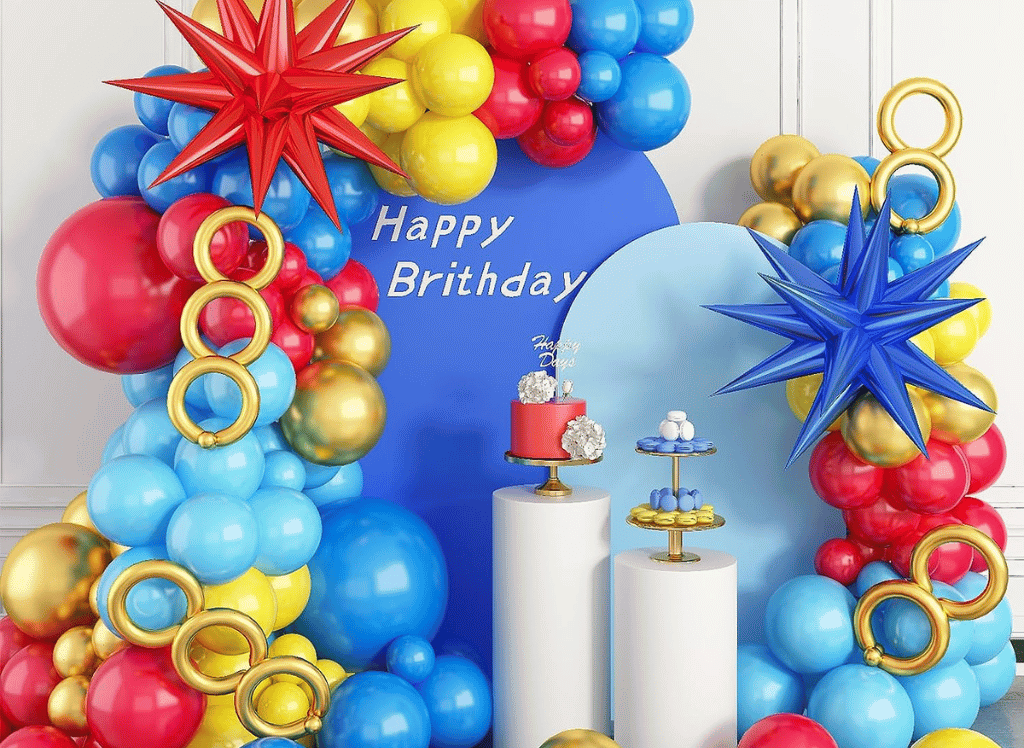 3. Sowide Sonic Birthday Party Balloons Garland Kit
Check Price on Amazon
Why We Love It
These amazing Sonic the hedgehog party supplies got everything you need to create a stunning balloon garland that will make your backdrop pop! With a variety of vibrant colors and fun sizes, including 18" balloons and 10" balloons in red, blue, yellow, light blue, and metallic gold, this kit is a party decorator's dream come true. Plus, it comes with golden stripe balloons, starburst balloons, adhesive tape, balloons strip, and ribbon.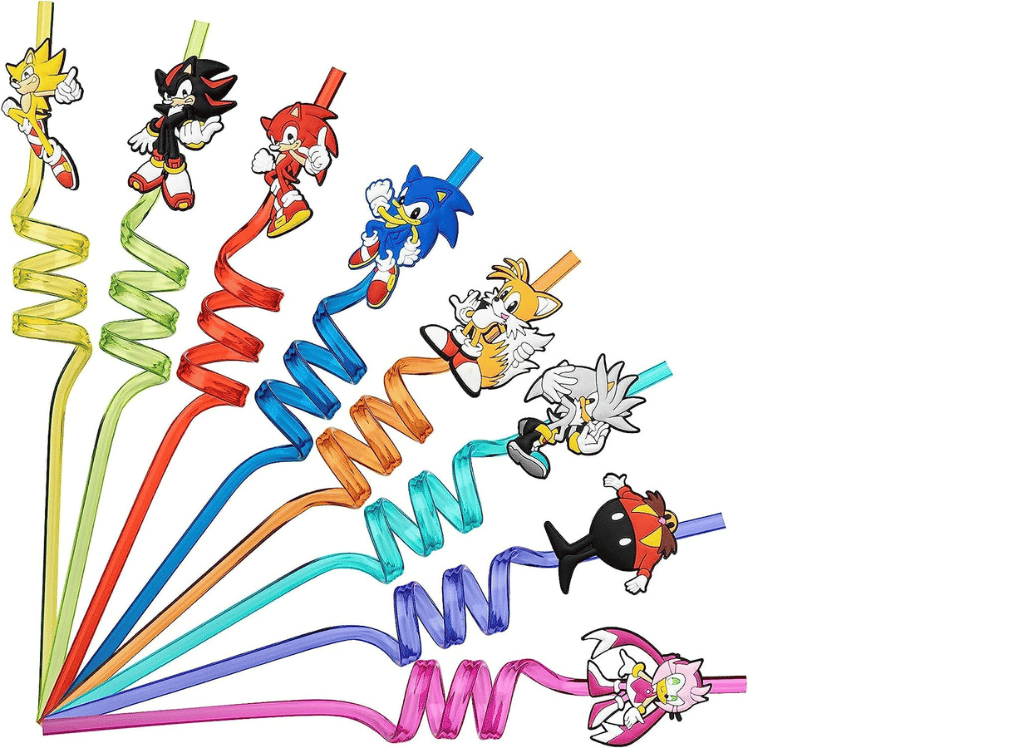 4. Tiiano 24Pcs Sonic Birthday Party Reusable Drinking Straws
Check Price on Amazon
Why We Love It
With a value package that includes 24 themed plastic straws and 2 cleaning brushes, you'll have everything you need to keep the party going. Each color straw features a different character pattern, making it a delightful surprise for your guests. Plus, they throw in 25 stickers to add even more excitement!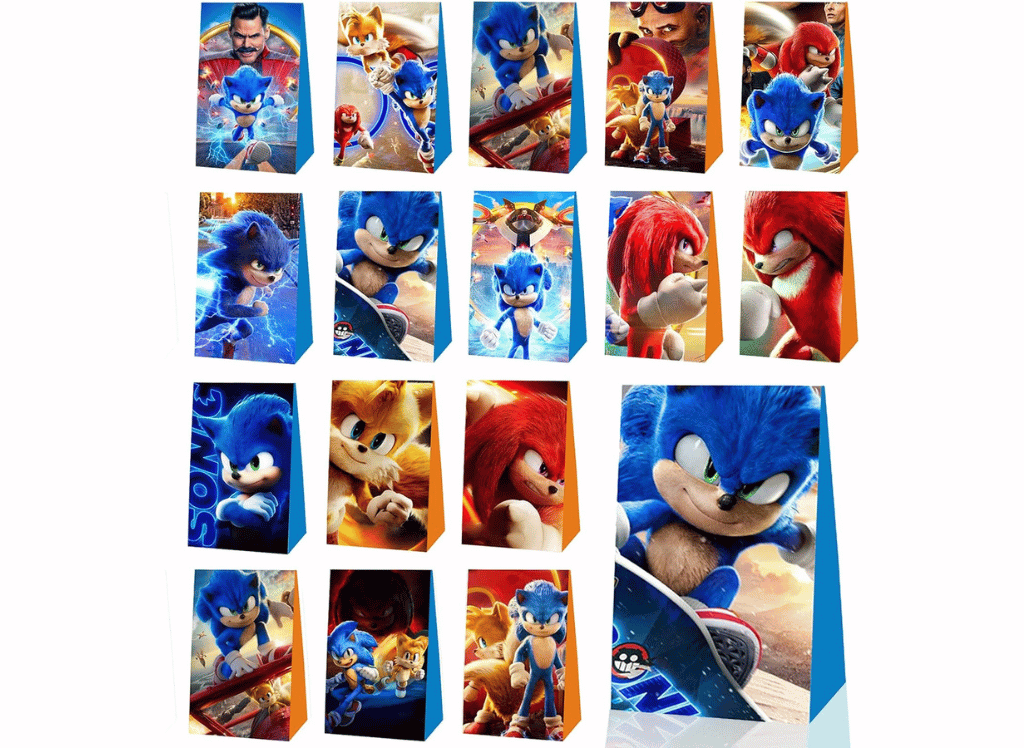 5. Xaderkan 16 Pack Sonic Birthday Party Gift Bags
Check Price on Amazon
Why We Love It
These bags are perfect for your Sonic-themed party! Measuring at 8.3"x 4.7" x 2.7", they're spacious enough to hold all the goodies you want to give to your guests. Kids are going to go crazy over these bags! They'll leave your amazing party with big smiles on their faces, clutching those baggies full of excitement. It's a surefire way to make your party an absolute hit!
Sonic Birthday Party FAQs
Alright, speedsters! We know that throwing a stellar Sonic-themed party can feel like hurdling through the Green Hill Zone - exciting, but also filled with questions.
Well, fear not! We're here with our super useful Sonic Birthday Party FAQs! Whether you're caught in a spin about decorations or can't decide on the party favors, we've got you covered.
Just like Sonic collects his gold rings, we've gathered all your burning questions and answered them right here! So, let's hit the ground running and turn you into the ultimate party planner!
1. What are some fun Sonic-themed games to play at the party?
How about a Sonic inspired treasure hunt? Hide golden rings (you can use plastic ones!) around the party area and let the little speedsters loose to find them. Or, if you're indoors, try a Sonic themed video game tournament. The game 'Sonic the Hedgehog' is a classic that will keep them entertained!
2. How can I incorporate Sonic into the party food?
Bring the Sonic theme to your party menu with blue-dyed drinks & food, hedgehog-shaped cookies, or cupcakes decorated like Sonic's face. For a healthier option, a fruit salad with blueberries can subtly nod to Sonic's iconic color!
3. How can I make Sonic-themed invitations?
There's plenty of Sonic-themed template invitations online that you can customize. Or, if you're feeling crafty, create your own using images of Sonic and friends!
4. Can I use Sonic-themed music at the party?
Absolutely! Sonic games have tons of catchy tunes. Create a playlist of tracks from the games or use the movie soundtrack to keep the Sonic vibes flowing.
5. What type of Sonic party decorations are there?
The sky's the limit! You can find Sonic balloons, tablecloths, banners, plates, cups and more. You could even use red, white and blue decorations to match Sonic's colors.
6. How can I create a Sonic-themed party favor bag?
Fill favor bags with Sonic goodies — think stickers, mini figurines, and sweets! The Xaderkan Sonic Birthday Party Gift Bags are a great option; the bags are sturdy and spacious enough for all your treats.
7. What's a creative way to use Sonic in the birthday cake?
You can use a Sonic figurine as a cake topper, or have a bakery design a Sonic-themed cake. For an easy DIY option, create a simple round cake and decorate with blue icing and yellow fondant for Sonic's face!
8. How can I dress the birthday child in a Sonic-themed outfit?
There are loads of Sonic costumes available online, or you could opt for a simple blue outfit with Sonic accessories like a cap or a t-shirt. Either way, your child will feel like the star of the show — just like Sonic himself!
Final Thoughts About Sonic Birthday Parties
And there you have it! Your guide to throwing the ultimate Sonic the Hedgehog-themed birthday bash that's bound to leave your little one and their friends ready to race around the living room with excitement. With these five exhilarating ideas, from customizable digital invitations to the vibrant balloon garland kit, you're all set to transport your guests straight into Sonic's action-packed universe. So, hang on to those party hats, because we're confident your Sonic birthday party is going to be faster, and way more fun, than a spin dash. Go ahead and add some super-Sonic speed to your party planning and make this birthday an adventure to remember!
Happy Shopping! :)
Are you a shopping enthusiast looking for more fun while browsing? With Two Free Audiobooks from Audible Plus and 30 days of free access to Amazon Prime Music, you can now listen to your favorite audiobooks and music while you shop! Plus, with Amazon Prime's lightning-fast 2-day shipping. Get a Free 30-day trial of Amazon Prime today and enjoy these amazing benefits.