Unleashing Creativity: Top 5 Sticker Books for Kids That Bring Learning and Fun Together!
Explore our curated list of the Top 5 Sticker Books for Kids! These exciting books blend education with fun, fostering creativity while enhancing fine motor skills. Discover the joy of learning today!
Welcome to Raquel's Reviews! Our team of experts scours the web for the best products on the market, so you don't have to. As an Amazon Associate, we earn from qualifying purchases. Wherever you are in your shopping journey, let us help guide you toward discovering your newest favorite thing today!
Welcome to the world of exciting, educational, and incredibly fun Sticker Books for Kids! If you're on the hunt for the best children's sticker books available on Amazon, you've come to the right place.
Here at Raquel's Reviews, we dive deep into the universe of kid-friendly products, bringing you top-quality recommendations that blend learning and entertainment seamlessly. Our chosen selection not only sparks creativity but also contributes to enhancing fine motor skills, making these sticker books a win-win for both parents and little ones. So, buckle up, and let's embark on this journey of discovery together!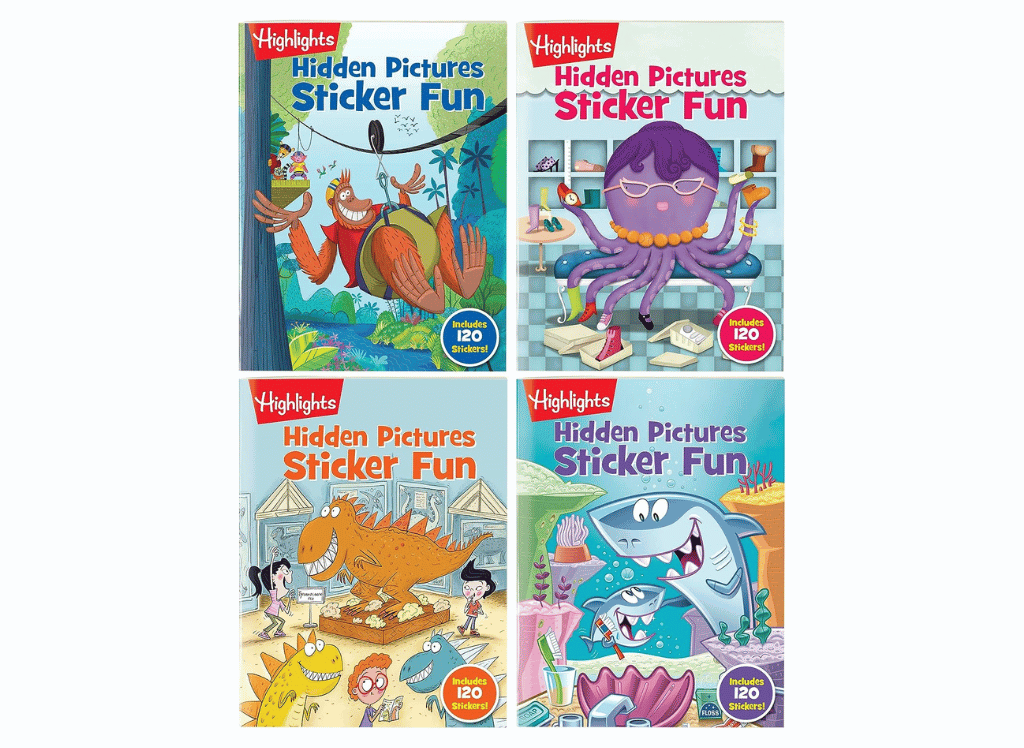 1. Highlights for Children Hidden Pictures Sticker Fun Sticker Books for Kids Ages 3-6, 4-Pack, 64 Pages - Volume 1
Check Price on Amazon
Why We Love It
Each book features family-friendly scenes like road trips, grocery shopping, and snowball fights. Kids can place stickers on hidden objects as they find them and color in the classic Hidden Pictures scenes. Plus, these 16-page books are easy to pack, so little ones can enjoy puzzles on the go! Not only are these books tons of fun, but they also help develop essential skills. Searching for objects and placing stickers boosts logic, vocabulary, attention to detail, and fine motor skills. And let's not forget the confidence boost! Hidden Pictures puzzles encourage independence, persistence, and create positive learning experiences.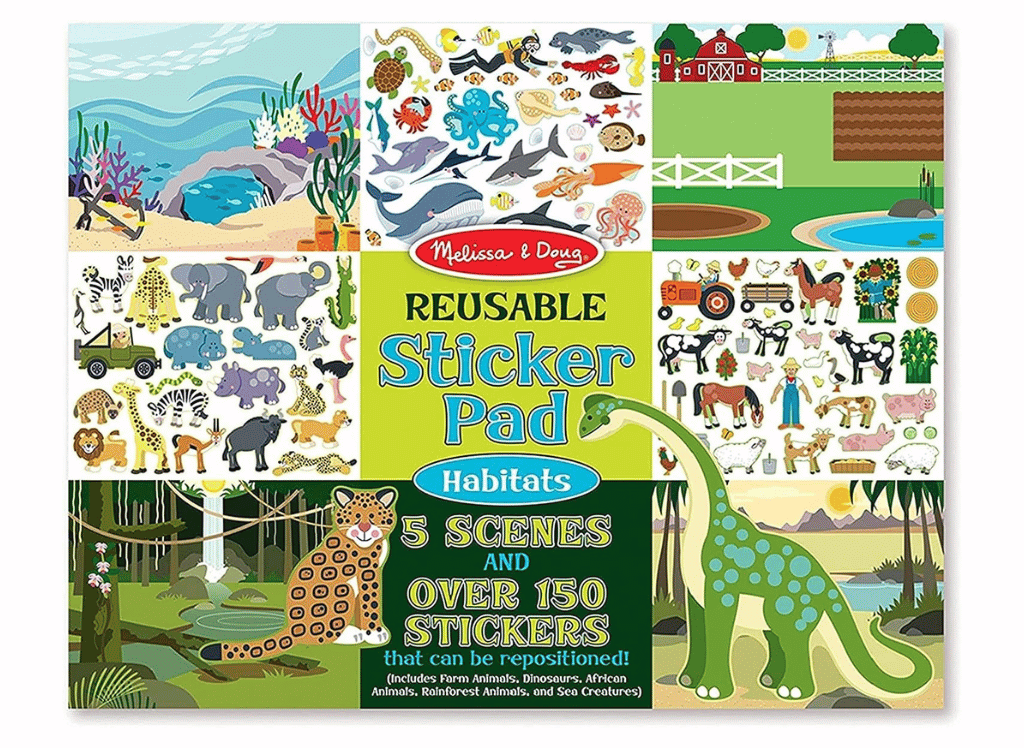 2. Melissa & Doug Reusable Sticker Pad: Habitats - 150+ Reusable Stickers
Check Price on Amazon
Why We Love It
This extra-large pad includes 5 vibrant backgrounds and over 150 repositionable stickers. Let your child's imagination soar as they explore scenes like a desert oasis, prehistoric landscape, farm, jungle, and deep blue sea. Not only is this sticker pad a fun and engaging activity, it also promotes the development of fine motor skills and encourages creative play. Perfect for kids 3 years and up, it makes a fantastic gift!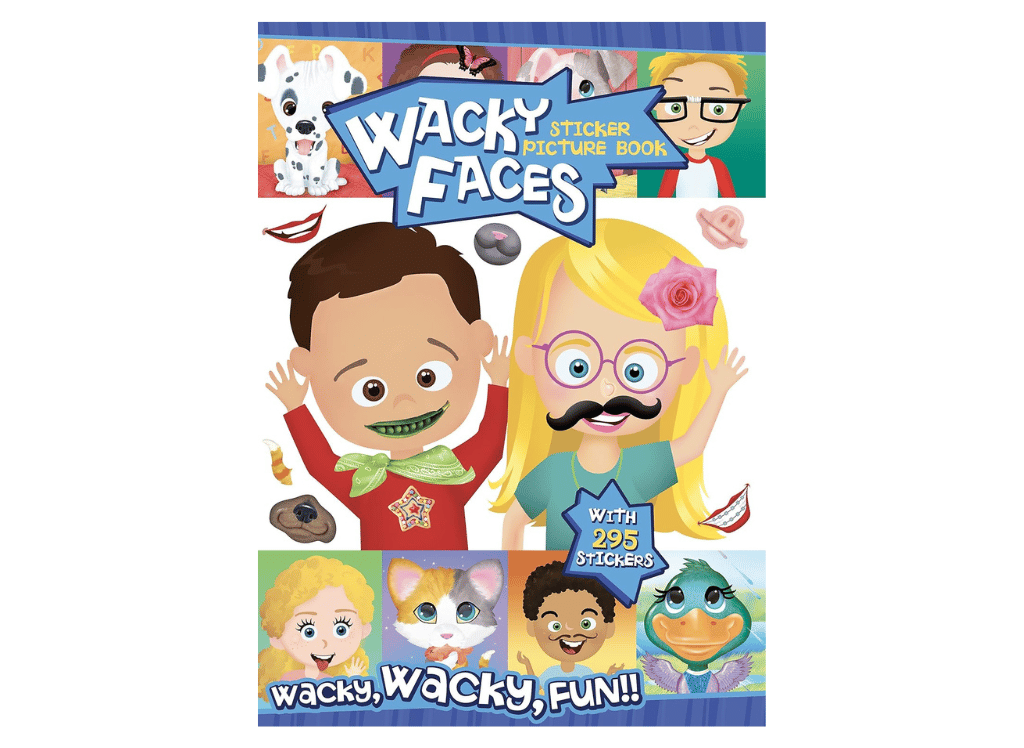 3. Bendon Create-A-Face Sticker Pad (Wacky Faces)
Check Price on Amazon
Why We Love It
Get creative with these blank face pages and stickers! This set includes 32 blank face pages to decorate and 6 sheets of repositionable stickers for endless fun. With thousands of face combinations, it encourages your child's creativity and lets them show off their silly and goofy side. Ideal for children ages 3 and up, this is the perfect activity to unleash their imagination!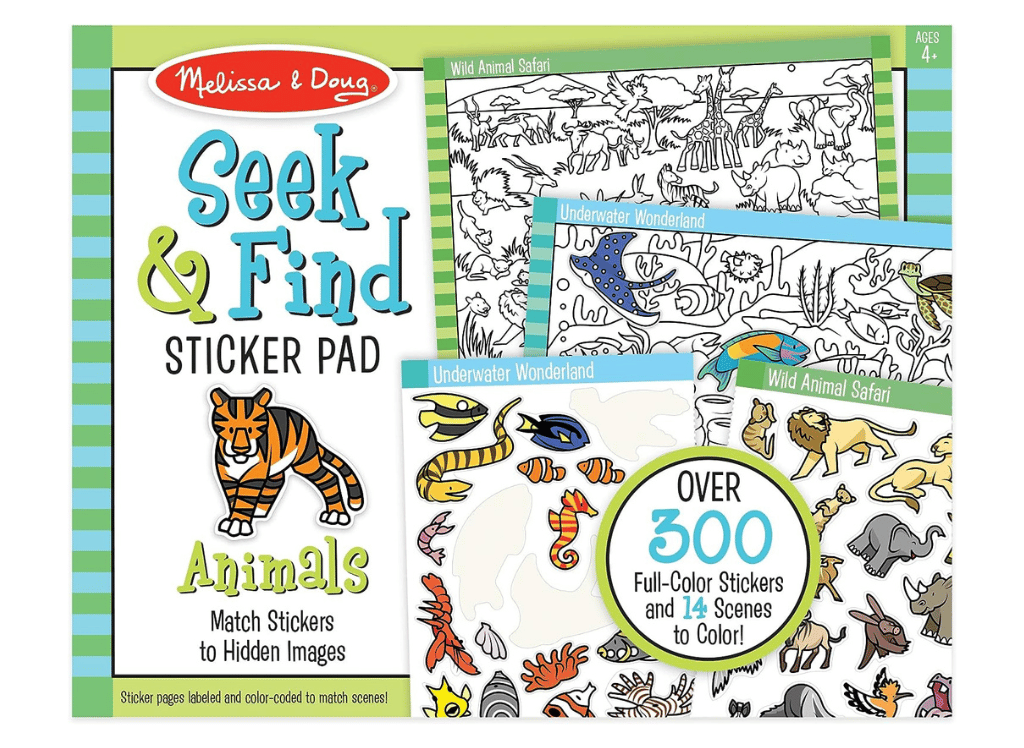 4. Melissa & Doug Seek and Find Sticker Pad, Animals (400+ Stickers, 14 Scenes to Color)
Check Price on Amazon
Why We Love It
Discover the Seek and Find Sticker Pad - an exciting adventure with animal scenes to color and hidden objects to find! This amazing pad includes 400+ full-color stickers and 14 scenes to bring to life with pencils, markers, or crayons. Each sticker page is labeled and color-coded, making it easy to match them to the scenes. Get ready to explore the Desert, forest, ocean, pond, rainforest understory, rainforest treetops, dinosaurs, Tide pool, Arctic, marsh, farm, barn, coral Reef, and safari. Perfect for ages 4 years and up, this 14" x 11" pad is made with FSC-certified materials, supporting responsible forestry. Add this delightful adventure to your collection!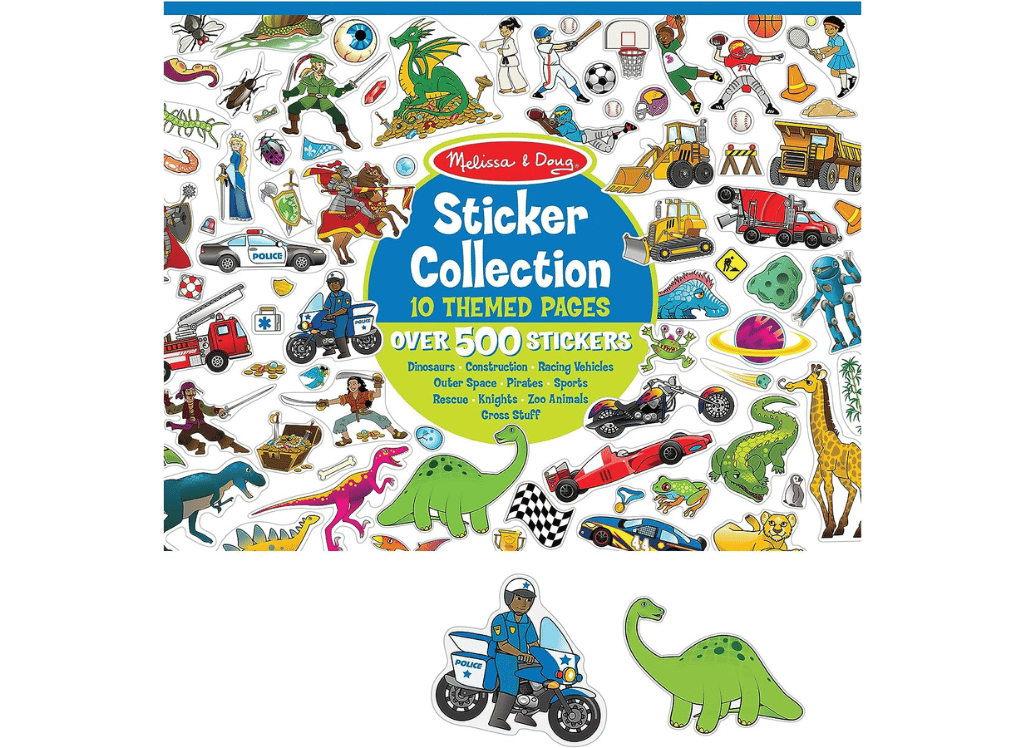 5. Melissa & Doug Sticker Collection Book: Dinosaurs, Vehicles, Space, and More - 500+ Stickers
Check Price on Amazon
Why We Love It
Melissa & Doug Sticker Collection Book is a giant sticker book with 500 animal, vehicle, and location themed stickers. With multiple themed pages including dinosaurs, space, construction, and more, it's perfect for developing fine motor skills, hand-eye coordination, and creative expression. Ideal for kids aged 3 to 6 years, this book makes a great gift. Enhance the hands-on, screen-free play experience with the Melissa & Doug Dress-Up Reusable Sticker set.
Sticker Books for Kids FAQs
Are you wondering which sticker book is the best fit for your child's age, or curious about the educational benefits of sticker books? As a parent or caregiver, you may have numerous questions about the role of sticker books in your child's learning and development. That's why we've compiled a comprehensive FAQ section, addressing the most common queries about Kids' Sticker Books. Let's dive in and uncover some interesting facts and features about these fun, educational sticker books!
1. What are the benefits of sticker books for children?
Sticker books have numerous benefits for children. Not only do they provide entertainment, but they also offer a wide range of developmental advantages. By engaging with sticker books, children can refine their fine motor skills, improve hand-eye coordination, and unleash their creativity. Moreover, as children explore and navigate the process of placing stickers, they also foster important skills such as spatial orientation and problem-solving abilities. Sticker books truly provide a holistic learning experience for young minds.
2. At what age should children start using sticker books?
Children can start using sticker books as soon as they can handle stickers, usually around the age of 3. It's important to note that at this age, children are developing fine motor skills and hand-eye coordination, which makes sticker books a great activity to engage with. Additionally, sticker books provide an opportunity for children to explore their creativity and imagination as they choose where to place the stickers and create their own scenes. Always ensure the sticker book is age-appropriate and child-safe to ensure a safe and enjoyable experience for the little ones.
3. Are sticker books educational?
Absolutely! Sticker books can be highly educational for children. They offer a wide range of themes, such as animals, vehicles, and space, which not only entertain but also expand children's knowledge. By engaging with sticker books, children can learn about different objects, colors, shapes, and even basic concepts like counting or sorting. Additionally, the act of peeling and sticking stickers enhances fine motor skills, hand-eye coordination, and concentration.
4. Can sticker books improve my child's language skills?
Yes, sticker books have the potential to greatly improve your child's language skills. When children use sticker books, they are encouraged to create and narrate stories around the sticker scenes they create. This imaginative play stimulates their creativity and helps them develop a rich vocabulary. By describing the characters, objects, and events in their sticker scenes, children practice using words, phrases, and sentences, which in turn enhances their language skills, storytelling abilities, and communication.
5. How can sticker books boost children's creativity?
Sticker books are excellent tools for boosting children's creativity. With sticker books, children have the freedom to create their own narratives and scenes. They can mix and match stickers, arrange them in various ways, and use their imagination to build unique stories. This open-ended play encourages creative thinking and problem-solving skills. It also allows children to express themselves artistically and explore different ideas, fostering a sense of innovation and originality.
6. Are sticker books suitable for travel?
Absolutely! Sticker books are perfect for travel and on-the-go entertainment. They are lightweight, portable, and can keep children engaged for extended periods. Whether you're on a plane, in a car, or waiting at a restaurant, sticker books can provide hours of entertainment and keep little ones occupied. They require minimal space and can easily fit into a bag or backpack, making them convenient companions for travel adventures.
7. How to choose the right sticker book for my child?
When choosing a sticker book for your child, it's important to consider their interests, age, and skill level. Look for sticker books that align with their hobbies, favorite characters, or topics they find fascinating. Consider the complexity of the stickers and scenes – some books offer reusable stickers for ongoing play, while others may have more intricate designs or educational themes. Reading online reviews from trusted sources, like Raquel's Reviews, can also provide valuable insights and help you make an informed decision.
8. Are there sticker books for older children?
Absolutely! Sticker books are not just for young children – there are options designed specifically for older kids as well. These sticker books may feature more complex scenes, intricate designs, or educational themes that cater to the interests and abilities of older children. They can provide a creative outlet, a source of entertainment, and even serve as a relaxing activity for older kids who enjoy art, design, or storytelling.
9. Can sticker books be used for group activities?
Definitely! Sticker books are versatile and can be used for engaging group activities. Children can work together on a common scene or story, sharing stickers, ideas, and collaborating to create a cohesive narrative. This cooperative play fosters teamwork, communication, and social skills. It encourages children to listen to each other's ideas, negotiate, and find common ground, promoting positive interactions and a sense of camaraderie among peers.
10. What is the most popular sticker book on the market?
Popularity can vary based on personal preferences, age groups, and individual interests. However, one highly rated and versatile choice is the Melissa & Doug Sticker Collection Book. This sticker book offers over 500 stickers spanning various themes, providing children with a wide range of options to choose from. It has received positive reviews for its quality, variety, and the endless creative possibilities it offers. Whether your child loves animals, vehicles, or fantasy themes, the Melissa & Doug Sticker Collection Book is sure to captivate their imagination and keep them entertained for hours on end.
Final Thoughts About Kids Sticker Books
Sticker books have proven to be an exceptional tool for children's early development, blending learning with fun, and enhancing various skills, including fine motor skills, hand-eye coordination, and language proficiency. The five sticker books we've explored today, including the popular Melissa & Doug Sticker Collection Book, offer a wealth of opportunities for creative expression and knowledge expansion. Whether your little one is a budding artist, an animal lover, or a space explorer, these sticker books cater to a variety of interests and age groups, providing endless hours of fun-filled engagement. So, if you're looking for an educational, enjoyable, and budget-friendly gift for your little ones, sticker books are the way to go!
Are you a shopping enthusiast looking for more fun while browsing? With Two Free Audiobooks from Audible Plus and 30 days of free access to Amazon Prime Music, you can now listen to your favorite audiobooks and music while you shop! Plus, with Amazon Prime's lightning-fast 2-day shipping. Get a Free 30-day trial of Amazon Prime today and enjoy these amazing benefits!
Happy Shopping! :)