Jump into Summer: The 4 Best Trampoline Cover Picks
It's summertime and the perfect time to get outdoors and have some fun! And what better way to do that than with a trampoline? But before you start bouncing, don't forget to invest in a good trampoline cover. Here are our top four picks for the best trampoline covers this summer - so jump on it!
As an Amazon Associate, Raquels Reviews may collect a share of sales or other compensation (at no cost to you) from links found within these pages if they choose to buy something
Are you looking for the perfect trampoline cover to protect your trampoline and your family?
Trampolines are a great way to stay active and have fun. But, if you don't take proper care of them, they can quickly become damaged or worn down due to weather and other elements. That's why having a quality trampoline cover is essential for keeping your trampoline safe from the elements.
We understand that finding the right cover isn't always easy, which is why we've done all the research for you! In this article, we will review some of the best trampoline covers available on Amazon so that you can make an informed decision about what type of cover would be best suited for your needs.
How Raquels Reviews Chooses the Trampoline Cover
Finding the right trampoline cover can be a daunting task. With so many options available, it's hard to know which one is best suited for your needs.
You don't want to waste time and money on a trampoline cover that won't last or fit properly. And you certainly don't want to take any risks with safety when it comes to your family's outdoor fun!
That's why Raquel Reviews Chooses has done the work for you! Our experts have researched reviews on Amazon and chosen only the highest quality trampoline covers that are safe, durable, and easy-to-use. Now all you have to do is enjoy your outdoor fun knowing that you've made an informed decision about what will keep your family safe and secure!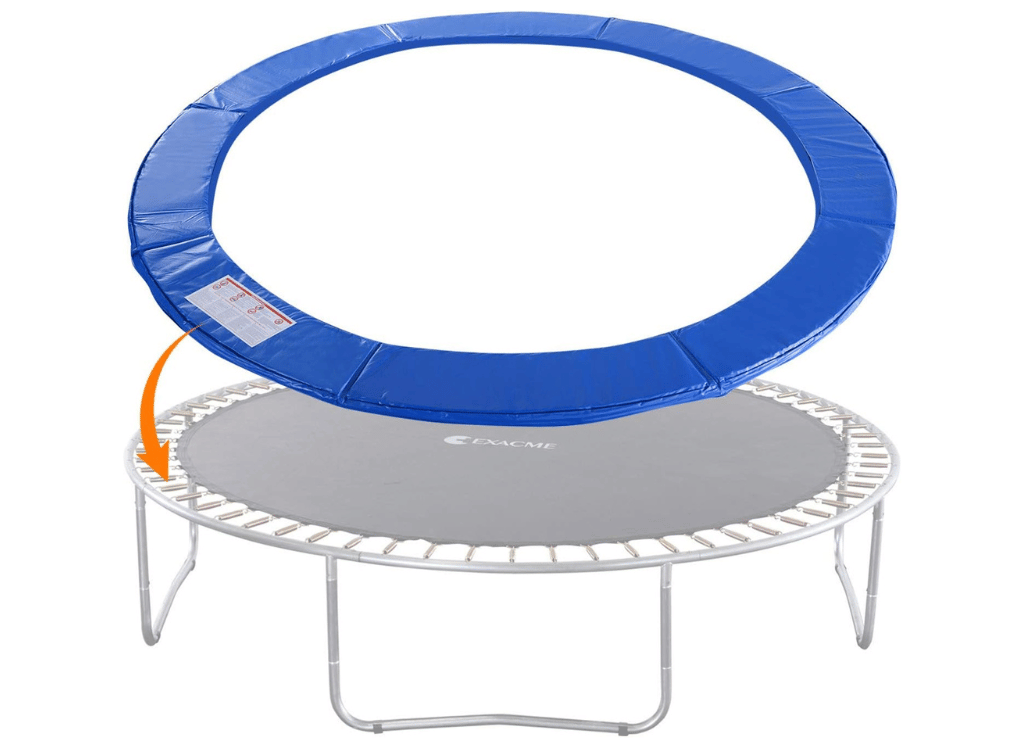 1. Exacme Trampoline Pad Replacement
Check Price on Amazon
Why We Love It
The Exacme Trampoline Pad Replacement is designed for 12 foot framed trampolines with springs no more than 6.5 inches in length. This pad is made from a combination of 310g/m² PVC on the top and 130g/m² PE at the bottom, making it waterproof, durable, and easy to clean!
Things to Know
The 0.6-inch thick EPE closed-cell foam inside provides excellent impact absorption, while the cover pad offers a comfortable resting space. To further enhance safety, both sides of the replacement pad come with tie-downs to secure it in place and 12.2" width overlaps perfectly on the edge of the black mat so that users will not be pinched or caught by exposed springs when jumping.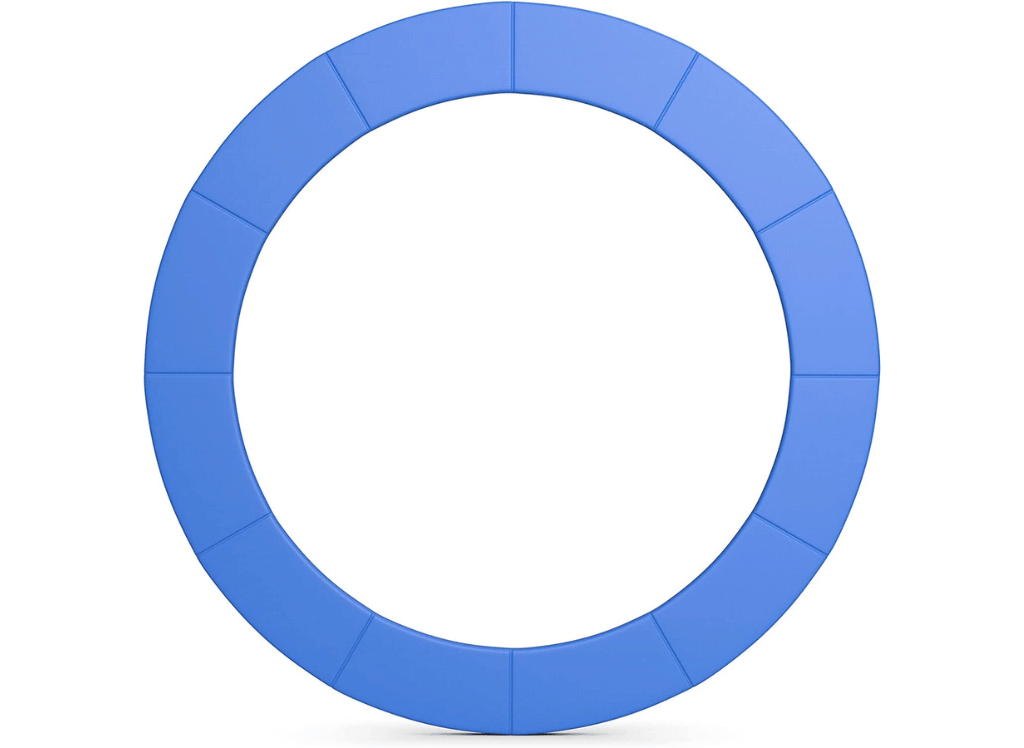 2. Giantex 8Ft 10Ft 12Ft 14Ft 15Ft 16Ft Trampoline Pad
Check Price on Amazon
Why We Love It
Giantex Trampoline Pads provide superior protection and long-lasting use. Our pads are crafted from high-quality PVC and PE materials, making them highly durable, tear-resistant, and weatherproof. We offer mat sizes ranging from 8ft to 16ft with a pad thickness of 15mm over the frame. This trampoline accessory is perfect for both adults looking to stay fit or children wanting to have fun!
Things to Know
The Giantex 8Ft 10Ft 12Ft 14Ft 15Ft 16Ft Trampoline Pad is the perfect addition to your trampoline for added safety and convenience. Its foldable, one-piece design makes it easy to set up in seconds and store away when not in use. The lightweight construction also makes it easy to carry wherever you need it. Installation is simple and requires no tools, so you can get back to bouncing fun quickly!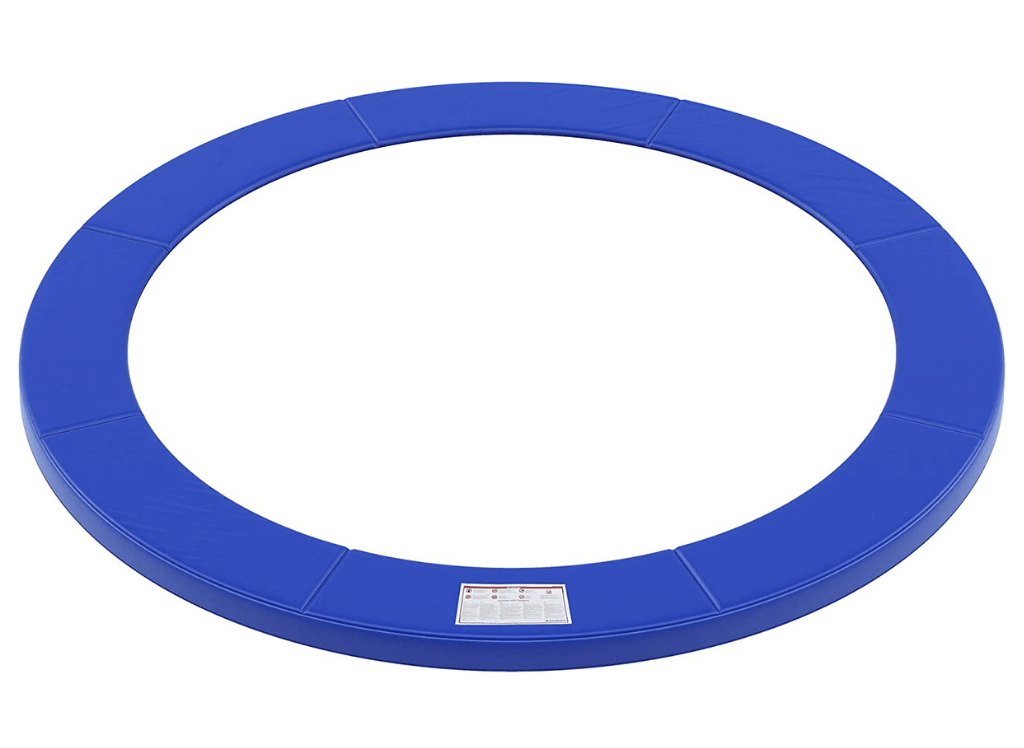 3. SONGMICS Replacement Trampoline Safety Pad Mat
Check Price on Amazon
Why We Love It
The SONGMICS 8ft Replacement Trampoline Safety Pad Mat wide and thickened padding (11 3/4" in width and 5/9" in thickness) ensures safety by protecting jumpers from falling directly onto the steel frame or getting pinched by the springs. This trampoline safety pad mat is a great way to provide peace of mind when allowing children and adults to enjoy their jumping activities without worry about avoidable accidents.
Things to Know
For a safe and secure trampoline experience, the SONGMICS Replacement Trampoline Safety Pad Mat is an ideal choice. This top-of-the-line safety pad is made of UV and water-resistant fabric that protects your trampoline from all weather conditions. It also features closed-cell EPE foam padding for long lasting use as well as two fastening straps to ensure the spring cover stays firmly in place at each seam.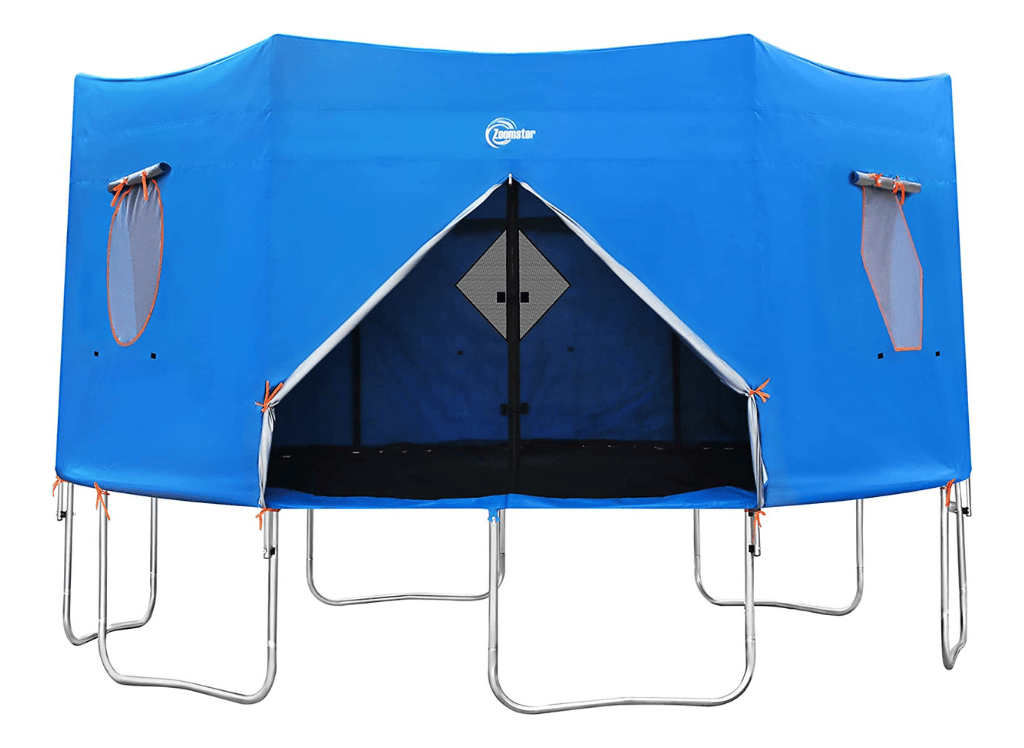 4. Zoomster 14FT Trampoline Tent
Check Price on Amazon
Why We Love It
The Zoomster 14ft Trampoline Tent fits tents with six straight poles and features a convenient front entrance zip closure that makes entry and exit easy. The tent also includes three windows equipped with adjustable covers, allowing you to customize air circulation inside the structure. This durable tent will keep your family safe from outdoor elements while providing an exciting play area to enjoy in privacy.
Things to Know
This trampoline cover provides a secure enclosure that fully encloses the trampoline, protecting your children from moisture, bug bites, and heat from direct sunlight. Crafted with durable Oxford fabric, this tent is weather-resistant and UV-resistant so you can be sure it will last through all kinds of outdoor conditions. With its easy setup and storage capabilities, the Zoomster Trampoline
Trampoline Cover FAQs
Shopping for a trampoline cover can be overwhelming. With so many options to choose from, it's hard to know which one is the right fit for you and your family.
You want something that will last, protect your trampoline, and look good in your backyard. But with all of the different sizes, materials, and features available on the market today - how do you make sure you're getting what you need?
Don't worry! We've got you covered (pun intended). Our Trampoline Cover FAQs are here to help answer all of your questions about finding the perfect cover for your trampoline. Get informed and shop confidently knowing that we have everything you need to make an educated purchase decision.
1. What is a trampoline cover?
A trampoline cover is a weatherproof tarp that fits over the top of a round-shaped trampoline to protect it from rain, sun, snow, and debris.
2. How do I choose the right size trampoline cover?
When selecting a trampoline cover, it's important to measure your existing trampoline before purchasing one. Simply check the available stock and add one to your cart.
3. How do I attach and remove a trampoline cover?
Most trampoline covers come with clips for easy attach and removal. Start by positioning the cover over the top of your trampoline, then use the clips to secure it in place around the frame and springs.
4. Does a trampoline cover protect against twigs and other debris?
Yes, a trampoline cover can help protect your trampoline from any twigs that may pass through the fabric or other debris that may have gotten stuck in the mesh fabric of the jumping area.
Final Thoughts About Trampoline Covers
All in all, investing in the best trampoline cover is an essential part of owning a trampoline. Not only will it protect your equipment from inclement weather and dirt buildup, but it can also help you save money by extending the life of your trampoline. With so many different types available on the market today, choosing the right one for your needs doesn't have to be difficult. Now that you know how to choose the best trampoline cover for your family, all that's left is for you to get out there and enjoy some quality outdoor fun!
Are you a shopping enthusiast looking for more fun while browsing? With Two Free Audiobooks from Audible Plus and 30 days of free access to Amazon Prime Music, you can now listen to your favorite audiobooks and music while you shop! Plus, with Amazon Prime's lightning-fast 2-day shipping. Get a Free 30-day trial of Amazon Prime today and enjoy these amazing benefits!
Happy Shopping! :)