Treat Your Pup to a Wet 'n' Wild Adventure: 6 Amazing Water Toys for Dogs!
Fido's ready for a wet 'n' wild adventure! From pool floats to water steps, we've got the best toys and activities to make sure your pup has a splashing good time. So get those tails wagging and let the fun begin!
As an Amazon Associate, Raquels Reviews may collect a share of sales or other compensation (at no cost to you) from links found within these pages if they choose to buy something
As pet parents, we all want to make sure our furry friends have the best toys and products. But with so many options out there, it can be hard to know which ones are actually worth your money.
Water toys are perfect for keeping your dog active and engaged during those hot summer days. Not only do they provide hours of entertainment, but they also help them stay cool in the heat. Plus, they're great for helping strengthen their muscles and joints as well as improving their coordination, but you don't want to waste time or money on a toy that won't last more than 5 minutes in the water, right?
That's why Raquels Reviews is here! Our experts spend countless hours researching reviews and testing products so you don't have to. We've done the work for you and found only the best Water Toys for Dogs available on Amazon - saving you time and giving your pup a great new toy they'll love playing with!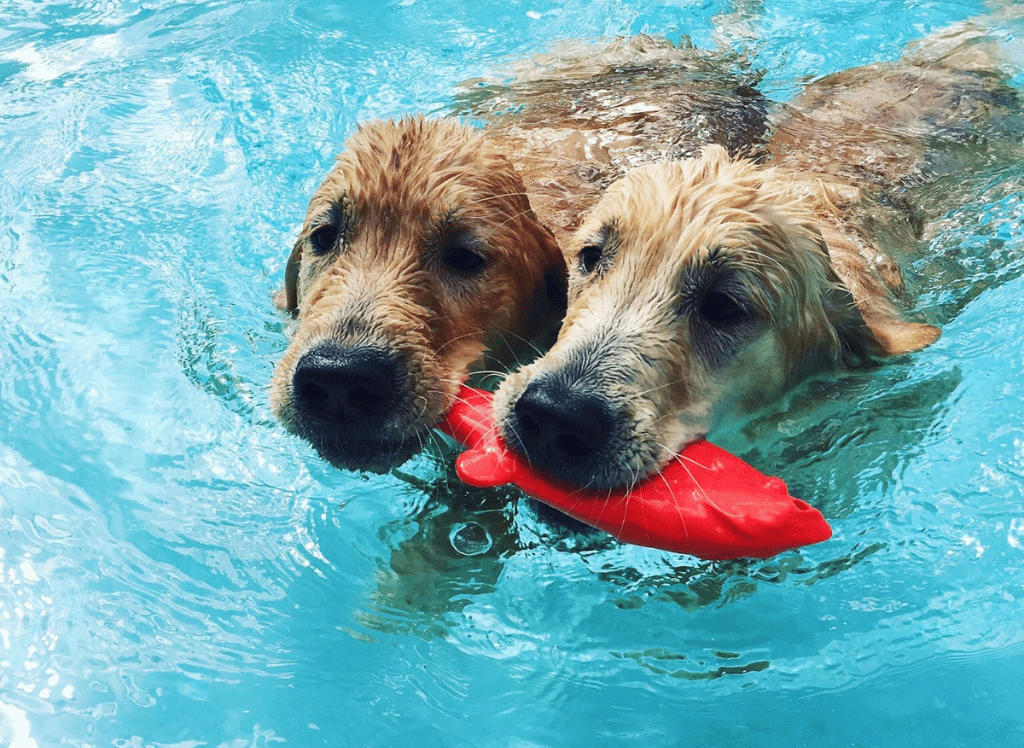 1. Ruff Dawg Flying Fish Dog Toy
Check Price on Amazon
Why We Love It
Are you looking for an action-packed summer activity that will keep your pup fit, healthy, and entertained? The Ruff Dawg Flying Fish Dog Toys are the perfect way to do just that! This versatile toy can be used at the pool or lake, engaging your dog in hours of fun. Not only does it float on top of the water but it also flies through the air as your pup chases after it. You'll both love being able to have a blast together while getting some much needed exercise in too!
Things to Know
The Ruff Dawg Flying Fish Dog Toy is a unique chew toy that is perfect for dogs of all sizes. This product is proudly made in the USA using superior quality rubber and comes in assorted colors measuring 9" x 4" and 1 1/2" wide. With its bright colors and fun design, this toy will provide hours of fetching and retrieving fun for your furry friend!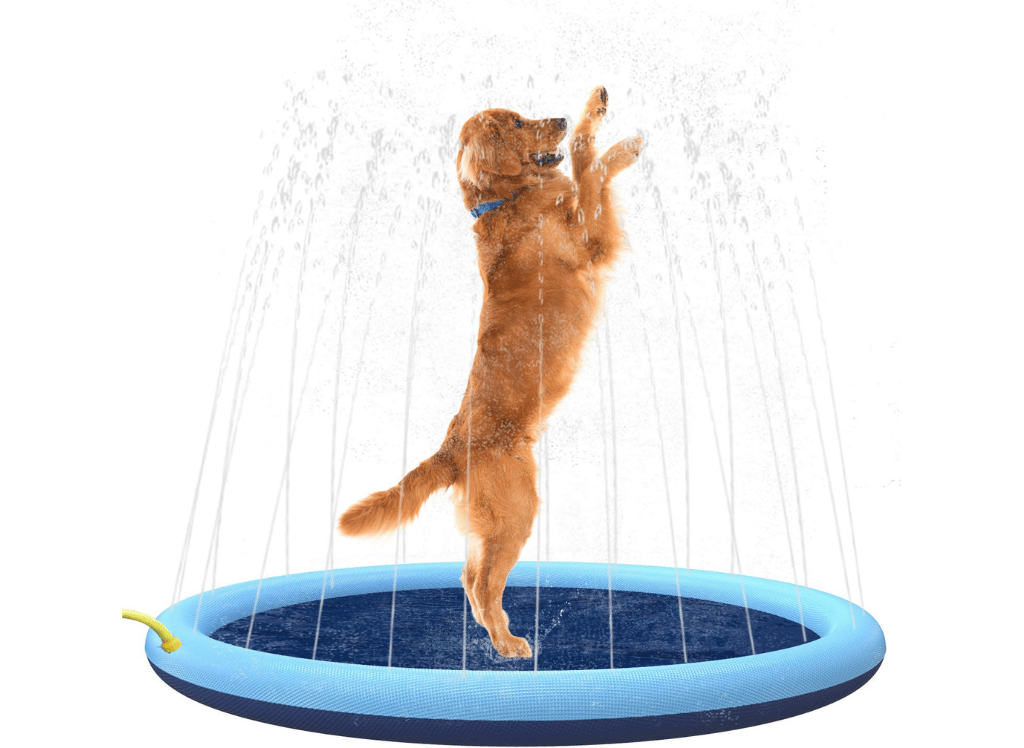 2. Flyboo Splash Sprinkler Pad for Dogs
Check Price on Amazon
Why We Love It
The Flyboo Splash Sprinkler Pad is perfect for keeping your pup (and even the kiddos!) entertained in the heat. It has a 59-inch diameter water-filled pool, giving plenty of room for all breeds of dogs to enjoy splashing around and playing. The durable PVC material makes it strong yet non-slip so everyone stays safe! And it's BPA & phthalate free, making sure that no harmful chemicals leach in during playtime. With Flyboo Splash Sprinkler Pad, you can be sure that your pet will stay comfortable as well as entertained throughout those hot summer days!
Things to Know
The Flyboo Splash Sprinkler Pad for Dogs is an innovative and fun way to give your furry friends a cool and refreshing summertime experience. This pad easily connects to standard water pipes with its included connector, allowing you to adjust the water pressure for varying spray heights so that your pet can enjoy splashing around in their own backyard. Folding up small enough for easy transport and storage, this sprinkler pad is perfect for taking with you wherever you go!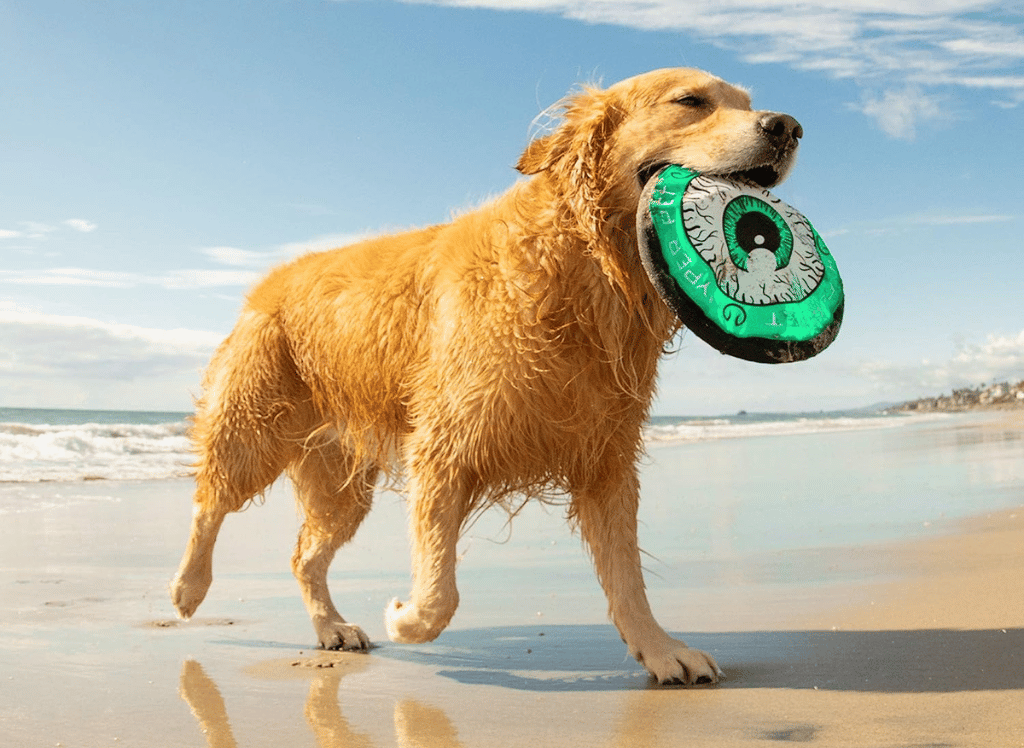 3. Hyper Pet Flippy Flopper Dog Frisbee
Check Price on Amazon
Why We Love It
Hyper Pet's Flippy Flopper Dog Frisbee Interactive Toy is made from a durable multilayer nylon material, so it can handle a lot of outdoor wear and won't hurt your dog's teeth when they catch it! Playing with this toy will provide hours of exercise for your pup as well as strengthen the bond between you and them. Plus, with its unique design that allows for high-flying fetch games on land, water, or snow, there will be no shortage of fun!
Things to Know
This frisbee is made of a lightweight, buoyant material that allows for long range throws and interactive play at the beach, lake or pool. It also comes in fun bright colors and unique designs to make it easy to spot among bushes, leaves, grass and snow. The Eyeball Flippy Flopper measures 9 inches in diameter and each pack includes one dog frisbee.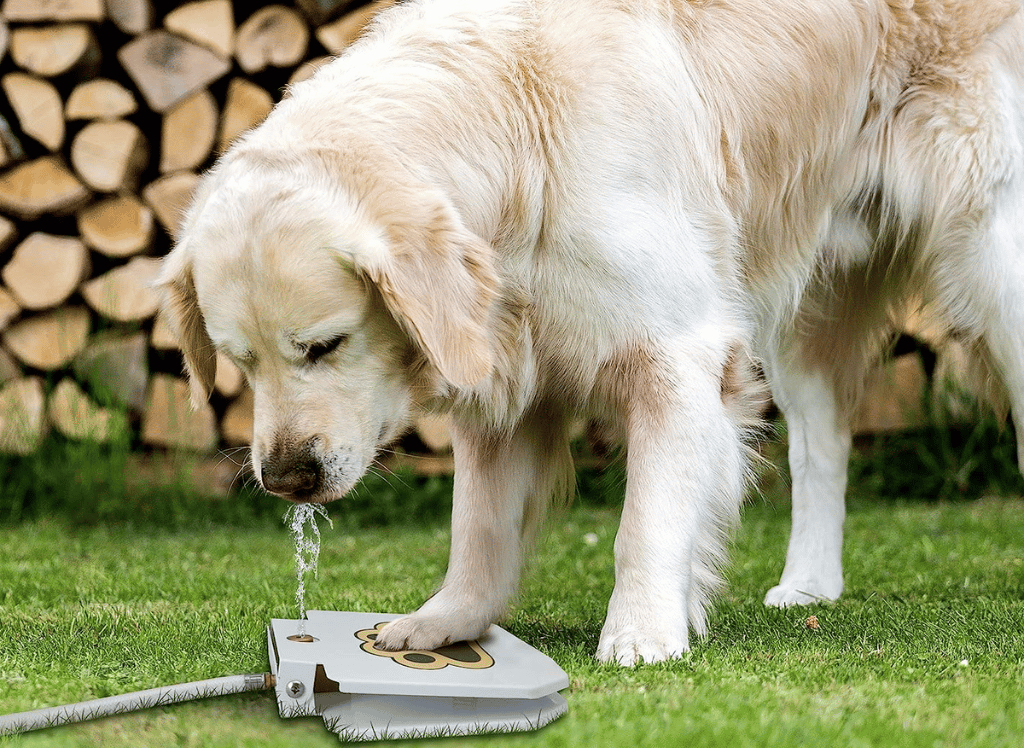 4. Dog Outdoor Dog Drinking Water Fountain Step On
Check Price on Amazon
Why We Love It
Looking for a fun way to keep your pup hydrated? The Dog Outdoor Drinking Water Fountain Step On is perfect for you and your furry friend! It quickly trains your pup to step up on the paw-design pedal to get fresh, clean water. Not only does this help ensure their health, but it also provides them with some entertainment as they play in the water and catch it. This fountain is both practical and enjoyable, giving pet parents peace of mind that Fido will always have easy access to fresh water!
Things to Know
The Dog Outdoor Dog Drinking Water Fountain Step On is the perfect solution for pet owners looking to provide their furry friends with easy access to clean water. This fountain is designed for outdoor use and requires no specialized skill or tools to set up. The included two-way Y hose connector allows you to quickly and easily connect this fountain to your existing water supply, while the control valve lets you adjust the water pressure as needed.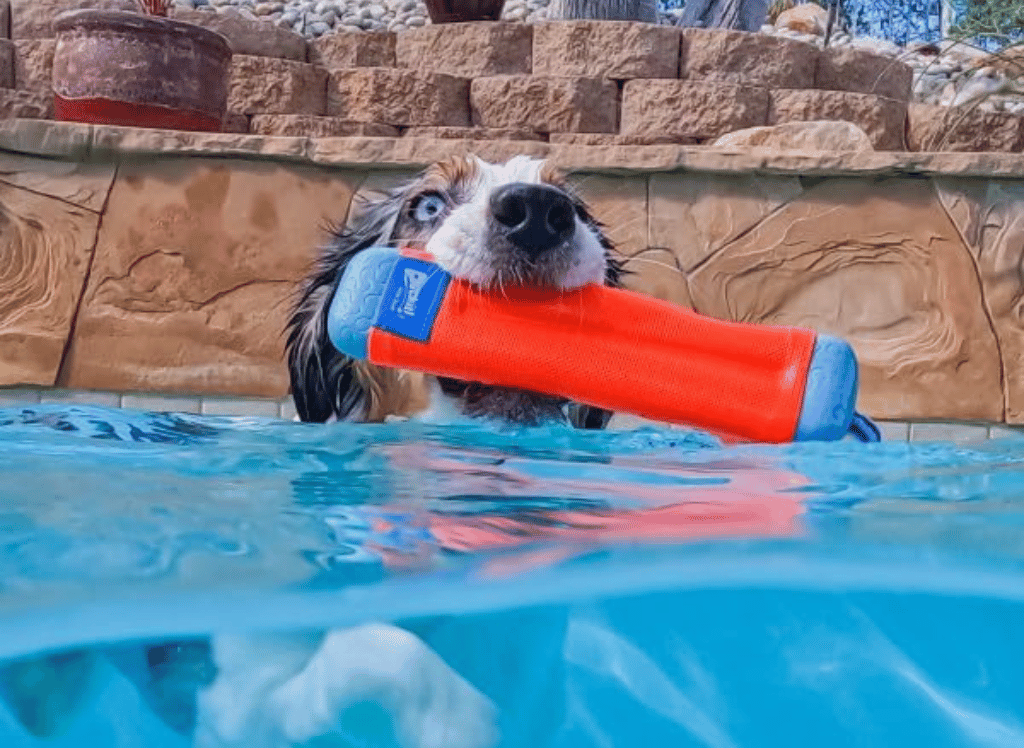 5. ChuckIt! Amphibious Bumper Fetch and Float Dog Toy
Check Price on Amazon
Why We Love It
ChuckIt! Amphibious Bumper Fetch and Float Dog Toy is the perfect toy for your swimming pup! The soft and durable nylon, rubber, and EVA foam construction will be gentle on their gums and teeth while allowing them to play aggressively. It's also easy to clean, simply rinse it off after a day of fun in the pool or lake. With its bright colors, knotted bumper rope design for secure grip, and lightweight memory foam that ensures long-lasting fetching fun, this toy is sure to bring hours of joy for you two during those hot summer days!
Things to Know
ChuckIt! Amphibious Bumper Fetch and Float Dog Toy is the perfect way to bond with your pup. This toy encourages interactive play between you and your dog while providing hours of entertainment. The bright colors help keep dogs engaged, making it a great choice for active pups who need an outlet for their energy. With its ability to both float in water and be used as a fetch toy on land, this product provides versatility and fun no matter where you take your pet.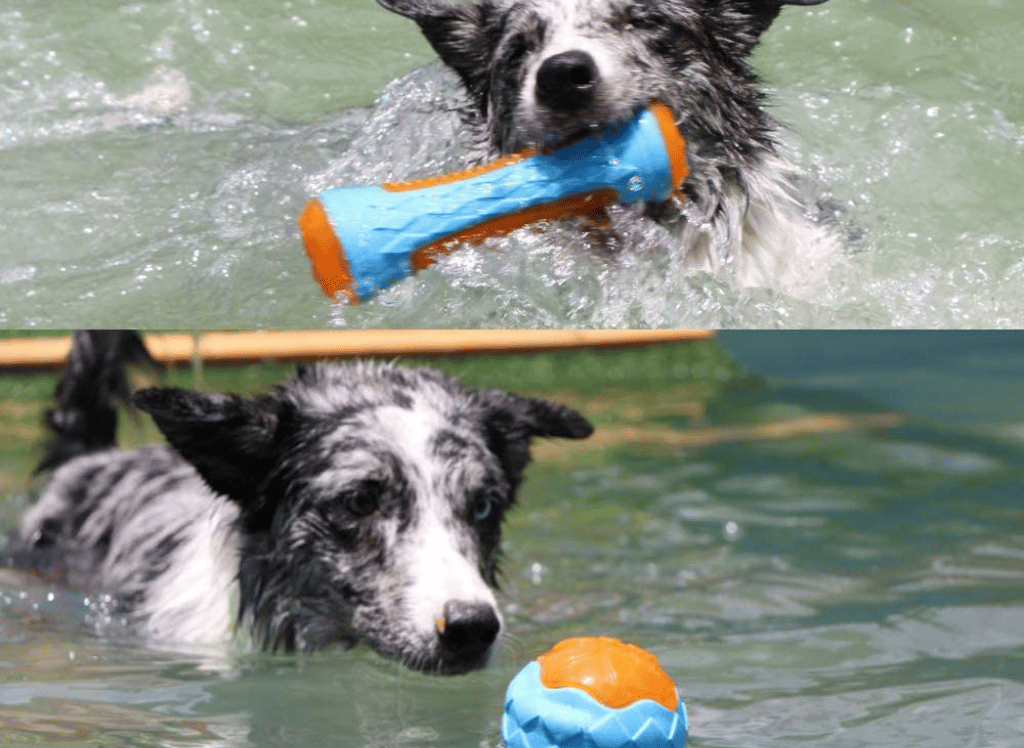 6. CoubonTail Dog Floating Toys
Check Price on Amazon
Why We Love It
CoubonTail floating dog toy is an ideal way to keep your pup entertained both in and out of the water. This squeaky toy kit is designed with a super loud, crisp sound inside for easy squeeze play that will draw your pup's attention each time. With its unique ability to float, these toys make great fetching games for your fur baby whether it be in a pool, lake or at the sea.
Things to Know
CoubonTail floating toy is made of safe and non-toxic TPR material, these toys are both tough and bouncy - perfect for fetching, tossing, tugging, or even just chewing. With their bumpy texture design and hollow interior, they help clean teeth while providing an exciting range of textures that can hold the attention of even the most active pup. Not only will your furry friend have hours of fun with these toys but you'll also be able to rest assured knowing that they're getting the exercise they need while reducing anxiety or boredom in a safe environment.
Water Toys for Dogs FAQs
Raquels Reviews has created a list of the most Frequently Asked Questions about Water Toys for Dogs. Get all the information you need to make an informed decision on what type of water toy is best suited for your furry friend's needs. With our helpful guide, you'll find just what you're looking for!
1. What types of water toys are suitable for dogs?
Pool toys designed specifically for dogs can include floating rubber toys, squeaky toys, dog chew toys, and interactive dog toy options. When selecting a water pet toys for your dog, be sure to choose one that has durable materials. Look for items made with durable rubber or other materials that are unlikely to break down in the water. Additionally, check for any signs of a choking hazard and ensure the toy is large enough for your specific dog breeds. Finally, make sure the toy appeals to your pup – every dog loves toys that squeak or interact with them. With the right toy, your pup will have plenty of hours of enjoyable water fun!
2. What are some of the best floating dog toys?
Some of the best floating dog toys include rubber dumbbells, chewable water bottles, beach balls, and bumper boats. Rubber dumbbells are a great way to provide easy dog training by helping the mental stimulation for your pup and promote healthy chewing habits. Chewable water bottles can be filled with treats and give your pup something to play with in the water. All of these toys are designed to be durable and float in the water, so they're sure to provide plenty of fun for your small and large dogs!
Final Thoughts About the Best Dog Water Toys
It's clear that the best dog water toy are those that can provide hours of entertainment and exercise, while also being safe and durable. The six products we discussed today are all great options to keep your pup entertained in the pool or at the beach this summer. Whether you choose a dog pool like the Flyboo Splash Sprinkler Pad or an interactive one such as the Chuckit! Amphibious Bumper Fetch, you can rest assured knowing that it will be enjoyed by both you and your four-legged friend. So go ahead – give them something special they'll love playing with during their next trip to the lake!
Are you a shopping enthusiast looking for more fun while browsing? With Two Free Audiobooks from Audible Plus and 30 days of free access to Amazon Prime Music, you can now listen to your favorite audiobooks and music while you shop! Plus, with Amazon Prime's lightning-fast 2-day shipping. Get a Free 30-day trial of Amazon Prime today and enjoy these amazing benefits!
Happy Shopping! :)