Unleash the Holiday Cheer: Top 11 Christmas Dog Toys
Unleash holiday cheer with our top 11 Christmas dog toys! These durable and fun-filled toys will make your furry friend's holiday season truly special. Whether you have a small pup or a large hound, we've got the perfect toy to bring home the joy of Christmas!
Welcome to Raquel's Reviews! As an Amazon Associate, we may earn a commission from qualifying purchases, but we promise the prices are still the same for you!
If you thought Christmas couldn't get more exciting, just wait until you see your dog's face light up with our top eleven Christmas dog toys!
The holiday season is about more than just festive cheer for us humans; it's a time to ensure our furry friends experience the same joy and magic. Whether it's a small pup discovering their first Christmas or a seasoned large hound waiting for their annual holiday treat, there's something here for every canine companion.
Dive into our list and discover a world of holiday fun that will have your pet's tail wagging harder than ever! The holiday season is here and it's about to get a whole lot brighter (and bouncier!) with these amazing toys. Let's unleash that holiday cheer and make it a Christmas to remember for our four-legged best buddies!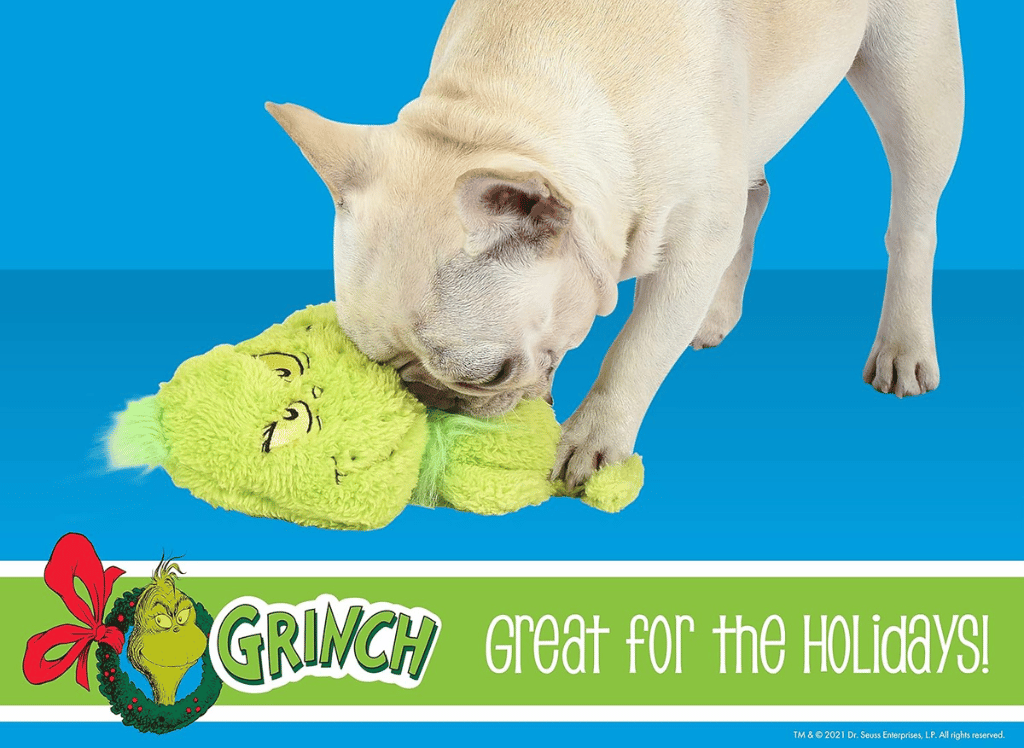 1. Dr. Seuss The Grinch Plush Dog Toy
See Price on Amazon
Why We Love It
Your dog will absolutely adore snuggling and playing with this green, soft, and squeaky plush toy. It's a must-have for Dr. Seuss and Grinch fans, allowing you to share your love for the Grinch with your beloved pet. Not only will it keep your pet endlessly entertained with its squeaky feature, but it's also safe for all dogs. Add this delightful Grinch plush toy to your dog's toy collection and watch them enjoy it from their toy bin!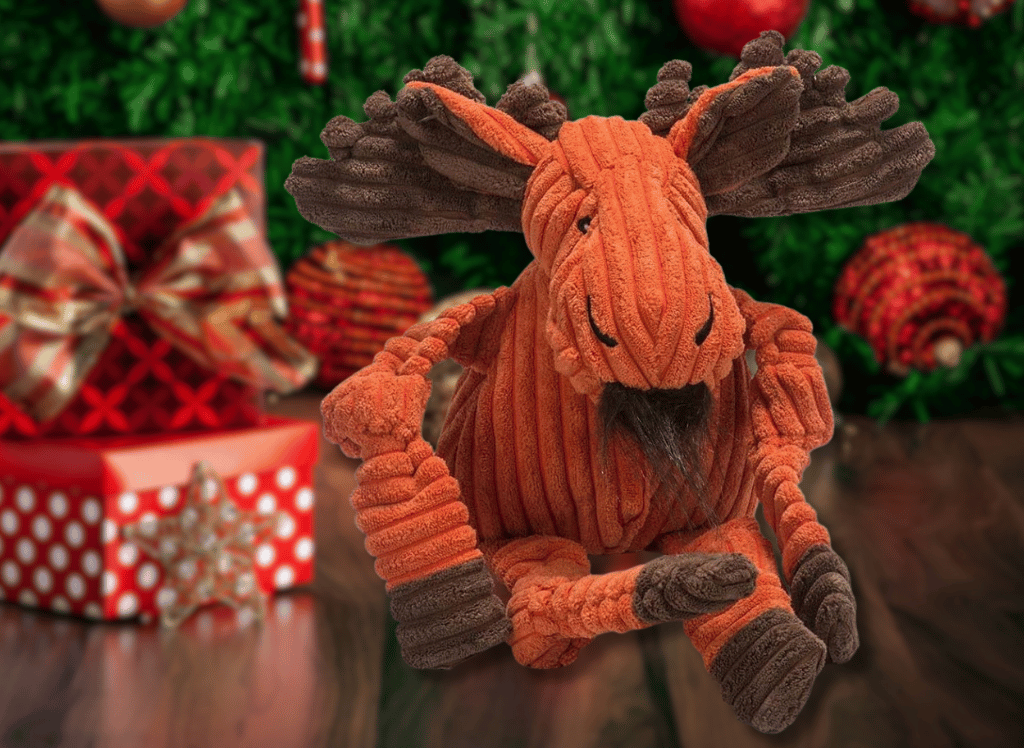 2. HuggleHounds Knotties Moose Plush Dog Toys
See Price on Amazon
Why We Love It
These toys are not only plush and squeaky, but they are also tough and durable, ensuring hours of playtime fun. With their knotted limbs, they are perfect for both puppies and large dogs. Plus, the Tuffut Technology lining adds extra durability, making these toys long-lasting. Available in two sizes, they are suitable for both large and small dogs. And let's not forget the multiple squeakers in each toy, guaranteed to keep your pet entertained and excited.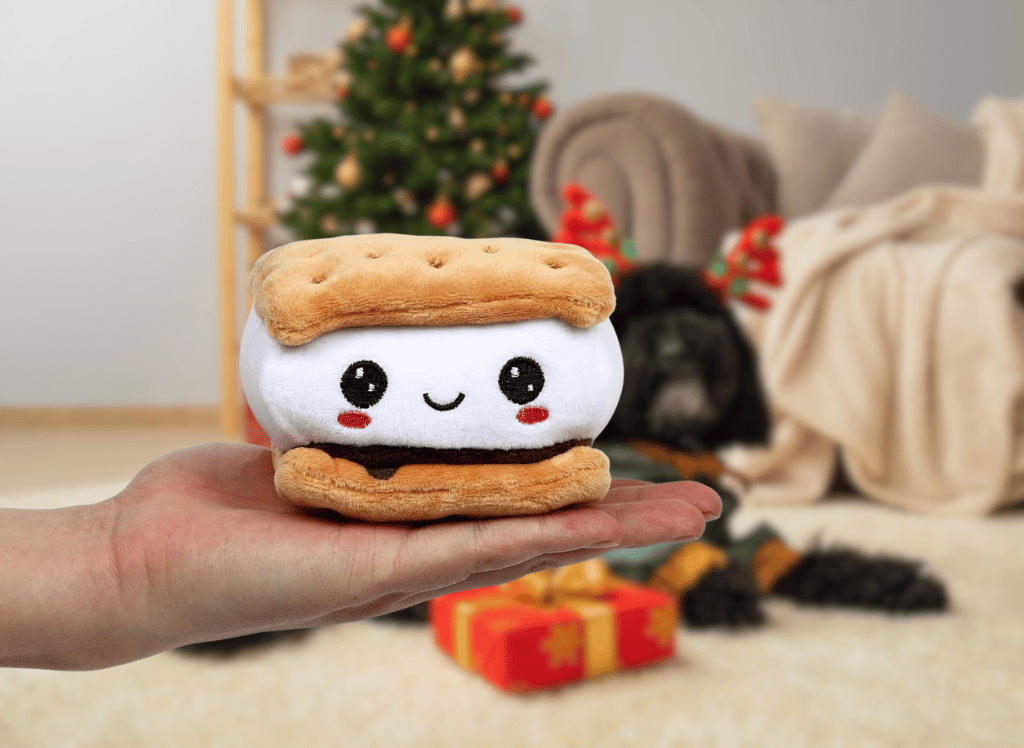 3. Fuyage Cream Smore Biscuit Squeaky Plush Dog Toy
See Price on Amazon
Why We Love It
This adorable toy is not only cute with its vivid embroidery design, but it also provides high quality and durability. The built-in BB squeaker adds an extra element of fun, encouraging your pet to play and fetch. With just the right size for small and medium dogs, this toy is suitable for all breeds. Plus, you can have peace of mind knowing that the dog-friendly materials used are non-toxic and odorless, ensuring the safety of your beloved pet. While no toy is indestructible, this toy will surely bring joy and entertainment to your furry friend this Christmas season.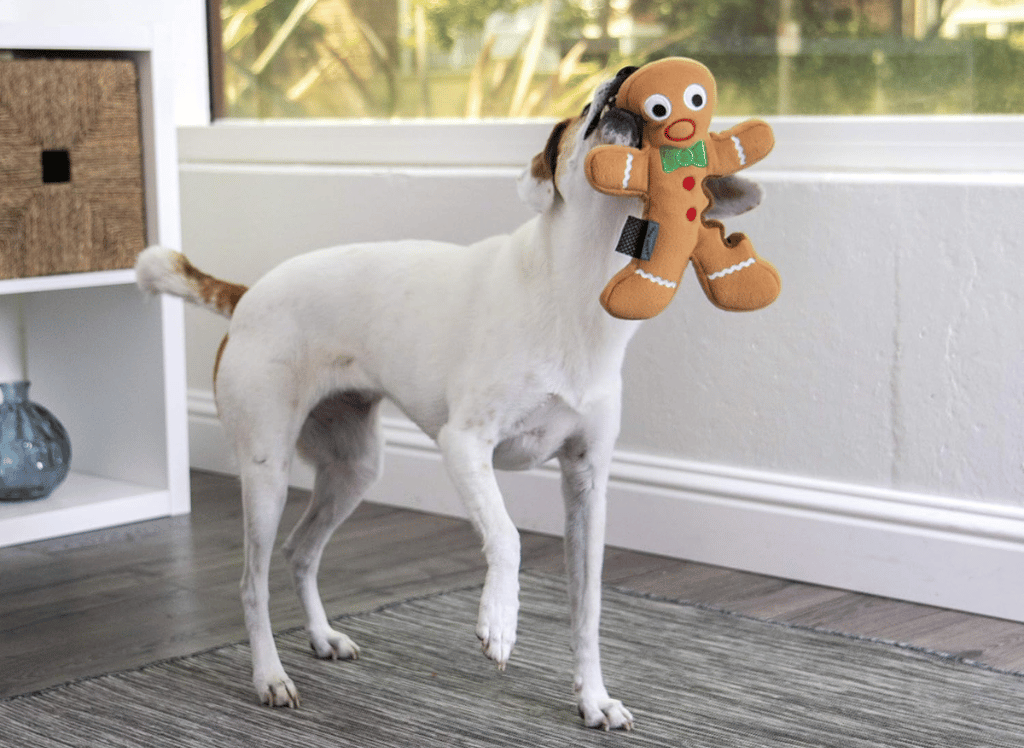 4. goDog Christmas Gingerbread Man Squeaky Plush Dog Toy
See Price on Amazon
Why We Love It
This soft and plush toy is designed to celebrate the holiday season with your pup. It features reinforced seams and a chew-resistant lining, ensuring hours of fun and interactive play. But what makes it even more exciting is the built-in squeaker that will entice and excite your pup, satisfying their hunting instincts and keeping them engaged during playtime. Not only does this toy provide immediate auditory feedback, but it also offers enrichment and stimulation, catering to your dog's natural behavior. And if your pet loves to cuddle, this adorable plush toy is the perfect companion. With its durable Chew toys Guard Technology, it's designed to last longer than your average dog toy.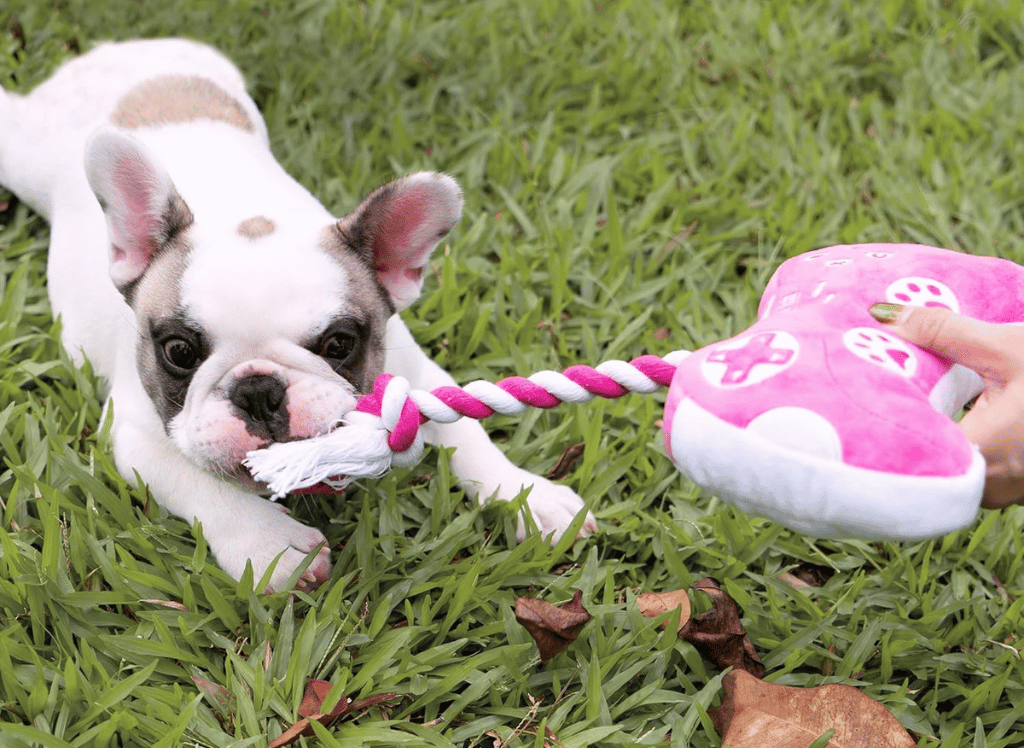 5. MTERSN Cute Dog Game Controller Plush Toys
See Price on Amazon
Why We Love It
This squeaky dog toy is not only adorable but also designed to be the perfect chewing target, satisfying their natural instincts while relieving gum discomfort and teething pain. Crafted from premium and highly durable cotton and plush fillings, it's built to withstand hours of play. Plus, the waterproof layer ensures long-lasting durability and hygiene. With three squeakers and crinkle paper, it's sure to keep your dog entertained and engaged during playtime. And don't forget the cotton rope for interactive tug of war games, promoting intimate interaction and exercise!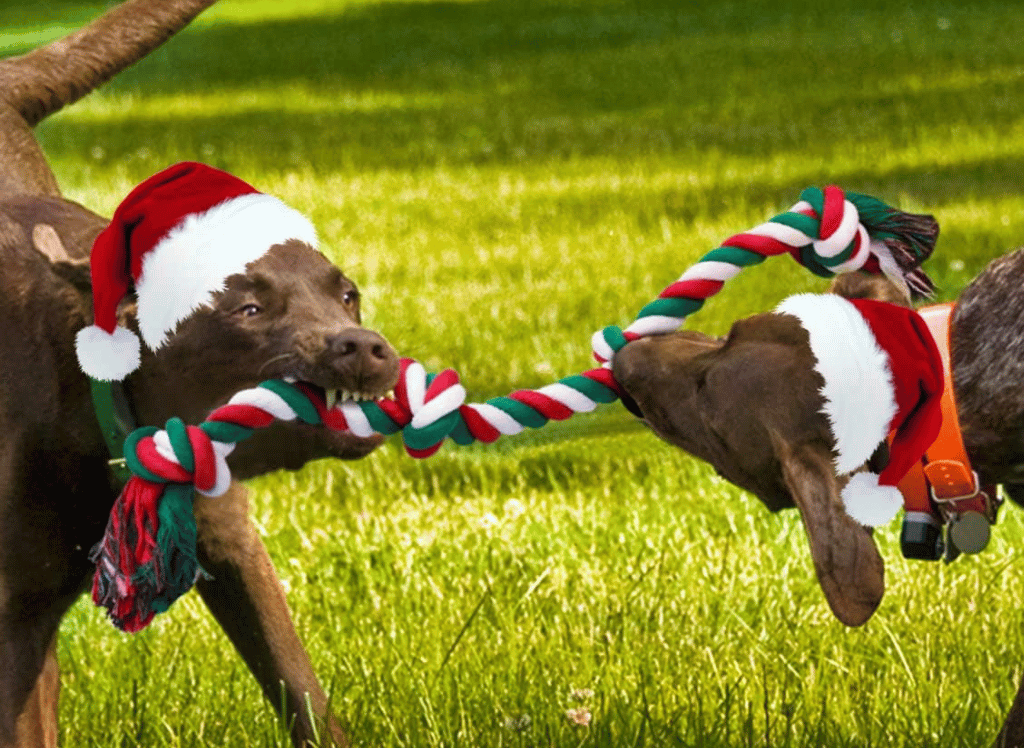 6. Feeko Christmas Dog Rope Toys
See Price on Amazon
Why We Love It
These toys are specially designed for large dogs and aggressive chewers, providing endless fun and durability. Made with 100% natural cotton ropes, they are not only safe but also perfect for teeth cleaning. The fibers gently floss in between your dog's teeth, preventing dental plaque and keeping their teeth sparkling white. And that's not all! These toys are great for interactive games like tug of war, helping to redirect your furry friend's attention from furniture and shoes to their new favorite toy!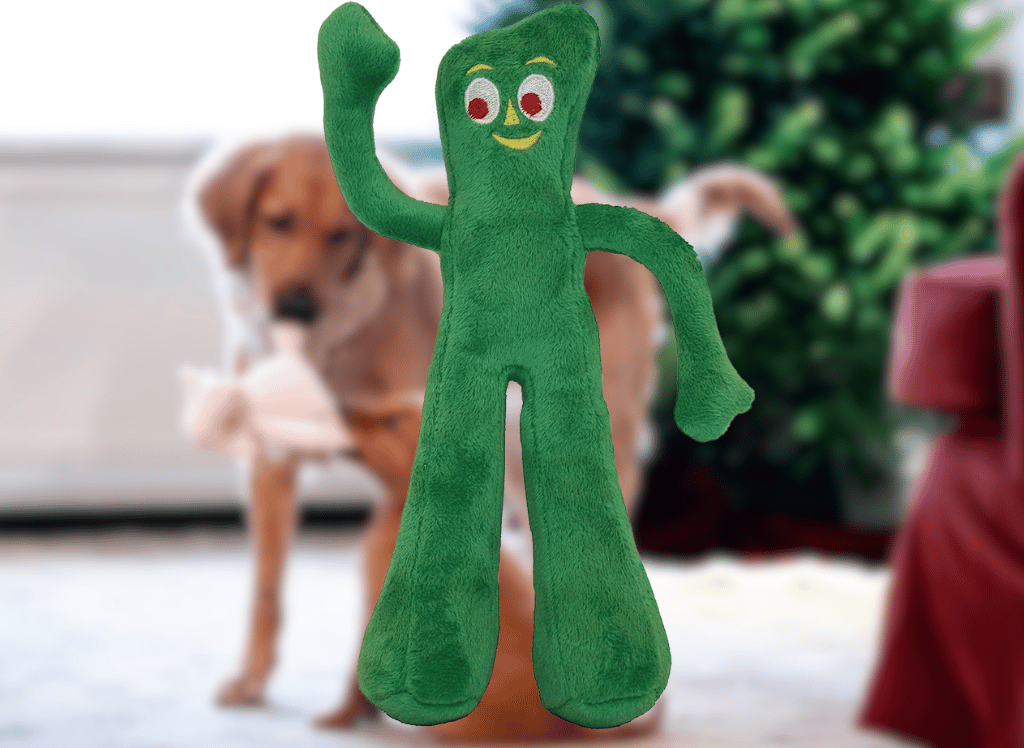 7. Multipet Gumby Plush Filled Dog Toy
See Price on Amazon
Why We Love It
This officially licensed toy is not only a nostalgic delight but also a fantastic companion for your pet. With its flexible arms and legs, it provides interactive playtime fun that will keep your dog entertained for hours. Plus, the built-in squeaker adds an extra element of excitement! Safety is a priority, so remember to supervise your pet while playing and discard any damaged toys. With a size of 9 inches, this toy is suitable for dogs of all sizes, from small to medium to large!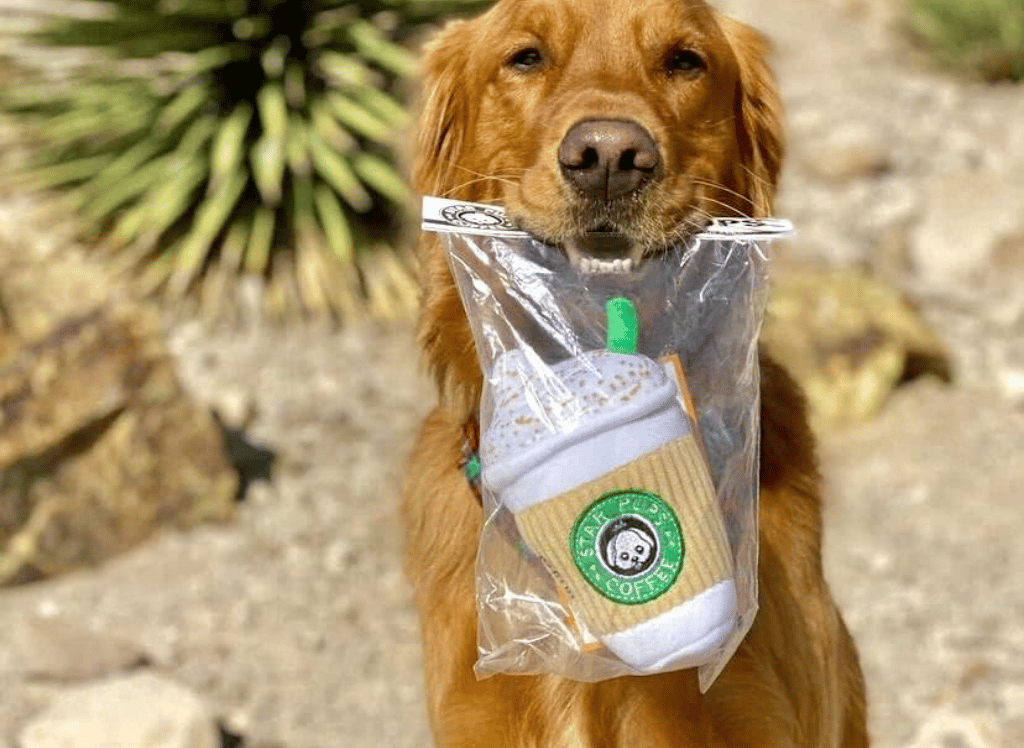 8. Parody Star Pups Coffee Dog Toy Pup'kin Spice Latte
See Price on Amazon
Why We Love It
This toy is a must-have for Starbucks lovers who want to include their loyal companion in their morning routine. With a squeaker inside, it will keep your pup entertained while you enjoy your own cup of java. Not only is it a unique and fun gift for any dog lover or for a dog's birthday or puppy party, but its 6.5-inch size makes it suitable for small, medium, and large dogs alike. Treat your dog to this adorable toy and let them join in on the holiday cheer!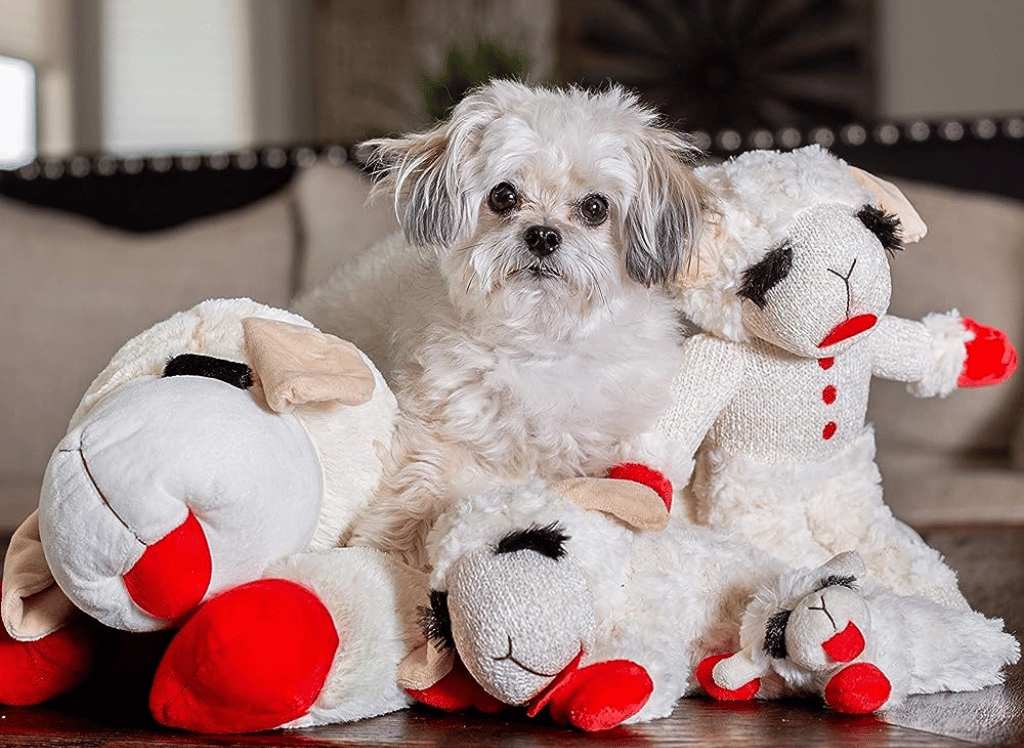 9. Multipet Lambchop Plush Dog Toy
See Price on Amazon
Why We Love It
This classic and beloved toy, inspired by Shari Lewis, is a favorite among dogs of all sizes. The extra soft plush exterior makes it ideal for cuddling, while the built-in squeaker adds an element of playtime fun. Measuring at 10" in size, it's perfect for both small and large dogs. Plus, with the added benefit of supervision during playtime, you can ensure your pet's safety. Don't miss out on this fantastic toy that will bring joy to your pup this holiday season!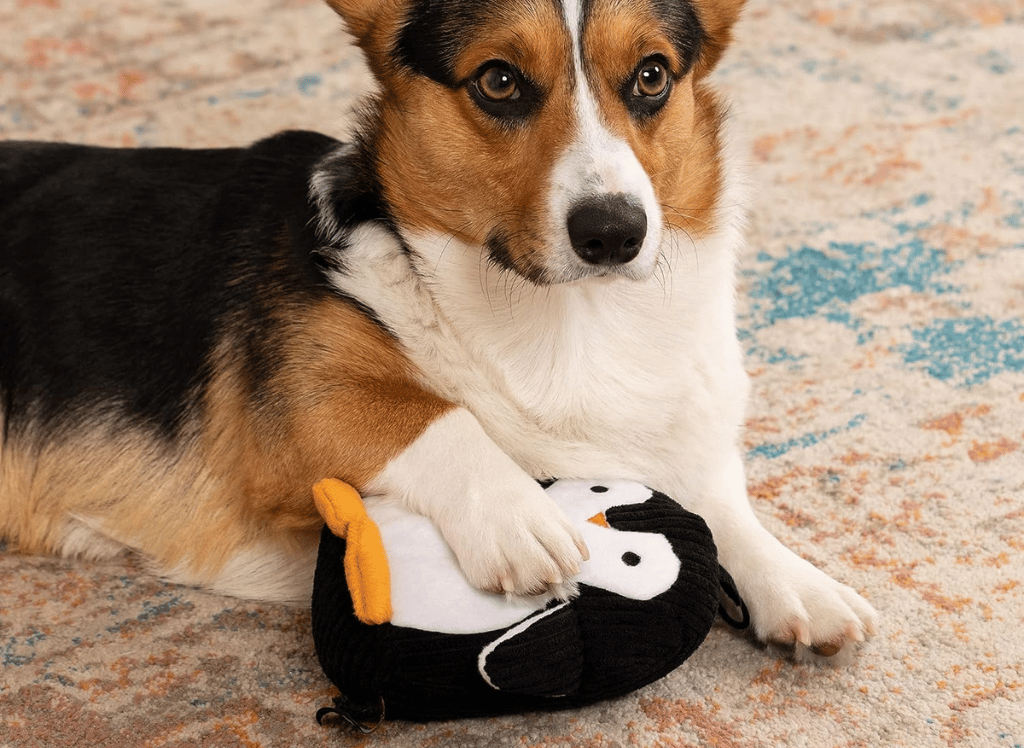 10. TrustyPup Strong 'N Silent Penguin Dog Toy
See Price on Amazon
Why We Love It
This adorable penguin toy is not only fun and super cute, but it's also made with irresistibly soft plush fabric that dogs love to cuddle with. With reinforced seams and a chew-resistant lining, it's built to withstand long-lasting play and snuggles. But here's the best part - the patented silent squeaker! Designed to be audible to dogs but out of the human hearing range, it provides the same fun and excitement as a classic squeaky toy without all the extra noise. Plus, it's the best buddy for pets that love to curl up and snuggle with soft, plush toys!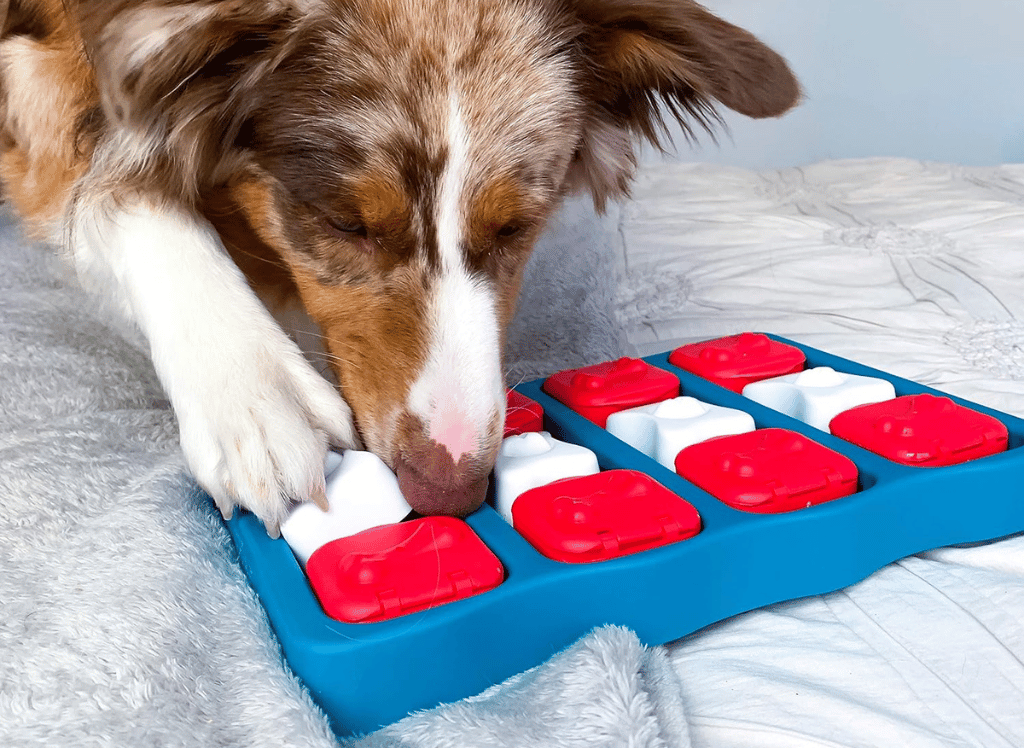 11. Outward Hound Interactive Treat Puzzle Dog Toy
See Price on Amazon
Why We Love It
And last on our list is the Outward Hound Interactive Treat Puzzle Dog Toy. This amazing toy offers different levels of difficulty, keeping your furry friend focused and mentally stimulated as they search for tasty treats! The Dog Brick puzzle includes additional obstacles and combinations of steps to challenge your dog's skills. With three types of treat hiding compartments, including flip lid compartments and removable brick bones, this puzzle dog toy will keep your pup entertained for hours. Not only is it fun and rewarding, but it's also great for reducing anxious behavior and redirecting destructive tendencies!
Christmas Dog Toys FAQs
You've seen our top picks for the holiday season. But we know you might still have some burning questions about finding the perfect Christmas toy for your canine companion. Not to worry, we've got your back! In the next section, we're going to tackle some of the most frequently asked questions about Christmas dog toys. From understanding what makes a toy 'safe' to finding the best options for aggressive chewers, we've got all the answers you need. So, without further ado, let's dive right into our Christmas Dog Toys FAQs!"
1. What makes a Christmas dog toy safe for my pet?
Safety should always be a priority when selecting a toy for your pet under the Christmas tree. Christmas dog toys that are safe typically are made from non-toxic materials, have no small parts that can be swallowed, and are durable enough to withstand your dog's chewing. Always supervise your pet during playtime and replace any toys that are broken or worn out.
2. Are there Christmas dog toys suitable for aggressive chewers?
Yes! There are Christmas dog toys specifically designed for aggressive chewers. These toys are made from durable materials that can withstand intense chewing. Some of them, like the Feeko Christmas Dog Rope Toys mentioned earlier, are made from 100% natural cotton ropes, making them not only tough but safe for your pet.
3. Can Christmas dog toys help with my pet's dental health?
Absolutely! Some holiday dog toys, like rope toys or chewable toys, can aid in your dog's dental health. As your pet chews on the toy, the fibers can help to clean their teeth and gums, removing plaque and tartar build-up.
Final Thoughts About Christmas Dog Toys
Well, there you have it! Our top 11 Christmas dog toys that are guaranteed to bring more joy and fun to your furry friend's holiday season. From squeaky plushies to brain-boosting puzzles, we've covered all sorts of toys to cater to every dog's playstyle and needs. Remember, the best gift you can give your pet is love, attention, and a whole lot of playtime. And these toys are just the perfect way to express that love and make this Christmas truly special for them. So go ahead, indulge in the holiday spirit, and make your pet's Christmas as magical as ever! Here's wishing you and your four-legged family members a Happy Holidays! Enjoy this special time with your furbabies and make it a festive season to remember!
Happy Shopping! :)
💡
Are you a shopping enthusiast looking for more fun while browsing? With
Two Free Audiobooks
from Audible Plus and
30 days of free access
to Amazon Prime Music, you can now listen to your favorite audiobooks and music while you shop! Plus, with Amazon Prime's lightning-fast 2-day shipping. Get a
Free 30-day trial
of Amazon Prime today and enjoy these amazing benefits.