Top 5 Must-Haves for Your Perfect Christmas Pajama Party
Get ready to jingle all the way with our top 5 must-haves for the perfect Christmas pajama party! From cozy flannel PJs to delicious hot cocoa, we've got the lowdown on everything you need to make your holiday gathering a hit! Stay tuned, party elves!
Welcome to Raquel's Reviews! As an Amazon Associate, we may earn a commission from qualifying purchases, but we promise the prices are still the same for you!
Get ready to jingle all the way because a Christmas Pajama Party is the coziest and most fun-filled way to celebrate the season!
Imagine an evening filled with laughter and cheer, the glow of the Christmas tree illuminating your festive pajamas while you and your loved ones indulge in hot cider and classic holiday movies. Sounds magical, right?
Well, hold onto your Santa hats because we're about to sprinkle a little extra sparkle on your holiday soirée. Our top 5 must-haves, carefully curated for your Christmas PJ party, will ensure your celebration is not just good, but unforgettably phenomenal!
So, fluff up your pillows, get your hot chocolate ready with a dollop of whipped cream, and let's dive into how we can make your holiday pajama party the talk of the North Pole!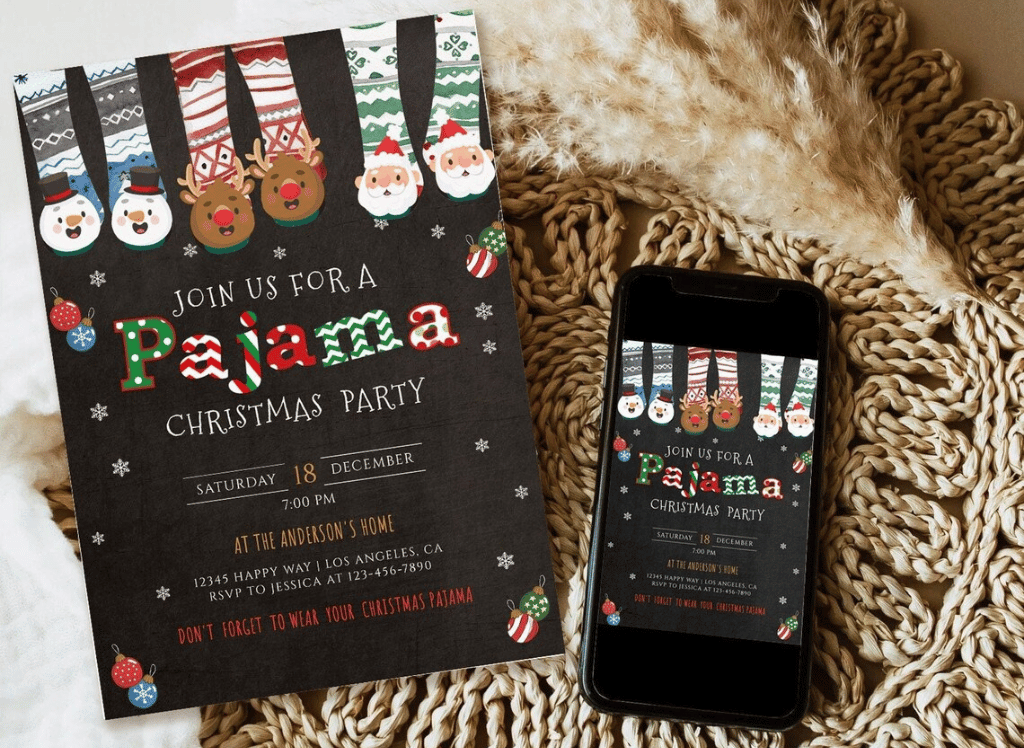 1. Christmas Pajama party Invitations
See Price on Etsy
Why We Love It
These invitations are here to make your party planning a breeze. With editable templates, you can easily customize them right on your phone or mobile device. Say goodbye to the hassle of printing and mailing invitations - simply download the template and you're good to go! Whether you're hosting a cozy family gathering or a lively pajama extravaganza, these Christmas Pajama Party Invitations are an essential tool to set the tone for a fun-filled and memorable event.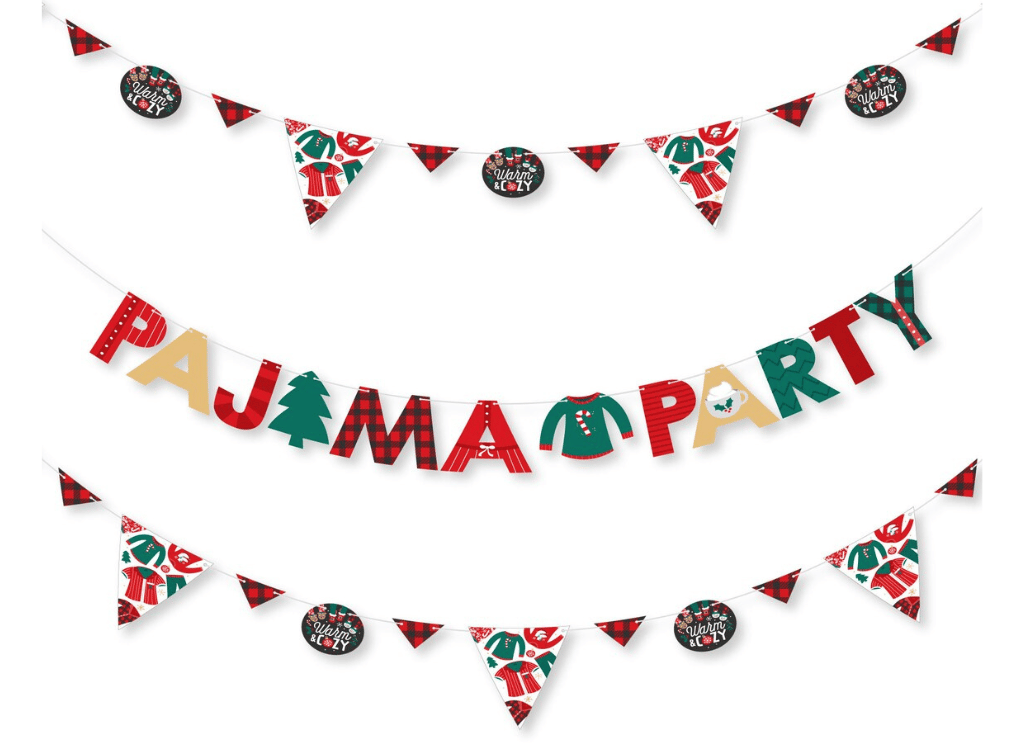 2. Holiday Plaid PJ Party Letter Banner Decoration
See Price on Etsy
Why We Love It
With its charming plaid holiday letters and delightful assortment of pennants, this decoration is an absolute must-have. Hang it up as one large banner or get creative by cutting it into different lengths and displaying it in multiple rows. The possibilities are endless! Not only will this letter banner add a festive touch to your party, but it will also impress your guests as they walk in. So, get ready to make your Christmas Pajama Party truly magical with this eye-catching decoration. Trust us, it's an essential ingredient for a night of unforgettable memories!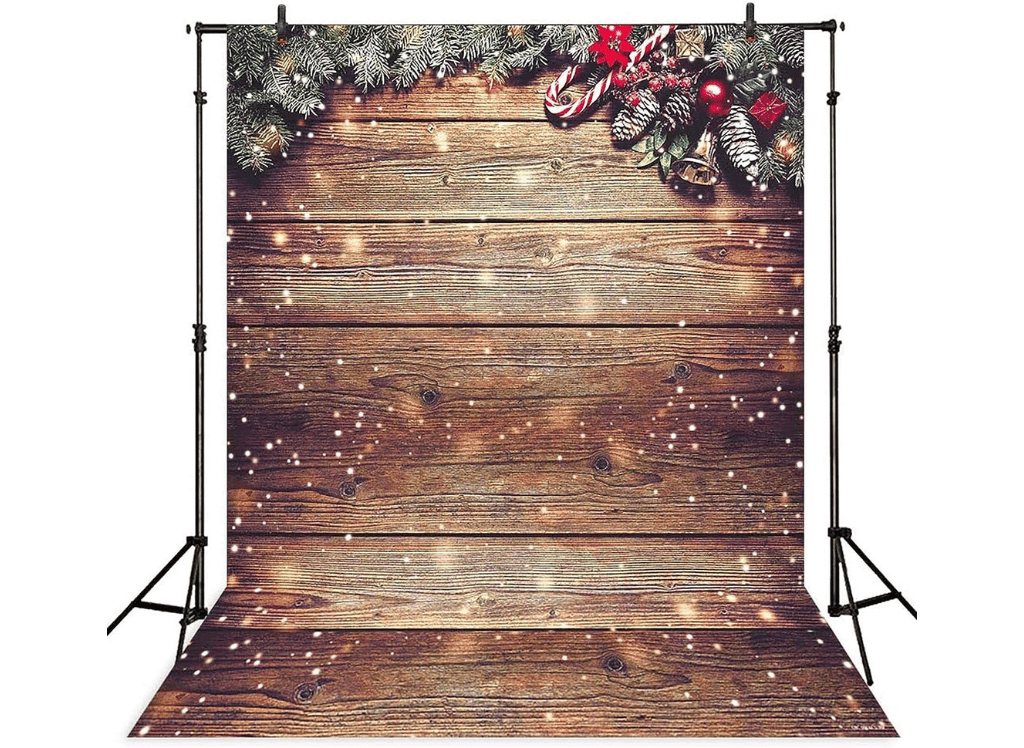 3. Allenjoy Holiday Photography Backdrop
See Price on Amazon
Why We Love It
Capture the magic of your Christmas Pajama Party with the Allenjoy 5ft x 7ft Holiday Photography Backdrop! This 59in width x 82in height Christmas Photo Backdrop is the perfect addition to your festivities. Its high-resolution digital print brings your photos to life with eye-catching details and lifelike colors, making every picture pop! Made with professional Photography Fabric (Econ Vinyl), it ensures a seamless and professional look. Get ready to strike a pose and create memorable moments that you can proudly share on Pinterest. Let's make your party shine with joyful and playful photos that will leave everyone in awe!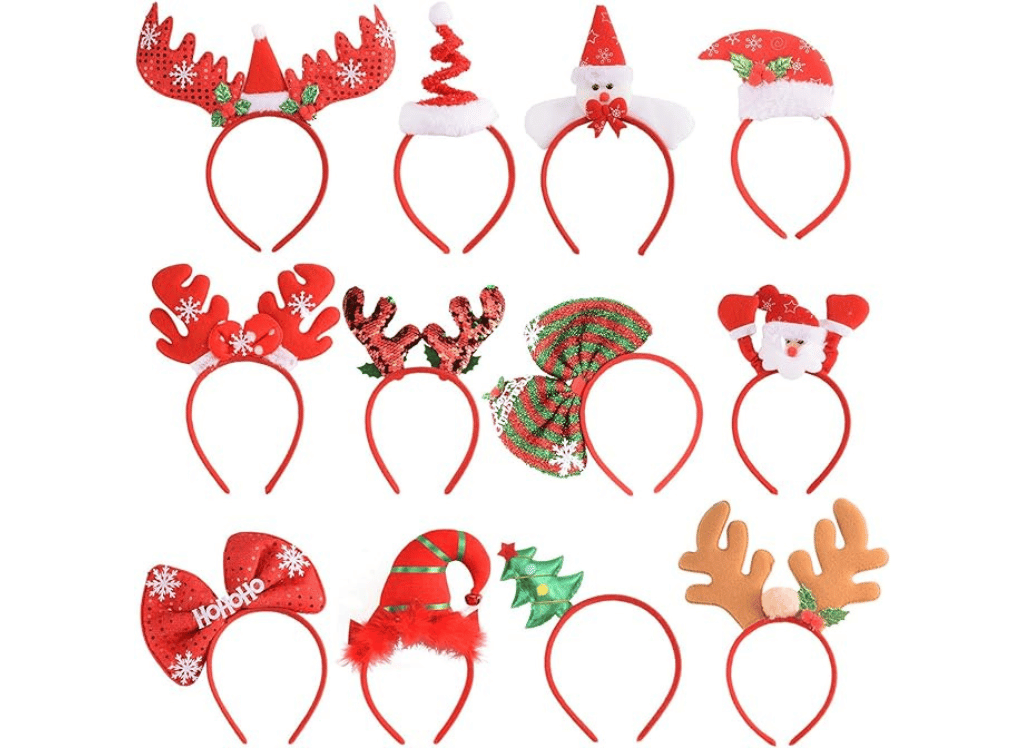 4. SEVEN STYLE 12 PCS Holiday Headbands
See Price on Amazon
Why We Love It
Get ready to level up your Christmas Pajama Party photos with SEVEN STYLE 12 PCS Holiday Headbands! These headbands are an absolute must-have to add that extra dose of festive cheer to your pictures in front of the backdrop photobooth. With a variety of adorable designs including Reindeer, Santa Claus, Santa hat, and Christmas tree headbands, these little accessories are not only pretty and lovely but will also make the kids go wild with excitement! Plus, they are super flexible and made from soft, durable fabric, ensuring a comfortable and snug fit for everyone!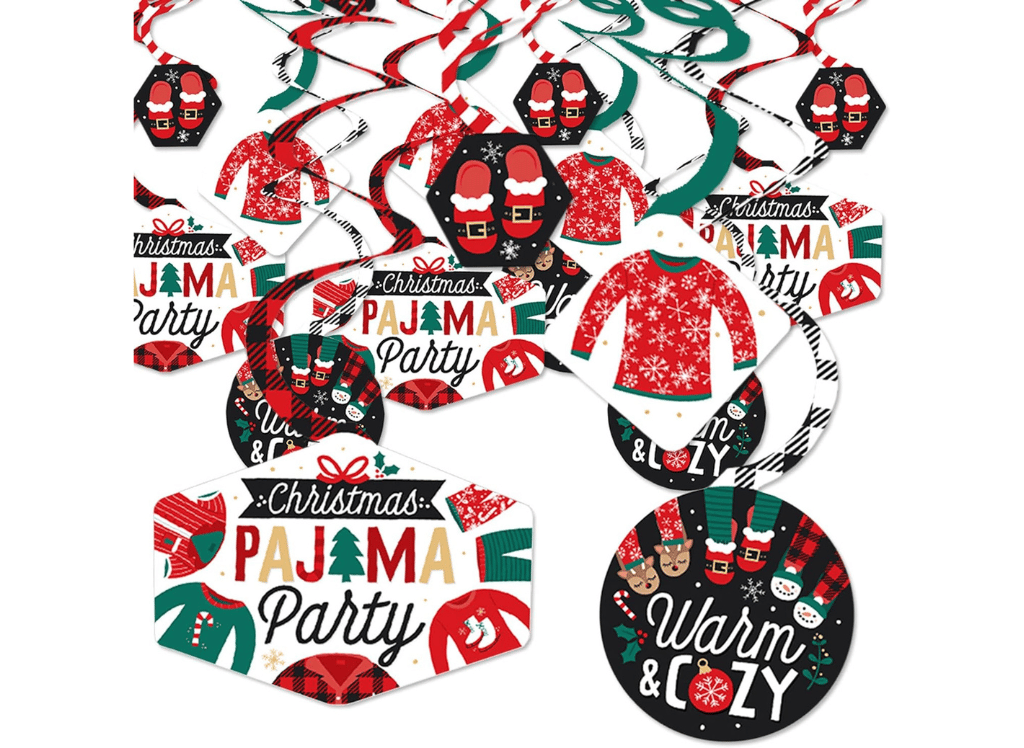 5. Big Dot of Happiness Christmas Pajamas Party Decoration Swirls - Set of 40
See Price on Amazon
Why We Love It
Last on our list, but certainly not least, are the Big Dot of Happiness Christmas Pajamas Party Decoration Swirls! These amazing swirls come in a set of 40, featuring 4 different shapes with 10 counts per shape. Hang them below an accordion-style spiral with the included clear hooks and watch the magic unfold! With sizes ranging from 5 inches to 7.75 inches, these swirls add a pop of color and excitement to your holiday plaid pj party. They are easy to assemble using the pre-cut holes and clear hooks provided. Made with high-quality, double-sided cardstock paper, these swirls are designed and manufactured in the USA with utmost care.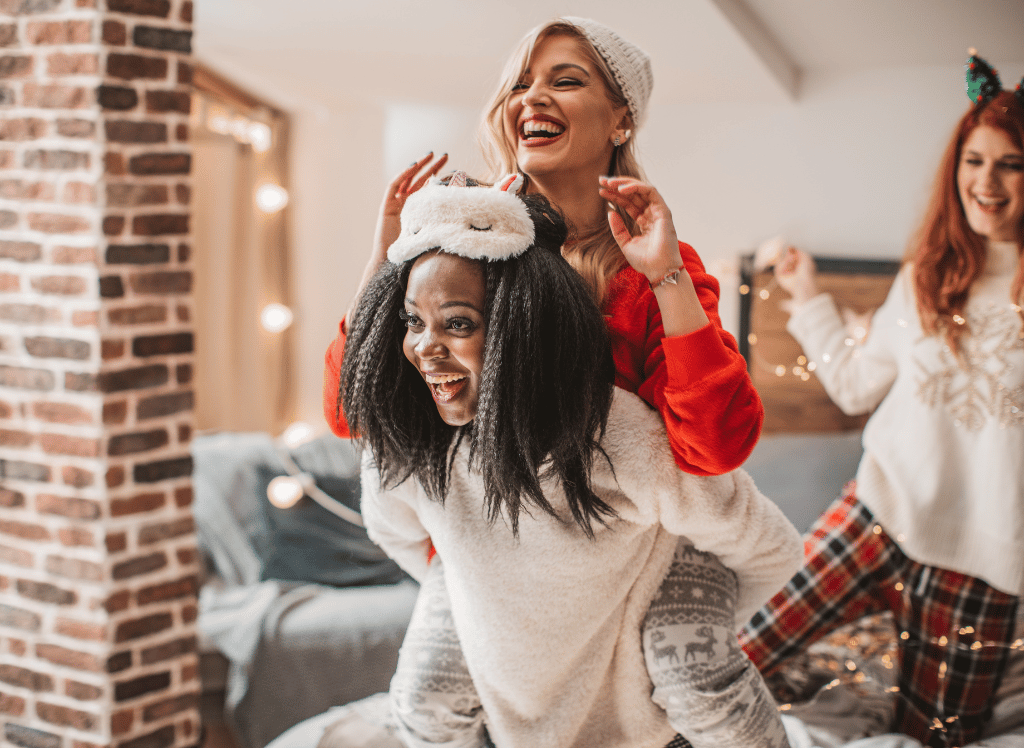 Christmas Pajama Party FAQs
Alright, festive folks, we know you're buzzing with questions—how to host your party, what games to include, or even what type of pajamas to wear? Don't worry, we've got you covered!
Welcome to our Christmas Pajama Party FAQs, where we'll unwrap the answers to your jolliest queries! So, sit back, sip your hot chocolate, and let's dive into a flurry of festive facts!
1. What are the best types of pajamas for a Christmas Pajama Party?
The best types of pajamas for a Christmas Pajama Parties are those that make you feel comfortable and festive. The classic choice is holiday-themed or plaid pajamas, but don't restrict yourself - feel free to go wild with reindeer onesies, Santa-print PJs, or even a cozy winter-inspired ensemble. Just remember, the key is to embrace the holiday spirit and have fun!
2. How do I decorate for a Christmas Pajama Party?
Decorating for a Christmas Pajama Party is all about creating a warm, festive, and cozy atmosphere. Think Christmas lights, holiday banners, and table decor. Don't forget the Christmas tree, and consider adding a holiday photo backdrop for fun pictures!
3. What food and drinks should I serve at my Christmas Pajama Party?
Comfort food and warm drinks are best for a Christmas Pajama Party. Hot chocolate, apple cider, and holiday-themed cookies or cupcakes would be perfect. Don't forget the marshmallows!
4. What are some fun activities for a Christmas Pajama Party?
Classic Christmas movies, DIY ornament crafting, and board games are always a hit. You could even have a cookie decorating contest. And don't forget the photo booth fun with those adorable holiday headbands!
5. Can I have a Christmas Pajama Party outdoors?
Absolutely, if you're in a climate that permits it! Set up an outdoor movie screen, light a bonfire, and provide cozy blankets. It can be a magical experience, just ensure everyone is dressed warmly!
6. What's a good time to start a Christmas Pajama Party?
Since it's a pajama party, consider starting in the late afternoon or early evening, so you can enjoy the party long into the night!
7. What kind of music should I play?
Christmas tunes are a must! Create a playlist with a mix of classic holiday hits and modern Christmas songs to keep the festive spirit high.
8. How do I ensure my guests feel cozy and comfortable at the party?
Provide plenty of cozy seating options, like floor cushions, bean bags, and throw blankets. Also, keep the temperature warm and inviting.
9. Can I throw a Christmas Pajama Party for adults?
Absolutely! A Christmas Pajama Party isn't just for kids. Adults can enjoy the coziness, relax, and let their inner child out for the night!
10.
What should I send as invitations for my Christmas Pajama Party?
Make your invitations fun and festive. You can use one of the many online templates available and send digital invitations. Remember to mention that it's a pajama party, so guests know to come dressed in their holiday best!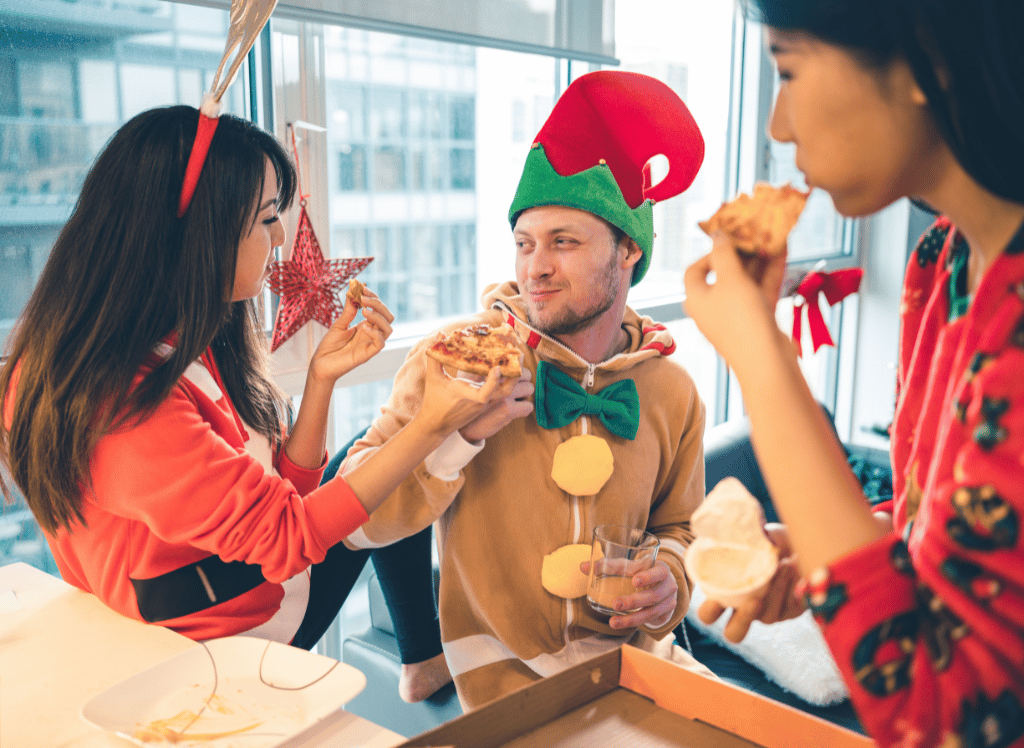 Final Thoughts About Christmas Pajama Party
So, there we have it, folks - your top 5 Christmas Pajama Party must-haves! From the perfect party invitations to the cutest holiday headbands, these picks will have you and your crew decking the halls in style! Remember, the magic of the season isn't just in the twinkling lights or the falling snow - it's in the laughter, the memories, and the cozy nights spent together. So, pull on your favorite plaid PJs, grab a mug of hot cider, and prepare for the jolliest PJ party this side of the North Pole!
Happy Shopping! :)
Are you a shopping enthusiast looking for more fun while browsing? With Two Free Audiobooks from Audible Plus and 30 days of free access to Amazon Prime Music, you can now listen to your favorite audiobooks and music while you shop! Plus, with Amazon Prime's lightning-fast 2-day shipping. Get a Free 30-day trial of Amazon Prime today and enjoy these amazing benefits.