Holiday Cheers: 7 Stunning Christmas Party Invitations
Get ready to jingle all the way with our exciting roundup of 7 stunning Christmas party invitations! Ignite the holiday spirit in your guests from the moment they open their mail. So, whether you're planning a silent night or a rocking Christmas party, we've got an invitation to match your style!
Welcome to Raquel's Reviews! As an Amazon Associate, we may earn a commission from qualifying purchases, but we promise the prices are still the same for you!
There's a certain magic that comes with a Christmas party invitation. It's not just a piece of paper or an email, it's the first glimpse of the merry times to come!
A well-crafted invitation sets the tone, builds anticipation, and gets your guests into the holiday spirit right from the get-go. It's your party's opening act, the tantalizing appetizer before the main course.
So, to make sure your Christmas bash gets off to a sparkling start, we've curated a list of our top 7 Christmas party invitations. Each one is a little piece of holiday cheer, guaranteed to make your celebration even more memorable!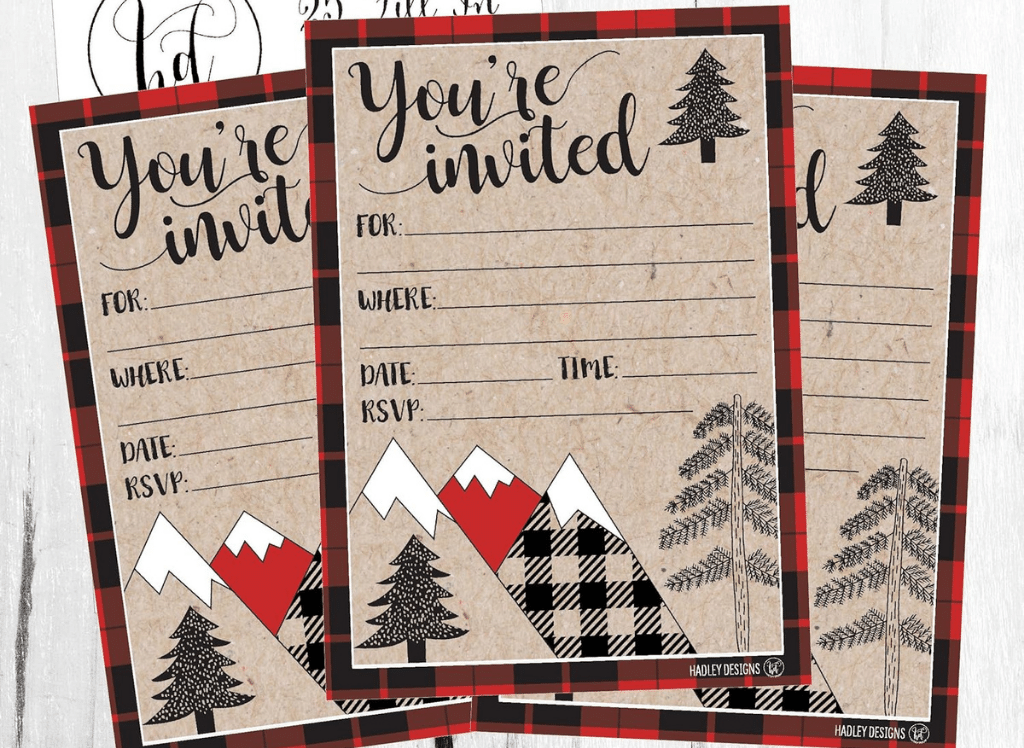 1. Hadley Designs 25 Plaid Woodland Holiday Invitations
See Price on Amazon
Why We Love It
Oh, we can't contain our excitement about these Hadley Designs 25 Plaid Woodland Holiday Invitations! They are the perfect fit for your rustic Christmas party theme. Not only are they beautifully designed, but they are also easy to write on, thanks to the thick high-quality premium cardstock. And here's the fun part - you have the option to send them as postcards! Just imagine the joy your guests will feel when they receive these delightful invites in the mail. Envelopes? Who needs them!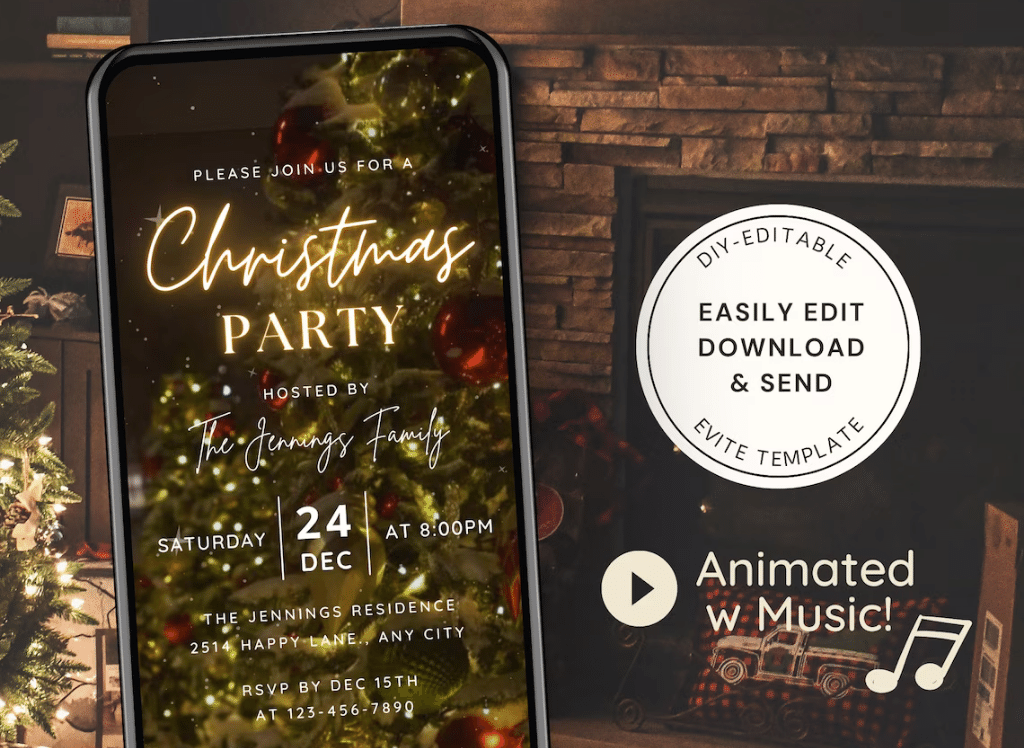 2. Animated Christmas Party Invitation - Digital Template
See Price on Etsy
Why We Love It
Get ready for an unforgettable Christmas party experience with these animated Christmas Party Invitations! This editable mobile invitation brings the festive spirit to life with its digital features. Imagine your guests receiving an invitation that not only looks amazing but also plays cheerful holiday music, setting the perfect tone for your dinner Christmas party. It's the ideal way to engage your friends and family in a fun and interactive way. Share the joy via text message, email, or on social media, and let the party planning begin!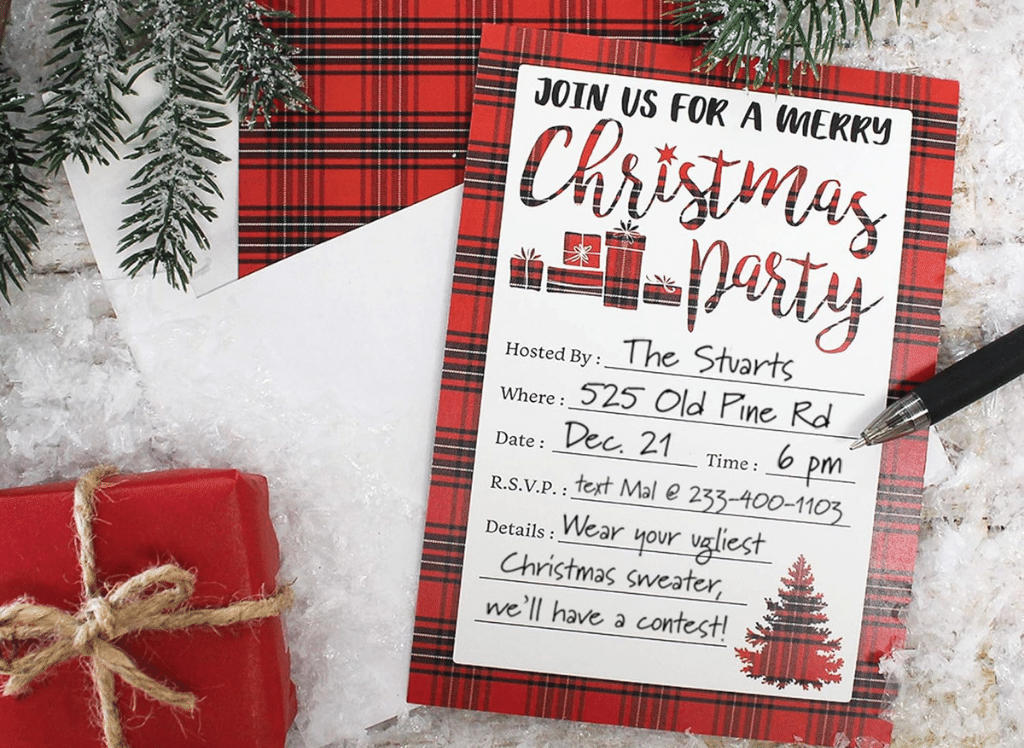 3. DISTINCTIVS Plaid Christmas Party Invitations - 12 Holiday Cards with Envelopes
See Price on Amazon
Why We Love It
Looking for a Christmas party invitations AND envelopes that matches your rustic theme DISTINCTIVS Plaid Christmas Party Invitations are just what you need. With 12 cards and envelopes included, these invitations are designed to complement a plaid, rustic Christmas party. Made from premium card stock, these non-folding post-card style invitations feature spacious lines to fill in event and RSVP information. The white envelopes perfectly match the red and black plaid designs!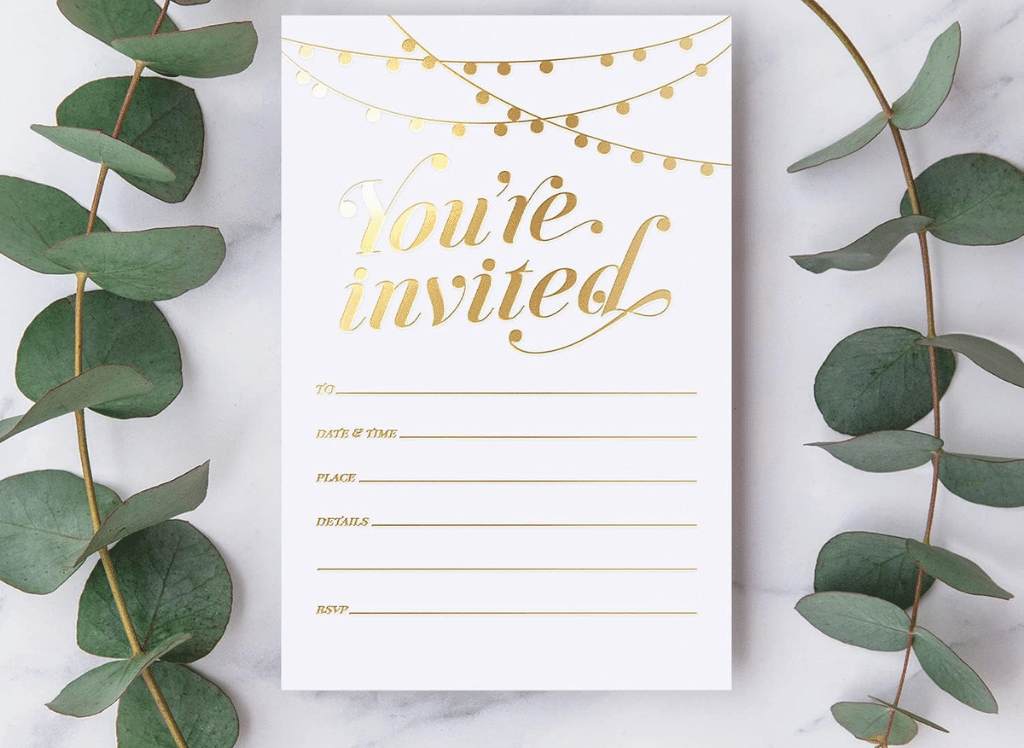 4. Sweetzer & Orange 25 Gold Foil Party Invitations with Envelopes
See Price on Amazon
Why We Love It
Oh, you won't believe how perfect these Sweetzer & Orange 25 Gold Foil Party Invitations with Envelopes are for your Christmas party! Picture this: a white Christmas party, filled with joy and merriment. And what better way to set the tone than with these stunning invitations? They're not just any ordinary invites; they're beautifully crafted with gold foil stamping, adding a touch of elegance and style. The luxury card stock ensures that your guests will be impressed, and the matching ivory envelopes are the icing on the cake!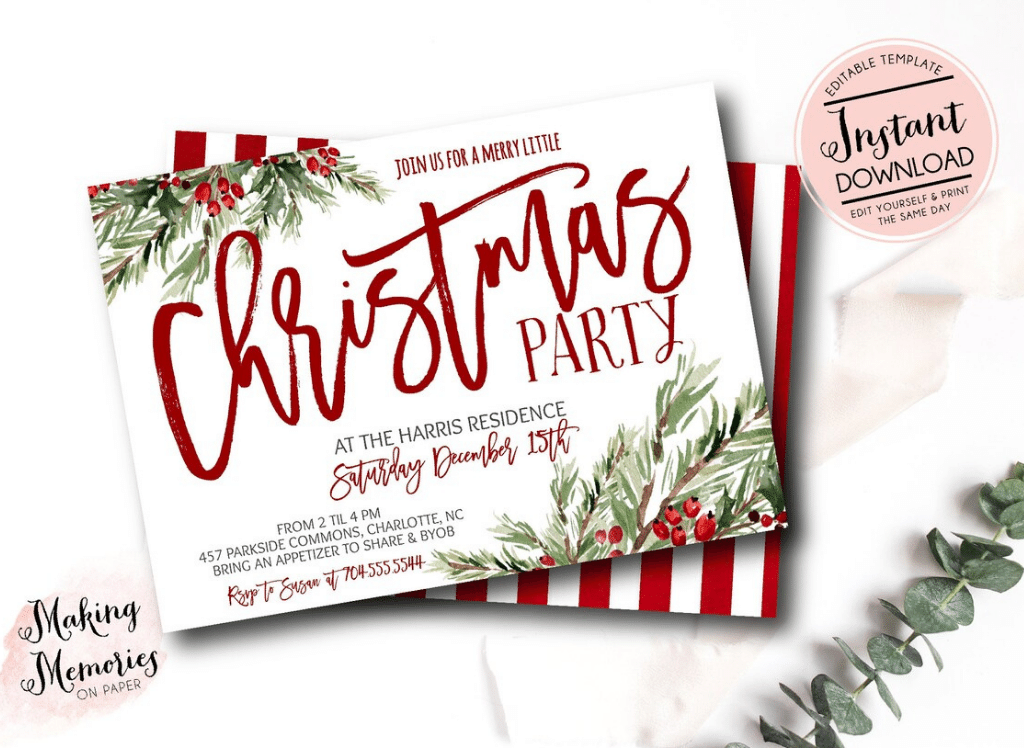 5. MakinMemories Instant Download Christmas Party Holiday Invites
See Price on Etsy
Why We Love It
Get ready to make unforgettable memories with MakinMemoriesOnPaper Instant Download Christmas Party custom invitations! This invitation perfectly captures the essence of the holiday season, with a festive Christmas Greenery design that can be easily customized to match your Poinsettias Christmas Party theme. Whether you're hosting an intimate gathering or a lively celebration, these instant download Christmas Invite is sure to set the tone for a joyful and cheerful event!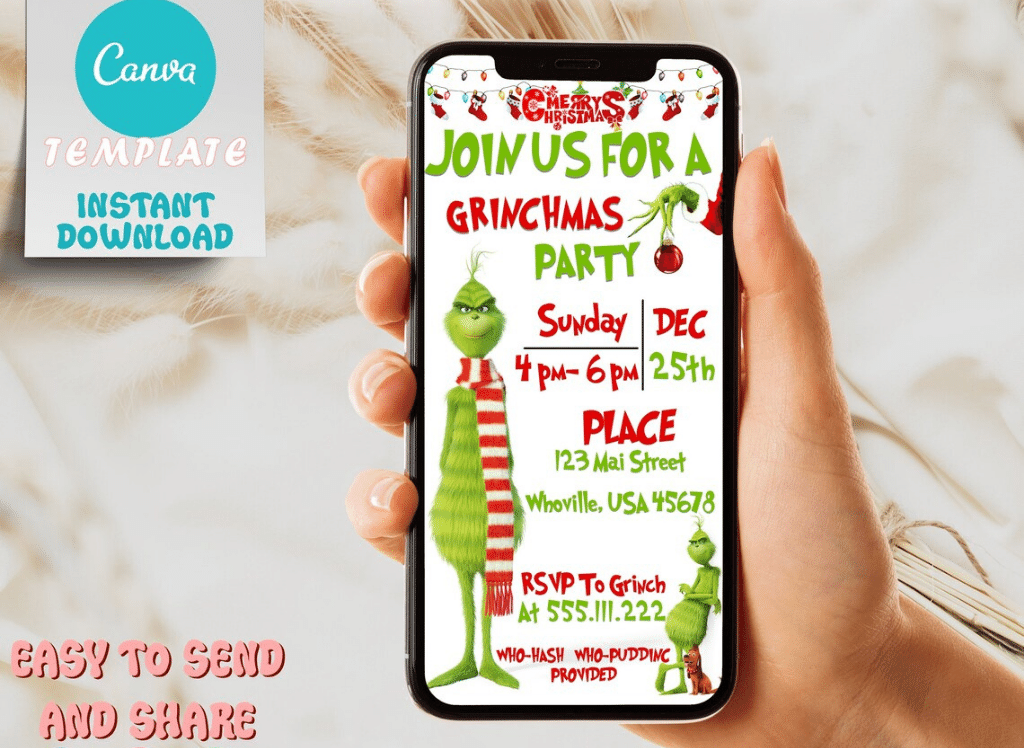 6. Editable Instant Download Grinch Holiday Party Invitations
See Price on Etsy
Why We Love It
Get ready to bring the Grinch magic to your Christmas party with these Editable Grinch Party Instant Download Invitation! This merry invitation is perfect for your ugly sweater party or pajama party. Picture this: your guests receiving this playful invitation, adorned with the mischievous Grinch himself, setting the tone for a fun-filled evening. It's a fantastic way to infuse a touch of whimsy into your holiday festivities. So, grab your favorite ugly Christmas sweater and get ready to spread some Grinchmas cheer!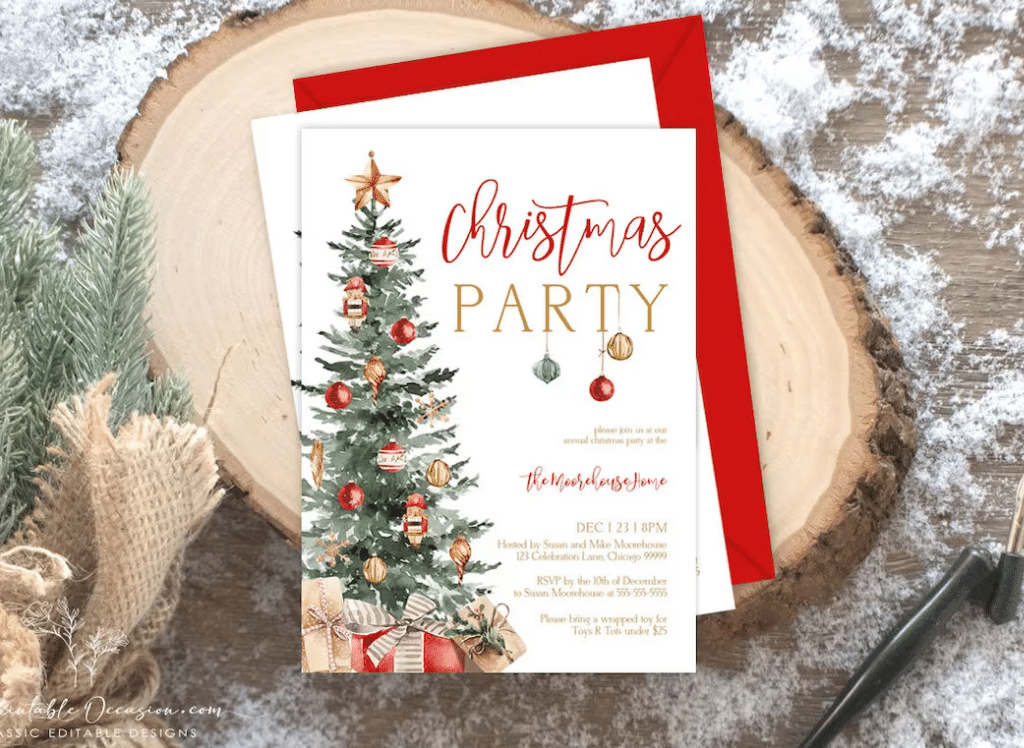 7. ThePrintableOccasion Merry Christmas Trees Party Invitation Download
See Price on Etsy
Why We Love It
This editable and printable invitation template, with its vibrant red, green, and gold colors, captures the festive spirit of the season. The watercolor Christmas tree, adorned with beautifully wrapped gifts in rustic, warm hues, creates a cozy and inviting atmosphere. Whether it's a wintery brunch with steaming mugs of hot cocoa, a fun-filled lunch with joyful laughter and delicious treats, or a delightful dinner party filled with elegant decorations and heartwarming conversations, this invitation sets the perfect tone for holiday-inspired celebrations that will create lasting memories for everyone involved!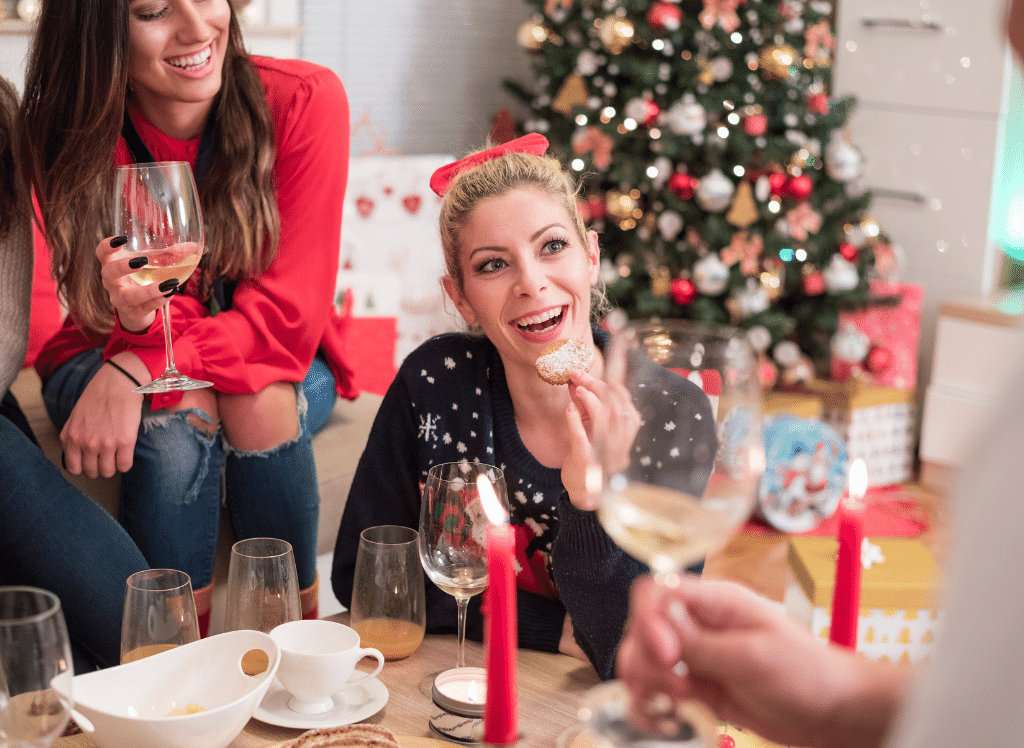 Christmas Party Invitations FAQs
As you embark on your festive planning journey, we understand that you might have a few questions about Christmas party invitations. After all, they're the first taste your guests will have of your fabulous festive bash! We've compiled a handy FAQ section to answer all your holiday invite conundrums. So, whether you're curious about wording, etiquette, or how to bring your rustic theme to life, we've got you covered!
1. What type of information should I include in my Christmas party invitations?
When creating your Christmas party invitation, make sure to include the name of the gracious host who is hosting the festive gathering. Also, don't forget to mention the exact date and time of the party, so your guests can mark their calendars accordingly. It's important to provide the location of the event, whether it's at your home or a specific venue, so everyone knows where to come and join in on the holiday fun. Be sure to include RSVP details, such as a phone number or email address, so your guests can easily respond and let you know if they will be attending. Additionally, if you have any special instructions for your guests, like a dress code or gift exchange rules, be sure to mention them in the invitation. Finally, let your creativity shine through by using festive and cheerful wording to set the tone and reflect the joyful holiday spirit of the party!
2. Should I send digital or paper Christmas party invitations?
When it comes to choosing between digital or paper invitations for your Christmas party, you have a couple of great options to consider. E-invitations are a modern and eco-friendly choice, allowing you to quickly send out invites to all your guests with just a few clicks. They are also convenient, as recipients can easily RSVP online. On the other hand, paper invitations offer a personal and traditional touch, giving your guests something tangible to hold and cherish. They can be customized with unique designs and handwritten messages, adding an extra level of thoughtfulness to your invitations. Ultimately, the choice between digital and paper invitations depends on your personal preference and the nature of your party.
3. When should I send out my Christmas party invitations?
As a general guideline, it is recommended to send out your Christmas party invitations at least four weeks in advance. This timeframe provides your guests ample time to mark their calendars, make necessary arrangements, and RSVP to ensure a delightful and well-prepared gathering. By giving them this advance notice, you are showing consideration for their busy schedules during the holiday season and increasing the likelihood of a successful and enjoyable event.
4. How can I make my Christmas party invitations stand out?
To make your Christmas party invitations truly unforgettable, consider adding personalized touches that capture the festive spirit. Incorporate a vibrant and eye-catching design that reflects the joyous atmosphere of the season. Play with fun and creative wording that sparks anticipation and excitement among your guests. Additionally, you can go the extra mile by including a small ornament or decorative element that adds a delightful surprise. Don't forget to align the style and theme of your invitation with the overall ambiance of your party, creating a cohesive and memorable experience from the very beginning.
5. Do I need to include an RSVP date on my Christmas party invitation?
It's highly recommended to include an RSVP date on your Christmas party invitation. By doing so, you can effectively plan for the right number of guests, ensuring that everyone has a seat and plenty of delicious food to enjoy. Additionally, including an RSVP date allows you to make necessary arrangements and preparations in advance, creating a seamless and enjoyable experience for all attendees. So don't forget to mark that date on your invitation and get ready for a memorable and well-organized Christmas celebration!
6. Can I use humor in my Christmas party invitations?
Absolutely! Incorporating humor into your Christmas party invitations can add a delightful and lighthearted touch to the event. It can help set a fun and relaxed tone, making your guests excited to attend. Just make sure to consider the preferences and sensibilities of all your guests, ensuring that the humor is appropriate and enjoyable for everyone. By infusing your invitations with a touch of humor, you'll create a memorable and enjoyable experience from the moment your guests receive their invitations.
7. What do I do if a guest doesn't RSVP?
If a guest hasn't responded by the RSVP date, it's perfectly acceptable to give them a friendly reminder call or text. A gentle reminder can help ensure that they haven't missed the invitation and give them an opportunity to respond. It's important to approach this with a friendly tone and understanding, as there may be various reasons why they haven't RSVP'd yet. By reaching out, you can politely inquire about their availability and express your enthusiasm to have them join the event.
8. Can I ask guests to bring something to the party in the invitation?
Yes, If you're hosting a potluck, where everyone contributes a dish, or a gift exchange, where each guest brings a present, it's completely appropriate to include this information in the invitation. By letting your guests know in advance, they can come prepared and ensure that everyone has a fantastic time. So go ahead and mention any specific items or themes you have in mind, and get ready for a memorable and enjoyable event!
9. What should I do if I need to cancel or change the details of the party after the invitations have been sent?
If you find yourself in a situation where you need to cancel or make changes to the party details, it's important to act promptly and inform your guests as soon as possible. This will not only show consideration for their schedules but also allow them to make alternate plans if needed. You can choose to notify them through various means such as email, phone call, or even a handwritten note. Remember, clear and timely communication is key to ensuring that everyone is informed and prepared for any changes that may arise.
10. How can I reflect my rustic Christmas party theme in my invitations?
To perfectly capture the essence of your rustic theme in your invitations, consider incorporating elements such as charming plaid designs reminiscent of cozy flannel patterns. You can also feature adorable woodland creatures like deer or squirrels, which will add a touch of whimsy and nature-inspired charm. Additionally, opt for warm and inviting colors such as deep reds, earthy browns, and vibrant greens to evoke a sense of rustic coziness. By carefully selecting these details, your invitations will beautifully portray the rustic ambiance of your Christmas party, setting the tone for a delightful and memorable celebration.
11. Can I include my pets in my Christmas party invitations?
Including a cute picture or a playful mention of your beloved pets not only adds a fun and personal touch to your invitations, but it also shows how much they are a part of your family and the joy they bring to the celebration. Whether it's a snapshot of your furry friend wearing a festive hat or a mention of their mischievous antics during previous holiday gatherings, incorporating your pets into the invitations will surely bring a smile to your guests' faces and make them even more excited to join in the festive fun. So go ahead and let your furry companions share the spotlight with you this Christmas!
12. How can I encourage guests to dress up for my themed Christmas party?
To ensure your themed Christmas party is a blast, it's important to make it clear in the invitation that there's a fun and festive theme. Get creative with your wording and emphasize the excitement of dressing up. You could even mention a special prize for the best costume, adding an extra incentive for guests to go all out and showcase their creativity! By setting the expectation and offering a reward, you'll create an atmosphere where guests will be eager to embrace the theme and arrive in their finest festive attire.
13. Can I use Christmas carol lyrics in my Christmas party invitation?
Incorporating Christmas carol lyrics into your Christmas party invitation can add a delightful and whimsical touch, setting the perfect tone for your festive gathering. It's a creative way to infuse the holiday spirit and create anticipation among your guests. Whether you choose a classic carol or a modern favorite, the lyrical addition will not only make your invitation stand out but also set the mood for a joyous celebration. So go ahead and spread the musical cheer with your invitation, as it will surely leave a lasting impression on your guests and make your Christmas party an unforgettable experience!
14. Is it okay to ask for RSVPs via text?
Yes, asking for RSVPs via text is not only acceptable but also convenient for both you and your guests. In today's digital age, it's becoming increasingly common to use text messaging as a means of communication. By requesting RSVPs via text, you can streamline the process and ensure a quicker response from your invitees. Plus, it eliminates the need for paper invitations and allows for easy tracking of RSVPs in your messaging app. So go ahead and embrace this modern approach to event planning!
15. Can I use my Christmas party invitation to raise awareness for a cause I care about?
Your Christmas party invitation presents a wonderful opportunity to not only celebrate the holiday season but also to make a positive impact by spreading awareness about a cause that holds special meaning to you. You can take it a step further by including a heartfelt message in your invitation, sharing information about the cause and suggesting ways for your guests to contribute. Whether it's donating to a local food bank, bringing supplies for a nearby shelter, or simply raising awareness through conversation, your guests will not only appreciate the festive gathering but also the chance to give back and make a difference during this meaningful time of the year. Together, you can create an atmosphere of joy, generosity, and compassion that embodies the true spirit of the holiday season.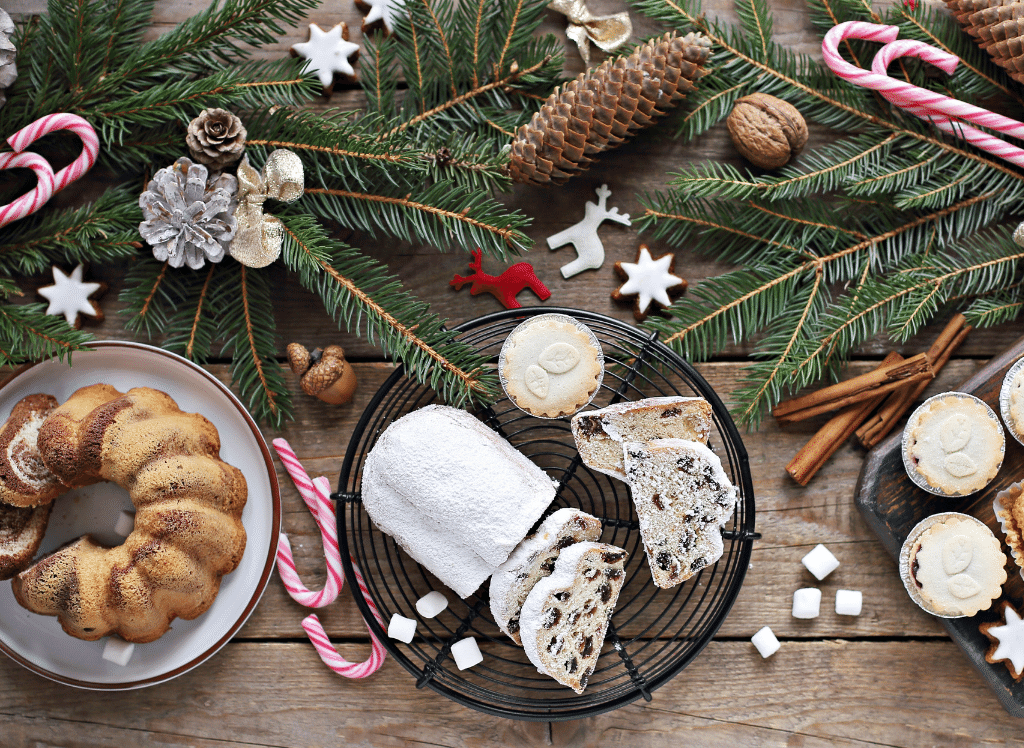 Final Thoughts About Christmas Party Invitations
Whether you're planning a cozy, rustic Christmas party or a lively, festive celebration, the right invitation sets the tone for your event, stirs up the holiday spirit, and creates anticipation among your guests. From traditional paper invitations to interactive digital ones, our list of the top 7 Christmas party invitations caters to every style and theme. So, as you deck the halls and trim the tree this holiday season, let these invitations add an extra sprinkle of holiday cheer to your celebrations. Here's to a Christmas party that your guests will talk about for years to come!
Happy Shopping! :)
💡
Are you a shopping enthusiast looking for more fun while browsing? With
Two Free Audiobooks
from Audible Plus and
30 days of free access
to Amazon Prime Music, you can now listen to your favorite audiobooks and music while you shop! Plus, with Amazon Prime's lightning-fast 2-day shipping. Get a
Free 30-day trial
of Amazon Prime today and enjoy these amazing benefits.