Top 3 Grinch Dog Costume Picks to Out-Grinch the Grinch Himself
Get ready to win hearts, even the two-sizes too small ones! Our Top 3 Grinch Dog Costume Picks will help your pooch outshine the mean, green Grinch himself. Stay put – it's time for some serious 'bark' to 'bling' transformation!
As an Amazon Associate, Raquels Reviews may collect a share of sales or other compensation (at no cost to you) from links found within these pages if they choose to buy something
If you're looking to tickle your canine's festive spirit in a way that would make even the Grinch crack a smile, you've come to the right place!
From 'bark' to 'bling', we've dug up the three best Grinch dog costumes available on Amazon and Etsy, just pawfect for stirring up some holiday mischief. Sit back, fetch a cup of eggnog, and get ready to turn your grumpy pup into the star of Whoville!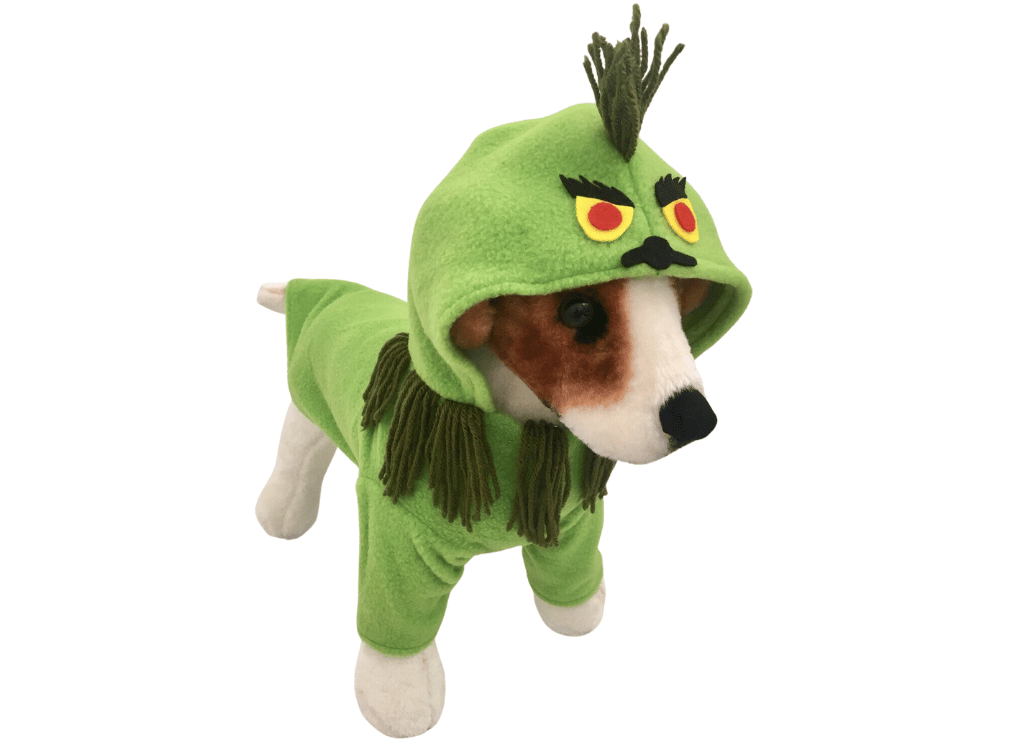 1. Green Grinch Dog Costume
Check Price on Etsy
Why We Love It
Made with ultra-soft and warm fleece, this costume is not only adorable but also comfortable. It's ideal for capturing precious moments in festive photo shoots, creating memorable Christmas cards, or adding a touch of charm to special events. Handmade with love, this custom costume is crafted with attention to detail. It features a vibrant green lime anti-pill fleece, complemented by accents of red, yellow, and black felt, along with a playful touch of green yarn. The hoodie design adds an extra level of cuteness, measuring 7 inches from the base of the neck to the top of the head.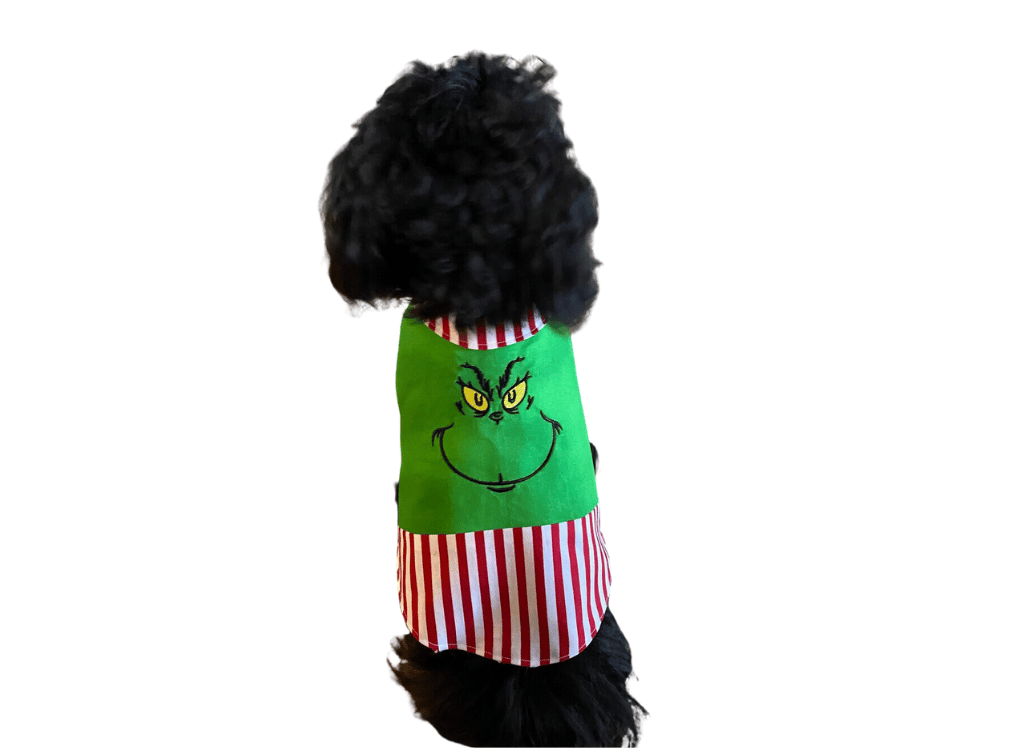 Check Price on Etsy
Why We Love It
Made with 100% cotton for ultimate comfort, this coat is not only stylish but also machine washable, making it convenient for everyday wear. With easy Velcro closures, dressing up your pup has never been easier. Capture adorable Christmas pictures with your four-legged companion in this festive coat that is sure to spread holiday cheer!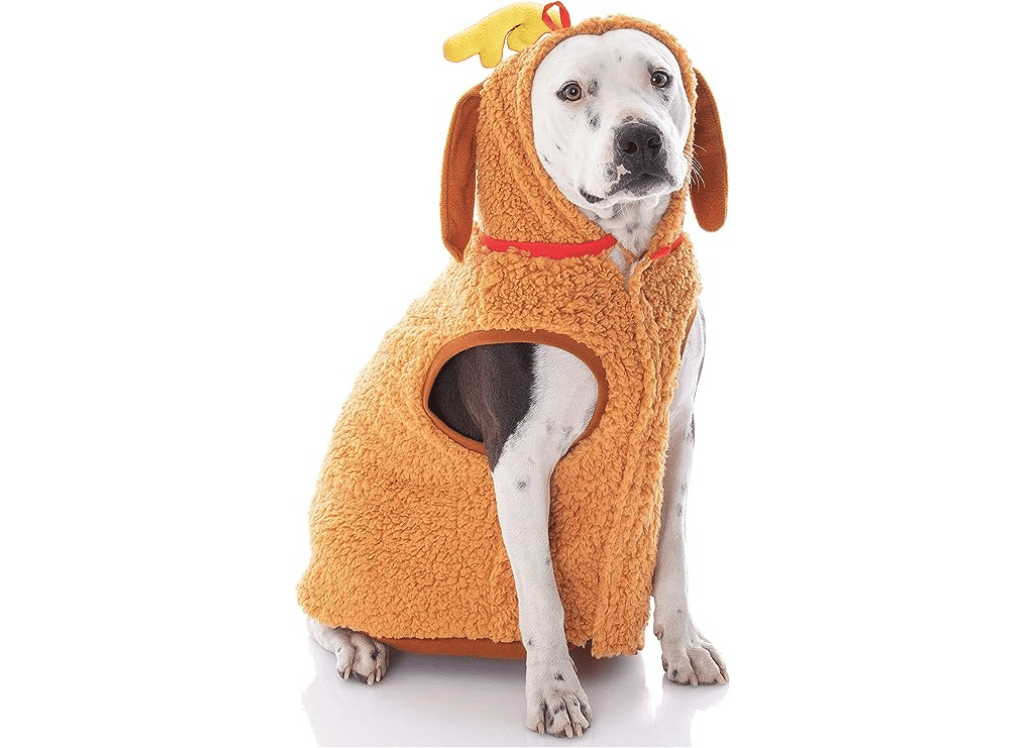 3. Grinch Stole Christmas Max Dog
Check Price on Amazon
Why We Love It
Introducing these officially licensed Max the Dog pet costume pajamas! Made with the same quality and love as their human pajama counterparts, these Grinch onesie pajamas are perfect for matching family sets. The sherpa fleece fabric will keep your furry friend snug and warm, complete with 3D floppy ears and a reindeer antler with a ribbon, just like in the film. Available in four different pet sizes (SM-XL).
Grinch Dog Costume FAQs
Before we whisk you back to the magical world of Whoville, let's tackle those head-scratching queries you might have about dressing up your furry friend in a Grinch Dog Costume. Perfect for any holiday occasion, these costumes are bound to make your pup the talk of the town, while keeping them snug as a bug. But we get it, you've got questions! So whether you're curious about sizing, materials, or just how grinchy your dog can look - you're in the right place. Welcome to the whimsical world of Grinch Dog Costumes FAQ, where we answer all your burning questions, one bark at a time!
1. Are the Grinch dog costumes machine washable?
Yes, the Grinch dog costumes are machine washable. However, to maintain the quality of the material, it's recommended to wash them in cold water and dry on a low heat setting.
2. What sizes do the Grinch dog costumes come in?
The Grinch dog Halloween costumes are available in multiple sizes, ranging from small to extra-large. Always refer to the size chart to ensure a proper fit for your pet.
3. Are these costumes comfortable for the dogs to wear?
The costumes are made from soft, comfortable fabric to ensure your pet's comfort. Remember, it's important to introduce the costume to your pet gradually and reward them for wearing it.
4. Can I return the costume if it doesn't fit my dog?
Yes, most sellers offer a return policy, but it's always good to check the return policy in advance before making a purchase.
5. Are these costumes safe for pets?
These costumes have been meticulously designed with your pet's safety as the top priority. They are made from high-quality materials that are non-toxic and comfortable for your furry friend. Additionally, each costume undergoes rigorous testing to ensure that there are no potential hazards or choking hazards for your pet. However, it is always important to never leave your pet unattended while they are wearing a costume, just as an extra precaution. Your pet's safety and well-being are our utmost concern!
6. Will the color of the costume fade over time?
The costumes are made with high-quality materials, and with proper care, the color should remain vibrant for a long time.
7. How do I measure my dog for the costume?
To measure your dog for the costume, start by measuring from the base of the neck to the base of the tail to determine the length. Next, measure around the neck to get the collar size. Finally, measure around the widest part of their chest to find the chest size. These measurements will ensure a perfect fit for your furry friend's costume!
8. Can I put the costume on my cat?
While these costumes are primarily designed for dogs, if your cat is comfortable wearing clothing and is of a suitable size, they might also enjoy the costume. It's important to consider your cat's temperament and behavior when introducing them to a costume. Take it slow and monitor their comfort level and stress response. Always supervise your pet when they are wearing a costume to ensure their safety and well-being.
9. Is it easy to put on and take off the costume?
Yes, the costumes are designed to make the process of dressing your pet as easy as possible. They typically have Velcro or button closures for easy use.
10. Are the costumes suitable for large breeds?
The Grinch costumes are specially designed to accommodate larger breeds, ensuring a comfortable and stylish fit for your furry friend. With a wide range of sizes available, you can easily find the perfect costume that will make your pet stand out during holiday festivities. Just remember to refer to the size guide provided to ensure an ideal fit that allows them to move freely and enjoy their dress-up experience to the fullest. Get ready to see your beloved companion transform into the most adorable Grinch, spreading holiday cheer wherever they go!
Final Thoughts About Grinch Dog Costumes
Dressing up your four-legged companion in one of these top three Grinch dog costumes is an unbeatable way to amplify the festive cheer in your household. Whether you opt for the adorable Green Grinch Dog Costume, the stylish and practical Grinch Dog Coat, or the official Grinch Stole Christmas Max Dog pajamas, you're not only promising your pet comfort and warmth, but also a chance to become the highlight of your holiday festivities. Each product is crafted with care, ensuring your pet's comfort is prioritized without compromising on the Christmas charm. So, why wait? Let your furry friend steal the show this holiday season, out-Grinch-ing the Grinch himself!
Are you a shopping enthusiast looking for more fun while browsing? With Two Free Audiobooks from Audible Plus and 30 days of free access to Amazon Prime Music, you can now listen to your favorite audiobooks and music while you shop! Plus, with Amazon Prime's lightning-fast 2-day shipping. Get a Free 30-day trial of Amazon Prime today and enjoy these amazing benefits!
Happy Shopping! :)